All images in this post are courtesy of McDonalds.com
If you're new around here, this single most important thing that I like to preach is that you can eat ANY food you like, no matter what your goals are.
Even if you have a goal to lose weight, I want you to understand that nothing is off limits.
That includes fast food.
I love putting together nutrition guides like these (check out my Chick-fil-A Nutrition Guide or Wendy's Nutrition Guide for more examples) to show you exactly what you can expect when ordering out.
Maybe you don't consider McDonald's to be the highest quality food, but when you break it down into its calories and macros, you can see that it's not as "bad" as you might have previously thought!
Is McDonald's healthy?
When most of us think about McDonald's, "healthy" isn't really the first thing that comes to mind.
Of course, how healthy or unhealthy you consider the menu to be is going to be totally dependent on your preferences.
For example, if your focus is on eating a high-protein diet, you may find that McDonald's has some great options for you. Most of the chicken sandwiches have nearly 50g of protein, so those are solid options!
But if your focus is on eating low-fat or low-carb, you may not have quite as many options available to you. Not to worry- that's why we're doing this breakdown!
One thing that is worth noting is that at the time of writing this, McDonald's is not offering any salads. This isn't totally uncommon for fast food (Five Guys doesn't offer any salads), but it does seem that the vast majority of fast-food restaurants are now offering salad to accommodate people who are wanting to eat healthier.
If salad is something you wanted to grab next time you're out, I recommend checking out Wendy's, Chick-fil-A, or Burger King, to name a few.
Calories & Nutrition of McDonald's Burgers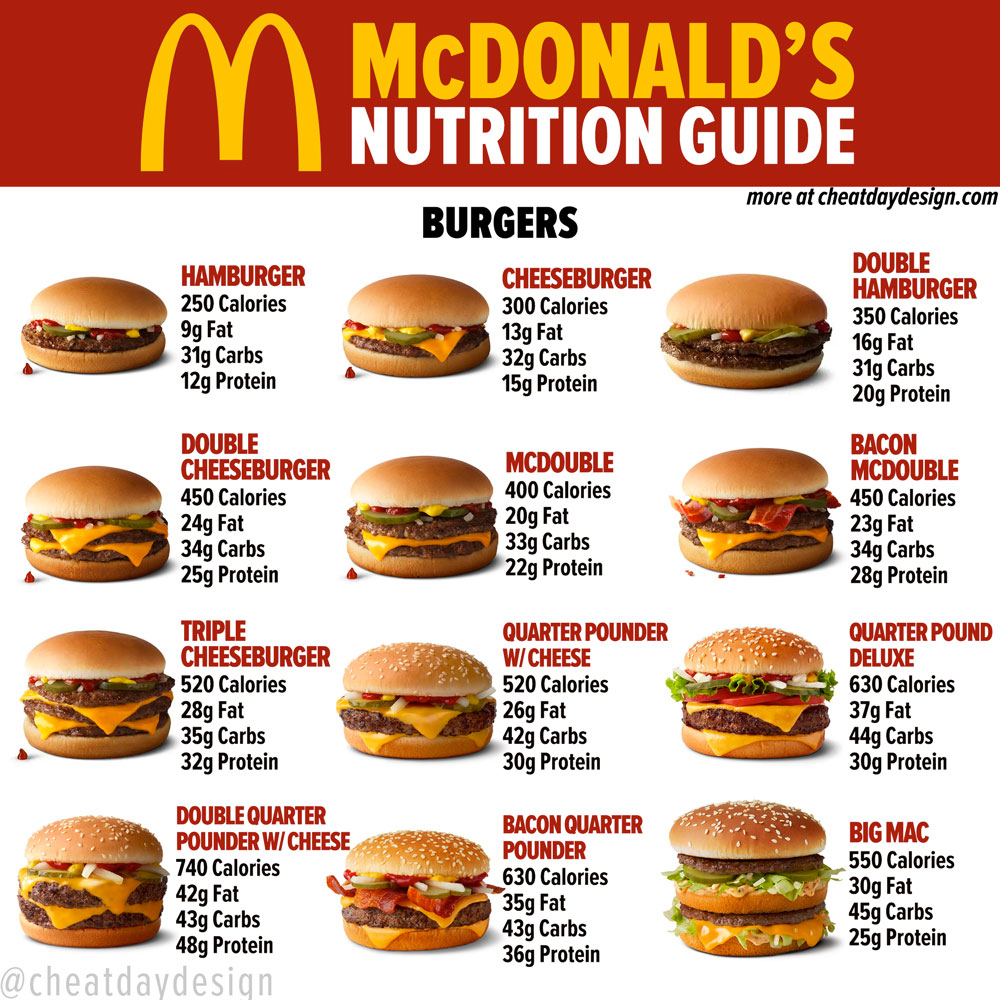 McDonald's is best known for its burgers, specifically the Big Mac. If you're a fan of burgers, there is no shortage of options here at McDonald's.
Whether you want to keep it simple with a single hamburger, or go with a massive double quarter-pounder (a half-pounder, in other words), there's a burger for you.
It's worth noting that these burgers all include the condiments (ketchup and mustard) and cheese (except for the hamburgers that don't include cheese, of course).
If you left off the condiments, generally speaking, it will save 10-20 calories overall depending on the size of the burger ordered. Each slice of cheese contains 50 calories.
Lowest Calorie McDonald's Burger
Hamburger: 250 Calories, 9g Fat, 31g Carbs, 12g protein.
The single hamburger from McDonald's is pretty much on-par with all the other fast-food burgers out there in terms of nutrition. For reference, a single hamburger from Burger King is 240 calories, 10g fat, 26g carbs, and 13g of protein. Very similar!
Highest Calorie McDonald's Burger
Double Quarter Pounder With Cheese: 740 Calories, 43g Fat, 43g Carbs, 48g Protein
It's no surprise that this massive half-pound burger tops the charts in terms of calories, but with that, it also packs the most protein. At 740 calories and 48g of protein, that may not be the most ideal calories-to-protein ratio, but it is certainly the highest.
It may come as a surprise to you that the Big Mac is not the highest-calorie option here. This is because the size of the Big Mac is mostly due to the extra bun in the middle, and you're not getting as much beef as even the single quarter-pounder!
The beef is much more calorically dense than the bun due to the high fat content, thus leading to fewer calories in the Big Mac.
Calories & Nutrition of McDonald's Breakfast Menu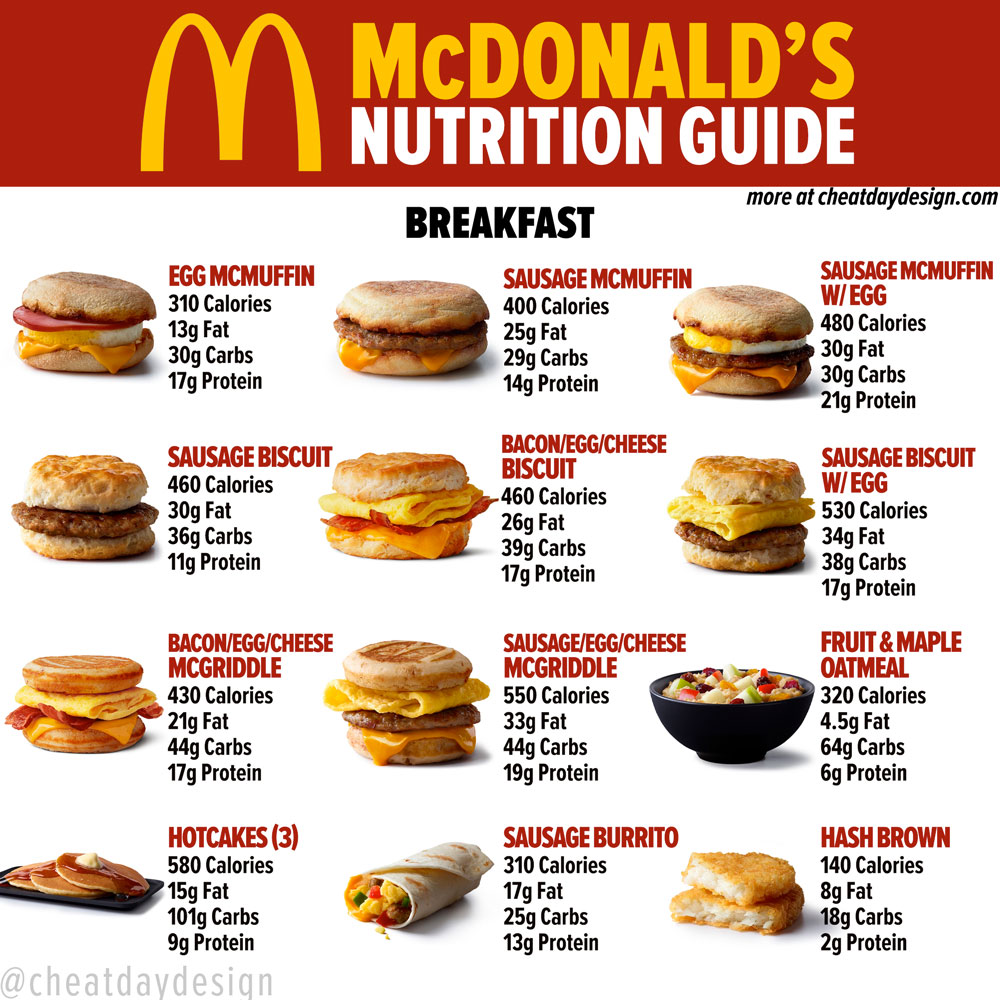 McDonald's breakfast is just fantastic. Nutrition aside, they have the best-tasting breakfast of all the fast food out there!
As much as I hate to admit it, I absolutely love McGriddles. I'm Team Waffles forever, but their fluffy pancakes make perfect buns.
Pair that with a hash brown patty or 20 (those things are seriously addicting), and you've got yourself an amazing breakfast.
The breakfast menu at McDonald's will vary slightly from time-to-time (we're still waiting for the bagels to make a comeback) but this is the entire breakfast menu that's available at the time of writing this.
Lowest Calorie McDonald's Breakfast
Egg McMuffin: 310 Calories, 13g Fat, 30g Carbs, 17g Protein
A classic Egg McMuffin is one of the lowest-calorie breakfast options you'll find out there. Check out this graphic I made below that compares a lot of different options out there (the Egg McMuffin calories went up by 10 since creating this graphic, but it still works!)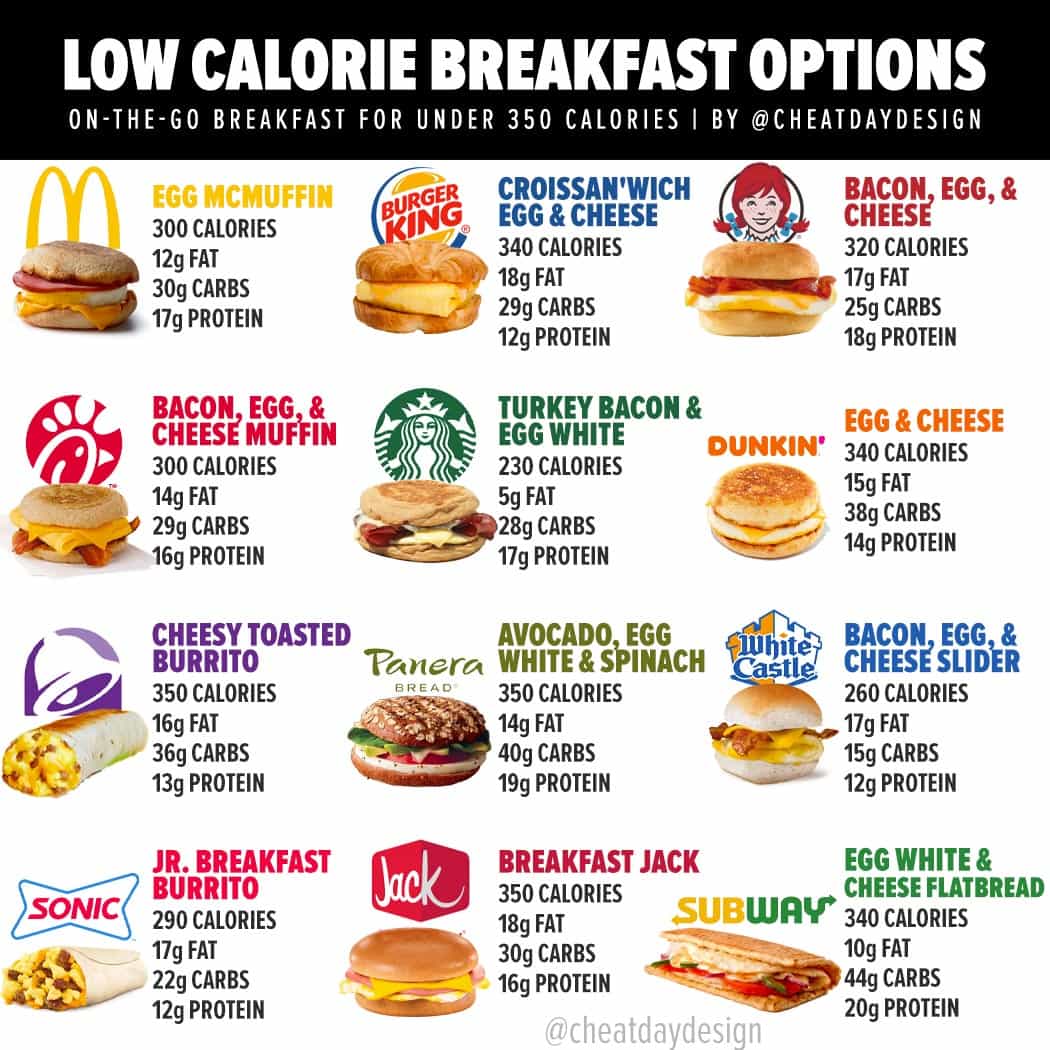 McDonald's used to offer the Egg White Delight McMuffin, which was even lower calorie and higher in protein, but it was discontinued in 2019.
We'll see if it ever makes a comeback!
Highest Calorie McDonald's Breakfast
Hotcakes: 580 Calories, 15g Fat, 101g Carbs, 9g Protein
This shouldn't come as a surprise based on how fluffy and rich the hotcakes at McDonald's are, but you may be slightly surprised to see just how many calories they contain.
Since an order comes with 3 hotcakes, that means that each one contains nearly 200 calories. I will say that they are pretty large, so the 200 calories a piece is not insanely high. But, if you prefer to consume something with less calories and more protein, I suggest sticking with one of the many breakfast sandwiches.
Calories & Nutrition of McDonald's Chicken Sandwiches and Fries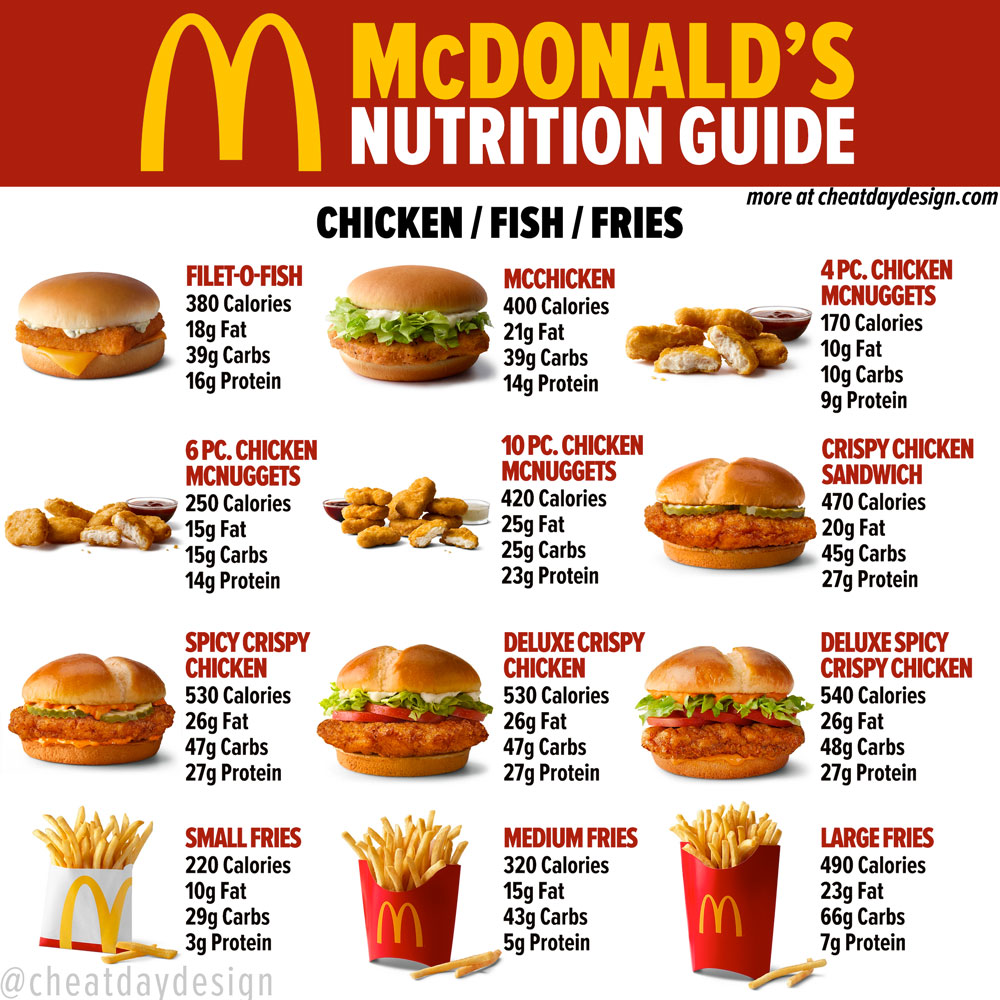 New to the McDonald's menu are the Crispy Chicken Sandwiches. In 2020, the Chicken Sandwich Wars really heated up, and virtually every single fast food restaurant started offering their own chicken sandwiches.
The McChicken sandwich, which is a McDonald's classic, is a breaded chicken patty like you'd find in any standard chicken sandwich. Add mayo on top of that, and you have a sandwich that's pretty high in calories and low in protein.
McDonald's new crispy chicken sandwiches are a different story- they are packed with protein!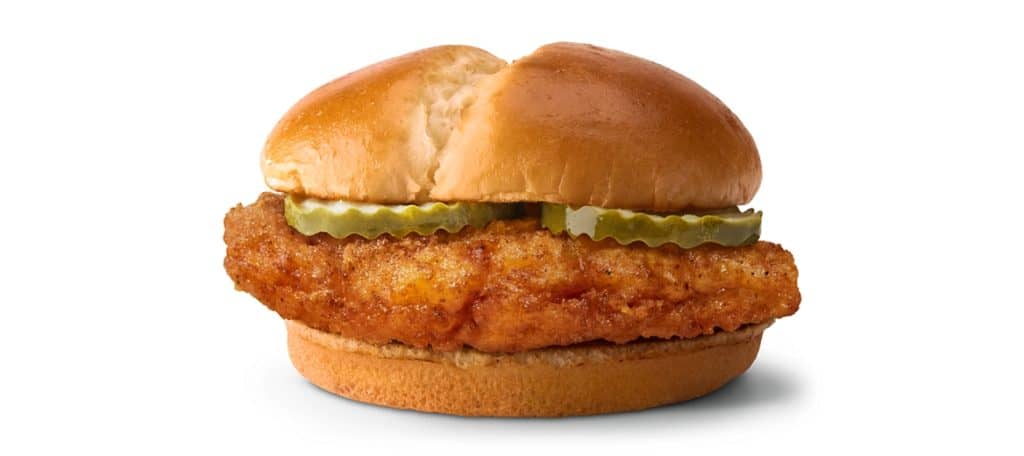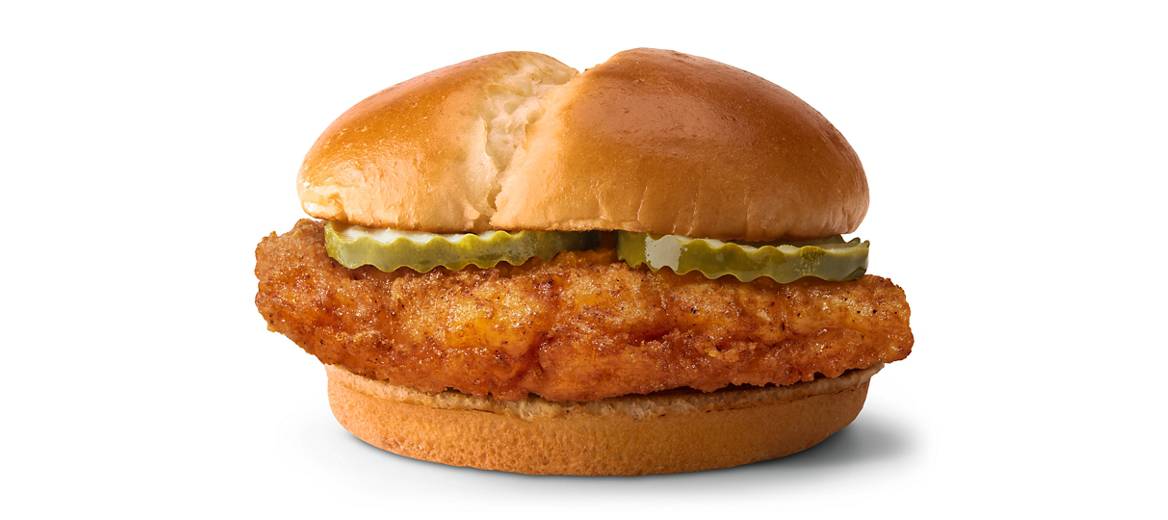 While these sandwiches are fried, they are made with actual chicken breast instead of a breaded chicken patty, leading to much more protein.
And let's not forget the fries. McDonald's fries are arguably some of the best out there, and they are actually on the low end of the calorie scale when compared to the other options out there. Check out this French Fries Nutrition Comparison I put together: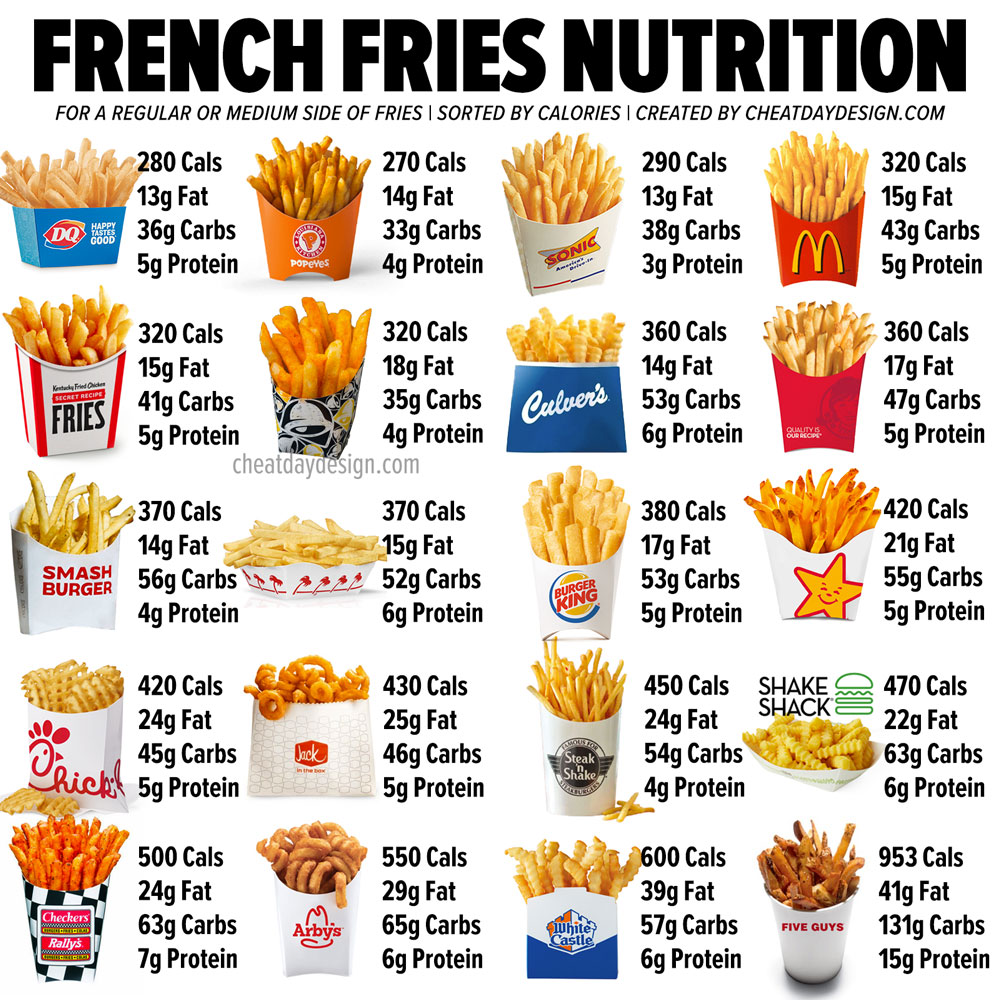 This guide compares a medium order of fries, which may vary in size depending on where you order from (we're looking at you, Five Guys), but gives us a general idea.
As you can see, McDonald's fries are the 4th lowest in the calorie department. Not bad!
Calories & Nutrition of McDonald's Sweets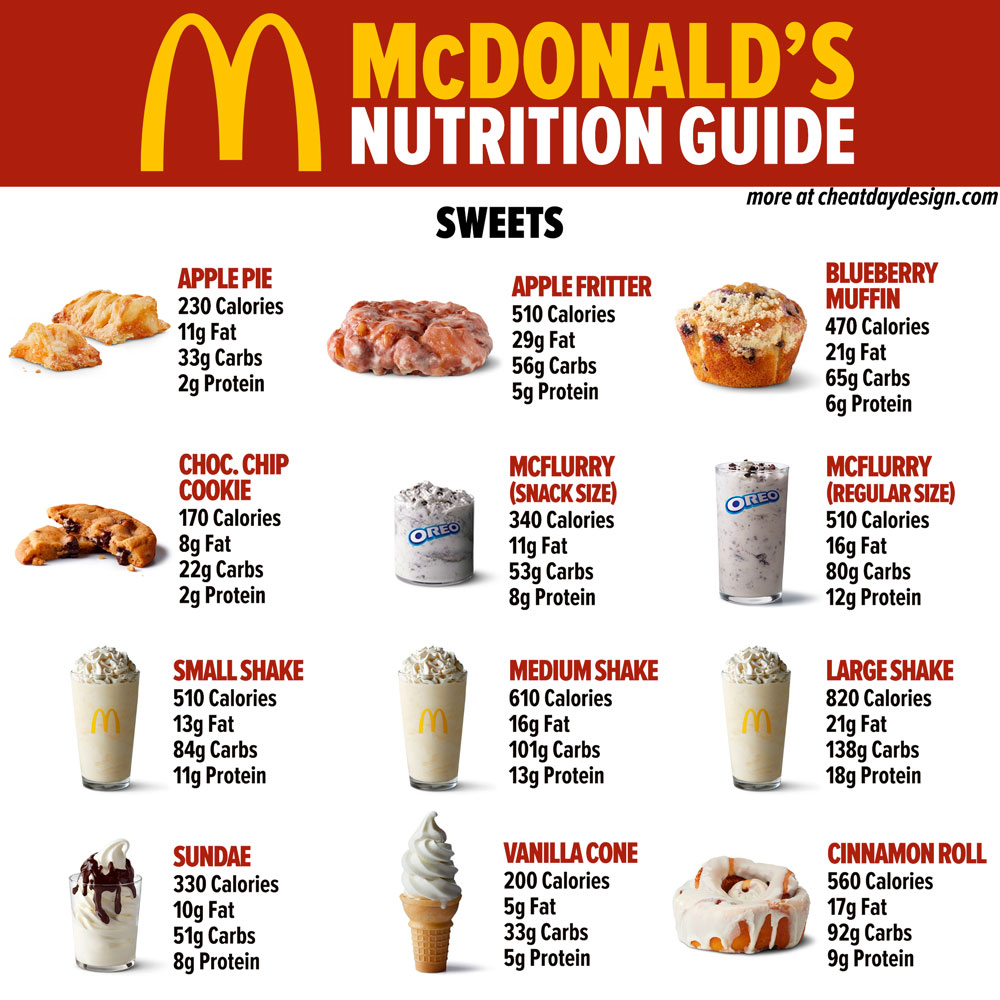 When it comes to sweets, you're likely not ordering them to be "healthy," and that is totally fine. These are treats, after all.
But like I always say, it never hurts to know what you're consuming!
I won't compare the lowest calorie & highest calorie options here, because the options are quite obvious based on the size (a small cookie is clearly going to be the lowest calorie, and a large shake is unsurprisingly the highest calorie).
But, I do want to draw your attention to two things:
A vanilla cone from McDonald's is only 200 calories, which is not much at all. If you want a sweet treat, enjoying a vanilla ice cream cone may be a great idea. At only 200 calories, it won't be difficult to fit that into any diet.
A blueberry muffin contains 470 calories and 21g of fat, which may be surprising to see. Many people look at a blueberry muffin and assume it is a healthy option (in the sense of it being low calorie) and are shocked to find out otherwise. At 470 calories, it's more than eating 2 ice cream cones!
Conclusion: how healthy is McDonald's?
Overall, McDonald's has a very wide range of options: some great, and others no-so-great.
Unfortunately, McDonald's does not offer any salads, so many people will not view the options provided as very healthy.
But, at the end of the day, it comes down to what you order…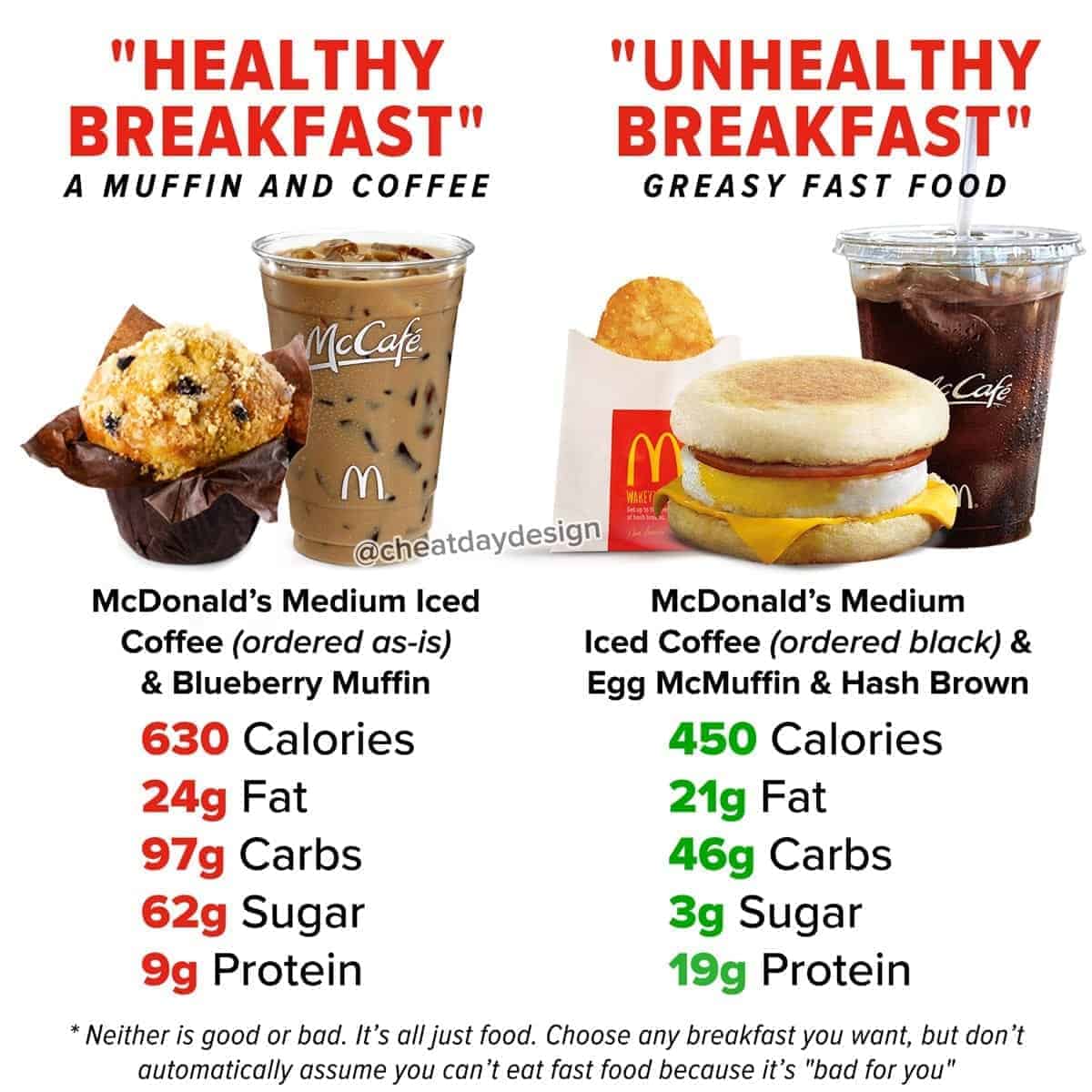 This is just a random example, but it's based on the way I used to view food.
In the past, I would have ordered the blueberry muffin and iced coffee without hesitation and thought that I was making a very wise choice.
On the flip side, if you presented me with a breakfast sandwich and hashbrown, I would have never accepted that as a healthy breakfast.
This is why I love breaking down these menus and helping you to understand the basics of nutrition.
Once you break the options into their respective calories and macros (macronutrients) you can begin to see the food for what it really is. Just food.
When you do that, you can easily identify "healthy" menu items based on your goals (if your goal is to follow a keto/low-carb diet, check out my friend Joe Duff's guide for ordering keto at McDonald's here) and not based on what you just blindly assume to be healthy.