Woah, did Matt actually make pancakes?!
I know, it's very shocking.
It's no secret that I'm a huge waffle fan (as evident by my protein waffle recipe book), so it may seem very strange seeing me post a pancake recipe…
I need to set the record straight. I love ALL breakfast food.
Yes, waffles are my breakfast of choice. I believe they're the most versatile and delicious of all the breakfast options out there.
But that being said, it would be crazy for me to say I don't appreciate a stack of fluffy pancakes!
Luckily for us, we don't have to choose.
We can love waffles and still make delicious pancakes sometimes.
And we're about to make the easiest protein pancakes ever.
Ingredients needed for Cake Mix Protein Pancakes
So many of you request simple recipes, and these cake mix protein pancakes deliver in that department.
We only need three ingredients to make these protein pancakes.
Yes, three!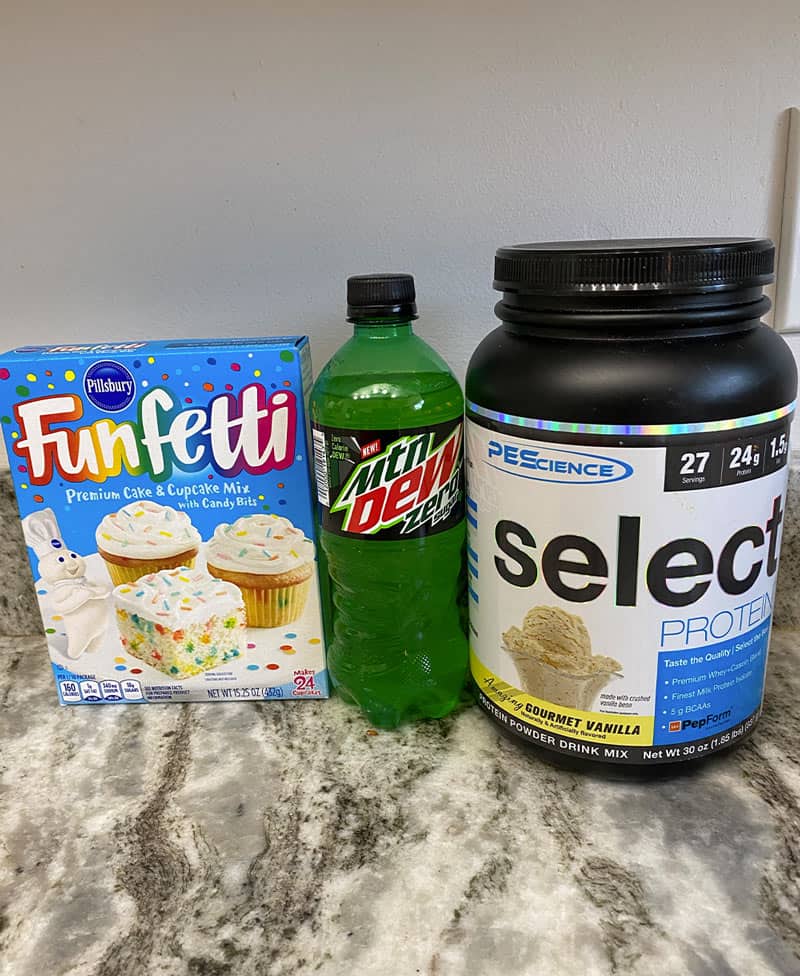 Cake mix, diet soda (or seltzer), and protein powder. Really, that's it.
You can use any cake mix you'd like here. I find Funfetti to be superior when it comes to cakes (maybe it's just the nostalgia), so that's always my choice.
If you want to go with classic pancakes, a regular vanilla cake mix, like the one I used for my Churro Donuts, works unbelievably well for an authentic pancake flavor.
As far as the protein powder is concerned, we only need to use about one scoop here. Depending on the type of protein powder you use, 30g will be roughly one scoop of protein- I kicked it up to 40g of protein, so slightly more than a scoop, but anywhere from 30-40g of protein works just the same.
It's not a ton of protein overall, about 6g of protein per pancake, but the protein powder actually helps these pancakes fluff up a bit and it's a really welcomed addition.
I haven't tested with different types of protein powder, but I would imagine that most types should work. The one I use for my Cake Mix Pancakes, PEScience, is a blend of whey & casein protein, which I find to work the best when cooked (you can use my code "Matt" if you want to give it a try and save 15% on your order!)
Any whey protein should work just fine as well, considering the amount is pretty low.
I have no experience testing these with vegan protein, but if you try it, please let me know if it works.
Why diet soda?
Cake mix + diet soda is my favorite baking hack of all time. Most cake mix requires adding oil/butter & eggs to make the cake.
My "hack" that I learned many years ago is swapping those out for diet soda! I couldn't tell you why it works, but it works incredibly well.
When you use this hack to make cake (or cupcakes), look how fluffy they get!
Try this swap next time you're making a cake or cupcakes, and I promise nobody would ever know the difference.
No matter what type of soda you use, you won't taste the flavor. I've used lime seltzer, peach, and others, and you can't taste them in the slightest!
I've tested this numerous times and always have fantastic results. Check out my Protein Strawberry Cheesecake Cupcakes, Protein Churro Bites, or Microwave Mug Crumb Cake to see this same diet soda hack in action.
How to make Cake Mix Protein Pancakes
These pancakes really couldn't be easier, but let's walk through it so I can give ya a few tips.
1. Mix your 3 ingredients together in a bowl, then heat a pan or skillet over medium heat.
2. Use a spoon to add the batter to the pan. Each pancake was 2 spoonfuls for me, and I was able to fit 3 at a time.
3. Let the pancakes cook for about 1.5 minutes. You'll know they're ready to be flipped when the edges thicken and you can effortlessly slide a spatula underneath.
4. Flip and cook for another 1.5 minutes.
5. Remove from the pan and repeat for as many batches as you are making.
Keep in mind that the pan will continue to heat up, so if you are making multiple batches, it may get too hot.
Medium heat is the perfect heat to crisp the edges of these pancakes while keeping them light and fluffy inside. If you find the pan getting too hot, dial it back to low-medium heat.
When I initially tested over medium-high heat, it was too much:
I always err on the side of flipping them too soon. If you flip them and they're not quite brown enough, you can always flip them back to brown them a little bit more.
It's certainly better than burnt pancakes.
How to customize Cake Mix Protein Pancakes
If you follow my recipe, you'll have a stack of deliciously fluffy protein pancakes.
If funfetti isn't your cup of tea, here are some ideas of ways to switch it up:
Keep it classic with a plain vanilla cake mix.
Use a chocolate cake mix and chocolate protein powder to make rich chocolate pancakes. Bonus points: add chocolate chips.
Speaking of chocolate chips- you can use a yellow cake mix and add chocolate chips to make delicious chocolate chip pancakes.
Use a plain cake mix, and add cinnamon (or use cinnamon protein) then top with icing to make cinnamon roll pancakes. You can make a very simple icing with powdered sugar + milk like I used for these Cinnamon Roll Cookies.
Use a chocolate cake mix with a peanut butter flavored protein, then top with melted peanut butter to make Reese's pancakes!
The list goes on and on. If you get creative with your own cake mix pancakes, please share them with me on Instagram! I always love seeing your creativity.
Can you turn these into cake mix protein waffles?
I knew I'd receive this question, and as a lover of waffles, I needed to give it a try!
Turns out, the answer is a big YES.
The waffles gets super crispy on the outside, and stays soft and cake-like on the inside.
To make cake mix waffles: follow the recipe as-is, but use exactly 1/2 cup of seltzer/diet soda (slightly less than the recipe calls for). For waffles, we want a slightly thicker batter than pancakes! The recipe will make 2 Belgian waffles, each being roughly 300 calories and 15g of protein.
3-Ingredient Cake Mix Protein Pancakes
No pancake mix? No problem! If you have some extra cake mix laying around, all you need are TWO more ingredients to whip up a stack of these high-protein pancakes.
Ingredients
130g (1 Cup) Cake Mix of Your Choice (I went with Pillsbury Funfetti)
1/2 Cup Plus 2 Tbsp Diet Soda (or Seltzer) of Choice
Instructions
Add your cake mix and protein powder to a large bowl and give it a quick mix to fully combine them.
Add the diet soda while mixing the batter. Mine needed exactly 1/2 cup plus 2 extra tablespoons, but the exact amount will depend on the absorbency of your cake mix and protein powder. We want a somewhat thick, but still pourable batter.
Set the batter aside and heat your pan or skillet over medium heat for a few minutes.
Spray your pan with nonstick spray and use a spoon to add the batter to your pan. I was able to fit 3 pancakes at a time, each requiring 2 spoonfuls of batter.
Let cook for about 1.5 minutes, then flip and cook for another 1-1.5 minutes on the other side. Adjust the time based on how light or dark you like your pancakes!
Repeat until all your batter is used.
Notes
If you're making multiple batches, your pan is going to continue to get hotter. If doing any more than 2 batches, I recommend turning the heat down to low-medium to not burn the pancakes.
1.5 minutes was the perfect time for my pancakes, but you'll need to adjust based on your preferences. You'll know the pancakes are ready to flip when you can easily slide a spatula underneath them. If you prematurely flip the pancake, you can always flip it back over to finish that side.
I haven't experimented with different types of protein powder, but I would guess that any type of powder should work here. The one I use is a blend of whey/casein, but whey alone would work, and a vegan powder SHOULD also work. I would lower the protein powder amount to just a single scoop (about 30g) to be safe.
The nutrition will vary based on the type of cake mix you use, so be sure to calculate your own.
Recommended Products
As an Amazon Associate and member of other affiliate programs, I earn from qualifying purchases.
Nutrition Information
Yield

6 Servings
Serving Size

1 Pancake
Amount Per Serving
Calories

105
Total Fat

1g
Carbohydrates

18g
Protein

6.5g