All images in this post courtesy of chick-fil-a.com
If your goal is healthy eating on the go, then Chick-fil-A is a great option overall.
As the name implies, the entire menu is based around chicken, which is generally a low calorie and high protein food! Sure, things change a bit when that chicken is fried, but it is generally a safer bet than going with a burger & fries.
Of course, not all chicken is created equally. At KFC, for example, that bucket of Famous fried chicken is not going to be quite as favorable as a grilled chicken sandwich.
But, overall, Chick-fil-A has some great options worth exploring.
Chick-fil-A nutrition overall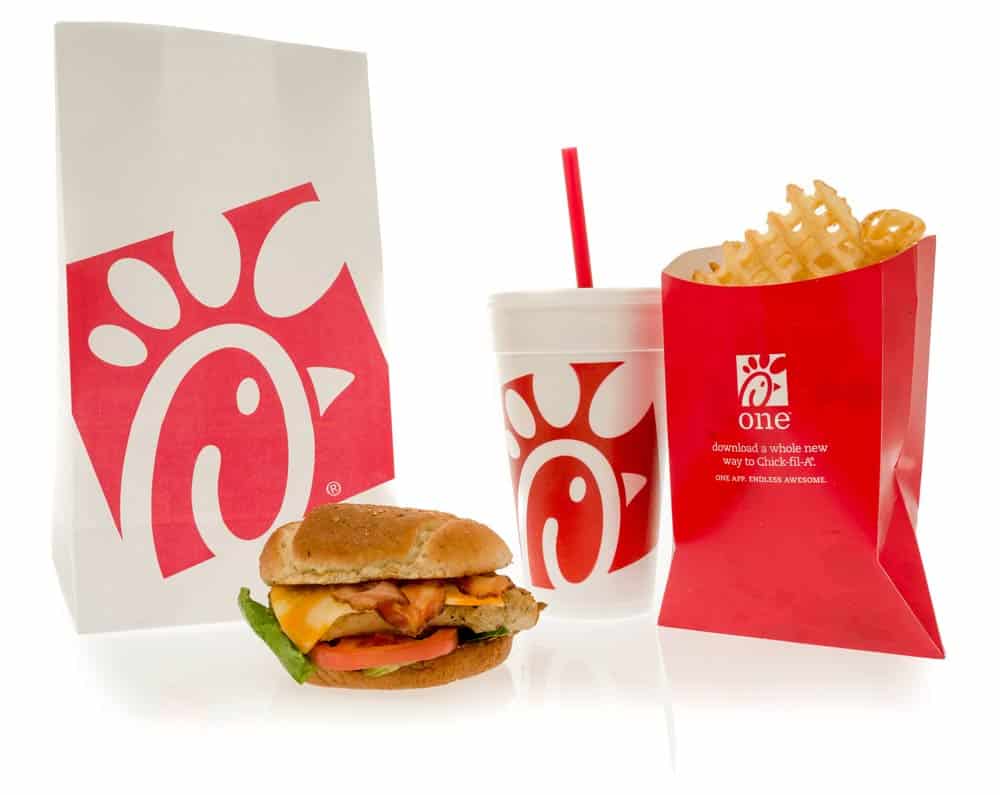 Overall, you're going to find higher protein items at Chick-fil-A than other fast-food restaurants.
Let's say you're on the hunt for a quality option under 500 calories, and you want to maximize your protein as much as possible…
If we were to look at McDonald's as an example, your best bet would be the Quarter Pounder With Cheese, which weighs in at 440 calories, 20g fat, and only 26g of protein.
Surprisingly, a McChicken Sandwich is 400 calories with only 14g of protein!
At Chick-fil-A, you can get yourself a Cool Wrap for only 350 calories and over 40g of protein. Or if you're feeling the sandwich route, the Grilled Chicken Club has 430 calories and 38g of protein, which is also a very solid option!
Yes, not every option is going to be optimal. If you get a meal of fried chicken nuggets, fries, and a large soda, it's likely not going to be an ideal meal. But overall, Chick-fil-A has some very impressive options.
Which Chick-fil-A items are the healthiest?
Let me preface this by saying that there's no right or wrong answer to what "healthy" means. To you, healthy might be lower calorie, and to someone else, it might mean lower fat. It's very subjective!
That being said, we can look at the menu and make selections based on our goals, so let's do just that.
Chick-fil-A chicken nutrition
When it comes to ordering chicken, you have three different options: Chick-fil-A nuggets, grilled nuggets, or Chick-n-Strips.
If you're looking to maximize your protein at Chick-fil-A, then these are most definitely your best options!
If you're keto, or simply looking to limit your carbs, the Grilled Chicken Nuggets are going to be the best bet.
Being simply grilled white meat chicken, these are as lean as you can get. Low fat, virtually no carbs, and tons of protein.
When it comes to these options, you're likely not eating them plain. I mean, Chick-fil-A is partly known for their delicious dipping sauces. Which dipping sauce is the best choice? Let's compare!
Chick-fil-A dipping sauce & dressing nutrition
Lowest Calorie Sauce: Zesty Buffalo Sauce
25 Calories, 2.5g Fat, 1g Carbs, 0g Protein
Highest Calorie Sauce: Garden Herb Ranch Sauce
140 Calories, 15g Fat, 1g Carbs, 1g Protein
I originally had this section titled "best and worst dipping sauces" but I hate that terminology- just because one of these sauces is high in calories, it doesn't make it a bad option!
Sure, if you're watching your calories, the "best" option is the Zesty Buffalo Sauce. However, don't go thinking you can never enjoy some delicious Ranch or Chick-fil-A Sauce. If you love it, enjoy it.
Looking at the salad dressing, Chick-fil-A conveniently offers "light" dressing options; at less than 100 calories per packet, the light options will add a ton of flavor to your salads without adding a ton of calories.
Most of the other options are thicker & creamier, leading to a lot more calories.
Luckily, Chick-fil-A salads will be served with the dressing on the side, so you have the luxury of using as much or as little as you'd like.
Chick-fil-A sandwich nutrition
While the sandwich menu at Chick-fil-A isn't huge, the customizations are nearly endless.
All of the sandwiches listed in this graphic are exactly as pictured but don't include any sauces. For example, The Deluxe Sandwich includes American cheese and butter on the bun. If you wanted to leave both of those out, you can see from this nutrition guide that you'd be saving 80 calories.
Lowest Calorie Option: The Grilled Chicken Sandwich
320 Calories, 6g Fat, 41g Carbs, 28g Protein
The Grilled Chicken Sandwich is a great option if you want to keep your calories low and still enjoy a sandwich! Plus, with 28g of protein, it's a great option regardless of your dietary goals.
Highest Calorie Option: Spicy Deluxe Sandwich
550 Calories, 25g Fat, 47g Carbs, 33g Protein
It's shocking to me that the highest calorie menu item at Chick-fil-A is only 550 calories. If you were to head over to Burger King, you can EASILY consume over 1,000 calories from a burger. Sure, this Spicy Deluxe Sandwich is technically the highest calorie option, but quite honestly, it's still a great option!
Chick fil-A salads & sides nutrition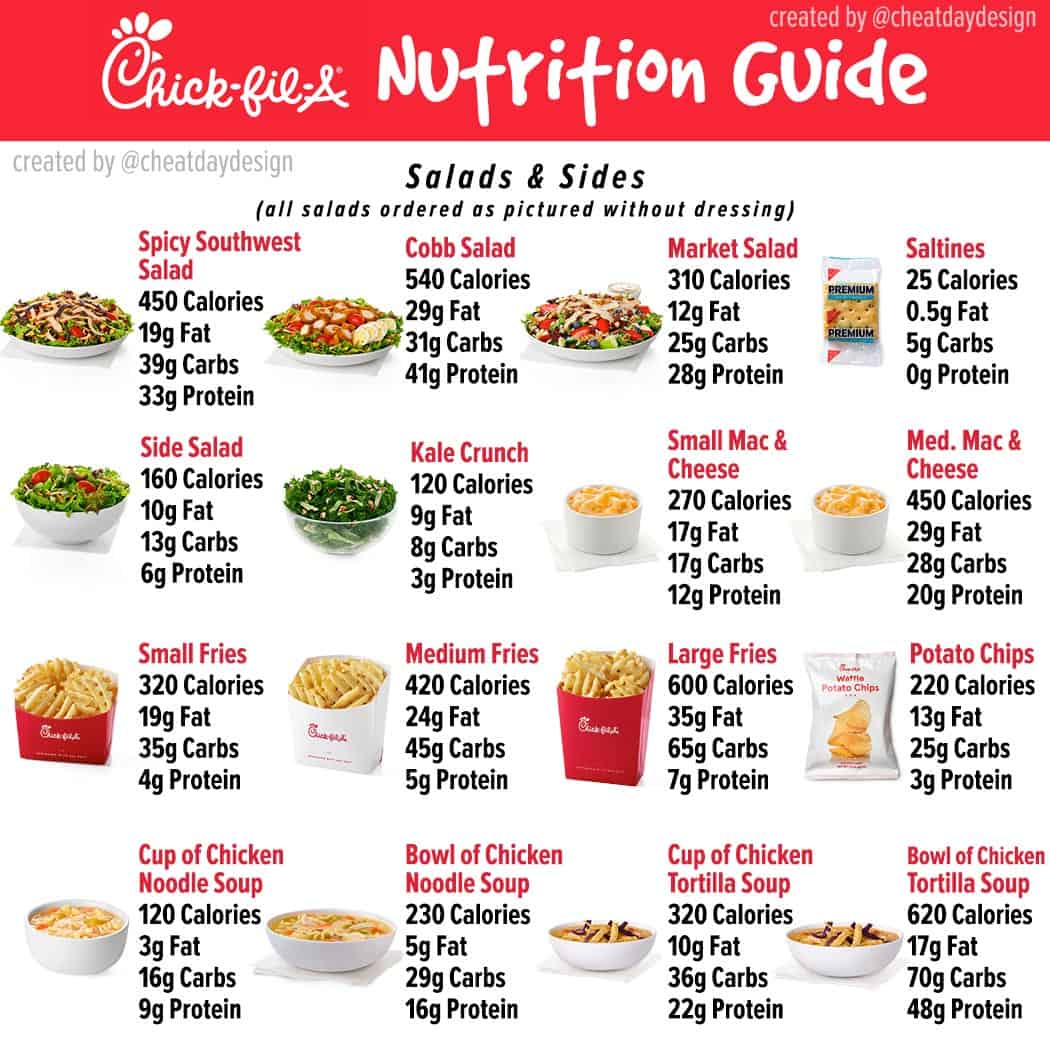 For this guide, the salads are reflected exactly by the photo. It's worth nothing that are a lot of different customization options for Chick-fil-A salads that will change up the nutrition quite a bit.
Let's use the Market Salad as an example.
If you just order as-is, it will be served with cold grilled chicken, but you have the option to order it with any of these protein options instead:
No chicken at all
Chick-fil-A filet
Chick-n-Strips
Grilled Filet (cold or warm)
Nuggets
Grilled Nuggets
Spicy Filet (warm or cold)
As you can see, there is plenty of room for changes to be made depending on your preferences.
However, the salads listed here do not include the dressing. See the nutrition guide for sauces/dressings above to see how many calories those will add to a salad.
Chick-fil-A breakfast nutrition
Ah, breakfast: the best meal of the day.
Like the Chick-fil-A chicken sandwiches, the breakast sandwiches have room for tons of customizations!
Let's say that you are in the mood for a bacon egg & cheese sandwich. You can see in the nutrition guide above that you have two options: a biscuit and an English muffin.
But the options certainly do not end there. You can get that same sandwich on a bagel, swap out the eggs for egg whites, get extra bacon, or swap out the cheese for a different type entirely.
If you're ordering everything as-is, you can see that the most bang for your buck (bucks meaning calories, in this case) is the Egg White Grill. But with so many customization options, you can alter the nutrition of any of these items to be favorable for you depending on your goals and preferences.
How to save calories at Chick-fil-A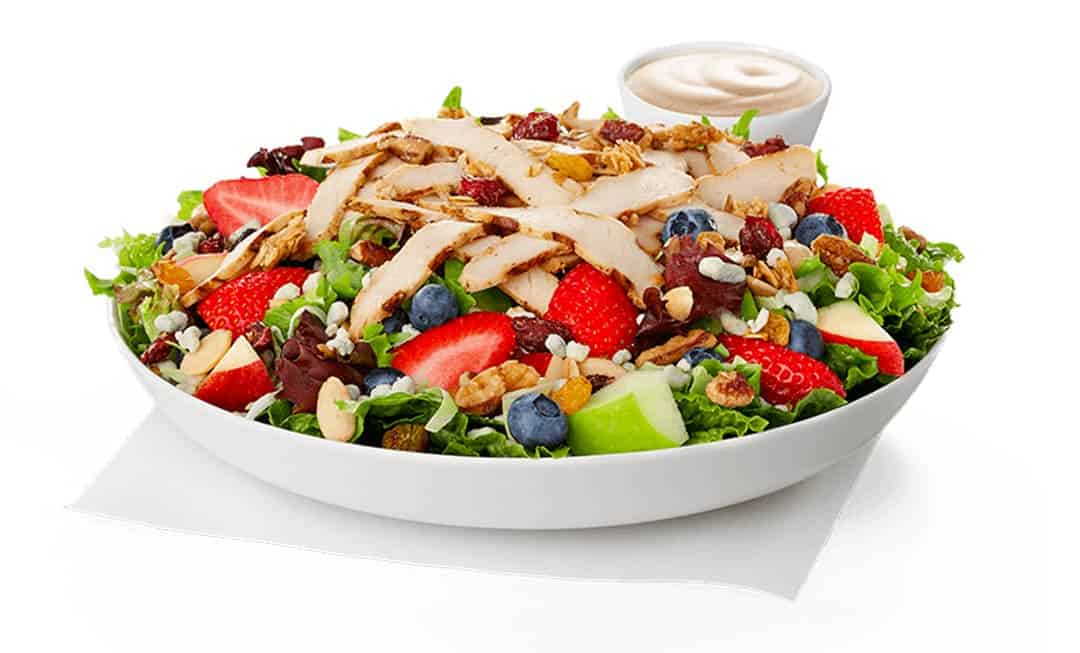 When it comes to eating out at restaurants, not just Chick-fil-A, substitutions are your friend!
Calorie-saver #1: Remove the cheese
One slice of American cheese adds 50 calories, 5g fat, 1g carb and 2g protein. Colby Jack and Pepper Jack cheese are slightly higher, adding an extra 20-30 calories on top of that.
If you're looking to save some calories, going cheese-less can be a great place to start. If you order the Grilled Chicken Bacon Club without cheese, that brings the entire sandwich down to 380 calories! Not bad at all.
Calorie-saver #2: Choose the right sauces
The Chick-fil-A nutrition here does not include sauces on the sandwiches. We all know Chick-fil-A dipping sauce is a must, but be mindful of which you are choosing. While the Zesty Buffalo Sauce is only 25 calories, the famous Chick-fil-A sauce is 140 calories!
If you definitely want to use sauce, just try to limit yourself to one. Sure, you can use more than that, but those calories will add up quickly.
Calorie-saver #3: Ask for no butter
The macros of some of the sandwiches do include butter on the bun. While that makes the sandwiches even more delicious, it also adds an extra 30 calories.
Is 30 calories a lot? Nope, certainly not! I would not stress it. But if you do want to save a few calories, ask them to leave that butter off.
Calorie-saver #4: Don't be afraid of substitutions
I mentioned it many times above, but don't be afraid to ask for substitutions and make changes to an order!
Chick-fil-A salads include lots of mix-ins, so that is where the calories are coming from. For example, the market salad has a bunch of fruit, blue cheese, and granola included, so it can add up.
Get creative with the salad and leave the granola out, or swap out a different kind of dressing. If you want to up the protein, add some Grilled Chicken Nuggets on top!
When it comes to sandwiches, you can swap out the type of cheese or the type of chicken, or you can change up the bun. There are tons of options, so find what works best for not only your goals, but your tastebuds as well.
Is Chick-Fil-A healthy?
If you're asking me personally, I'd 100% say yes!
When it comes to fast food, you could do much worse than Chick-fil-a. Sure, all items aren't going to be ideal for you depending on your goals, but the fact that the highest calorie menu item clocks in at only 550 calories, there are plenty of solid options here to fit your goals!
If you ever want to see how Chick-fil-A stacks up against other fast food options, look no further than the infamous Chicken Wars going on.
It seems like every single fast-food establishment and restaurant is battling to be crowned the best chicken sandwich. While these sandwiches keep getting changed and updated, let's look at how Chick-fil-A stacks up:
It's actually the lowest calorie of all of them! How does it compare in taste? I'll let you be the judge on that one.
All of this being said, if you're looking to get some fast food but also want to keep your calories (and protein intake) in check, you could do much worse than Chick-fil-A!