If you are in the mood for a crispy chicken sandwich, emphasis on crispy, then look no further.
You'd never know that this was fried up in an air fryer with absolutely no oil!
How does this crispy chicken sandwich compare to some of the popular chicken sandwiches out there?
Well, this sandwich has 485 calories, and 46g of protein.
You may be thinking "nearly 500 calories isn't much lower than some of the popular sandwiches out there."
And I suppose you'd be right. Well, Popeyes Crispy Chicken Sandwich has 700 calories, but Chick-fil-A's Chicken Sandwich only has 440 calories.
The difference? Chick-fil-A's sandwich has only 29g of protein, and the entire sandwich weighs about 6 ounces. For our sandwich, the chicken alone weighs 6 ounces, and that doesn't include the breading, toppings, or bun. Needless to say, the crispy chicken sandwich we're making is a monster, and sure to fill you up even without any sides!
How to make crispy air fryer chicken
Making juicy, crispy chicken in the air fryer isn't difficult, but it takes some specific instruction to get it right!
To make things as easy as possible for ya, I put together a 1 minute recipe walkthrough…
But if you want a more in-depth breakdown, keep on scrolling.
Important Note: Preheat the air fryer!
I honestly never knew you were supposed to preheat your air fryer. I always assumed that the whole point of those things was that they got hot very quickly, so they didn't require preheating. Sure, you can do without it if necessary, but even 10 minutes of preheating makes a huge difference. I first tested this with my Air Fryer Donut Holes, and I can assure you that it is the key to this crispy chicken!
Plug the air fryer in and let it heat up at 380 degrees while you prep the chicken. Trust me!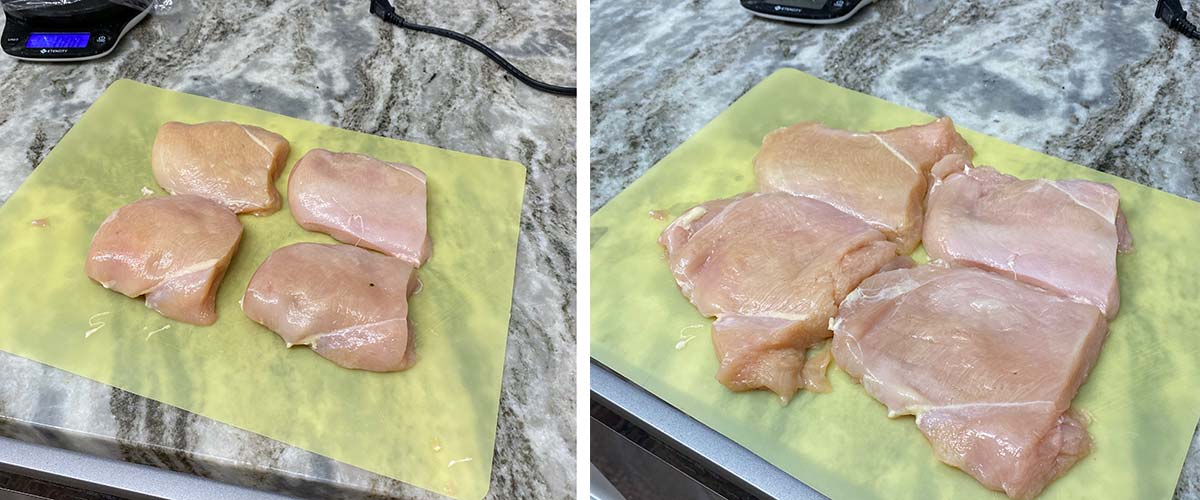 1. Pound chicken cutlets
I cut my chicken breast into 6oz portions. This makes for nice big sandwiches. If you want smaller sandwiches, you can cut the chicken into 4oz portions and it will still be plenty large. Once you trim and cut the chicken to size, cover them with some plastic wrap, and pound them down a bit. This flattening helps to ensure a nice even cook in the air fryer!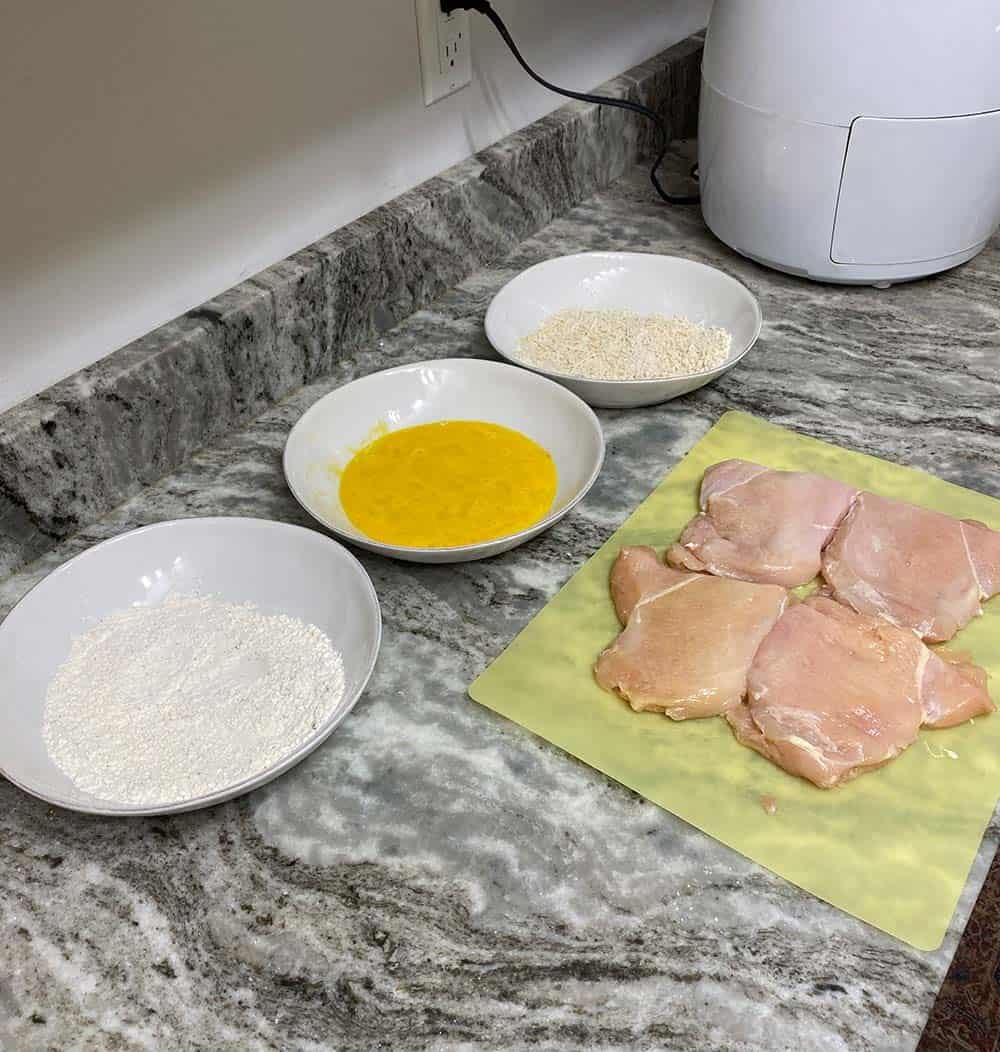 2. Prep the coating
When I made my original Spicy Chicken Sandwich recipe, I used only flour to coat the chicken. This certainly works, but we want crispy, so we're going to change things up a bit.
First, we're going to fully coat the chicken in a mixture of flour & seasonings, then into some egg, and then we're going to finish with Panko breadcrumbs mixed with a little bit more flour, and shredded Parmesan Cheese. Believe me, I don't like the taste of parmesan cheese on its own, but when mixed into the coating, it creates an insane crunch! You could leave it out and just use Panko, but I highly suggest rolling with the parmesan cheese.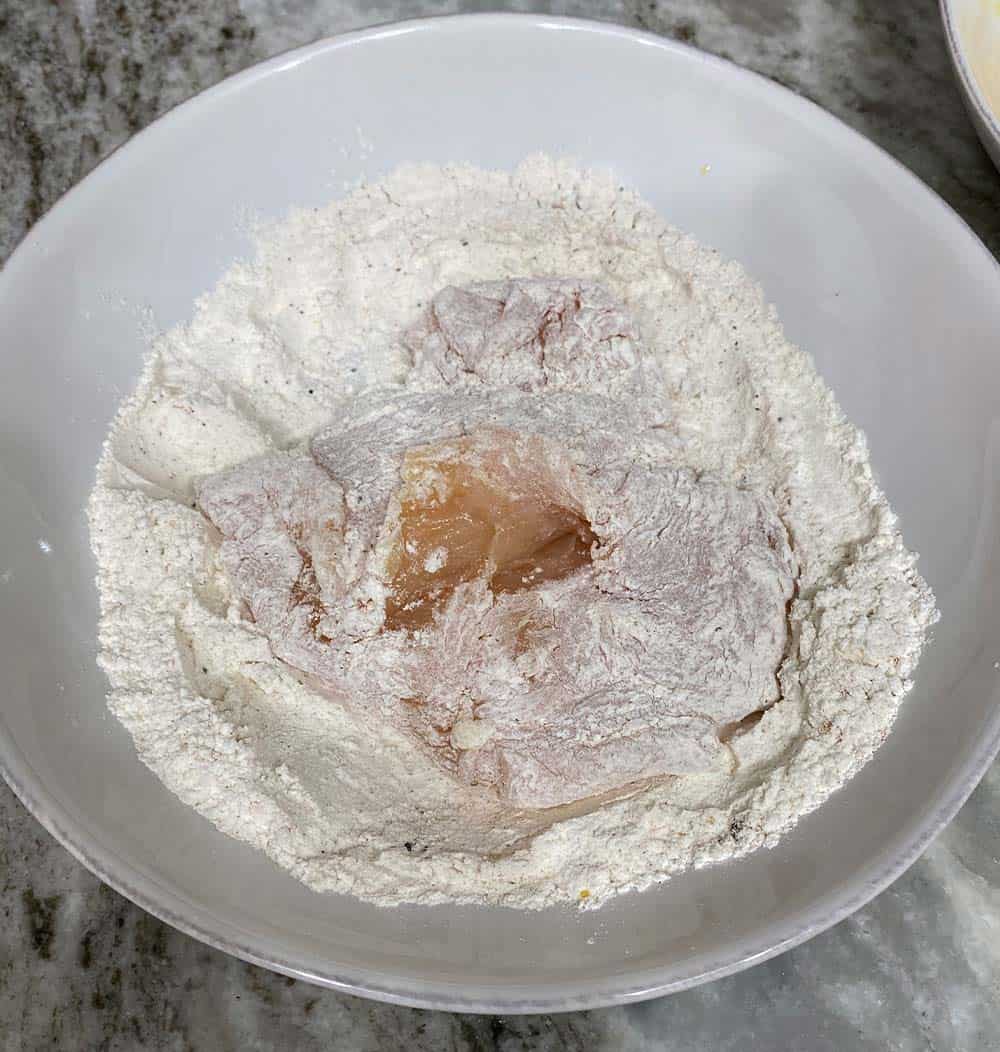 3. Make sure you fully coat the chicken cutlets
When you pound down the chicken, you might find that it frays a bit. If it does, it's important to make sure you fully cover every area with flour! The flour helps the egg and breadcrumbs to stick, which is essential to the crispiness of this sandwich.
After the flour, dip into the egg mixture, and then finish in the panko, flour, and parmesan cheese mixture.
4. Air fry at 380 degrees F for 18 minutes
Add your chicken to the air fryer (I was only able to fit 2 at a time, but it depends on your air fryer). Spray the chicken with butter spray or nonstick spray to wet the coating. This isn't necessary, but wetting the chicken a little bit will eliminate any of those dry flour spots. More than anything, it'll make the chicken look much nicer.
After 9 minutes, carefully flip the chicken with tongs to allow both sides to brown up nicely, and give it one more quick spray.
5. Assemble those sandwiches!
We'll explore some different options for toppings, and you can get really creative with these.
Note: I was only able to fit 2 of the chicken cutlets in my air fryer at a time. So, once the first two were done, I went through the same process for the final two, then let those cook for 18 minutes while I enjoyed my dinner! The leftover cutlets heated up very well in the air fryer the next day.
Toppings for the air fryer crispy chicken sandwich
I wanted to keep my sandwich classic with minimal toppings, but definitely feel free to get creative!
If you want to make this a spicy chicken sandwich, you have few couple options:
Add some extra cayenne pepper into the dry mixtures
Stir hot sauce right into the egg mixture
Do both!
At the very end, toss your chicken in some hot sauce or just add a whole bunch of hot sauce to your sandwich.
Heat aside, there are two important aspects here: the bun, and the sauce.
A toasted brioche bun takes these over the top.
If you can get your hands on "St Pierre Bakery" brioche buns, I cannot recommend them enough! Not only are they the most beautifully perfect brioche buns out there, but they're also only 140 calories each! Much better than any others I've come across. But, any other buns or bread should do just fine.
The thing with brioche buns in general (especially those with low calories) is that they are very soft, so I consider it essential to toast them up.
I'm all for using real butter if you want, but I find using butter spray to just be much easier, calories or not. I get a pan going over medium heat, then spray my buns with butter spray on each side and lay them butter side down. They should toast up perfectly in about 3 minutes or so.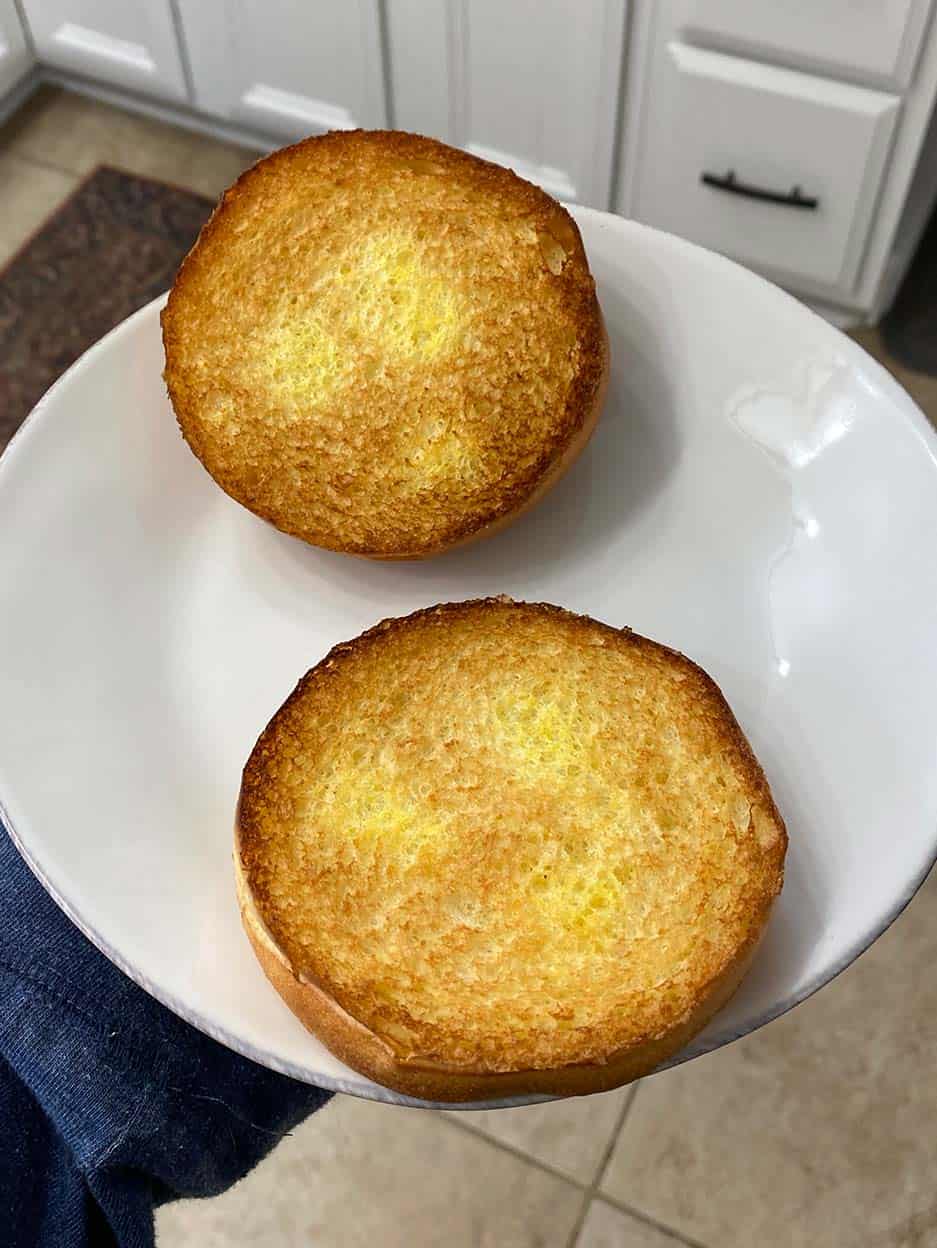 Note: it helps to cover the pan if you can. If you don't cover the pan, the buns will toast up on one side, but stay very soft on the other side. Covering the pan allows them to heat all the way through.
The sauce
For this sandwich, I decided to go with a sriracha mayo. I actually don't like mayo at all, but it lends itself very well to a crispy chicken sandwich.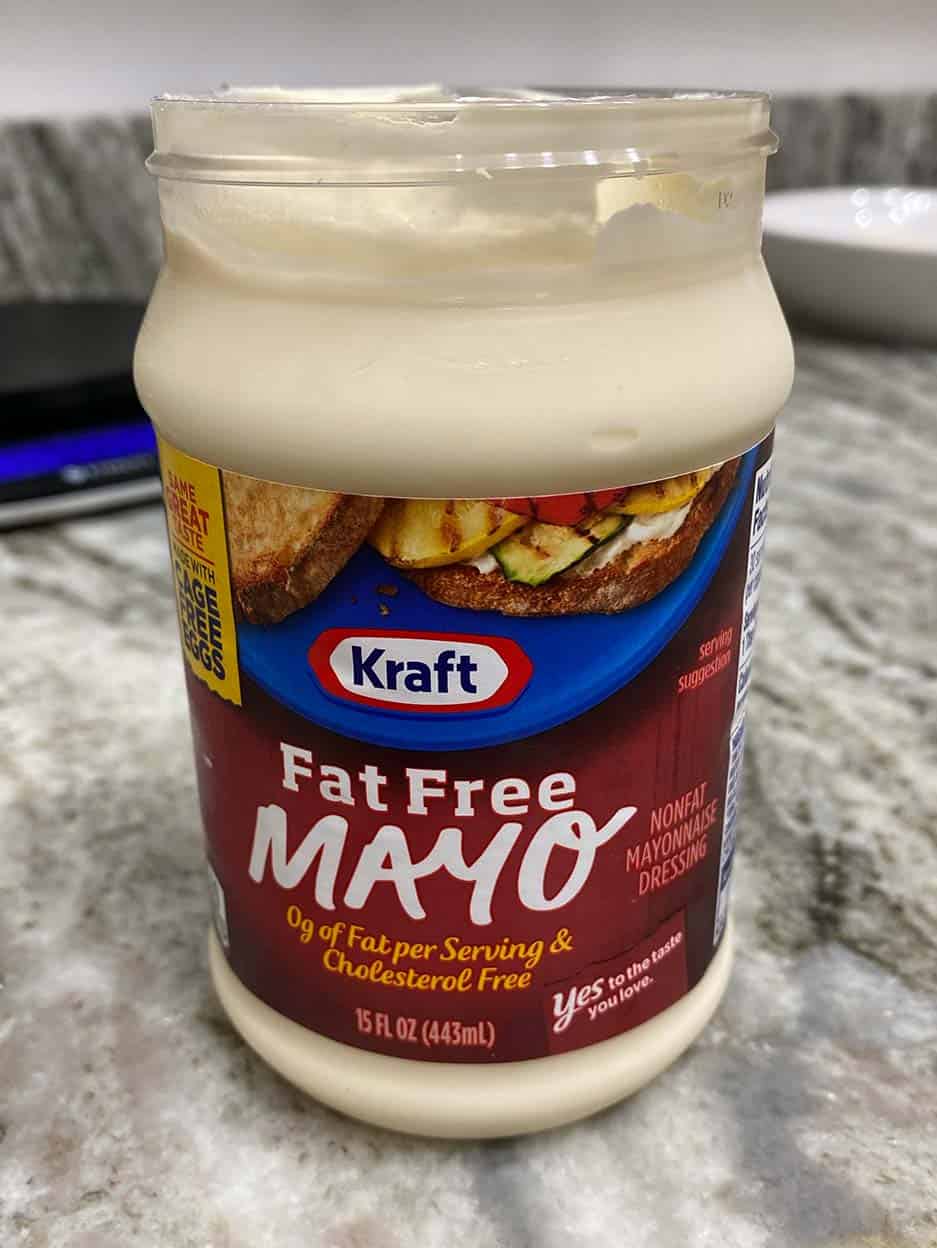 Mayo is generally very high in calories, so I went with a fat free version instead. Combined with a little sriracha (and pickles, of course), it created the perfect sauce for this sandwiches.
If you don't like mayo, or you want to switch things up, I made a sauce out of Greek yogurt for my Spicy Chicken Sandwich:
If you want to make the Greek yogurt sauce, here are the ingredients to mix together (makes enough for 2 sandwiches):
Hot Sauce of Choice
50g Nonfat Plain Greek Yogurt
1 tsp White Vinegar
1/8 tsp Chili Powder
1 dash Ground Cayenne
2 dash Salt, Pepper, & Garlic Powder to Taste
That should do it! This recipe will make enough chicken for 4 sandwiches, and I recommend you make the same amount even if you don't plan on eating them all right away! I saved the leftovers in the fridge and reheated them in the air fryer the next day for lunch, and they were awesome- still super juicy (and crispy, of course).
And if you're curious how this crispy chicken sandwich stacks up against the competition, check out this comparison of all the major chicken sandwiches out there!
Air Fryer Crispy Chicken Sandwich
This is definitely the crispiest chicken sandwich you're ever going to make without deep-frying! But using the air fryer, we're lightening up the typical fried chicken sandwich without sacrificing any of the flavor (or crunch).
Ingredients
Chicken
24oz Chicken Breast (trimmed and cut into four 6oz portions)
Dry Mixture
84g Flour (roughly 2/3 cup)
1/4 Tsp Salt
1/4 Tsp Pepper
1/4 Tsp Cayenne
Dash of Garlic Powder
Dash of Paprika
Liquid Mixture
Second Dry Mixture
45g Flour (about 1/2 cup)
60g Panko Breadcrumbs (about 1 cup)
30g Shredded Parmesan Cheese (about 1/4 cup) *Not grated Parmesan cheese!
Toppings
4 Brioche Buns
64g (4 Tbsp) Fat Free Mayo
Sriracha
Pickles
Instructions
Plug the air fryer in and let it preheat at 380 degrees F while you prep the chicken. Preheating is pivotal in order to get the chicken extra crispy!
Trim your chicken breasts of any fat, and cut them into 6oz portions. Note that 6 ounces makes for a large sandwich, so you can cut them into smaller 4oz portions if you prefer (that will still be plenty large for a sandwich). We made 2 chicken sandwiches and had 2 extra for leftovers the next day. Also note that if you trim off any of the chicken to make your patties, you should save them and turn them into nuggets with the same coating!
Cover the chicken breasts with plastic wrap, and use a meat tenderizer (or another tool) to pound the chicken down a bit. This helps to ensure an even cook in the air fryer.
Prep the two dry mixtures and liquid mixture in separate bowls. Your first mixture will be the flour and seasonings, your second mixture will be the whisked up eggs, and your final mixture will be the panko, flour, and parmesan cheese.
Take your air fryer basket (be careful, because it's hot) and spray with some nonstick cooking spray. The size of your air fryer will dictate how many batches you have to make- just make sure your chicken isn't overlapping or they won't get crispy. For mine, I was able to fit 2 at a time.
Pat your chicken breasts dry with a paper towel to remove any excess moisture, and coat one chicken breast in the first flour mixture. Make sure the entire thing is coated, then shake off any excess flour.
Add the chicken to the eggs, making sure the eggs coat the entire thing. Then, add directly to your last mixture. Use your hands to pat the chicken to make sure as much coating as possible is stuck on. Then, put in your air fryer basket. Continue for the second chicken breast.
Spray the chicken with some of your cooking spray to wet the coating (it will help make sure there is no dry flour left at the end). Air fry at 380 degrees for 18 minutes. Flip the chicken halfway through and spray them once more.
While the chicken is cooking in the air fryer, toast the brioche buns in a stovetop pan over medium heat until browned to your liking. You can prep any toppings you'd like, but I went with a sriracha mayo by simply stirring together fat-free mayo and a little sriracha (can adjust the amount of sriracha to your liking)
Remove the chicken from the air fryer and add to your bun, then top with pickles and your sauce. Before sitting down to eat, I followed these instructions for the final 2 chicken cutlets and let them cook while eating to have them as leftovers.
Notes
If you're wondering why we use flour with the Panko at the end, it's because Panko can be tricky and leave naked spots, which we want to avoid. You can leave it out if necessary, but it's not going to save a ton of calories if that's the concern!
This recipe makes enough crispy chicken for 4 sandwiches, but I only made 2 sandwiches for dinner. We reheated the remaining 2 chicken cutlets for lunch the following day- this chicken heats up VERY well the next day in the air fryer.
If you find that you need more mixture to coat your chicken (depending on the size of your chicken, the moisture content, etc,) feel free to make more.
For the nutrition, I estimated how much of the coating I used. If you want to be incredibly precise, you can weigh the entire bowl before & after coating to see how much went unused. But, that's a lot of work. I estimated as closely as possible!
Nutrition for each crispy chicken cutlet without bun or toppings: 335 calories, 8g Fat, 26g Carbs, 41g Protein
Recommended Products
As an Amazon Associate and member of other affiliate programs, I earn from qualifying purchases.
Nutrition Information
Yield

4 Sandwiches
Serving Size

1 Sandwich
Amount Per Serving
Calories

485
Total Fat

11g
Carbohydrates

51g
Protein

46g