Are donuts one of the best foods on the planet? Yes.
Are donuts also one of the hardest things to get right? Also yes.
Between messing with yeast, using a donut cutter, and deep-frying, there are just too many steps to making the perfect donut.
But these air fryer donut holes are going to change everything.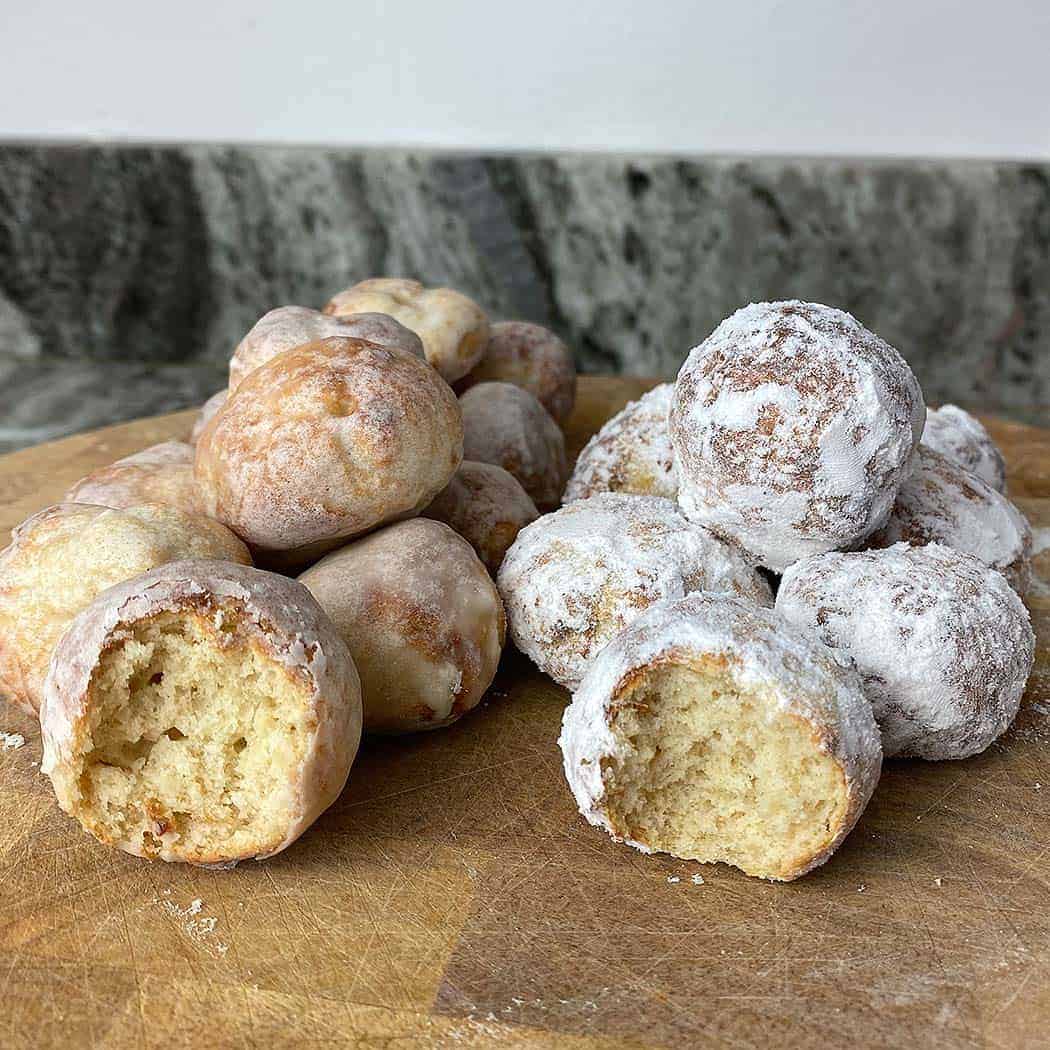 If you're not familiar with donut holes, they are exactly what they sound like! When a doughnut is cut, it leaves behind a tiny little circle, which is then turned into a "donut hole."
We're going to make that process even easier. We'll just mix up some dough, break off small pieces, and air fry them for 4 minutes.
Yes, you heard that right: these air fryer donut holes take only 4 minutes to bake thanks to our trusty air fryer!
These little donut bites have a crispy exterior with a soft, cakey interior. Plus, the nutrition is not too shabby, either.
With nearly half the calories of a Dunkin' Munchkin and more than double the protein, these are a snack you can feel great about enjoying!
Update: The man Brad Bromlow gave this recipe a live review & taste-test in a YouTube video, so check that one out below:

How do you make air fryer donut holes?
These air fryer donut holes are so easy because they require absolutely no yeast, which means no waiting for them to rise.
We're still making them from scratch, though. Unlike my bonuts (biscuit donut) recipe that utilizes canned biscuit dough as a shortcut to make donut bites (side note: biscuit dough makes for AMAZING donuts), we're going to whip up a very simple dough on our own.
All we have to do is mix up all of our ingredients, then break off small pieces to be our donut holes. Since these puff up while baking, we do not need to make them very large, either.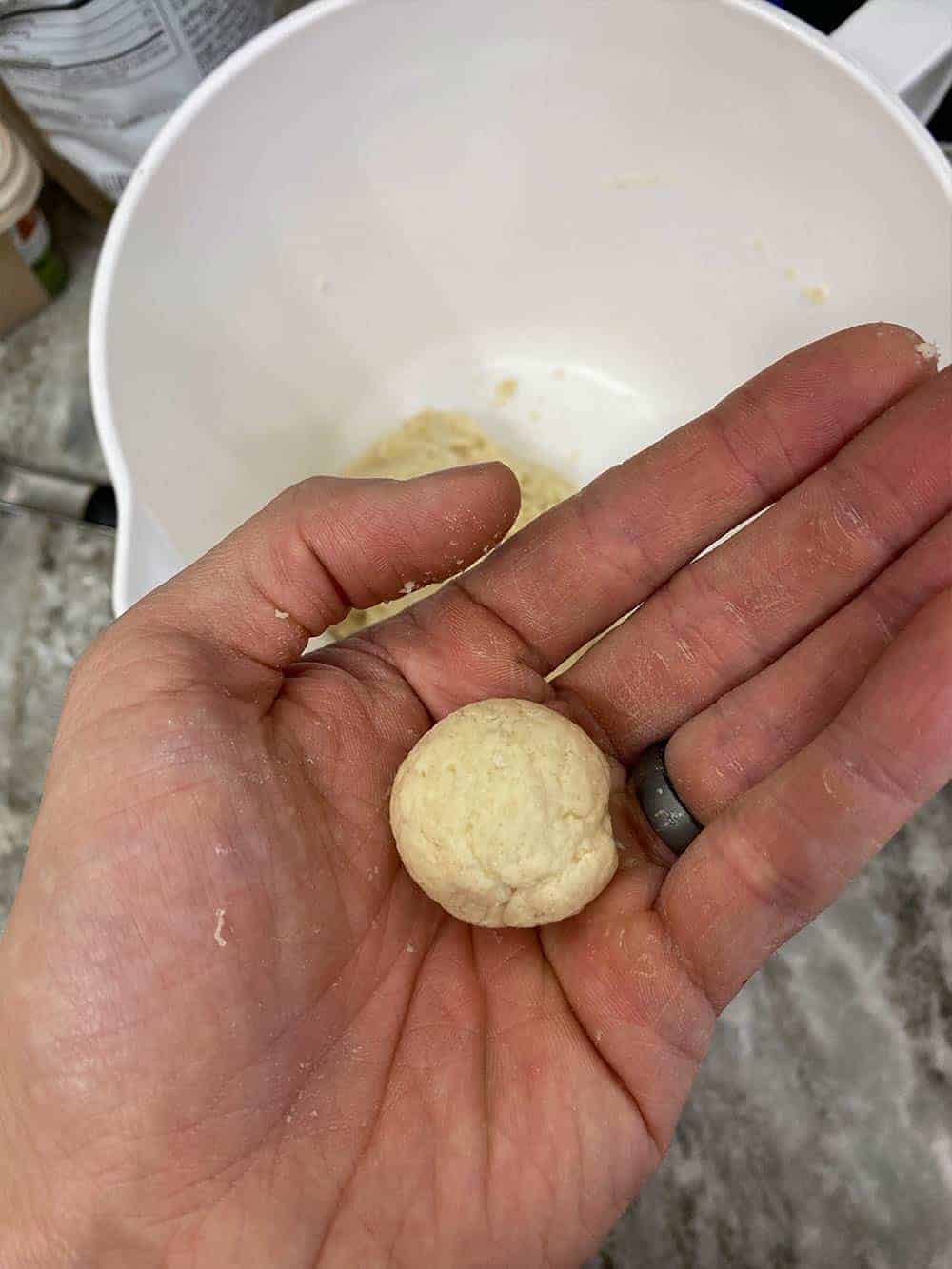 I don't bother weighing them out to make them the same size, so I just eyeball the sizes. Sure, some of the donut holes will vary in size a little bit, but that rustic, imperfect look is even more appealing to me!
All in all, you should be able to get about 25 donut holes total out of this recipe. Depending on the air fryer you use, you'll likely need to do these in two batches.
It's important that you leave space between the donut holes so that they can fully heat all the way around. If you stuff too many in there (or stack them) they will fry up very unevenly.
These air fryer donut holes only require 4 minutes in the air fryer! We're going to let them go for 2 minutes, then carefully flip them over to brown on all sides, then let them finish for the final 2 minutes.
After just 4 minutes, look how beautifully browned they are! If you wanted to eat them just like this, you absolutely can. These donut holes will have a great crisp on the outside and be incredibly soft and moist on the inside.
However, these are definitely better with some kind of coating. I tried half the recipe with a glaze and the other half with a powdered sugar coating. I must say, the powdered sugar really took these over the top.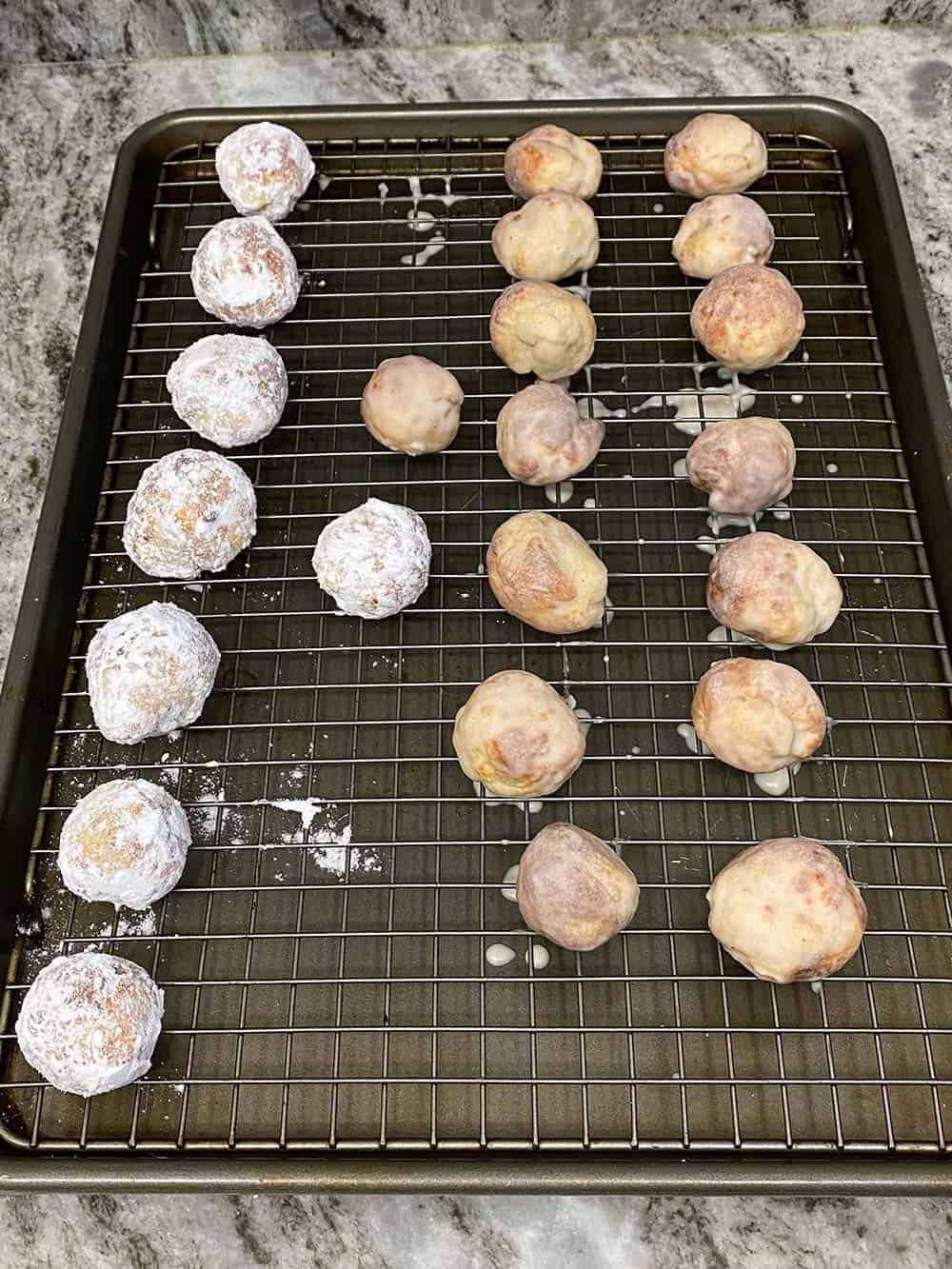 I've always been a fan of powdered Munchkins from Dunkin', and these taste like a spot-on recreation of those.
Needless to say, the entire batch did not last very long.
These donut holes are also great with a cinnamon-sugar coating, which is what I did for my Pumpkin Spice Donut Holes. If you want to use a cinnamon-sugar mixture for these, you may need to use a little bit of cooking spray to help the cinnamon sugar to stick (see my Churro Donuts for reference).
Why is the dough so sticky?
As people have re-created this recipe, a major criticism I've heard is that the dough is too sticky.
I didn't experience that issue personally, but since it has come up a few times, it's worth addressing.
I created a chocolate version of these donut holes, and in it, I tried out some different solutions. Check out the Chocolate Donut Holes recipe for more notes (and photos) on fixing the sticky dough, but here are some suggestions for ya:
Be sure to use a protein powder that is a blend of whey & casein. Whey alone is going to be much stickier.
Add your protein powder as the LAST ingredient. I know it doesn't sound like a big deal, but it does make a big difference.
When you form the donut holes, put a little bit of flour in your hands to make rolling them much easier.
If all else fails, throw the dough into the fridge for 30-60 minutes. When the dough is cold, it becomes much less sticky!
Making a simple glaze
If you want to add a glaze to your donut holes, all you need to do is combine some powdered sugar and milk in a bowl, then toss the donut holes right in it!
To keep these sugar-free, I opted for a powdered sugar substitute. I always use Swerve, which I buy from Amazon, as I find it tastes identical to real-deal powdered sugar.
I added 75g of the powdered sugar substitute to a bowl with about 2 tbsp of milk. Whisk it up and viola, you have a glaze!
My glaze made enough to coat roughly half the recipe, so you may want to make a bit more depending on your preferences.
Depending on the type of milk you use, the thickness of your glaze will vary, so you may need to give your donut holes a double-coating.
This is what my glazed donut holes looked like after a single coating of the glaze because I added a bit too much milk to mine. But, it's an easy fix!
After just a couple of minutes, the glaze will solidify enough for you to add the donut holes back to the bowl for a second coating of the glaze.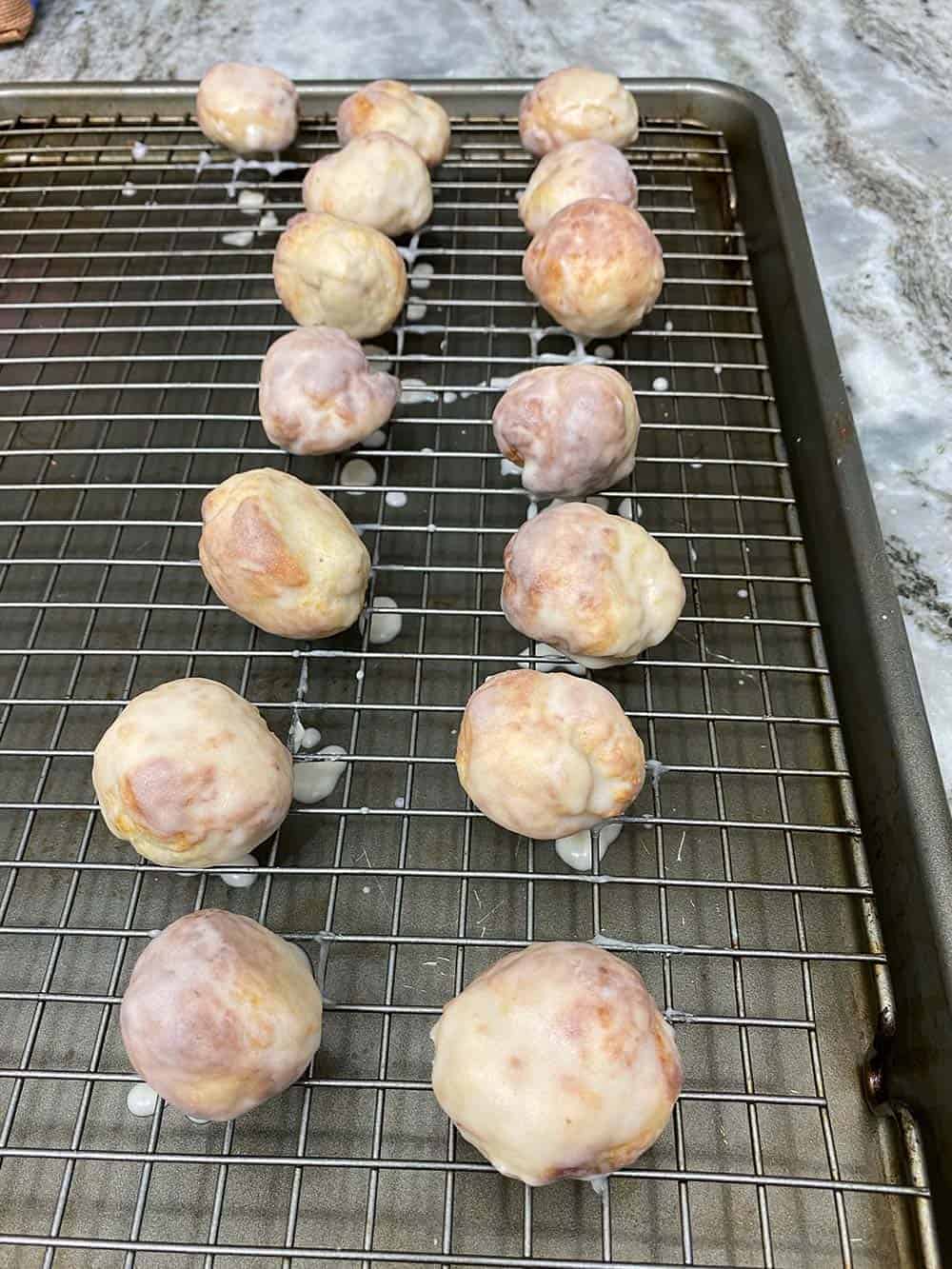 Much better.
The glaze will solidify enough to enjoy after about 5-10 minutes, but you can also speed the process up by adding these to the fridge for a few minutes.
If you prefer a chocolate glaze, you can check out the glaze/icing I made for my Chocolate Pumpkin Donuts.
Preheating your air fryer is a must
I recently learned that you're supposed to preheat your air fryer, and it blew my mind.
I always assumed that because air fryers heat up so quickly, that preheating is unnecessary. Boy, was I wrong!
I noticed when developing my Protein Churro Bites that my second batch fried up so much more than my first batch…
I just dismissed it, thinking "obviously the air fryer is hotter after using it once," but it did not cross my mind that this is actually incredibly useful.
If you want the best crisp possible, preheat the air fryer! Since the beauty & magic of the air fryer is that we do not need oil, maximizing the crisp is the top priority, and preheating does that for us.
All you have to do is plug your air fryer in, turn it on at 370 degrees F, and prep the dough while it heats up. By the time you're done, the air fryer will be hot and ready to go.
Trust me, it's going to make a world of difference in any air fryer recipes you try.
No air fryer? No problem!
As the name "Air Fryer Donut Holes" implies, these work best as an air fryer recipe. But, I know that not everybody has an air fryer. If you don't, you can still make great homemade donuts in the oven.
My Protein Cider Donuts are baked donuts, and they come out great that way. For those, I baked them at 350 degrees F for about 10 minutes, and you should be able to get away with roughly the same amount of time here.
Put your donut holes on a baking sheet and just keep a close eye on them.
Once they're golden brown, they'll be ready to go! I didn't try it for myself so I can't say for sure, but they'll take anywhere from 5-10 minutes in the oven, so just keep watch.
If you try these air fryer donut holes for yourself and love them as much as I did, please leave a review below or come share your recreation with me on Instagram!
More healthy donut recipes for you to try
You're obviously here because you love donuts. Well, we have that in common. I've got plenty of other donut recipes here that you're sure to love: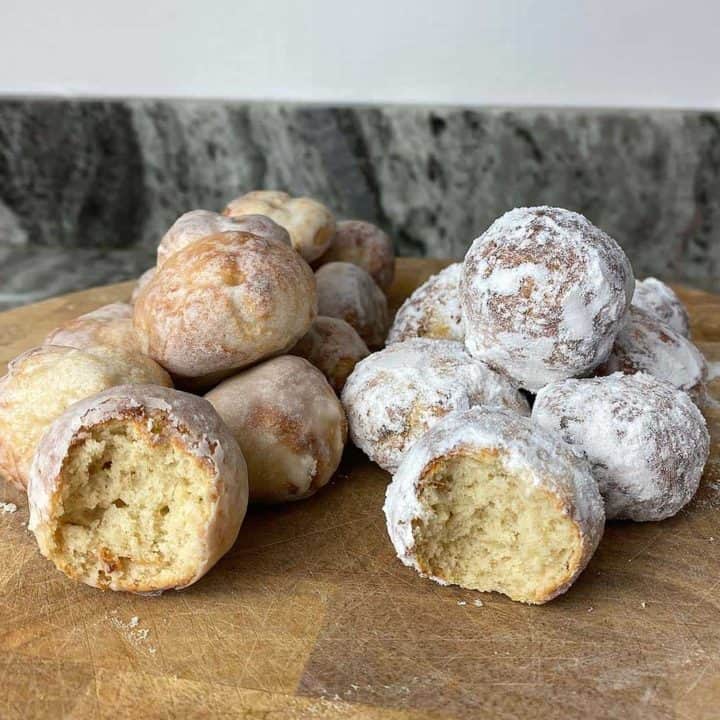 Healthier Air Fryer Donut Holes
Incredibly easy, low-calorie, & low-carb donut holes that take only 4 minutes to bake! Coat in a glaze, toss in powdered sugar, or use any other toppings you'd like!
Ingredients
120g All-Purpose Flour
42g Light Butter / Buttery Spread
100g Unsweetened Applesauce
1 Tsp Vanilla Extract
1 Tsp Baking Powder
1/4 Tsp Salt
Optional Glaze
Instructions
Preheat your air fryer at 370 degrees F while you prep the donut holes (about 10 minutes).
In a large bowl, combine the wet ingredients (applesauce, vanilla extract, and butter) and mix it up. It won't all mix together perfectly, which is totally fine.
Add all of the dry ingredients EXCEPT the protein powder (flour, baking powder, sugar substitute, and salt). Adding the protein powder last helps to prevent the dough from becoming too sticky (this is especially important if you use 100% whey protein, but more on that in the notes).
Once the air fryer is preheated, spray the basket with nonstick spray. I recommend using parchment paper made for the air fryer as well, but this recipe works just fine without that.
Break off a small piece of dough, roll it in your palms, and then place it in the air fryer basket.
Continue forming the donut holes and placing them in the air fryer, leaving enough space in between for them to heat evenly. Depending on the size of your air fryer, you may need to do two batches.
Air fry the donut holes for 4 minutes total. After 2 minutes, use tongs to carefully flip each donut hole, then return to the air fryer for the remaining 2 minutes. Note: if your air fryer hasn't been fully preheated these may take a few minutes longer.
Carefully remove from the air fryer and top/coat the donut holes however you'd like prior to serving.
For glaze coating: If you'd like to glaze the donut holes, add your powdered sugar to a large bowl and slowly stir in 1-2 tbsp of milk until it resembles a glaze. Add your donut holes to the bowl, then carefully remove the donut holes, allowing the excess glaze to run off. Place on a cooling rack to set.
For powdered sugar coating: Add powdered sugar to a large bowl and drop the donut holes right in when they come out (I didn't weigh out how much sugar I used). Since they are hot, the powdered sugar will stick no problem. Give them a toss until fully coated, then place on a cooling rack.
Notes
IF USING 100% WHEY PROTEIN: I did a bunch of testing to make sure I could get this recipe right for you! While I highly recommend a whey/casein blend protein, whey definitely works. You just have to make a couple tiny changes:
When you mix up your dry ingredients, leave the whey protein out completely. Add the wet ingredients and mix until you have a sticky batter. THEN mix in the whey protein powder to thicken the batter.
The batter/dough is going to still be stickier than if you use a whey/casein blend. For me, I was still able to form the donut holes, but I needed to use a little trick. Either wet your fingers with cold water to be able to handle the sticky dough or flour your hands. You can try both methods and see what you prefer, but flour will work slightly better. Plus, we're going to add powdered sugar or a glaze, so it doesn't matter if there is some extra flour on these going into the air fryer.
You'll need to let these cook for an extra minute, so 5 minutes total. I left these cook for 3 minutes, then flipped them over and let them finish for the final 2, and they worked out great.

To see how different types of protein powder affect donut recipes, check out my Ultimate Protein Powder Substitution Guide.
------------------------------------
The "buttery spread" I use is Country Crock. Any butter spread, margarine, coconut oil, or regular butter will work great.
If you made your glaze too thin, you can let the glazed donut holes set for a few minutes, then dip them back into the glaze.
These donut holes are best served fresh but will be great as leftover donuts for a few days. Store these in an airtight container at room temperature and enjoy them throughout the week! Depending on how you coat these, they can also be reheated quickly in the microwave (although the glaze would melt, so be careful with that).
Is your dough too sticky? See the notes above this recipe card on how to remedy that!
Recommended Products
As an Amazon Associate and member of other affiliate programs, I earn from qualifying purchases.
Nutrition Information
Yield

25
Serving Size

1 Donut Hole
Amount Per Serving
Calories

35
Total Fat

1g
Carbohydrates

4g
Protein

2.5g