Donuts are easily one of the best desserts out there. I'm a Dunkin' fan myself, because it's really tough to beat fresh fluffy donuts.
And while these protein donuts may not be Dunkin (or Krispy Kreme) worthy, they're going to be better than any other protein donut you've tried!
These donuts are full of vanilla and butter flavor, and I am here for it.
When I set out to make these air fryer protein donuts, I tried to use the same recipe as my air fryer donut holes, but it simply did not work. Don't get me wrong- those donut holes are incredibly, and they're still one of my favorite recipes.
But when they're shaped into donuts, they just would not rise nearly enough, so we needed to switch them up slightly.
Since I love that recipe, I didn't want to change it up too much. These air fryer protein donuts utilize Greek Yogurt to help them rise, much like my 2-Ingredient Bagels or Protein Snickerdoodle Puffs.
The addition of the Greek Yogurt also adds some extra protein, so each one of these donuts has only 150 calories and 11g of protein!
How to make air fryer protein donuts
The dough we're working with is going to be similar to what you'll find in my Apple Cobbler Skillet recipe. Essentially we're starting with a biscuit dough, but we're frying them into donuts!
We simply have to mix up all of our ingredients until we have a ball of dough. We don't want to overmix the dough because it will become too dense- just mix until there is no dry mixture remaining, and we're ready to rock.
Using your hands, flatten down the dough to about a half-inch thick. I'll be honest, I have no idea if that was a half-inch or not, but that sounds right.
Regardless, we're going to be cutting donuts out of it, so you can eyeball how big you'll need the dough to be…
Since I don't have a donut cutter or any fancy tools, I just used a shaker bottle to cut circles out of my dough. You can use any cup, glass, or lid you have laying around to cut these.
Press the cup down, give it a little twist, and you'll have the start of your donuts. I was able to cut out 3 circles, then I shaped the remaining dough back together to cut 2 more donuts. In total, I was able to cut 5 full donuts.
Rather than just poking a hole in the center, we're going to cut out the donut holes. I used a small cap from a container of sprinkles, but a cap to any of your spices should work perfectly.
Same process here: just press down and twist.
Once I was done, I had 5 donuts and 3 donut holes (I combined some of the donut holes to make them slightly larger).
It's safe to estimate that the donut holes are roughly the same size as a full donut, so this recipe makes 6 servings in total.
Notice how the donuts look very delicate, but that is what we want. If the dough is super smooth, that means it was overworked, and your air fryer protein donuts are likely going to come out quite dry.
Preheat the air fryer at 370 degrees for about 5 minutes. You could skip this step, but preheating the air fryer makes a huge difference! See my Air Fryer Donut Holes for a full explanation why.
Once preheated, place your donuts in your air fryer. I was only able to fit 3, so I did two batches.
Don't worry if you need to do multiple batches: these air fryer protein donuts only take 4 minutes to cook!
Air fry at 370 degrees F to 4 minutes, flipping them after 2 minutes.
Once the 4 minutes are up, they should be beautifully golden!
At this stage, if you were to eat them as-is, they would taste very similar to a sweet biscuit. That's when the glaze comes into play!
Combine the powdered sugar & milk in a bowl to make your glaze, then coat the warm donuts on each side.
Let the donuts sit on a cooling rack for 5-10 minutes to fully set, and you'll have a beautiful glaze!
If you find that the glaze isn't quite thick enough, don't be afraid to go for a double-dip once the first coating has hardened. I did that with my air fryer donut holes and it worked out great.
These donuts are best eaten fresh (I mean, who doesn't love warm donuts?) but you can save them at room temperature to enjoy the leftovers.
I saved a couple of leftover donuts and enjoyed them the next day, and I'll admit they were a little bit more dry than fresh (but isn't that the case with most baked goods), but they were still great!
Topping ideas for these air fryer protein donuts
While I believe it's tough to beat a classic glazed donut, I also tossed one of these donuts in powdered sugar to make a powdered donut: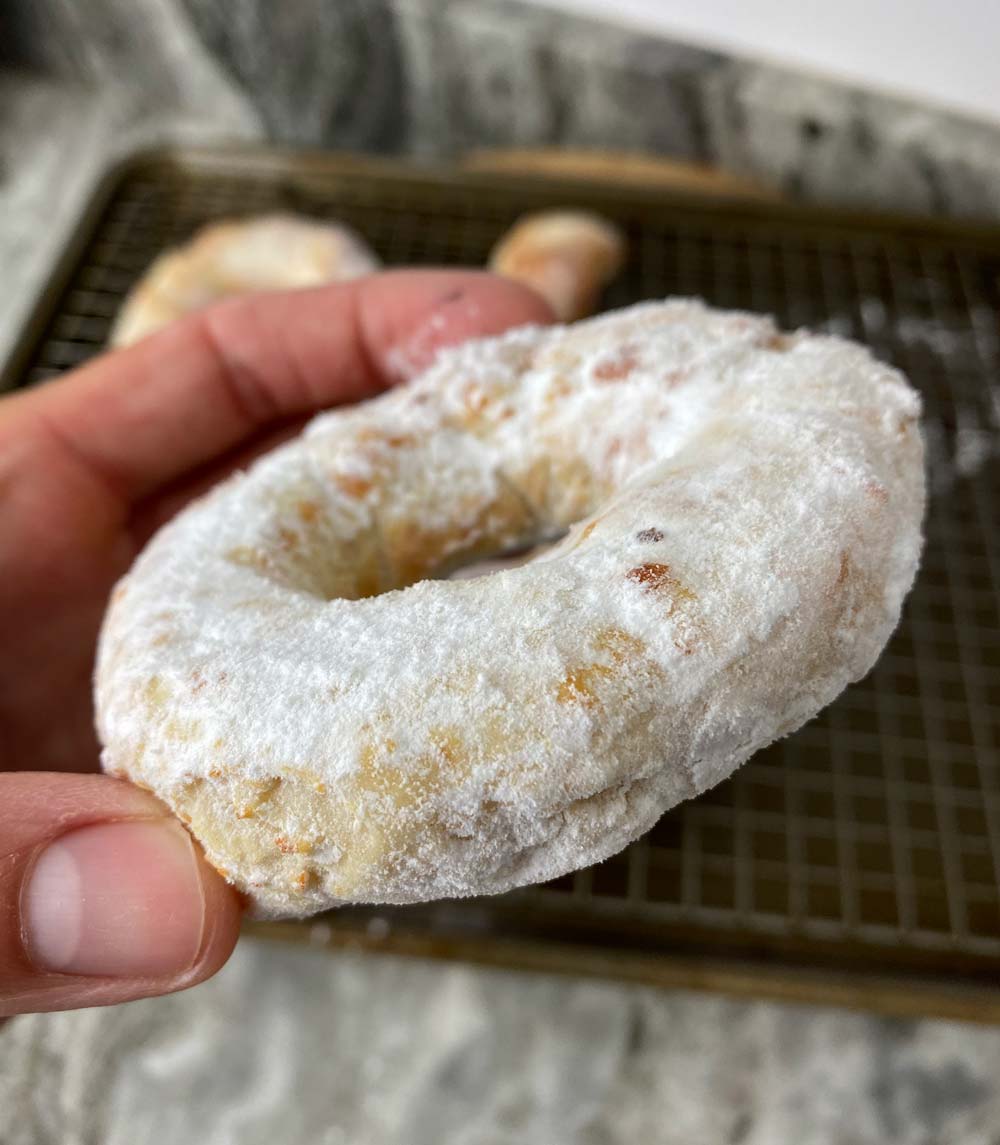 When you do a dry coating like this, these air fryer protein donuts keep their crispy exterior, which may be preferred depending on how you like your donuts! However, I will say that the powdered donut doesn't hold up quite as well as the glazed donut when it comes to leftovers. The moisture from the glaze really helps vs the dry powdered sugar.
If you're a fan of chocolate, you can create chocolate icing as I did with my Chocolate Pumpkin Protein Donuts, or you can toss them in cinnamon sugar like my Protein Churro Bites.
But, the possibilities are truly endless. If you make these donuts and you get creative with the toppings, I'd love to see your creations. Please tag me on Instagram so I can see them!
Air Fryer Protein Donuts
These donuts are ready to go in just minutes and are incredibly light & buttery. You'd never know that each had only 150 calories and 11g of protein!
Ingredients
135g All-Purpose Flour
2 Tsp Baking Powder
1/4 Tsp Salt
1 Tsp Vanilla Extract
150g Plain Nonfat Greek Yogurt
42g Light Butter (I use Country Crock spread)
Glaze
Instructions
In large bowl, mix together all of the dry ingredients for your donuts.
Add the liquid ingredients in, then mix everything up until you have a dough and there is no dry mixture left. I started mixing with a silicone spatula but used my hands because it was much easier. Note that you don't want to overmix, so it's okay if the mixture is still somewhat crumbly.
Remove the dough onto a silicone mat, parchment paper, or lightly floured surface. Use your hands to flatten it out so it's about a half an inch thick or so (it doesn't need to be exact).
Using a cup or lid, (you can use a donut cutter if you happen to have one), cut circles out of your dough. Just press down and give the cup or lid a twist to cut the dough. I was able to cut 3 circles, then reformed the dough a couple more times for a total of 5.
Using a small cap (caps from spices work great) cut the centers out of your 5 donuts. I baked donut holes with these, but you can form them into a 6th donut if you prefer.
Add the donuts to the fridge to firm them up for a few minutes, and preheat your air fryer for 5-10 minutes at 370 degrees F. If you're in a real rush, you can skip this entire step, but it will really help the final product.
Once the air fryer is preheated, add your donuts. I could only fit 3, so I did 2 batches. Air fry at 370 degrees for 4 minutes, carefully flipping them over halfway through.
While the donuts cook, prep the glaze by whisking together your powdered sugar with milk. When you remove the donuts, dip both sides in the glaze, then add to a cooling rack to allow the glaze to set for 5-10 minutes.
Repeat until all donuts are done, then enjoy! These donuts are best served fresh, but can be stored and enjoyed as leftovers.
Notes
I recommend getting creative with your toppings! I did a powdered sugar donut simply by tossing in powdered sugar, but a donut with icing and sprinkles would also be amazing.
I have not tested with any other type of protein powder. Whey protein should work, but may result in a dry end-product.
Note that I do not count sugar substitute in my carb totals. If you're very strict about your carb counting, be sure to account for the powdered sugar in the glaze.
Recommended Products
As an Amazon Associate and member of other affiliate programs, I earn from qualifying purchases.
Nutrition Information
Yield

6
Serving Size

1 Donut
Amount Per Serving
Calories

150
Total Fat

3g
Carbohydrates

18g
Fiber

1g
Sugar

1g
Protein

11g