These parmesan truffle fries are going to make you feel like a gourmet chef, but they're so easy that anybody can make them.
They're crispy, salty, and packed with truffle flavor in every bite!
Whether you want to make your own French fries from scratch of start with a batch of frozen French fries, you'll be able to whip these delicious fries up in no time.
Should you use fresh potatoes or

frozen

to make ?
There are two routes you can go here: cutting your own fries from scratch, or using a bag of frozen fries.
Many French fry purists will say that you shouldn't use frozen fries, but that's blasphemy! I love using frozen French fries because cutting potatoes can be a real pain.
I purchased a bag of "Handsome Cut Potato Fries" from Trader Joe's, but any frozen fries will work great for this recipe. You can use steak cut fries, shoestring fries, or any other type you prefer!
If you prefer to hand-cut your own fries, you can certainly go that route as well. In fact, I did that with my Spicy Nacho Fries and it worked out great.
For this recipe, you'll use 2 medium russet potatoes. The russet potato is definitely my preferred potato to use to achieve crispy fries, but if you have another preference, you can change it up.
All you need to do is wash the potatoes then slice them up into fries.
If you're using raw potatoes, you'll need to let the cut potatoes soak in cold water for about 20 minutes before cooking. Soaking the potatoes pulls out the starch and will lead to much crispier fries.
That's just another reason I enjoy using frozen fries, though: all you have to do is dump the bag right into the air fryer or onto a baking sheet, and you're ready to go!
vs : Which is better for ?
Assuming you're not growing or buying your own black truffles, you'll need to purchase something with truffle flavor in it.
To make truffle fries, you can either toss your fries in white truffle oil (or black truffle oil) or top them with truffle salt.
If you toss the French fries in truffle oil after cooking, they'll have plenty of truffle flavor, so you'll only need to top them with a little bit of parmesan cheese and sea salt.
Personally, I don't love the flavor of white truffle oil on my fries. The truffle flavor is a bit too strong for me, and it comes with a hefty price tag that I just don't love.
Instead of truffle oil, I much prefer using truffle salt.
This salt has small pieces of black truffles mixed right into it, and it ends up being the perfect amount of truffle flavor for these parmesan truffle fries.
Since you'll be salting your fries at the end either way, you might as well use some salt with truffles in it!
If you can't get enough truffle in your life, you can always toss your fries in white truffle oil AND top with truffle salt, but that's a bit much for my tastebuds.
How to make
If you're using frozen fries, you'll have a batch of crispy fries in no time!
I used the air fryer to crisp these fries up as much as possible, but if you do not have an air fryer, you can utilize the oven instead.
For the air fryer, all you have to do is place fries in the air fryer basket and air fry at 400 degrees F for 16 minutes. I open up the air fryer and shake the basket every 4 minutes to ensure they cook evenly.
If you prefer the oven, place your fries on a baking sheet at bake at 425 degrees F for 20-30 minutes. Whether you're using frozen or fresh homemade French fries, they should crisp up in that 20-30 minute range, but the exact cook time may vary.
Either way, I recommend flipping your baked fries after 10 minutes to make sure they do not burn on the bottom.
Once the fries are done and golden brown, I like to spray them with cooking spray to help the seasoning stick. You can toss them in some oil as well, but I find the cooking spray to be easier (and it saves some calories, too).
Then, add the fries to a large bowl and toss with your truffle salt and freshly grated or shredded parmesan cheese.
Place the fries on a plate or serving dish, top with some fresh parsley and additional parmesan cheese, then enjoy!
If you want to elevate the truffle flavor, feel free to drizzle a little truffle oil over the top.
What should you serve with?
The truffle fries recipe makes an amazing side dish, but what should you pair them with?
In my mind, nothing pairs better with fries than a sandwich, and I have quite a few delicious sandwich recipes here on my blog to check out!
Here are some amazing options to serve alongside your baked truffle fries: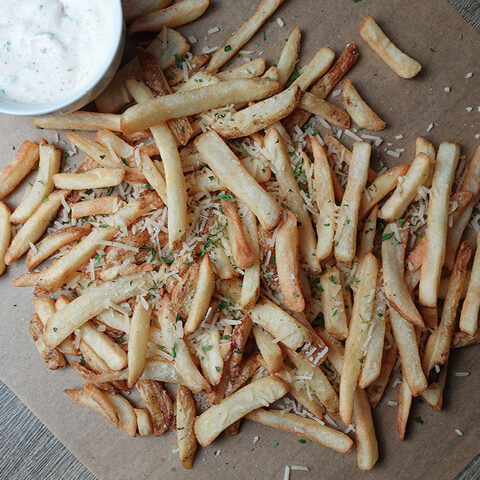 The Easiest Parmesan Truffle Fries
Additional Time:
1 minute
These parmesan truffle fries are packed with a ton of flavor and ready to eat in only 15 minutes! They're crispy, salty, and jam-packed with flavor.
Ingredients
12oz (350g) Frozen French Fries (or 2 medium Russet Potatoes)
10g (4 tsp) Grated or Shredded Parmesan Cheese
Parsley for garnishing
Instructions
I much prefer making truffle fries from frozen pre-cut French fries, but you can make your own fries from scratch very easily! If you're making your own, wash your 2 russet potatoes and slice into fries. Soak the cut potatoes in a bowl of cold water for 20 minutes, then pat them dry. Now you can follow the rest of the directions for fresh OR frozen French fries!
Preheat your air fryer at 400 degrees F for about 5 minutes.
Add your fries to the air fryer basket and air fry at 400 degrees F for 16 minutes, shaking the basket every 4 minutes or so to make sure everything crisps up evenly.
After 16 minutes, the French fries should be nice and crispy, but you can cook them longer if you prefer your fries very well done.
Lightly spray your cooked fries with cooking spray, then add to a large bowl and toss with the truffle salt and parmesan cheese. I use cooking spray rather than oil to save some calories, and because I find it easier, but you can also toss the fries in a little bit of olive oil (or truffle oil) to help the seasoning stick.
Add your fries to a plate or serving tray and top with some fresh parsley. Serve alongside some honey mustard, garlic aioli, or dipping sauce of your choice!
Notes
If you prefer to bake these truffle fries rather than use the air fryer, they can be baked at 425 degrees F for 20-30 minutes, but the exact cooking time will vary. Just be sure to flip the fries halfway through the process.
If you want even more truffle flavor, you can toss the cooked fries in truffle oil or drizzle some truffle oil over the top before serving.
You can add garlic powder or minced garlic to these air fryer truffle fries for even more flavor.
Recommended Products
As an Amazon Associate and member of other affiliate programs, I earn from qualifying purchases.
Nutrition Information
Yield

2
Serving Size

1/2 of Recipe
Amount Per Serving
Calories

300
Total Fat

11.5g
Carbohydrates

40g
Protein

6g