There are two types of recipes I want to make more of: very simple recipes, and recipes that are great for meal prep.
This Healthy BBQ Pulled Pork fits into both categories.
You don't actually need to barbecue or smoke any meat here- we're using the slow cooker to make juicy, tender pulled pork!
All you need to do is throw everything into the slow cooker and wait about 8 hours and it's ready to go.
OK, technically you need to shred the meat and dice up one onion too. But, that's it!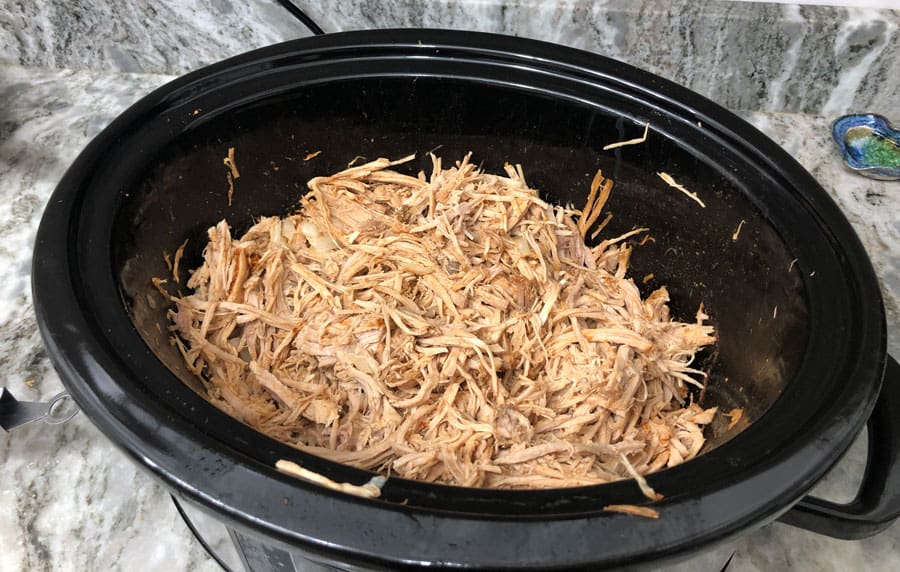 This healthy pulled pork makes for the perfect healthy gameday recipe!
What makes this BBQ Pulled Pork healthy?
Typical pulled pork is made from pork shoulder- you know, the fatty, delicious stuff.
Being as I wanted to make this healthier, I went with a pork loin roast, which is quite lean. Note that it is not as lean as a tenderloin, and they are two totally different cuts of pork.
The loin has a little bit of fat to it (about 10-12g per serving) which really helps the overall flavor. When you slow cook the pork, the fat melts and keeps the pork nice and juicy! If you were to use tenderloin, you risk drying out the meat.
You can use a regular pork shoulder if you'd like, but the pork loin worked great here and saves you a ton of calories by comparison. We add a little bit of extra liquid to compensate for the lower fat content, but in my honest, meat-loving opinion, it comes out amazing.
I've made this recipe countless times and I am never disappointed.
At my local grocery store, 5-pound pork loins are always on sale for very cheap, so this recipe is going to make a big ol' batch of pulled pork.
It's great for meal prep throughout the week, but you'll see that you can easily scale back the recipe if needed. The 5-pound roast makes enough for roughly 20 servings or so, and it's versatile enough to use for a wide range of lunches and dinners.
How to make Healthy BBQ Pulled Pork
All we're going to do is plop the entire pork loin into the Crockpot- no trimming required!
Make sure the fattier side of the loin is facing up. This allows the fat to melt over the entire pork loin as it cooks, ensuring it doesn't dry out.
Add 1 cup of beef broth (chicken broth would work great too) to add a little bit of extra moisture, then generously cover the top of the loin with the seasoning of your choice. I don't measure the seasoning- I just make sure to cover the entire thing. Don't worry- you really can't overdo it!
I stumbled upon a calorie-free seasoning that I decided to try in this recipe. You can use any seasoning you want, but make sure you use one that you like!
I chose a Memphis-style rub because it's sweet & spicy- I didn't want to go with anything overly smokey because I don't love that flavor, but you can go any route you'd like.
Once that's all set (which should take about 1 minute, tops) we're going to let the pork cook for 7 hours.
At the 7 hour mark, there's going to be quite a bit of liquid:
Here's where we're going to do a tiny bit of work, but still not much effort at all.
We're going to drain the liquid out (but save it) and use tongs or forks to shred the pork up. Then, we're adding back in 1 cup of the liquid to keep some of that amazing flavor, adding in one chopped onion, a little bit of BBQ sauce (I keep it light- more on that in a minute) and sprinkling a little bit more seasoning on top.
Again, I don't measure the seasoning, but don't worry about overdoing it.
Cover and let it finish for the final hour and we are good to go!
How much sauce should you use for this Healthy BBQ Pulled Pork?
I purposely did not make this heavy on the sauce, because I much prefer adding my own at the end.
Whenever I order BBQ, I'm always disappointed when my meal comes drenched in sauce. I much prefer my meat to have a dry rub on it so I can add as much sauce on at the end as I'd like. So, that's the route I chose to go with this recipe!
There is some barbecue sauce used in this recipe for the necessary flavor, but it's minimal.
In terms of what to use, I can't recommend G Hughes enough. G Hughes is a sugar-free sauce that you not only would never know is sugar-free, but is undoubtedly the best-tasting barbecue sauce I've ever had.
I use the Sweet & Spicy BBQ Sauce, but there are lots of different flavors to choose from. 2 tablespoons of this sauce are 10 calories and 2g carbs, vs a regular bbq sauce that can normally be 60+ calories and 15+ grams of carbs. Definitely check a store near you to see if you can get your hands on this sauce! They have a store locator on their site you can check out.
Making the Healthy Coleslaw
When it comes to coleslaw, it seems I either love it or hate it. I love slaw that is nice and light, but I am absolutely repulsed by slaw that is super heavy on the mayo.
Whenever I make my own, I keep it very light by keeping it vinegar-based and more of a sweet slaw. In this case, I bought some fat-free mayo (which I also use in my Crispy Chicken Sandwich Recipe), but if you can't find that, any type of mayo will work just fine. Using a small amount of that, this coleslaw came out super light, while still tasting authentic and creamy.
This is going to be a staple for me, because you can enjoy it as a side with pretty much any meal!
One note on the healthy coleslaw: it's important to let it all sit for about an hour before serving. Once we mix the ingredients together, we're going to put it in the fridge for one hour- this is why I make the coleslaw at the same time I shred the pork. That way, everything is ready together.
The combination of the lemon juice and sugar tastes strong at first, but I promise they settle down and become much more subtle after the hour.
How to serve Healthy BBQ Pulled Pork
Once the pork is ready to go, you can do so many things with it. I mean, 5 pounds is quite a bit of meat, so you're going to want to find some creative uses for it! Here are 3 of my favorites.
BBQ Pulled Pork Sandwiches (obviously)
Clearly, this is the best use for this pulled pork! You can never go wrong with a sandwich.
But I have a hot tip for ya.
Instead of just taking the pork right out of the slow cooker and serving, I always sear the meat in a pan.
One of the best parts about smoking meat is that it gives you that char and crust on the outside- the slow cooker cannot accomplish that.
So, what I like to do is mix up some of the pulled pork with BBQ sauce to coat it, then throw it into a very hot pan to sear it.
When you do, it'll turn this…
Into this…
All it takes is about 1-2 minutes on each side to give it that crust, and that little bit of texture really makes a difference!
Toast up a beautiful brioche bun, add your pork, a little extra BBQ sauce, and your coleslaw. Bonus points for adding pickles or jalapenos, too.
OK, now I'm drooling.
Pulled Pork Tacos
When I originally made this recipe, my intention was to make BBQ pulled pork tacos.
I took a trip to Austin and had authentic BBQ tacos and fell in love, so I had to make my own.
The only difference between these and the sandwiches, outside of the obvious of using tortillas instead of a bun, is adding some Laughing Cow spreadable cheese. The creamy texture of the cheese is a really welcomed addition to the tacos! Of course, you can use shredded cheddar cheese as well. Or, any cheese for that matter.
And if you want to kick things up another notch, add a little sour cream, or use Greek yogurt to make it a little bit healthier.
Pulled Pork Pizza
I've been making my Neapolitan Style Pizza every single week, and I love switching up the toppings.
Making a BBQ Pulled Pork was one of the better decisions I've ever made. I made the pizza as you normally would, with sauce and cheese, but adding pulled pork right on top and a swirl of BBQ sauce before baking.
If you need something to do with your leftovers, this pizza is it.
Weighing Out Portions
Since this is a recipe that is cooked in bulk, you may be wondering how to weigh out a single portion. Well, there's a few options.
First and foremost, the number of portions is going to be dependent on the size of the pork loin you buy and the size of the portions you want.
Let's say that you buy a 5-pound pork loin as I did. I want portions of 4oz, which means that this recipe will make 20 servings.
After the pork is finished, you can divide the total weight by 20 to figure out how much a cooked serving weighs.
OR, I like to take the simple approach.
If I want a serving size of 4oz, I know that meat will typically cook down to 3oz due to a loss of water weight (Check out this guide for more on that topic). Instead of worrying about the exact measurements, I went ahead and assumed that a serving would still be very close to 4oz- since we are adding some liquid, sauce, and onions, I figured that my final serving would still end up close to 4oz.
It's just an estimate, but it makes it much easier!
Either method works- just remember that the number of servings will vary based on the size of the roast you get!
Okay, let's make some pulled pork!
Healthy Slow Cooker BBQ Pulled Pork
Total Time:
8 hours
10 minutes
No barbecue necessary! Using a slow cooker, were going to make some insanely delicious, and healthy, pulled pork.
Ingredients
Ingredients for Pulled Pork (makes about 20 servings)
5 lb Pork Loin (boneless)
Memphis Seasoning or seasoning/rub of choice
1 Sweet Onion
1/2 Cup Sugar-Free BBQ Sauce (Can use any BBQ sauce, but I love G Hughes Brand)
1 Cup Beef Broth
Ingredients for Healthy Coleslaw (roughly 10 servings)
14oz (1 Bag) Coleslaw Mix
1/4 Cup Fat Free Mayo
1/4 Cup Apple Cider Vinegar
2 Tbsp Fresh Lemon Juice (about half a large lemon)
Salt & Pepper to Taste
Ingredients for Sandwich
Brioche Buns
Additional BBQ Sauce for Topping
Pickled Jalapenos (Optional)
Instructions
There's no need to do any trimming on the meat, simply add it directly to the slow cooker with the fattier side facing up.
Pour 1 cup of beef broth over the top of the roast. Take your seasoning and generously cover the top of the roast (as if it were a rub). Cover and cook on low for 8 hours.
After 7 hours, the pork will be fully cooked and safe to eat, but we're going to turn it into pulled pork at this point before cooking it for the final hour. Carefully drain the liquid from the slow cooker into a separate bowl and set it aside. Using tongs (or forks), shred the meat apart into pulled pork.
Dice up one sweet onion and add it to the slow cooker with the pork. Add 1/2 cup barbecue sauce and pour in 1 cup of the liquid you set aside. Mix this up really well.
Sprinkle seasoning over the top of your pork one more time before covering and letting cook for one more hour.
Now we're going to make the healthy coleslaw. Empty the coleslaw mix into a large bowl, and combine it with 1/4 cup fat free mayo, 1/4 cup apple cider vinegar, lemon juice, sugar, and then salt and pepper to taste (don't worry, you can add additional salt and pepper later if necessary). It should taste great at this point, but the flavors blend together in the fridge and become significantly better, so refrigerate the coleslaw for the remaining hour while the pork finishes cooking.
Once the 8 hours is up, mix the pork once more to make sure all the liquid is fully mixed with the pork.
Time to serve! Heat up a pan over high heat, and portion out the pulled pork into a bowl. Add a few tablespoons of BBQ sauce to the bowl with the pork and mix it up to coat.
Add the pulled pork to your hot pan and sear both sides for about one minute. Add to your brioche bun with some additional sauce, coleslaw, and jalapeno (pickles work great too) and enjoy!
Notes
I use a pork loin, not a pork tenderloin. Nutrition will vary, but the one I buy (Smithfield brand) has 190 calories 10g fat, and 23g protein per serving.
This pulled pork will keep very well in the fridge throughout the week, just keep it covered and enjoy it all week long.
I mentioned it in the post above, but I much prefer my pork to not be drenched in sauce. So, this recipe is light on the BBQ sauce. That way, you can use the pork for tons of applications and not be stuck having to only make BBQ sandwiches.
The nutrition below is approximated for one sandwich but will be dependent on a bunch of different factors, most important the brand of ingredients used (the brioche bun I use is St. Pierre Bakery). I always recommend calculating your own nutrition!
Nutrition Information
Yield

20 Servings of Pork
Serving Size

1 Sandwich (see notes for pork alone)
Amount Per Serving
Calories

365
Total Fat

13g
Carbohydrates

30g
Fiber

2g
Sugar

7g
Protein

28g