Creamy coleslaw is the perfect side dish for any kind of barbecue, but I especially love it as a compliment to pulled pork.
Problem is, most coleslaw out there is loaded with calories, fat, and sugar, so we're going to make our own creamy coleslaw with a healthy twist.
While it may look like your average coleslaw, this low carb coleslaw recipe is packed with so much flavor.
Whether you're in a calorie deficit and need a low-calorie side dish, or you're following a keto diet and need a low carb option, this coleslaw will make the perfect quick side for your next meal.
With only 30 calories per serving and 4 grams of net carbs, you can't go wrong with this easy side dish.
How to make healthy coleslaw
We only need 5 simple ingredients to make this healthy coleslaw recipe, but each ingredient is very important.
While you can certainly make your own coleslaw from scratch by shredding red cabbage or green cabbage, I much prefer to buy a bag of coleslaw mix to make things as easy as possible.
If you do choose to make your own over buying a pre-shredded coleslaw mix, you can shred a whole cabbage by hand or quickly in a food processor.
When it comes to traditional coleslaw, there are generally two different types you'll find: creamy, mayo-based coleslaw, or lighter vinegar-based coleslaw.
For this low-carb coleslaw, we're going to get the best of both worlds by using a combination of light mayo and apple cider vinegar.
I love using fat free mayo, but it tends to be difficult to find, so light mayo also works really well. It'll contain a bit of healthy fat, but the calories are still nice and low.
Fat-free or light mayo is going to help keep the calories down while still creating a creamy dressing, and apple cider vinegar is going to give this coleslaw the extra flavor needed.
You can use white vinegar in a pinch, but apple cider vinegar is highly recommended for the best flavor.
In a small bowl, whisk together the light mayo, apple cider vinegar, lemon juice, and sugar-free sweetener. You can use regular granular sugar for this recipe, but if you prefer a sugar-free coleslaw for your low carb diet, you'll want to stick with a keto-friendly sweetener. But don't worry, it's not much sugar either way, so it wouldn't add many calories in either case.
Empty the coleslaw mix into a large mixing bowl, then add in the dressing ingredients from the separate bowl. Mix everything together.
I like to add a pinch of salt and pepper to my coleslaw mix as well, but you can adjust the amounts to taste.
At this point, everything is ready to go, but we need to refrigerate the coleslaw for one hour. This is a truly delicious side dish, but the flavor needs to develop a bit in the fridge. If you taste the coleslaw before chilling, the vinegar will be a bit too prominent and the coleslaw will have more of a tangy flavor.
Once everything chills, the flavors combine to create the absolute best coleslaw.
The great thing about this coleslaw recipe is that you can add any additional ingredients you'd like for additional flavor. If you don't need this to be a keto slaw, you can dice up some apples to really take the flavor over the top. Personally, I like slicing a Fuji apple up very thin and adding that to my homemade coleslaw.
Since we're using lemon juice in this coleslaw, it prevents the apples from browning, and they stay nice and fresh in the fridge.
If you want to keep this coleslaw keto but also add some more volume, you can add shredded carrots, broccoli, or other low-carb vegetables of your choice.
What to serve with your healthy coleslaw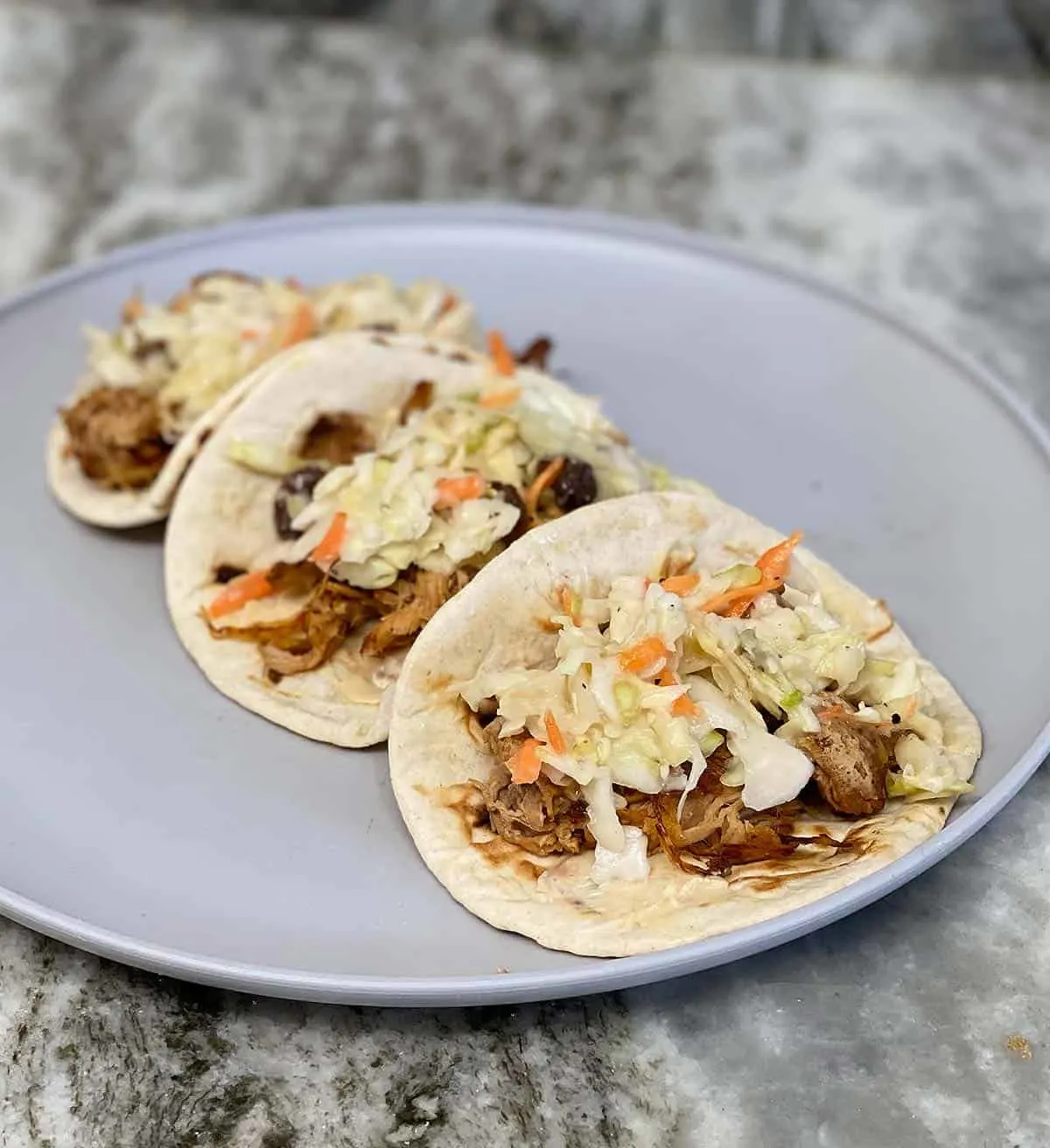 This healthy coleslaw is a great side dish, but you need a main dish to pair it with! Since this coleslaw will stay fresh for 3-5 days (up to a week in some cases), you'll have plenty of opportunities to build an amazing meal around this coleslaw.
Here are some dishes that will pair perfectly with this slaw:
Low-Calorie Creamy Coleslaw
This healthy coleslaw is the perfect complement to pulled pork or crispy chicken sandwiches. With minimal ingredients, each serving is only 30 calories, low carb, and still creamy & delicious.
Ingredients
14oz (1 Bag) Coleslaw Mix
1/4 Cup Fat-Free or Light Mayo
1/4 Cup Apple Cider Vinegar
2 Tbsp Fresh Lemon Juice (about half a large lemon)
1 Tbsp Granular Sugar Substitute (or regular sugar)
Dash of Salt & Pepper
Optional: 1/2 Apple of your Choice
Instructions
Empty the coleslaw mix into a large bowl.
Add the mayo, apple cider vinegar, lemon juice, and granular sugar. Mix everything up well.
Add a dash of salt and pepper and give everything one more quick mix.
If you want an extra pop of flavor and don't need this to be super low carb, you can thinly slice up 1/2 of an apple (I prefer Honeycrisp apples) and add that to your coleslaw. The apple slices add a really great freshness to the coleslaw and they do not turn brown thanks to the lemon juice we are adding.
Refrigerate the healthy coleslaw one for one hour before serving. This chilling time really enhances and transforms the flavor, so you do not want to skip it!
Store any leftover coleslaw in an airtight container in the fridge for up to one week.
Notes
Another great addition to healthy coleslaw is raisins or craisins if you want to elevate the flavors even further.
Don't worry about the added sugar substitute in this coleslaw recipe. It balances out the tartness of the apple cider vinegar and the end result is not at all sweet.
Nutrition Information
Yield

6
Serving Size

1/6 of Recipe
Amount Per Serving
Calories

30
Total Fat

0g
Carbohydrates

5.5g
Net Carbohydrates

4g
Fiber

1.5g
Protein

1g