If you want a recipe that is both simple and insanely delicious, you're in the right place.
We're going to put together some pulled pork burritos in just minutes using some leftover slow cooker pulled pork.
One of my favorite recipes to date is my BBQ Pulled Pork, which is perfect for meal prep. But, when you make such a large quantity of pork, sometimes you need to get creative with your meals.
Sure, a pulled pork sandwich is amazing, but this shredded pork burrito takes things to the next level.
How to make Pulled Pork Burritos
To keep things simple, we're going to use leftover pulled pork in this recipe.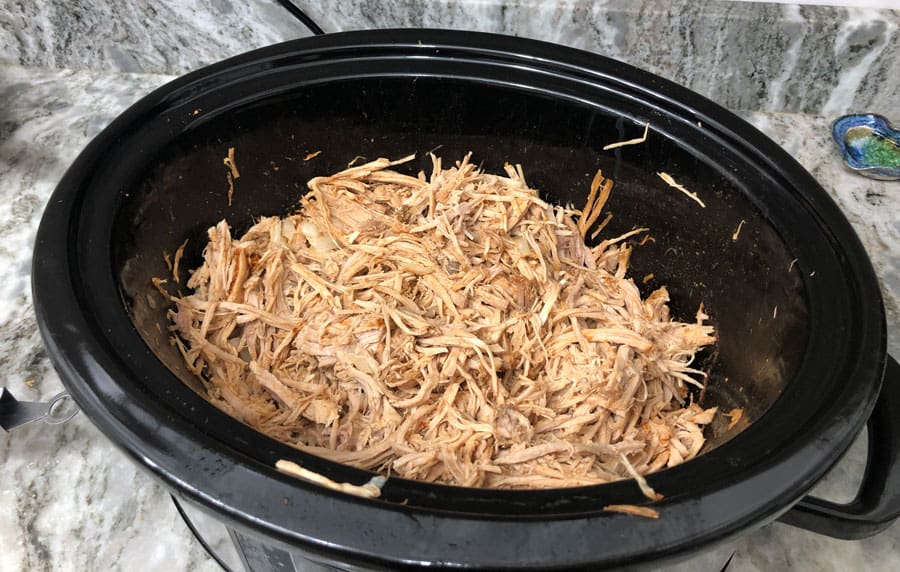 My Slow Cooker Pulled Pork is incredibly easy to make thanks to the Crock Pot, all you need to do is put your ingredients in the slow cooker and wait. I use pork loin instead of pork shoulder in my recipe to help keep the calories down too, but you'd never know it wasn't using fatty pork butt!
If you prefer using a pressure cooker, my friend Mason Woodruff has a great Ninja Foodi pulled pork recipe that you can find here (it also works great as an instant pot recipe).
To elevate the leftover pulled pork, we're going to sear it in a hot pan to create a crust on the meat. By doing this, the shredded pork ends up resembling pork carnitas, which gives the pork burrito some great texture.
Since the pulled pork from my recipe uses BBQ sauce, it's a bit of a sweet pork when eaten as-is. I toss the leftover pork with some Chile Lime Seasoning from Trader Joe's, but I've found that Carne Asada seasoning gives a very similar flavor to the pork.
Add the pork to the pan, sprinkle seasoning on top, and give it a quick toss.
While the meat heats up, you'll prep the tortilla for filling. When it comes to burritos, you can get very creative with the sauces & spreads you used, but I kept it simple with guacamole and queso.
Spread one tablespoon of each in the center of the tortilla, leaving room around the edges to roll the tortilla.
Once the meat is heated up, add to the center of your tortilla.
Note that I used Mission Soft Taco tortillas, so these ended up being smaller burritos. You can use larger burrito-style tortillas, you'll likely just need to add some extra filling!
Top the pulled pork with some Pico De Gallo, hot sauce, or any other sauce you prefer.
This is a great opportunity to add some shredded cheese as well, like monterey jack cheese or cheddar cheese. I left the extra cheese out because the queso was enough for me, but this burrito is your canvas!
Roll your burrito. I'm certainly no burrito-rolling expert, but you can find a great visual from Food Network right here.
Add the rolled burritos to your hot pan with the folded side down to help sear it shut. Let it heat for about one minute, then flip to heat the other side.
Serve your pulled pork burrito with sour cream, refried beans, black beans, or rice!
Other ways to enjoy leftover pulled pork
There's no wrong way to enjoy pork. If you whip up an entire batch of my BBQ pulled pork, here are some of my favorite ways to enjoy it…
You can keep it classic with some BBQ pulled pork sandwiches.
Or, follow this same pulled pork burrito recipe, but turn them into pork carnitas tacos!
If you really want to take things to the next level, throw together a quick pizza (I love this Trader Joe's pizza recipe) and top with pulled pork to make a pulled pork pizza!
And it's not pictured here, but this pulled pork would make for a great pork burrito bowl, too. Lay a base of rice, layer some black beans, onion, and any other veggies you prefer, then add the pork right in there.
Top with guacamole and some shredded lettuce, and you have a Chipotle-quality burrito bowl.
Pulled Pork Burritos
Using some leftover pulled pork from my Slow Cooker Pulled Pork recipe, we can whip up some delicious Pulled Pork Burritos in no time.
Ingredients
2 Tortillas (I use Mission brand soft taco tortillas to make slightly smaller burritos)
2 Tablespoons Guacamole (I love Wholly Guacamole brand)
2 Tablespoons Queso Cheese Dip
Trader Joe's Chile Lime Seasoning or Carne Asada Seasoning
Pico De Gallo for Topping
Instructions
This recipe works best using leftover pulled pork that is already cooked. I recommend my BBQ Pulled Pork recipe, but any pre-cooked pulled pork (or even pulled chicken) will work great.
Heat up a pan on high heat.
Add the pulled pork to the pan and toss in some of the Chile Lime or Carne Asada seasoning. Let the pulled pork sear for 1-2 minutes, then flip to sear the other side. Creating a crust from the leftover meat will make it taste like pork carnitas.
While the pulled pork heats up, spread one tablespoon of guacamole and queso in the center of your two tortillas.
Add the pulled pork to the center of the tortillas, leaving room around the edges for rolling the burritos.
Top the meat with some fresh pico de gallo, salsa, or hot sauce.
Wrap your burritos (a great visual is here) and then add them to your hot pan with the folded side down. This will help sear them shut and give the exerior a nice little crisp. After about 1 minute, flip and brown the top for another minute.
Top with some shredded cheese, salsa, hot sauce, or anything you want, and enjoy!
Notes
You can follow this same recipe to make pulled pork tacos or a burrito bowl, too!
I used smaller tortillas to make lower-calorie burritos, so if you use burrito-sized tortillas, you may require more filling to make a large enough burrito.
Nutrition Information
Yield

2
Serving Size

1 Burrito
Amount Per Serving
Calories

315
Total Fat

11g
Carbohydrates

31g
Protein

28g