This recipe is sponsored by Quorn, but all opinions are my own. And trust me: I thoroughly enjoyed this recipe, sponsored or not!
One of my favorite recipes I've ever made is my Crispy Chicken Sandwich, and it's easily one of the most re-created ones around here.
I love that recipe so much, and it has always made me sad that everybody out there isn't able to enjoy it.
There are plenty of people out there who don't eat meat, or are trying to eat less meat overall, so a chicken sandwich just doesn't fit the bill.
Well, that's about to change.
Today I am bringing you a MEATLESS Crispy "Chicken" Sandwich!
Let me tell you, this sandwich is the real deal.
While it has slightly less protein than my original Crispy Chicken Sandwich, this one still delivers with 400 calories, 6.5g fat, 60g carbs (of which 13g are fiber) and 30g protein!
Don't get me wrong- I love chicken, and it's not going anywhere in my diet.
However, I really respect the movement to eat more plant-based foods, and I love experimenting with meat alternatives.
Even if you're a meat-eater like I am, this sandwich is seriously impressive.
Is it exactly the same as chicken? No, not exactly. But let me tell you, it is very close.
Once these Meatless Fillets are fried up (in the air fryer), it is remarkably similar to chicken. In fact, I'd bet that you could feed this to anyone without telling them, and they wouldn't even question whether or not it's chicken.
About Quorn
I'm going to be 100% transparent with you here (don't worry, I'm always honest with you).
I was really terrified to post this recipe.
Not because I don't thoroughly enjoy it, but because this is the first sponsored recipe I've ever done, and I feared that people would think that I was only pushing this product for money.
Trust me, that is not the case. At all.
My brother does not eat meat, and he swears by Quorn's products. Before this partnership opportunity was presented to me, I knew I could trust the brand!
I will never ever ever take on a partnership or sponsorship if I don't truly like a product. Before creating this recipe, I tried out Quorn's products to be sure I liked them- otherwise, you would not be getting this recipe!
Okay, now that I've over-explained myself, let me tell you a little bit about the "chicken" in this recipe…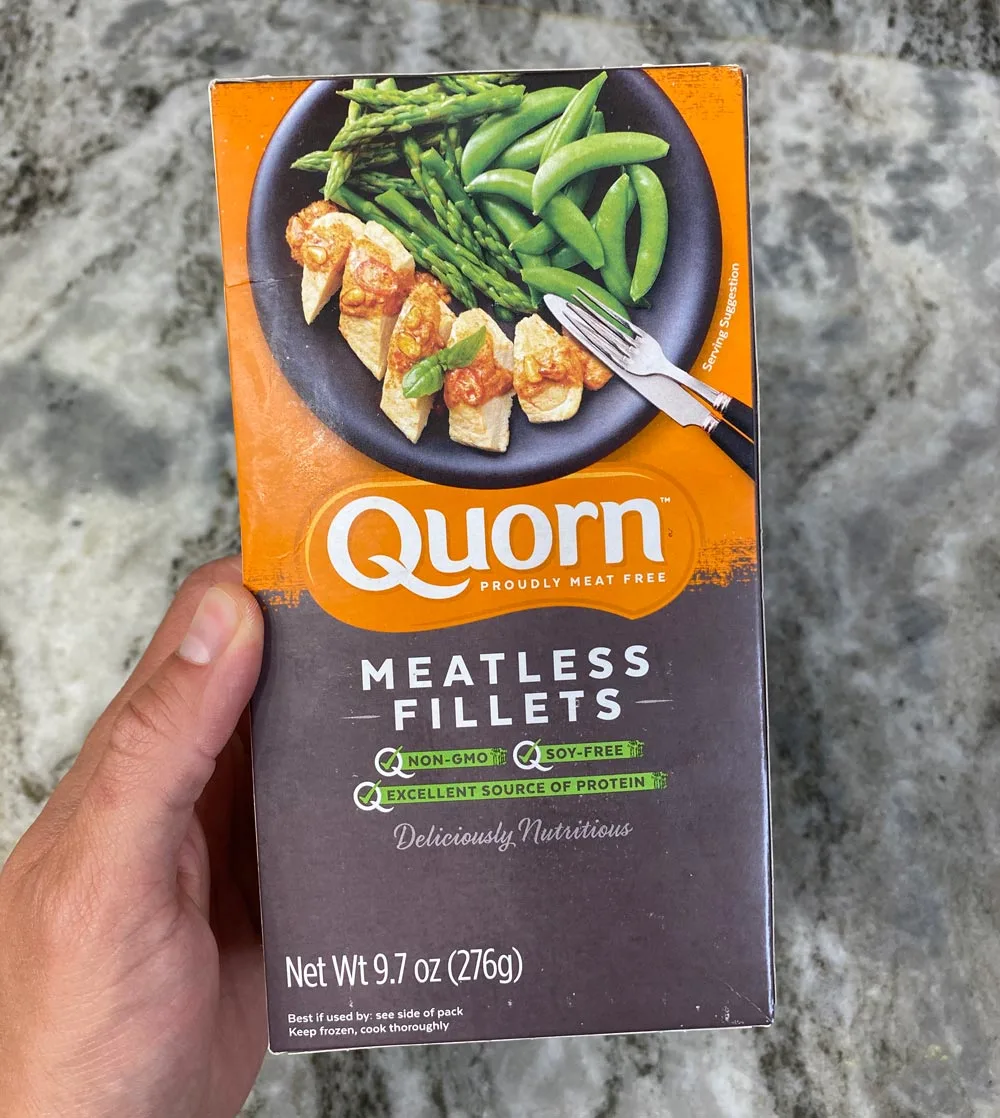 If you're like me, you've likely come across the seemingly 100's of beef alternatives out there, but you may not be familiar with any chicken alternatives.
These Meatless Fillets may not look exactly like chicken, but they have a meat-like taste and texture that seriously rivals chicken. It's not exact, but it's darn close!
If you're trying to eat less meat (or no meat at all), it's for one of three reasons: ethical reasons, nutritional reasons, or sustainability reasons.
Well, these products deliver on all 3 of those! These sustainably sourced meat-free products are high in protein and fiber, and use less land, water and less carbon emission vs. real meat.
Note: These Meatless Fillets that I used are technically not vegan as they include egg. If you are fully vegan, don't worry! Quorn has a ton of other products, including Vegan Fillets. There are more notes in the recipe to make this fully vegan, but you can find all of Quorn's products here.
How to make the Meatless Crispy Chicken Sandwich
To make this sandwich, we're going to treat it just like we would a regular chicken sandwich!
You could buy breaded cutlets, but the goal here was to maximize not only the crunch, but also the protein. By starting out with the plain ol' fillets, it allows us to maximize our protein and get these sandwiches super crispy with our own coating.
We're going to need 3 dipping bowls: one with flour & seasoning, one with egg and hot sauce, and another with panko breadcrumbs & nutritional yeast.

If you're fully vegan, you will obviously not want to use egg, and that is totally fine! If you're familiar with flax eggs, you can use that for this recipe in place of the regular egg.
The panko breadcrumbs are where we're going to get the crunch from, and we're adding some nutritional yeast in with it to add a little bit of depth to the overall flavor. Nutrition yeast provides a slightly cheesy flavor (which is why I use it in my vegan mac & cheese) which compliments the "chicken" very well.
All we need to do is dip each Meatless Fillet in the flour mixture, then the egg, then the panko.

We'll do this for 4 fillets before adding them to our air fryer.
Note that this recipe makes 2 sandwiches, but we're using 4 fillets. Since each one is pretty small, we can easily fit 2 on each sandwich!

These fillets do not need much time at all to cook. At 380 degrees F in the air fryer, they'll be ready to go in only 8 minutes. As long as you flip them halfway through to get both sides nice and crispy, you'll have beautiful golden brown fillets at the end of 8 minutes.

To make your sandwich, you can use any combination of ingredients you'd like!
I went with a toasted brioche bun, lettuce, pickles, and hot sauce.

If you wanted to make a smaller sandwich, you could stick with just one fillet, but 2 fit very well on the bun I used. I had to slightly overlap them, but they nearly fit perfectly side-by-side atop the bottom bun.

Tell me that doesn't look as good as any other chicken sandwich you've seen?!
In my opinion, spicy is the way to go, so I was quite generous with the hot sauce (Frank's Red Hot, to be exact) but you can top with any kind of condiment you'd like. Grab some extra Chick-fil-A sauce, keep it classic with ketchup, or get super creative and make your own sauce as I did with my Spicy Chicken Sandwich.
If you end up making this sandwich, I would really appreciate it if you left a review or comment below! I'd love to know how you feel this compares to a regular chicken sandwich, because I was seriously impressed with the result!
Meatless Crispy Chicken Sandwich
Whether you're vegan, trying to eat less meat, or just want to try something different, you're going to love this crispy "chicken" sandwich. As a lover of meat, I can promise you that this sandwich tastes just like the real thing!
Ingredients
Dry Mixture
45g All Purpose Flour
1/4 Tsp Salt
1/4 Tsp Pepper
1/4 Tsp Garlic Powder
Wet Mixture
1 Egg (Can use a flax egg to make this fully vegan)
Hot Sauce of choice
Splash of Milk (any milk works)
Second dry mixture
45g Panko Breadcrumbs
10g (2 tbsp) Nutritional Yeast
1/2 Tsp Cayenne Pepper
1/4 Tsp Salt
Rest of Sandwich
Hot Sauce
Lettuce
Pickles
2 Buns
Instructions
Preheat your air fryer at 380 degrees F while you prep the "chicken".
Remove the Quorn Meatless Fillets from the freezer and microwave them for 1 minute (flipping them halfway through) to give them a quick thaw.
Take 3 wide bowls and create the 3 mixtures for dipping. For the first dry mixture, combine your flour and seasonings. For the wet mixture, whisk together an egg (or use flax egg to make this fully vegan), a splash of milk, and a few dashes of hot sauce (use as much or as little as you'd like). For the final dry mixture, mix together the panko, nutritional yeast, and seasonings.
Take one of the Meatless Fillets and fully coat it in the first flour mixture. Next, dip it in the egg mixture, letting any excess liquid drip off. FInally, coat it in the panko & nutritional yeast mixture, being sure to cover the entire thing.
Place in the air fryer, and continue until all 4 fillets are coated. Note that you'll only use about half of the mixtures, but prepping more than you will need makes it much easier to dip.
Air fry at 380 degrees for 8 minutes, flipping the fillets after 4 minutes.
Take your buns and add two fillets to each. Since the fillets are small, you should be able to fit them side by side on the bun, slightly overlapping them. Top with pickles, lettuce, and hot sauce, or any toppings of your choice.
Notes
I used Quorn's Meatless Fillets in this recipe, and they are not fully vegan because there is egg in the ingredients. If you want to make this recipe vegan, Quorn also has a fully vegan version of these fillets, but I have not tried them. From the looks of them, they should work out just fine here.
If you're unfamiliar, flaxseed can be used in place of an egg because it creates a very similar consistency. Head over to Google and search for "flax egg" to easily make your own if you can't/don't want to eat eggs.
Quorn also sells breaded patties, but I went this route because you get signicantly more protein doing the coating yourself.
The nutrition below includes the bun I used. Here is the nutrition breakdown for one of the fillets in this recipe without the bun included (remember that each sandwich contains 2 fillets):
130 Calories, 1.5g Fat, 18g Carbs (6g fiber), 13g Protein
Nutrition Information
Yield

2
Serving Size

1 Sandwich
Amount Per Serving
Calories

405
Total Fat

6.5g
Carbohydrates

60g
Fiber

13g
Sugar

6g
Protein

30g