All images are property of Burger King.
If you're dieting or just trying to eat healthy overall, fast food may not be at the top of your list.
But just because something may not be ideal, that does not make it bad.
Burger King has a wide range of options available on their menu, so depending on your goals, you may very well be able to find a meal that works for you!
Remember, I'm all about Flexible Dieting around here, and I believe that every single food is absolutely okay to consume in moderation.
Whether that means Burger King, Chick-fil-A, Wendy's, McDonald's, or anywhere else, you can enjoy it and still live a healthy life.
Let's explore the full Burger King menu (as of August 2021) to dive into the calories & nutrition…
(If you prefer to see a swipeable version of this post, you can check out the Web Story I created here)
Burger King Nutrition Facts for Burgers
A lot of people are surprised to see just how low in protein and high in fat the burgers from Burger King actually are.
I mean, a 100% beef, flame-broiled Whopper sounds like it would be packed with protein.
But with 660 calories and only 28g of protein, it is not the most impressive source of protein.
Keep in mind that the nutrition for each burger does include condiments. In most cases that includes ketchup/mustard, but that will also include mayo for certain sandwiches, which can add up.
If you were to order a Double Whopper without mayo, it actually brings the calories all the way down to 740! When in doubt, leave the condiments off and add your own to have full control over those extra calories.
Highest Calorie Burger King Burger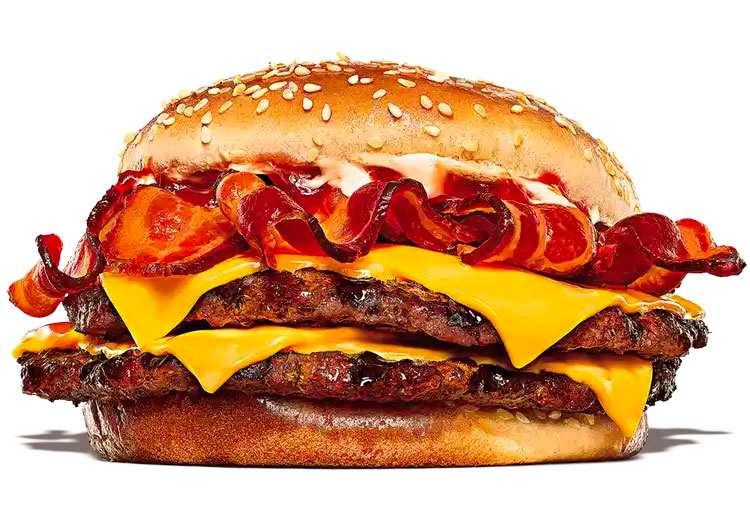 The Bacon King: 1,300 Calories, 93g Fat, 52g Carbs, 70g Protein
With a huge 93g of fat, the Bacon King is loaded up with calories. Just a single burger may put you close to your calorie goal for the day! Why is it so high in calories?
Well, the patties are each 1/4 pound, so you're getting 1/2 pound of meat. Add to that two strips of thick-cut smoked bacon, 2 slices of American cheese, and mayo on top, and it should come as no surprise that the calories are so high on this one!
*Since creating this guide, the Burger King website now reflects that the Bacon King contains 2,100 calories! However, the BK website has proven very inconsistent, so I will wait to see once the official nutrition PDF they provide gets updated (currently has not been updated since April 2020)
Lowest Calorie Burger King Burger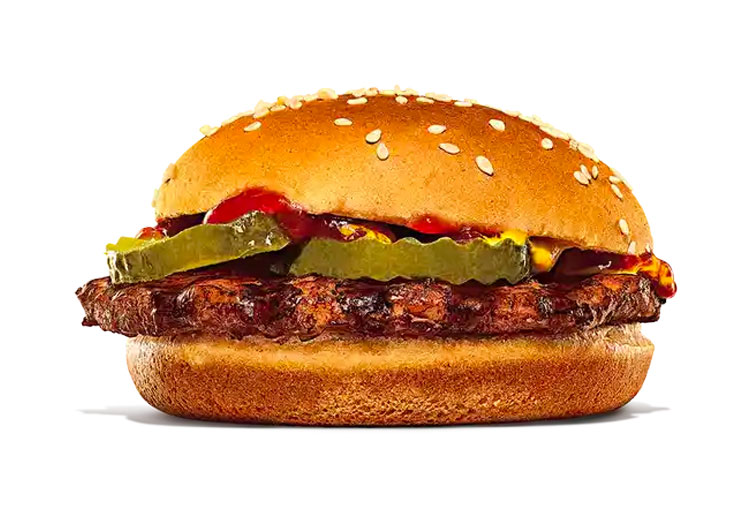 Hamburger: 240 Calories, 10g Fat, 26g Carbs, 13g Protein
Burger King's signature flame-grilled beef hamburger comes in as the lowest amount of calories. At only 240 calories, it's a great option if you are on a diet and trying to keep your calories low.
Burger With the Most Well-Rounded Nutrition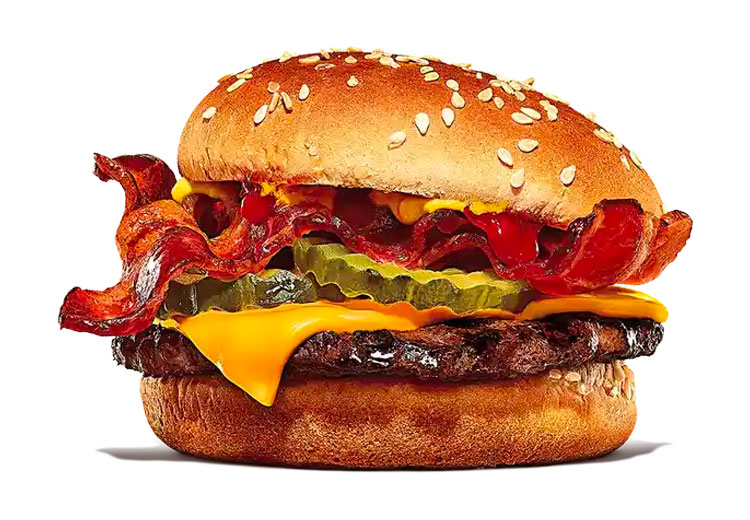 Bacon Cheeseburger: 320 Calories, 16g Fat, 27g Carbs, 17g Protein
While the addition of the cheese and bacon bump the fat content up from a classic hamburger, it's only an extra 7g. For what you are getting, the nutrition of this sandwich is actually rather impressive!
If you wanted to bring the calories down a bit, you could go with a classic cheeseburger, but I always welcome the addition of bacon.
Burger King Nutrition Facts for Chicken & Fish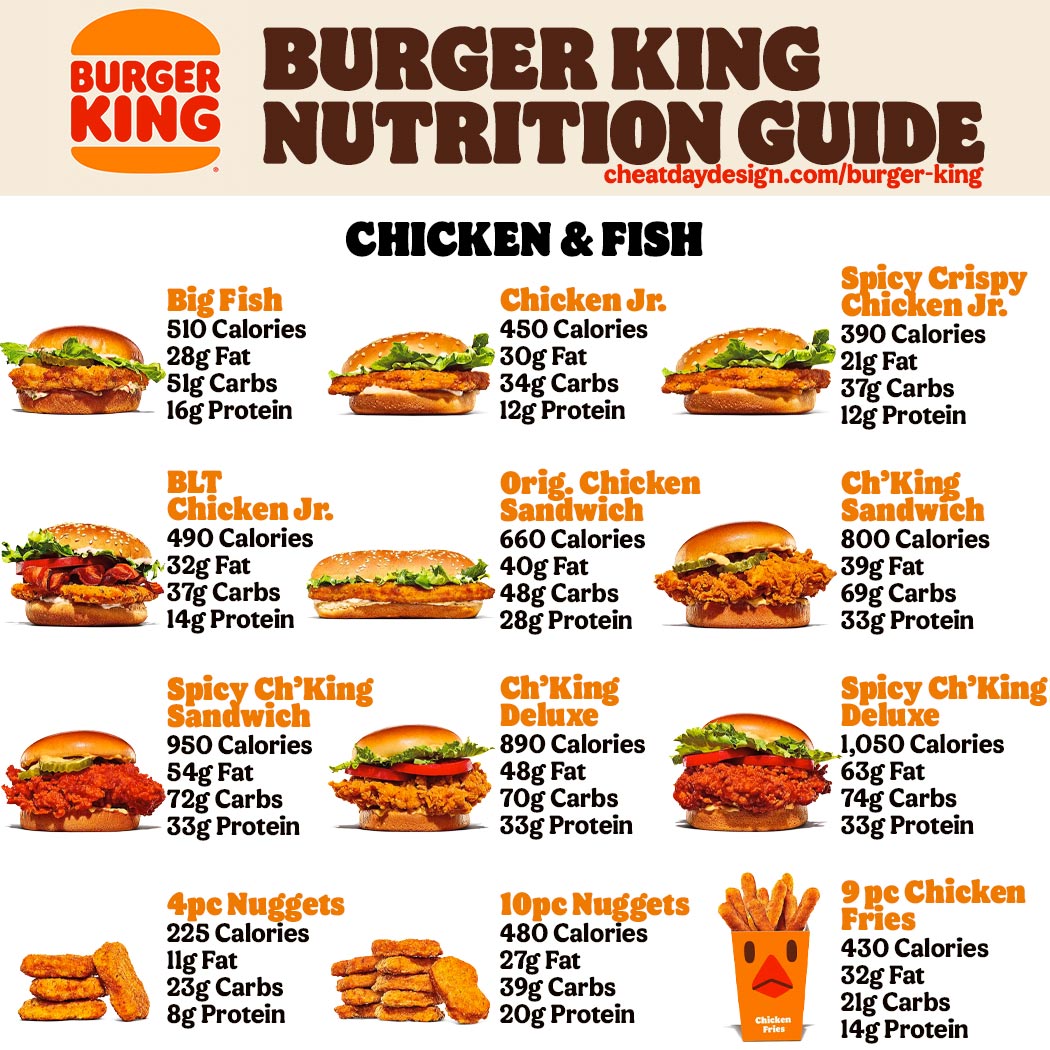 Burger King is famously known for their burgers (obviously) but have more recently begun diving more into the chicken game.
While they've always had nuggets, and have long had Chicken Fries, they have added many more chicken sandwiches to their arsenal.
The Ch'King Sandwiches are monsters, having at least 800 calories in each. With so many calories, you'd expect the sandwiches to be decent protein options, but sadly that is not the case here.
The most protein you'll get from any chicken option at Burger King is 33g, but you'll need 800+ calories to get there.
This may seem surprising, but with such a thick breading that is then deep-fried and topped with mayo, those calories can really add up (that's why I always make my own Crispy Chicken Sandwich instead).
Highest Calorie Burger King Chicken Option
Spicy Ch'King Sandwich: 950 Calories, 54g Fat, 72g Carbs, 33g Protein
This chicken sandwich is a monster, as you can clearly tell by the photo.
With this sandwich, Burger King was certainly not going for the healthiest fried chicken sandwich, but rather the best tasting.
The jury is still out on that, but with 950 calories, it better taste good!
Lowest Calorie Burger King Chicken Option
4pc Chicken Nuggets: 225 Calories, 11g Fat, 23g Carbs, 8g Protein
Sure, it may be a small order, but it comes with the fewest calories!
The protein is not nearly as impressive as you would like it to be (I mean, it is chicken after all) but these nuggets do in fact have relatively low calories- around 55 per nugget, to be exact.
Chicken Option With the Most Well-Rounded Nutrition
Original Chicken Sandwich: 660 Calories, 40g Fat, 48g Carbs, 28g Protein
If you go with no mayo, this sandwich actually comes down to 450 calories and roughly 17g of fat. That is much more favorable!
With the small change, this chicken sandwich actually becomes quite impressive all around, boasting a pretty impressive 28g of protein for the calories.
Burger King Nutrition Facts for Veggies & Sides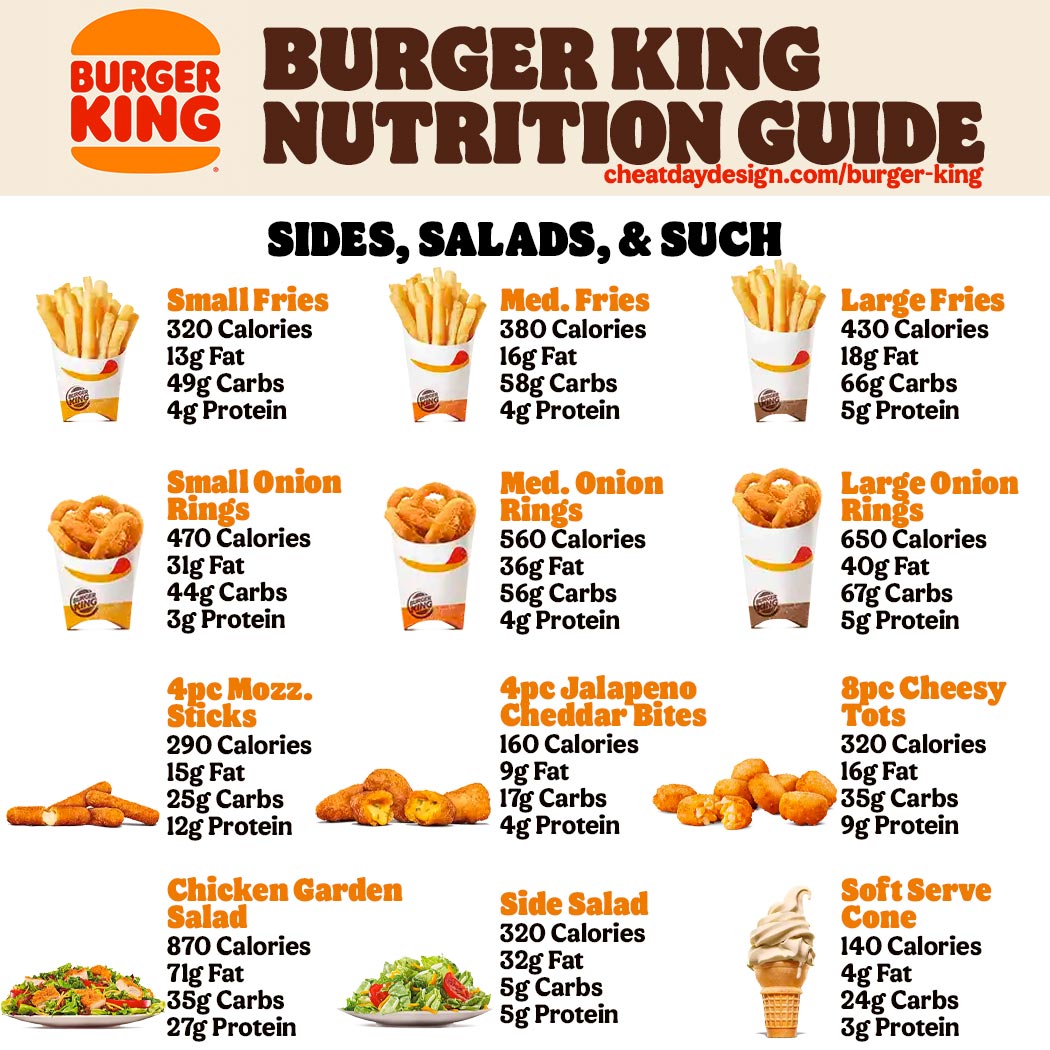 What's a burger without a quality side? Whether it's French Fries or a side salad, Burger King has plenty of options for ya.
I had always thought the onion rings would be lower calorie than fries (I mean, it's onions!) but you need to be careful with those. The same size order of onion rings will have 100-200 extra calories than the fries.
Of course, I couldn't break down the sides without mentioning the soft-serve cone.
Many people would assume that an ice cream cone is a diet-killer and absolutely off-limits. But with only 140 calories, it's a delicious dessert that you can EASILY work into any diet!
Note: the salads listed above DO contain dressing.
Highest Calorie Burger King Side
Large Onion Rings: 650 Calories, 40g Fat, 67g Carbs, 5g Protein
Sure, they're technically a vegetable, but those calories can really sneak up on you.
Since the breading on onion rings is so thick, the carbs & fat get bumped up vs. fries.
Even a small side of onion rings contains more calories than a large side of fries.
Lowest Calorie Burger King Side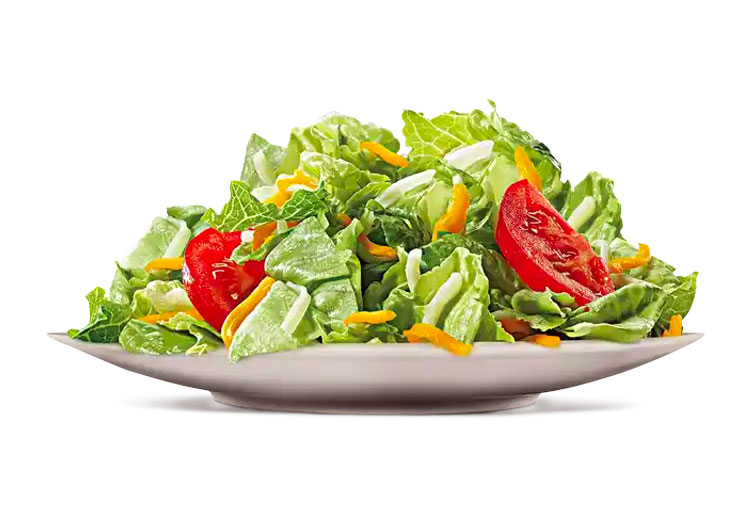 Side Salad (No Dressing): 60 Calories, 4g Fat, 3g Carbs, 4g Protein
It should come as no surprise that the salad is the lowest calorie option here, especially when you remove the dressing.
Burger King has 3 dressing options: Ranch (260 Calories), Italian (160 Calories), and Lite Honey Balsamic (120 Calories).
Side With the Most Well-Rounded Nutrition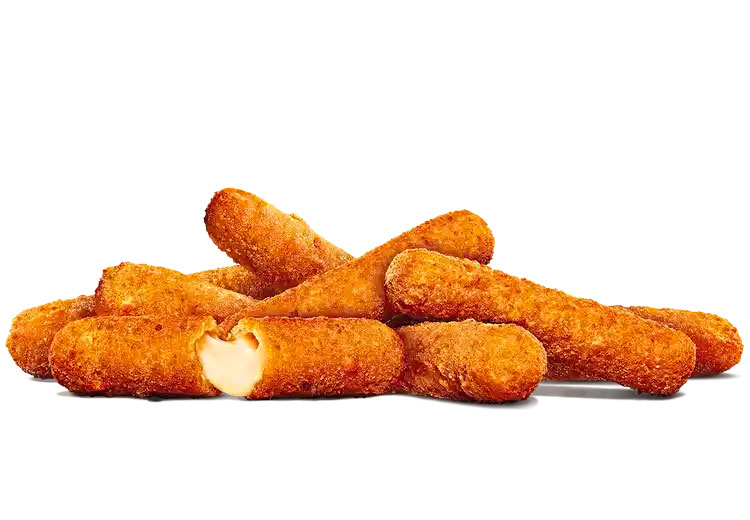 4pc Mozzarella Sticks: 290 Calories, 15g Fat, 25g Carbs, 12g Protein
Deep-fried sticks of cheese probably don't sound like the healthiest of options to you, but the nutrition is actually quite impressive.
In fact, a 4pc side of mozzarella sticks has more protein than a 4pc side of chicken nuggets!
Burger King Nutrition Facts for Breakfast
Ah, breakfast. My favorite meal of the day!
Burger King has recently expanded their breakfast menu to offer a ton of different options.
So much so, that I could not fit them all onto one graphic, so this is just a sample. I did my best to include most of the options, but there are numerous combinations of breakfast meats, cheese, and biscuit/croissant to create many sandwiches that I couldn't fit here.
In terms of finding an option that fits your diet, that is great news! Because there are so many possibilities, you can truly make any substitutions you want to make your perfect breakfast sandwich.
Sausage & egg on a biscuit without cheese? Done. A croissant with just bacon & egg? You can do that too!
Highest Calorie Burger King Breakfast Option
Egg-Normous Burrito: 805 Calories, 44g Fat, 69g Carbs, 33g Protein
Well, it is egg-normous, so naturally, it's going to have a lot of calories!
At 805 calories and 33g of protein, it is nearly identical to the Crispy Ch'King Sandwich. But that's more a testament to how unimpressive the chicken sandwich is than how impressive this burrito is.
But hey, it sure does look delicious! Personally, I'll never complain about hashbrowns on a breakfast sandwich (or inside of a burrito).
Lowest Calorie Burger King Breakfast Option
3 French Toast Sticks: 225 Calories, 11g Fat, 29g Carbs, 3g Protein
It's a very small serving, but it does have the fewest calories!
If you're looking for a low-calorie option that's a little bit more filling, the Egg & Cheese Croissan'wich would be the way to go!
That sandwich has 300 Calories & 11g of Protein, which is sure to fill you up more during breakfast than 3 French Toast Sticks.
Breakfast Option With the Most Well-Rounded Nutrition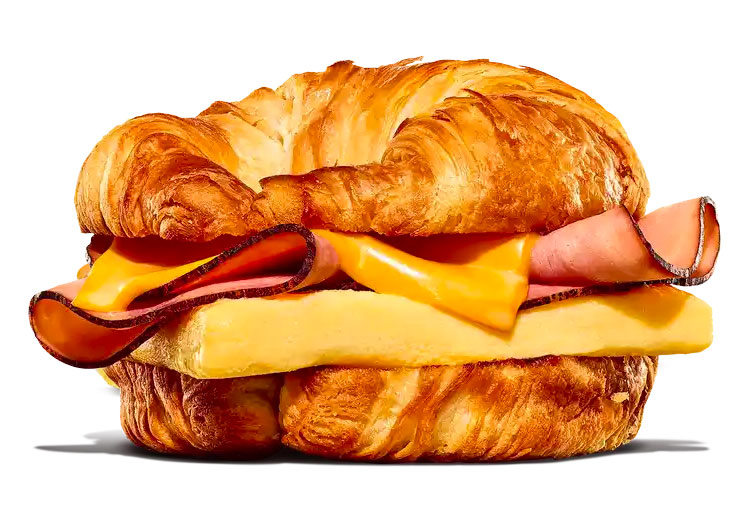 Ham, Egg, & Cheese Croissan'Wich: 335 Calories, 16g Fat, 31g Carbs, 16g Protein
This sandwich is one that I happened to leave off the graphic above, but it has quite the impressive nutrition facts.
With just over 300 calories and 16g of protein, it's one of the better sources of protein you'll get at Burger King for breakfast.
Calorie-Saving Tip at Burger King
If you've read this far, first of all, thank you. You're a gem.
Second of all, I'm assuming that means that you are relatively interested in saving some calories at Burger King.
So, let me help you out with my biggest calorie-saving tip.
Skip the mayo.
For many standard burgers or chicken sandwiches, they come with mayo by default. In most cases, this is going to add 210 calories to your sandwich!
Yeah, that's a whole lot.
If you still want some condiments, go with ketchup or mustard instead (although hot sauce always gets my vote).
Ketchup will add only about 20 calories to a sandwich. Go wild on mustard (even though it's quite gross… sorry, mustard fans) because it's virtually calorie-free. It may end up adding 5-10 calories in total, but the impact is very minimal.
It's a small change, but sometimes the smallest changes make the biggest differences!
Conclusion: Is Burger King Healthy?
When we break down fast food, I'm never going to tell you definitively if it is healthy or not.
The point of putting together posts like this is so you can decide that for yourself!
You can, and should, make your own decisions when it comes to eating. Especially with something like fast food.
I want these Burger King Nutrition Guides to help you make that decision.
I firmly believe that being knowledgeable about the nutrition of the food we eat is beneficial. Sure, if you're eating Burger King, you may not be at all concerned with the nutrition.
That's fine! But it never hurts to know.
And if you DO choose to eat Burger King, you need to try putting chicken tenders and fries right on a burger. I know I know, it sounds crazy.
But, as a kid, I always used to do this, and I promise that it still holds up as delicious to this day!