All images are property of Burger King.
Note: Burger King's website lists all of the nutrition facts, which I have used here, but the accuracy is questionable for certain items. The official nutrition .pdf from their website has not been updated since early 2020, and I've listed every available item on the menu in March of 2022. I did my best to vet all the results, and made some adjustments when needed, because some of the results on their website are clearly misprinted.
For example: the Spicy Ch'King Deluxe Sandwich lists 149g of fat per sandwich, which is impossibly high. Luckily, their standard Spicy Ch'King Sandwich is listed correctly, so I was able to adjust. I will keep this post updated with the most accurate numbers as they are updated on the Burger King Website!
---
If you're dieting or just trying to eat healthy overall, fast food may not be at the top of your list.
But just because something may not be ideal, that does not make it bad.
Burger King has a wide range of options available on their menu, so depending on your goals, you may very well be able to find a meal that works for you!
Remember, I'm all about Flexible Dieting around here, and I believe that every single food is absolutely okay to consume in moderation.
Whether that means Burger King, Chick-fil-A, Wendy's, McDonald's, or anywhere else, you can enjoy it and still live a healthy life.
Let's explore the full Burger King menu (as of March 2022) to dive into the calories & nutrition…
(If you prefer to see a swipeable version of this post, you can check out the Web Story I created here)
Burger King Burger Menu Calories & Nutrition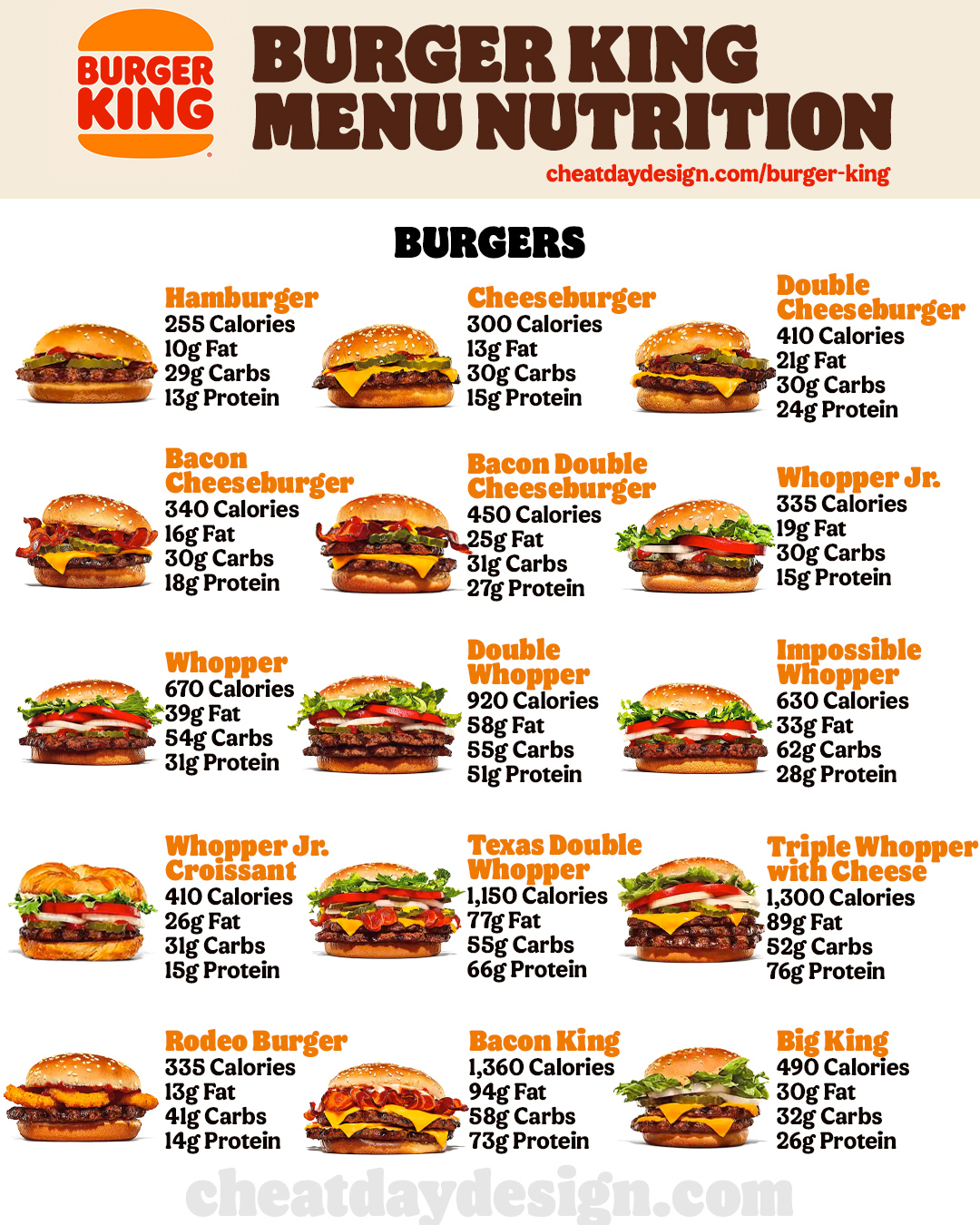 A lot of people are surprised to see just how low in protein and high in fat the burgers from Burger King actually are.
I mean, a 100% beef, flame-broiled Whopper sounds like it would be packed with protein.
But with 670 calories and only 31g of protein, it is not the most impressive source of protein.
Keep in mind that the nutrition for each burger does include condiments. In most cases that includes ketchup/mustard, but that will also include mayo for certain sandwiches, which can add up.
If you were to order a Double Whopper without mayo, it actually brings the calories all the way down to 750! When in doubt, leave the condiments off and add your own to have full control over those extra calories.
Burger King Whopper vs Impossible Whopper
A Whopper from Burger King contains 670 calories, while the Impossible Whopper contains only 630 calories. The Whopper and the Impossible Whopper are very similar in terms of nutrition, but the regular Whopper contains more fat, fewer carbs, and slightly more protein than the plant-based alternative.
Taste-wise, it may be tough to tell the two apart, so it really comes down to your preferences. On the nutrition side of things, both Whoppers are very close, so it all depends on if you prefer to enjoy beef or a plant-based alternative.
Highest Calorie Burger King Burger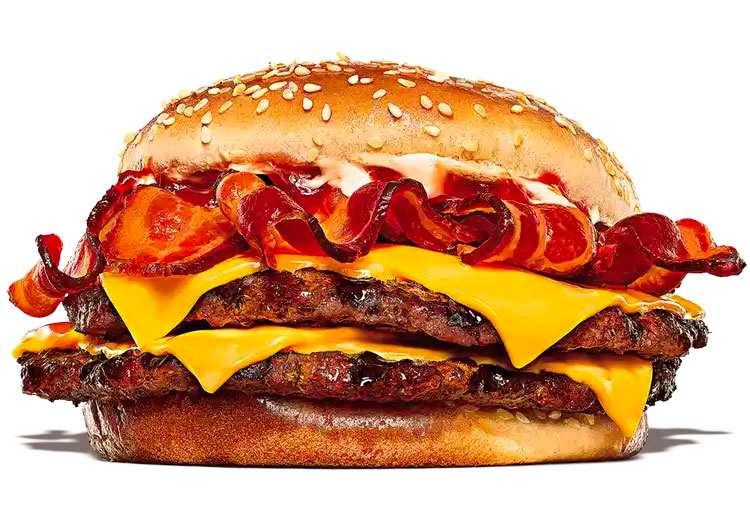 The Bacon King: 1,360 Calories, 94g Fat, 58g Carbs, 73g Protein
With a huge 94g of fat, the Bacon King is loaded up with calories. Just a single burger may put you close to your calorie goal for the day! Why is it so high in calories?
Well, the patties are each 1/4 pound, so you're getting 1/2 pound of meat. Add to that two strips of thick-cut smoked bacon, 2 slices of American cheese, and mayo on top, and it should come as no surprise that the calories are so high on this one!
The calories of the Bacon King slightly edge out the Triple Whopper with Cheese, which contains 1,300 calories total.
Lowest Calorie Burger King Burger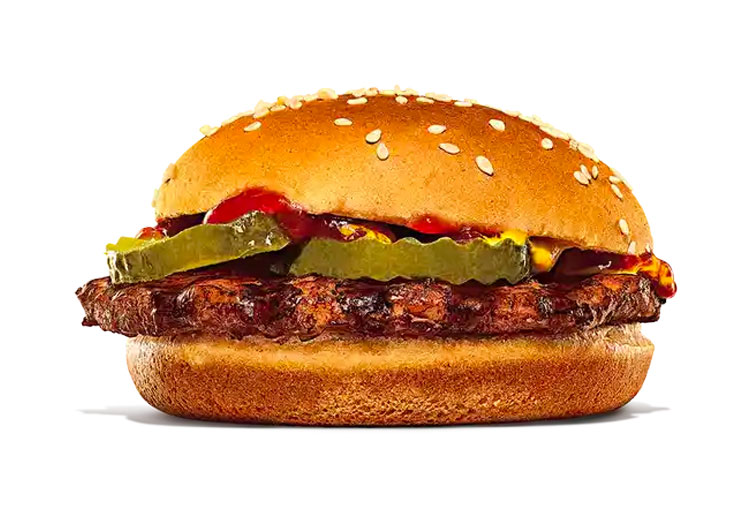 Hamburger: 255 Calories, 10g Fat, 29g Carbs, 13g Protein
Burger King's signature flame-grilled beef hamburger comes in with the lowest amount of calories on the Burger King menu.
At only 255 calories, it's a great option if you are on a diet and trying to keep your calories low.
Burger With the Most Well-Rounded Nutrition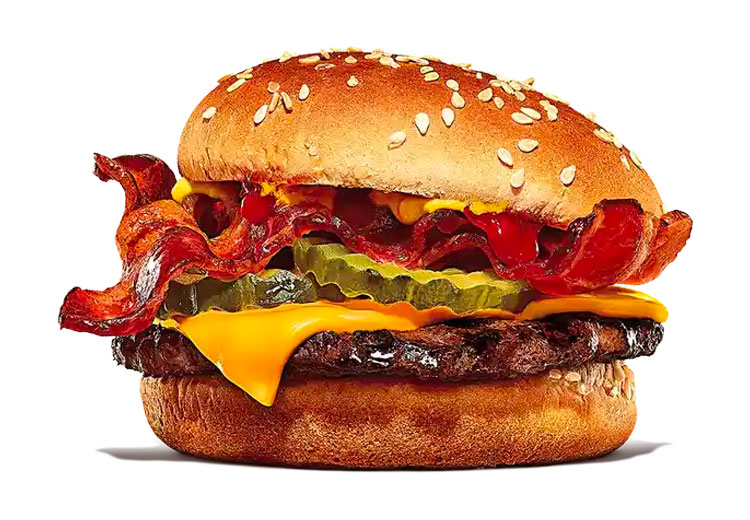 Bacon Cheeseburger: 340 Calories, 16g Fat, 30g Carbs, 18g Protein
While the addition of the cheese and bacon bump the fat content up from a classic hamburger, it's only an extra 6g. For what you are getting, the nutrition of this sandwich is actually rather impressive!
If you wanted to bring the calories down a bit, you could go with a classic cheeseburger, but I always welcome the addition of bacon.
Another great option may be the Double Cheeseburger, which contains a total of 410 calories (slightly more than the Bacon Cheeseburger) but also comes with 24g of protein.
Burger King Chicken & Fish Nutrition
Burger King is famously known for their burgers (obviously) but has more recently begun diving more into the chicken game.
While they've always had nuggets, and have long had Chicken Fries, they have added many more chicken sandwiches to their arsenal.
The Ch'King Sandwiches are monsters, having over 1,000 calories in each. With so many calories, you'd expect the sandwiches to be decent protein options, but sadly that is not the case here.
The most protein you'll get from any chicken option at Burger King is 45g, but you'll need over 1,300 calories to get there!
This may seem surprising, but with such a thick breading that is then deep-fried and topped with mayo, those calories can really add up (that's why I always make my own Crispy Chicken Sandwich instead).
Highest Calorie Burger King Chicken Option
Spicy Ch'King Deluxe Sandwich: 1,500 Calories, 59g Fat, 180g Carbs, 45g Protein
This chicken sandwich is a monster, as you can clearly tell by the photo.
With this sandwich, Burger King was certainly not going for the healthiest fried chicken sandwich, but rather the best tasting. Well, at least they're hoping.
With 1,500 calories, that's nearly enough calories to last you an entire day! If calories are a concern, any of the Ch'King options are probably options you want to avoid).
Lowest Calorie Burger King Chicken Option
4pc Chicken Nuggets: 190 Calories, 12g Fat, 11g Carbs, 9g Protein
Sure, it may be a small order, but it comes with the fewest calories!
The protein is not nearly as impressive as you would like it to be (I mean, it is chicken after all) but these nuggets do in fact have relatively low calories- around 50 per nugget, to be exact.
Chicken Option With the Most Well-Rounded Nutrition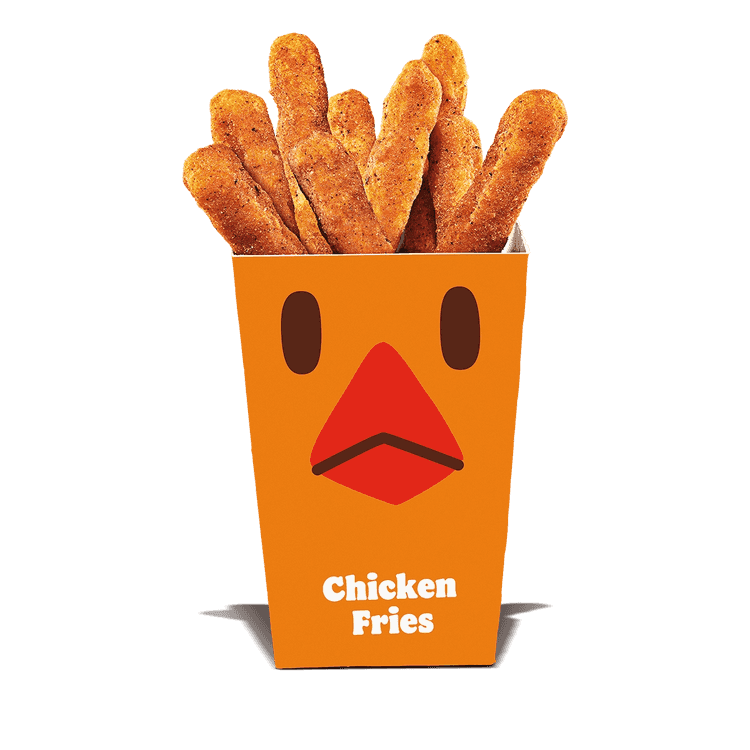 Chicken Fries: 250 Calories, 13g Fat, 19g Carbs, 15g Protein
The Chicken Fries from Burger King are one of the most well-rounded options on the menu. With 250 calories and 15g of protein, it may not be the highest source of protein, but it's certainly solid for what you get.
Truthfully, Chicken Fries are just chicken nuggets in the shape of long fries, so the nutrition is very similar to the chicken nuggets. Personally, I enjoy the chicken fries a lot, though! To me, it's the perfect chicken-to-breading ratio.
Burger King Sides & Dipping Sauces Nutrition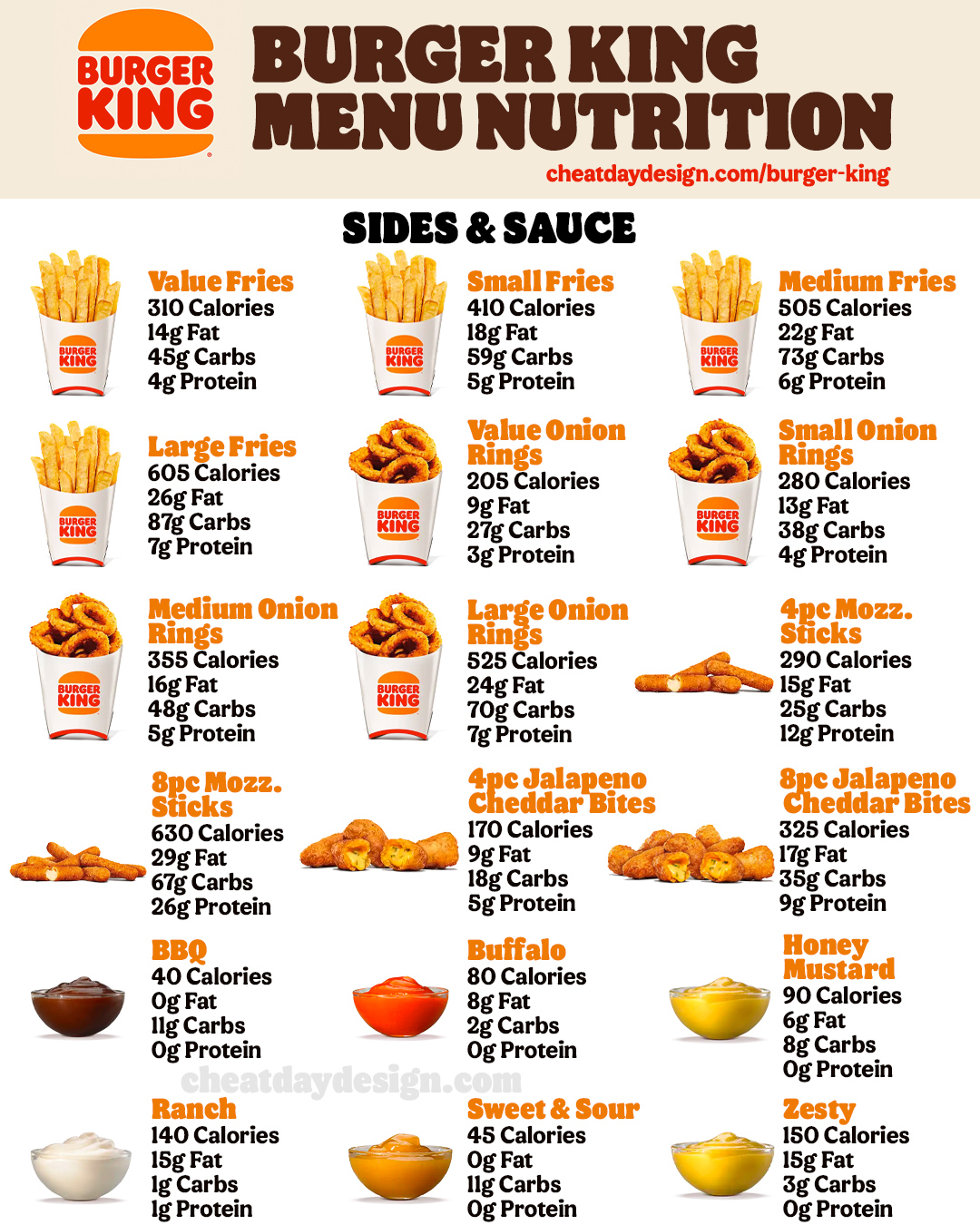 What's a burger without a quality side? Whether it's French Fries, Onion Rings, or Mozzarella sticks, there are several options here for you.
Unfortunately, at the time of writing this, Burger King has discontinued their salads. Hopefully, they make a comeback soon.
When it comes to sides, the thing you need to be mindful of is how much sauce you are using for dipping. You may be set on medium fries, which will be right around 500 calories, but if you plow through 2 sides of honey mustard sauce, that'll quickly add an extra 200 calories to your meal.
Highest Calorie Burger King Side
Large Fries: 605 Calories, 26g Fat, 87g Carbs, 7g Protein
It should come as no surprise that the side with the most calories at Burger King are the French Fries.
While not as high in calories as other fast food fries, it's something to be mindful of.
If you want to save a few calories with your side, you can go with the onion rings instead. Each side of onion rings has about 100 fewer calories than the same size fries.
Lowest Calorie Burger King Side
4 Piece Jalapeno Bites: 170 Calories, 9g Fat, 18g Carbs, 5g Protein
The jalapeno bites contain the fewest calories for any side dish at Burger King, but it's also one of the smallest sides you'll find.
With only 4 small bites, it certainly won't fill you up, but if you're trying to keep your calories low, it's not a bad option!
Side With the Most Well-Rounded Nutrition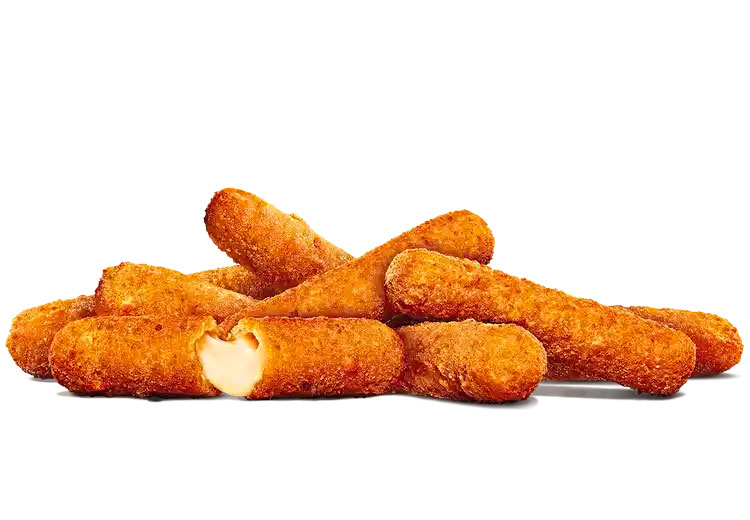 4pc Mozzarella Sticks: 290 Calories, 15g Fat, 25g Carbs, 12g Protein
Deep-fried sticks of cheese probably don't sound like the healthiest of options to you, but the nutrition is actually quite impressive.
In fact, a 4pc side of mozzarella sticks has more protein than a 4pc side of chicken nuggets!
Burger King Breakfast Menu Calories & Nutrition
Ah, breakfast. My favorite meal of the day!
Burger King has recently expanded their breakfast menu to offer a ton of different options. So many options, in fact, that I needed to split 'em up into 2 separate graphics.
First up, we have breakfast sandwiches. Burger King has a ton of different options for breakfast sandwiches, so you are sure to find an option that suits you. Burger King breakfast sandwiches may have ham, bacon, sausage, or any combination of the three (or none, of course), and come on either a croissant, biscuit, toast, or in a wrap.
If you prefer a sweet breakfast, Burger King also offers French Toast sticks or pancakes! Pair any Burger King breakfast with hash browns, and you've got yourself a great start to the day.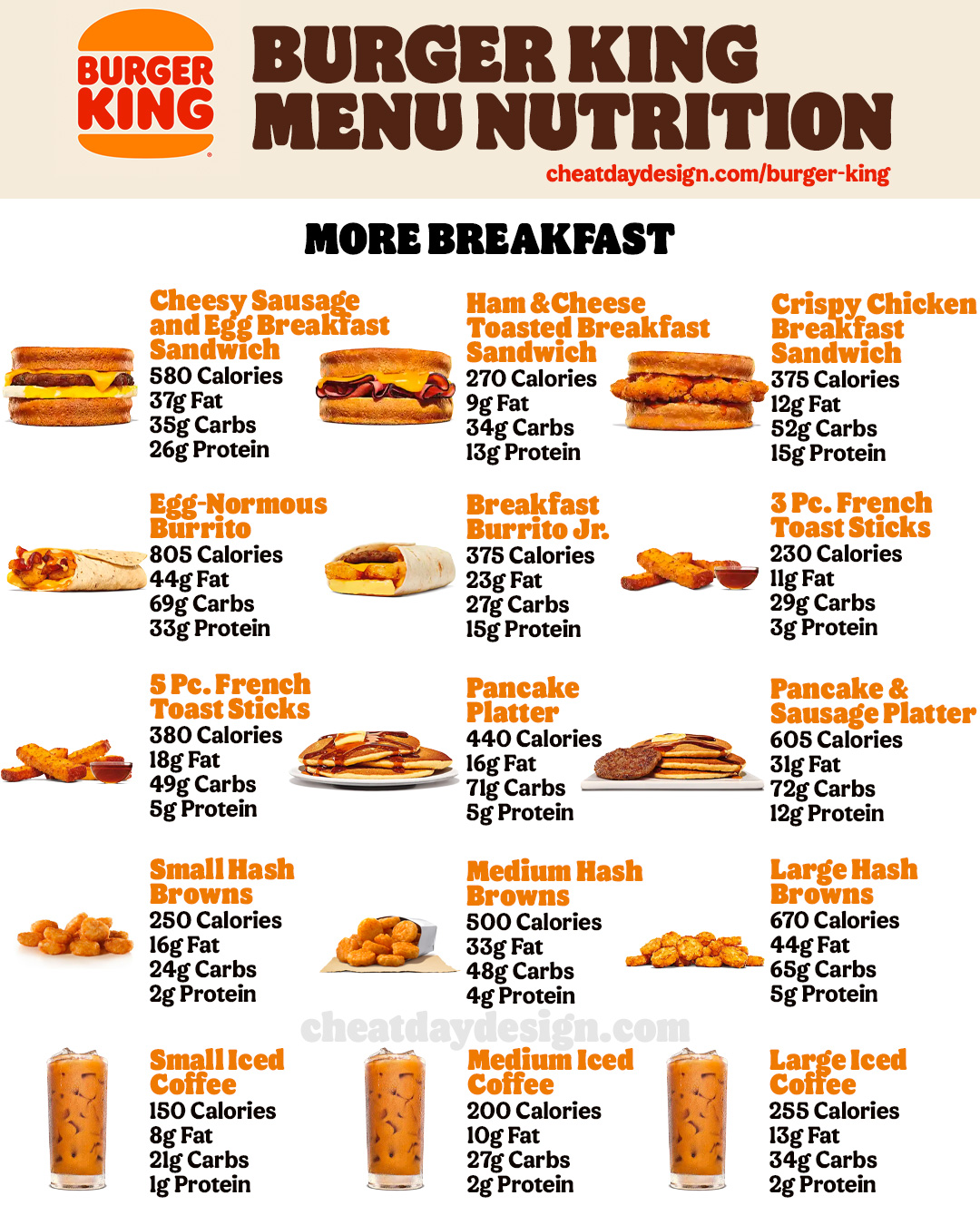 Highest Calorie Burger King Breakfast Option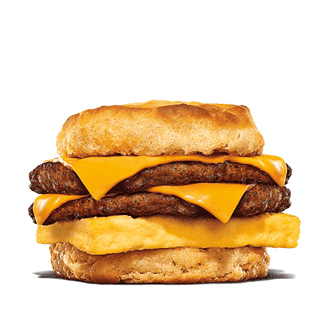 Double Sausage Egg, & Cheese Biscuit: 855 Calories, 66g Fat, 34g Carbs, 33g Protein
The Double Sausage, Egg, and Cheese Biscuit is the highest calorie Burger King breakfast item. The Egg-Normous Burrito is a close second with 805 calories, but this sandwich has the slight edge.
With 855 calories and 66g of fat, it may not be the best option if calories are a concern for you. In fact, this breakfast sandwich contains nearly 250 more calories than the pancake & sausage platter!
Lowest Calorie Burger King Breakfast Option
3 French Toast Sticks: 230 Calories, 11g Fat, 29g Carbs, 3g Protein
It's a very small serving, but it does have the fewest calories, so we have to count it here.
If you're looking for a low-calorie option that's a little bit more substantial, the Egg & Cheese Croissan'wich would be the way to go. It contains 320 Calories, 18g Fat, 29g Carbs, and 13g of Protein.
Plus, it's sure to fill you up more during breakfast than 3 French Toast Sticks.
Breakfast Option With the Most Well-Rounded Nutrition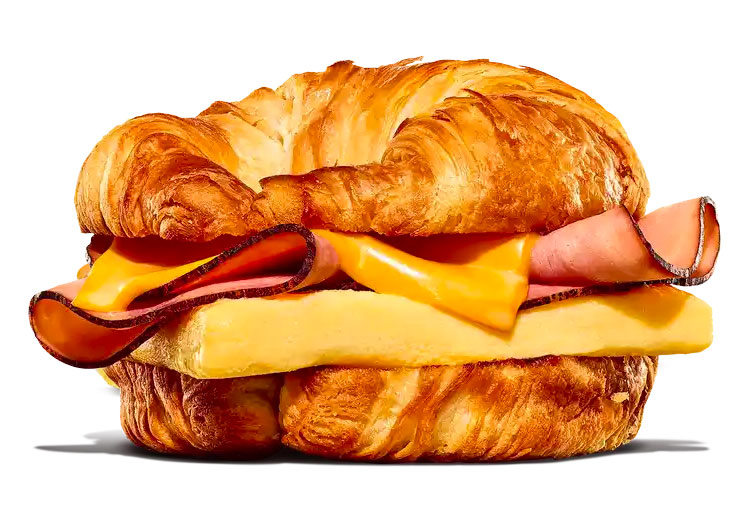 Ham, Egg, & Cheese Croissan'Wich: 360 Calories, 19g Fat, 30g Carbs, 19g Protein
Since ham is such a lean meat, adding it to any breakfast sandwich gives it a nice protein boost without a ton of calories. In fact, this sandwich contains only 40 more calories than the egg & cheese option and has an extra 6g of protein.
With just over 350 calories and 19g of protein, it's one of the better sources of protein you'll get at Burger King for breakfast.
Burger King Sweets Menu Calories & Nutrition
When looking at the sweets at Burger King, it's not really fair to try to figure out which is the lowest or highest calorie, because the options are pretty obvious here.
A big milkshake is clearly going to have many more calories than a small ice cream cone!
With that being said, it's worth noting that Burger King actually has the lowest calorie ice cream cone of any fast food restaurant. You can see my full comparison of ice cream cones here.
Burger King is one of the only places that also offers ice cream in a cup, so if you're someone that prefers to eat your ice cream with a spoon, you're in luck!
When it comes to shakes at Burger King, there is some variance depending on where you are located. While the vanilla, chocolate, and strawberry are standard menu items, you may not have the Oreo or cookie butter options on your local menu.
Calorie-Saving Tip at Burger King
If you've read this far, first of all, thank you. You're a gem.
Second of all, I'm assuming that means that you are relatively interested in saving some calories at Burger King.
So, let me help you out with my biggest calorie-saving tip.
Skip the mayo.
For many standard burgers or chicken sandwiches, they come with mayo by default. In most cases, this is going to add 210 calories to your sandwich!
Yeah, that's a whole lot.
If you still want some condiments, go with ketchup or mustard instead (although hot sauce always gets my vote).
Ketchup will add only about 20 calories to a sandwich. Go wild on mustard (even though it's quite gross… sorry, mustard fans) because it's virtually calorie-free. It may end up adding 5-10 calories in total, but the impact is very minimal.
Burger King offers a bunch of different dipping sauces, so if you are watching your calories, just be mindful of how much you are using with your chicken nuggets, fries, or onion rings. Be mindful of how much dipping sauce you are using, because those calories can add up rather quickly.
Conclusion: Is Burger King Healthy?
When we break down fast food, I'm never going to tell you definitively if it is healthy or not.
The point of putting together posts like this is so you can decide that for yourself!
You can, and should, make your own decisions when it comes to eating. Especially with something like fast food.
I want this Burger King menu breakdown to help you be able to do that.
I firmly believe that being knowledgeable about the nutrition of the food we eat is beneficial. Sure, if you're eating Burger King, you may not be at all concerned with the nutrition.
But it never hurts to know what you're eating.
And if you DO choose to eat Burger King, you need to try putting chicken nuggets and fries right onto your burger.
Does chicken on a burger sound odd to you? Well, it shouldn't! As a kid, I always used to do this, and I promise that it still holds up as delicious to this day!
You can thank me later.