If you're in the mood for crispy hash browns, I'm here to show you just how easy it is.
We're going to take a frozen hash brown and turn it into a crispy hash brown without an oil or deep frying necessary.
Thanks to the air fryer, we can have perfectly crispy hash browns in just 12 minutes!
Why use an air fryer?
To make these hash browns extra crispy, we're going to cook them in an air fryer. Why is this?
The air fryer allows us to achieve an extremely crispy exterior without needing to mess with any oil. It takes all the guesswork out of cooking, too. You can just close the air fryer basket and let it do its thing!
I've cooked frozen hashbrowns in many different ways: baked in the oven, heated up in the microwave, and fried in a pan.
The result always tastes good, but the air fryer is the only cooking method that mimics deep-fried hash browns. If you're a fan of McDonald's hash brown patties (one of my favorite breakfast items), these frozen hashbrowns in the air fryer are going to impress you.
If you want to add a delicious crisp to your breakfast sandwich, the air fryer is the way to go…
If you've never added a hash brown patty to your breakfast sandwich, you need to change that ASAP.
How to cook frozen hash browns in the air fryer
For this simple air fryer recipe, I chose to use Trader Joe's frozen hash brown patties. You can use any brand you'd like here, but the Trader Joe's brand is absolutely delicious.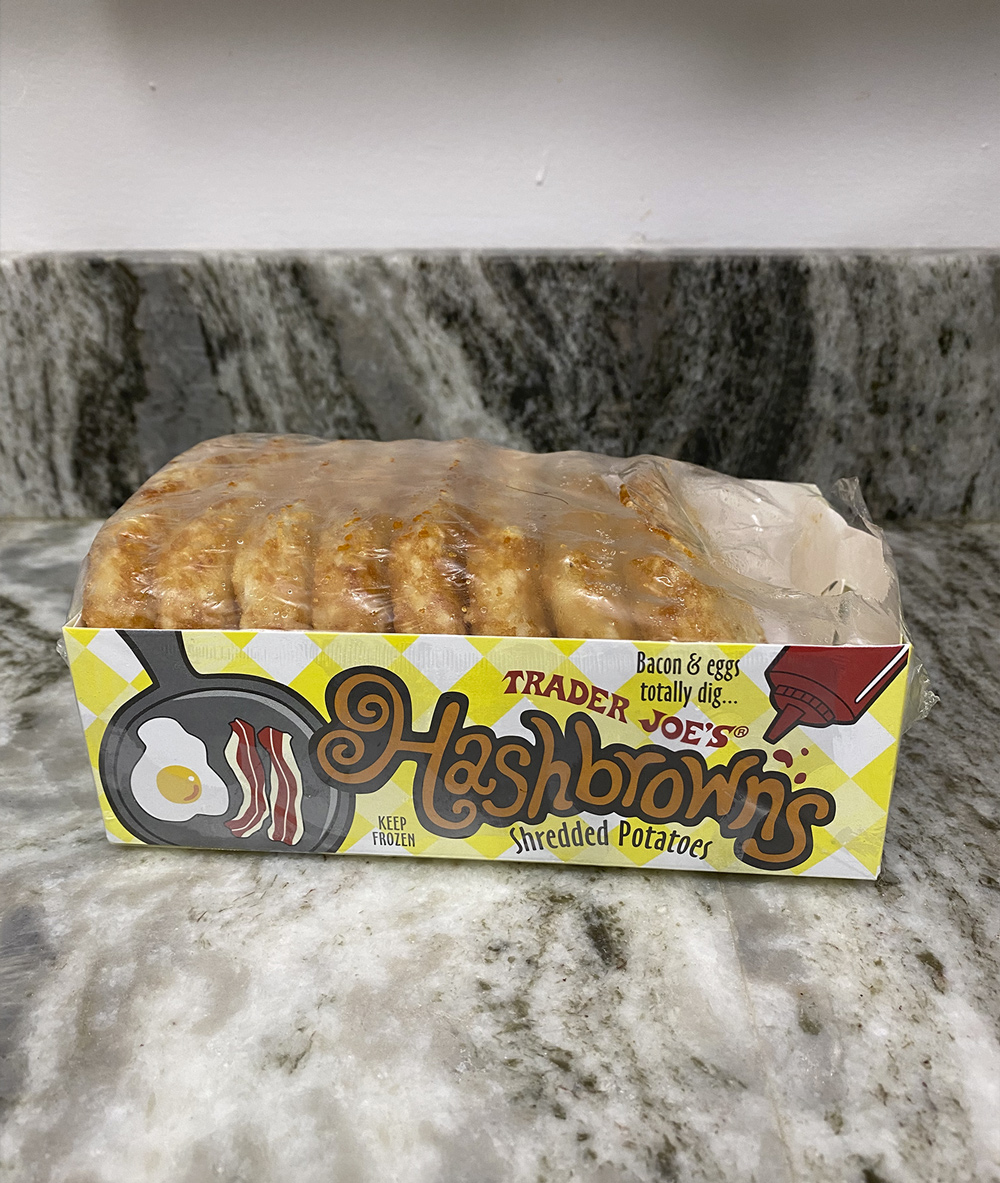 I always thought that hash browns were extremely unhealthy. I mean, they're basically French Fries for breakfast.
But once I started buying the patties for myself, I was shocked to see that a single hash brown patty is not nearly as unhealthy as I previously thought.
One hash brown patty contains only 120 calories, 6g of fat, 15g of carbs, and 1g of protein. When you order hashbrown patties at a fast food restaurant or diner, the calories will likely be much higher due to the fact that they are deep-fried in oil.
Thanks to the air fryer, we don't need to add any oil, so each patty stays just 120 calories!
With most air fryer recipes, you need to spray the air fryer basket with cooking spray (or rub with olive oil), and preheat the air fryer for optimal results.
Here, we don't need to do either of those!
In fact, we don't even need to let the frozen hashbrowns thaw out, making this one of the easiest air fryer recipes ever.
Simply place your frozen hashbrowns in the air fryer basket, being sure to leave space in between the patties to allow them to crisp up fully.
The number of hash brown patties you can cook at once will depend on the size of your air fryer. I chose to make 2 at a time for my breakfast, although I could have easily fit 4 patties into the air fryer basket. I wouldn't try to force more than that, though, as overcrowding the air fryer can affect the cook time.
Air fry these hashbrowns at 400 degrees F for 12 minutes.
Halfway through cooking (after 6 minutes), flip the air fryer hashbrowns. As you can see in the photo, the underside of the hashbrowns will still be pale and undercooked, so flipping them makes sure the entire patty crisps up.
Once 12 minutes is up, these are ready to serve!
Your air fryer hashbrowns will be perfectly crispy on the outside, and still soft and tender on the inside. In other words: they will be perfect every time.
I don't season my hashbrown patties because I find them to have great flavor on their own. But if you want to elevate your hashbrowns, season them with everything bagel seasoning, garlic powder, or any other seasoning of your choice.
Can you make shredded hash browns in the air fryer?
Yes, you certainly can!
Shredded hash browns are a little bit different and will not crisp up the same way, but that doesn't mean you can't achieve crispy air fryer hash browns using shredded potatoes.
If using shredded hash browns, fill your air fryer basket with a single layer (don't overstuff the air fryer) and air fry at 400 degrees for about 15 minutes, flipping halfway.
You can adjust the cook time if you like a more (or less) well-done potato, but 15 minutes should yield a great result.
Shredded hash browns don't have quite as much flavor as frozen patties (unless you buy the seasoned variety) because the frozen patties have some oil and salt added to them. Shredded hashbrowns are just that: shredded potato with nothing else added.
I recommend adding some simple seasoning after you remove these from the air fryer- salt, pepper, and garlic powder should do the trick!
How To Cook Frozen Hash Browns in the Air Fryer
How to achieve perfectly crispy hash browns in the air fryer using frozen hash brown patties! No oil, no preheating, no problem.
Ingredients
2-4 Frozen Hash Brown Patties
Instructions
Place frozen hash brown patties in your air fryer basket, leaving space in between each patty. You can cook as many as you are able to fit in your air fryer basket, but I'd recommend no more than 4 at a time.
Air fry at 400 degrees for 12 minutes, flipping halfway.
Remove from the air fryer and serve!
Notes
If you enjoy extra crispy hash browns, you can air fry these patties for a few extra minutes, just be sure to keep an eye on them so they do not burn.
You can follow these same instructions to cook shredded hash browns as well: fill your air fryer basket in a single layer, then air fry at 400 degrees for about 15 minutes, flipping halfway. The exact cook time can be adjusted as needed.
Recommended Products
As an Amazon Associate and member of other affiliate programs, I earn from qualifying purchases.
Nutrition Information
Yield

4
Serving Size

1 Hash Brown Patty
Amount Per Serving
Calories

120
Total Fat

6g
Carbohydrates

15g
Protein

1g