"Why does anybody in the world ever eat anything but breakfast food?" … "People are idiots, Ron."
Parks & Rec said it best. Breakfast food is the ONLY food.
If breakfast food isn't your favorite kind of food, I feel for you. But if you love breakfast as much as I do, then you'd rather not skip eating due to a lack of time in the morning!
So, here are some lower-calorie options for you to explore when you're on the go.
Note that these sandwiches are not necessarily the LOWEST calorie option on each menu, but they are all under 350 calories, which is sure to fit into anyone's diet.
I wanted to compare similar breakfast options that you can eat on the go- whether you're embarking on a road trip, heading into work, or just like to eat with your hands, these are all options you can grab & go.
A lot of fast food restaurants will have other options like fruit, yogurt, smoothies, etc, that might be even lower in calories, but we're comparing sandwiches/wraps here for the ease of comparison.
Bacon egg & cheese is not the only option for breakfast sandwiches, but it's definitely the most common option here in the US. Most of these sandwiches have some combination of these, as long as they fit under the 350 calorie limit.
Can you make substitutions to fast food breakfast sandwiches?
The short answer: yes, in most cases!
The longer answer: it depends on where you are, and what you'd like to swap.
For example, most places you go will have egg white options on their menu (although that's not always going to be the case). Because of this, you can typically substitute eggs for egg whites, even if it's not on the menu.
If you head to Dunkin' and you want to grab yourself a bacon, egg, and cheese bagel, you can save yourself some calories by getting egg whites instead.
If egg whites are offered anywhere on a restaurant menu, it's typically a swap that can easily be made for you.
Another thing you can do to save some calories is to leave off the cheese. Fast food restaurants are not going to be using low-calorie or low-fat cheeses, so leaving the cheese off your sandwich can save you anywhere from 50-100 calories!
Of course, what's a breakfast sandwich without cheese? It definitely takes away some of the flavor, but will work if you're looking to save yourself calories!
Low-calorie fast food breakfast sandwich options
For this guide, we're looking at options that are 350 calories or less.
I am by no means implying that you need to consume under 350 calories per meal- far from it, actually. Personally, my breakfast is typically 700-800 calories.
But if you're aiming to be in a calorie deficit, you want to keep your calories low without sacrificing taste, so these are all great options to allow you to do exactly that.
Egg & Cheese Croissan'wich: 320 Calories, 18g Fat, 29g Carbs, 13g Protein
Burger King has a lot of breakfast sandwich options, but most of them aren't very low in calories. In fact, the Egg & Cheese Croissan'wich is the only Burger King breakfast option under 350 calories. The next closest option is the Ham Egg & Cheese Croissan'wich, which contains 360 calories.
Burger King also offers the option to order breakfast sandwiches on biscuits, with the lowest calorie option being the Egg and Cheese Biscuit with 370 calories. Overall, it's a very similar sandwich to the croissant version, but the biscuit itself adds some extra calories.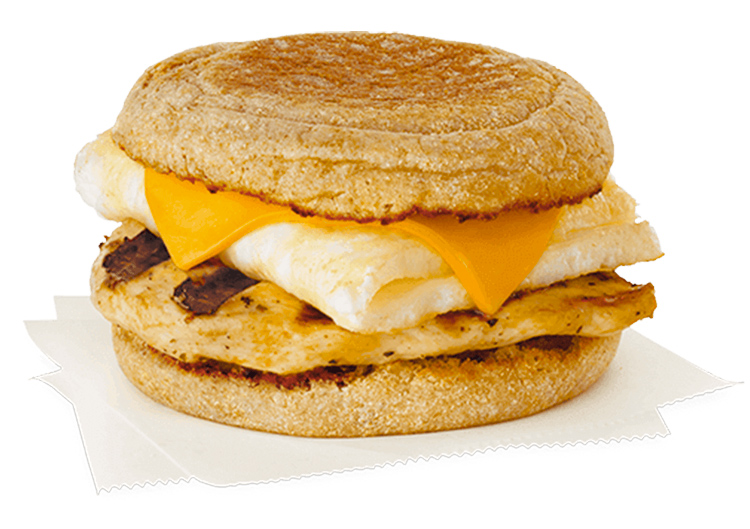 Egg White Grill: 290 Calories, 7g Fat, 31g Carbs, 27g Protein
When it comes to low-calorie breakfast, Chick-fil-A is one of the best options out there. The Egg White Grill is the highest-protein option you'll find out there, but they have plenty of other great options, too.
English Muffin: 140 Calories
Bacon, Egg, & Cheese Muffin: 310 Calories
Bagel: 290 Calories
Bacon, Egg, & Cheese Biscuit: 420 Calories
Chick-n-Minis: 360 Calories
You can find my full Chick-fil-A menu nutrition guide here.
Low Calorie Dunkin' Breakfast
Egg & Cheese (English Muffin): 340 Calories, 15g Fat, 38g Carbs, 14g Protein
Dunkin' used to offer more egg white options, but they are not currently on the menu. If you're looking for a low-calorie breakfast sandwich, the egg & cheese muffin is your best bet! If you order the same sandwich on a bagel or croissant, this same sandwich will be 460 and 500 calories, respectively.
Another great low-calorie option at Dunkin is the Wake Up Wrap, which will contain anywhere from 180-290 calories per wrap, depending on the type of meat you choose.
Low Calorie Jack in the Box Breakfast
Breakfast Jack: 350 Calories, 18g Fat, 30g Carbs, 16g Protein
Jack in the Box has a wide variety of breakfast sandwich options, but none of them are particularly low calorie.
The "Breakfast Jack" sandwich is the lowest calorie option with exactly 350 calories. This sandwich contains ham, egg, and cheese on a roll. If you prefer bacon, you can order a Breakfast Jack with bacon instead of ham, and it will only bump the calories up slightly to 380 total.
Low Calorie McDonald's Breakfast
Egg McMuffin: 310 Calories, 13g Fat, 30g Carbs, 17g Protein
I'm old enough to remember when McDonald's offered an Egg White Delight McMuffin, which was a mere 250 calories. Sadly, the egg white delight option was discontinued, but the Egg McMuffin is still a great low-calorie option.
If eggs aren't your thing, you can get a Sausage McMuffin for 400 calories, but those are your only 400 calories (or less) options.
To see a full McDonald's menu breakdown, see my nutrition guide here.
Low Calorie Panera Breakfast
Avocado, Egg White, & Spinach Sandwich: 350 Calories, 14g Fat, 40g Carbs, 19g Protein
Panera has a wide range of breakfast sandwich options, and since they specialize in bread & bagels, there are tons of substitution options you can make. If you order as-is, the avocado, egg white, and spinach sandwich is the lowest-calorie option you can order at just 350 calories.
Here are some other great low-calorie options at Panera…
Scrambled Egg & Cheese on Ciabatta: 380 Calories
Egg & Cheese on Brioche: 380 Calories
Oatmeal: 370 Calories
Low Calorie Sonic Breakfast
Jr. Breakfast Burrito: 290 Calories, 17g Fat, 22g Carbs, 12g Protein
Sonic's breakfast burrito packs fluffy eggs, sausage, and cheese, all for under 300 calories! If you order the same Jr. Breakfast Burrito with bacon, it will lower the calories even more, down to 270 calories.
Since this is a junior burrito, it is on the smaller side, but that's the price you pay for a lower-calorie option. If you order the full-size breakfast burrito, it will be 470 calories, which is quite a large difference.
Low Calorie Starbucks Breakfast
Turkey Bacon, Cheddar & Egg White Sandwich: 230 Calories, 5g Fat, 28g Carbs, 17g Protein
When you're picking up your Starbucks coffee first thing in the morning, odds are that you're going to want to pair that with some food, too.
This turkey bacon & egg white sandwich is the lowest calorie option you'll find, with just 230 calories, and it contains quite a bit of protein for those low calories. Starbucks offers quite a few breakfast options (aside from their baked goods), and many of them are also low-calorie.
Spinach, Feta, & Egg White Wrap: 290 Calories
Egg White Bites: 170 Calories
Egg Bites: 250-300 Calories
Impossible Breakfast Sandwich: 420 Calories
Low Calorie Subway Breakfast
Egg White & Cheese Flatbread: 350 Calories, 11g Fat, 44g Carbs, 18g Protein
Subway's breakfast menu is quite limited, with the only current options being breakfast flatbreads. The lowest-calorie breakfast option at Subway is actually the egg & cheese flatbread, which contains 450 calories. However, they offer the option to swap the eggs for egg whites, which brings the calories down to 350 calories total.
If you make that same egg white swap for the Bacon, Egg, & Cheese, as well as the Hame, Egg, & Cheese, those options will be 430 and 390 calories, respectively.
Low Calorie Taco Bell Breakfast
Cheesy Breakfast Burrito: 350 Calories, 16g Fat, 38g Carbs, 13g Protein
When people think of Taco Bell, they don't typically think about breakfast. But Taco Bell has some surprisingly decent options!
While Taco Bell's Grande Breakfast Burritos and Crunchwraps are higher in calories, the standard breakfast burritos are all solid choices.
The Cheesy Breakfast Burrito with either bacon or sausage contains 350 calories, and the vegetarian options with potato contains only 340 calories.
Low Calorie Wendy's Breakfast
Classic Bacon, Egg, & Cheese: 320 Calories, 17g Fat, 25g Carbs, 18g Protein
Wendy's offers many different breakfast sandwiches on a breakfast roll, croissant, or biscuit. It comes as no surprise that the croissant and biscuit sandwiches are all a bit higher calories, so your best bet is to stick with this "classic" breakfast sandwich on a roll.
At only 320 calories, it's a fantastic low-calorie breakfast option. The same bacon, egg, & cheese on a biscuit will be 420 calories, and the croissant will be 410 calories. All in all, those are all good options!
Low Calorie White Castle Breakfast
Bacon, Egg, & Cheese Slider: 260 Calories, 17g Fat, 15g Carbs, 12g Protein
This White Castle breakfast option is low calorie because the portion is quite small, but it deserves to make this list. A slider is unlikely to fill you up for a full meal, but many other breakfast sandwiches out there are quite small, so you may be able to make it work!
White Castle also offers waffle breakfast sliders, which speaks directly to my heart. Surprisingly, the egg & cheese breakfast slider contains only 330 calories, and the bacon, egg, & cheese version is still only 390 calories. Not bad at all!
Is fast food breakfast healthy?
I'm in a constant battle trying to convince people to not be afraid of fast food.
Sure, the quality may not be quite as great as if you made your own sandwich at home, but you could do much worse.
In the past, these sandwiches would be pretty low quality in terms of ingredients, but these days, fast food restaurants have improved significantly. More often than not, you're getting real eggs and quality ingredients.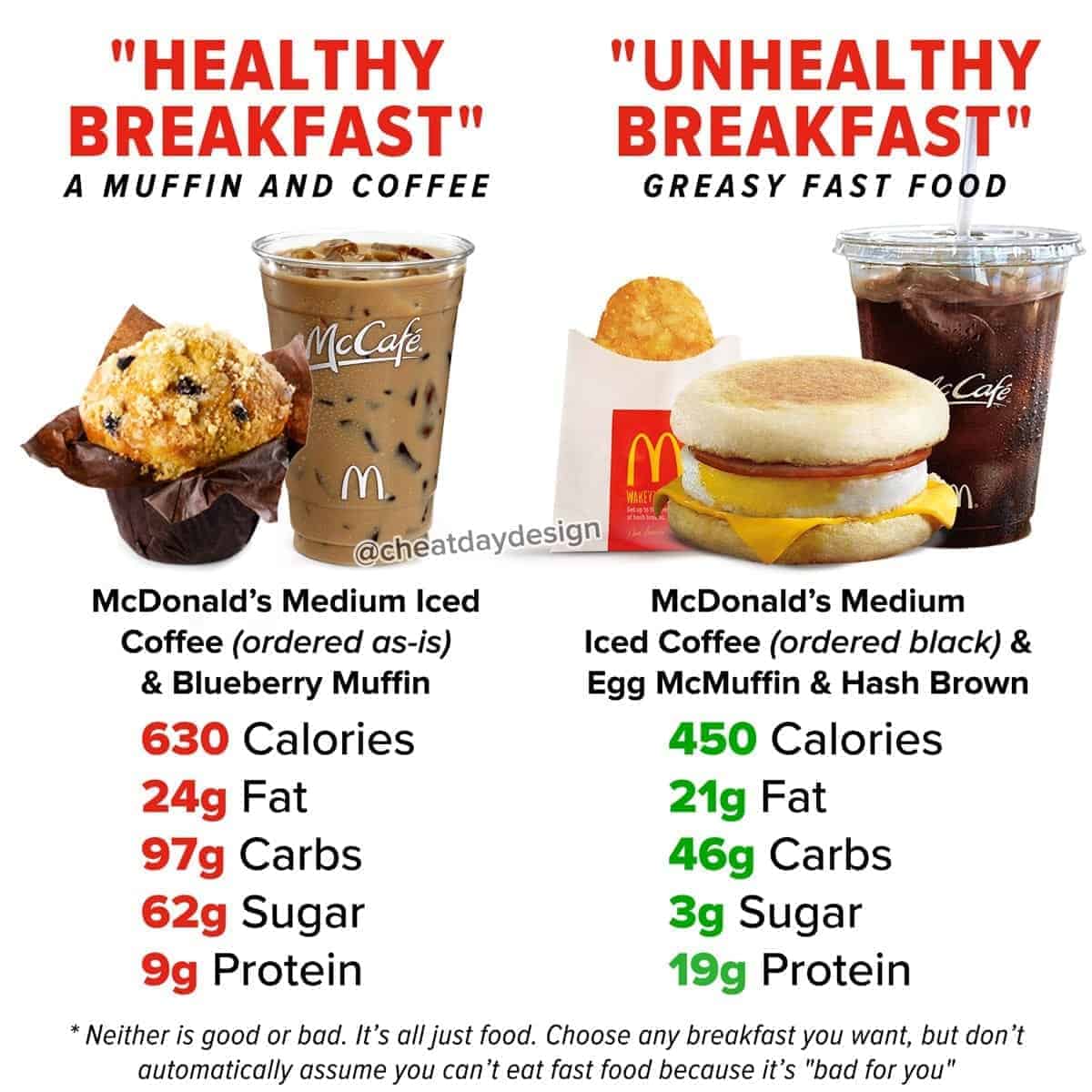 And when you break the food down into the macronutrients, you'll see that it's really not unhealthy at all! Sure, there are some very high-calorie, high-fat, and overall not great options you can order, but there are also some great options!
Instead of assuming a sandwich from McDonald's is automatically bad, break down the macros (nutrition facts).
In the past, I would have assumed a blueberry muffin would be a better choice than a breakfast sandwich and hashbrown from McDonald's, but when you look at the nutrition, you can see that is not necessarily the case at all.
This is why I love breaking down different options into their macronutrients- it makes food that you would have otherwise considered unhealthy seem not only realistic, but actually appealing!