All menu item images are property of Panera Bread
---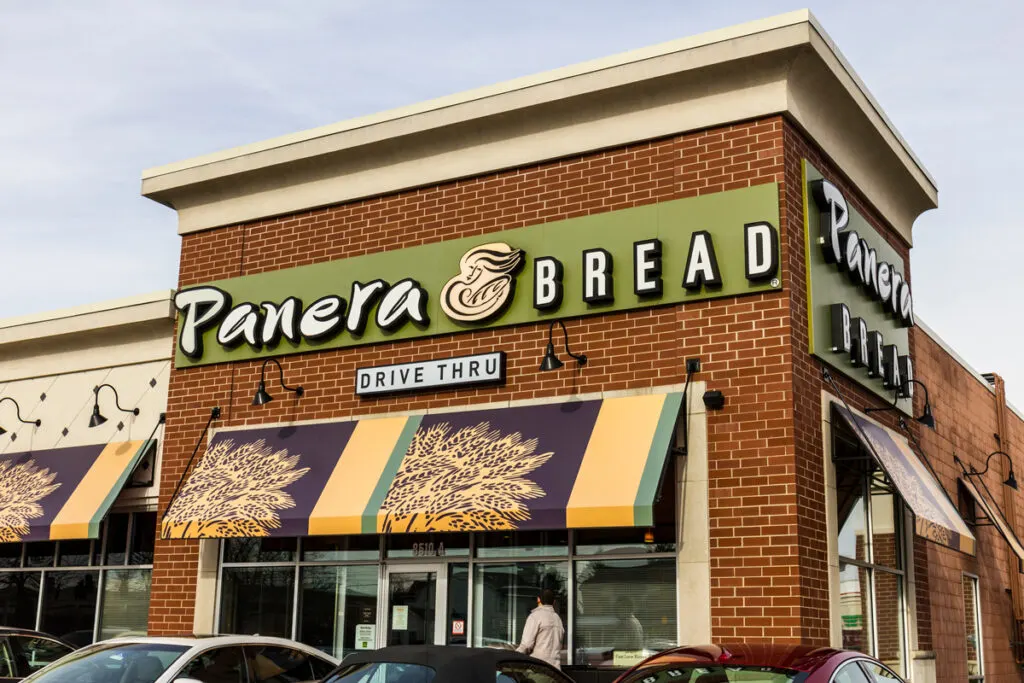 When it comes to healthy eating, most people don't think about a fast food restaurant as a viable option.
But if you find yourself in search of a healthy option on the go, Panera can be a fantastic option! In fact, it's one of my go-to favorites for finding macro-friendly options when traveling.
The Panera Bread menu offers a ton of options, so we're going to break down the full menu to find some of the best options to order.
Remember: there are no clear-cut "good" or "bad" menu items to order, and everyone has different food choices. We're simply going to break down the Panera menu to help you decide for yourself which menu item is a good choice for your diet, and I'll give you some tips for putting together the perfect custom order for some healthier options.
Does Panera Use Healthy Ingredients?
While the term "healthy" is certainly subjective, it's clear that Panera is a great option in the realm of fast-casual food.
Some fast food restaurants, like Taco Bell or Wendy's, have had questions revolving around the quality of their ingredients, but the Panera Bread company does everything in its power to keep those questions at bay.
Panera's personal guarantee is that they will only use ingredients that they deem to be 100% clean. What exactly does this mean?
According to the Panera Bread website, "clean describes food that does not contain artificial preservatives, sweeteners, and flavors along with colors from artificial sources." They've compiled a list of nearly 100 ingredients they do not allow in their food due to the promise.
If whole, healthy ingredients are what you are after, Panera Bread is a great option. With bread containing whole grains, eggs and avocado containing healthy fats, and plenty of fresh vegetables, there are tons of healthy options available.
But what if your definition of "healthy" describes something that is low-calorie, low-fat, or something else? Well, let's break down the menu to see which items fit your diet the best!
Note: if you want additional nutrition information such as sodium, sugar, fiber / net carbs, cholesterol, etc, be sure to check the Panera website for full nutrition information for every menu item.
Calories & Nutrition Facts for the Panera Breakfast Menu
Panera serves breakfast before 10:30am, and they have a ton of sandwich options on their breakfast menu.
All sandwiches are served on either a brioche roll, ciabatta, multigrain roll, or inside of a wrap.
With any of Panera Bread's breakfast sandwiches, you can swap the bread for any type you prefer! If the sandwich is not appealing as-is, you can choose any bagel that Panera has in stock on that day.
If you want to save calories on any sandwich, you also have the option to swap the scrambled egg or over-easy egg for egg whites!
And of course, if breakfast sandwiches aren't your thing. Panera bread also offers souffles and steel cut oatmeal to switch things up.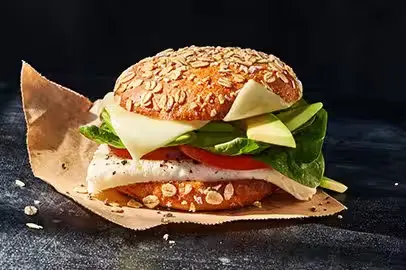 Lowest Calorie Panera Breakfast Sandwich
Avocado, Egg White & Spinach: 350 Calories | 14g Fat | 39g Carbs | 19g Protein
If you want to keep your calories low, the egg white sandwich is a great option. This sandwich is served up on a sprouted grain bagel flat, which is lower in calories than a typical bagel. Overall, with only 350 calories and still an impressive 19 grams of protein, this is a great option.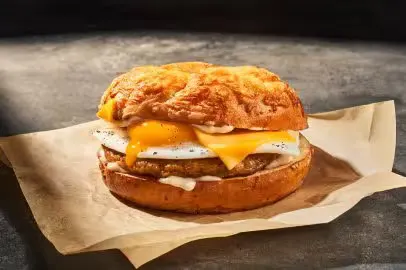 Highest Calorie Panera Breakfast Sandwich
Sausage, Egg & Cheese on Asiago Bagel: 770 Calories | 47g Fat | 60g Carbs | 29g Protein
With 47 grams of fat, this is easily the highest-calorie breakfast sandwich at Panera. If you're in the mood for a breakfast sandwich with sausage, the sausage, egg, & cheese on ciabatta is the way to go. With 590 calories, it's still relatively high in calories, but contains nearly 200 fewer calories than this option.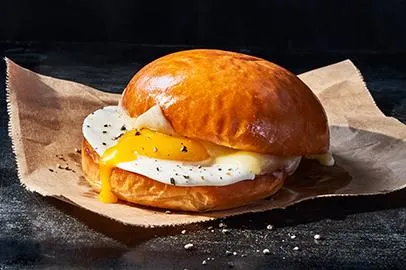 How to Save Calories on Any Breakfast Sandwich
If you're in search of a breakfast option that is a good choice for your specific diet, there are substitutions you can make to create the perfect breakfast sandwich.
Since Panera offers a breakfast sandwich with egg whites, that makes it possible to swap the egg on any sandwich with egg whites. 1 portion of egg whites contains just 30 calories and 6 grams of protein, while the scrambled eggs contain 90 calories and 8 grams of protein.
In addition, you can ask for any sandwich on a bagel flat, which contains just 180 calories compared to an asiago bagel or plain bagel with 310 and 280 calories, respectively.
Whether you want to level up your breakfast sandwich or simply enjoy a bagel with cream cheese, Panera has lots of amazing bagel options to choose from!
While they're most famous for their Cinnamon Crunch Bagel (check out my copycat recipe), they have a large variety of options.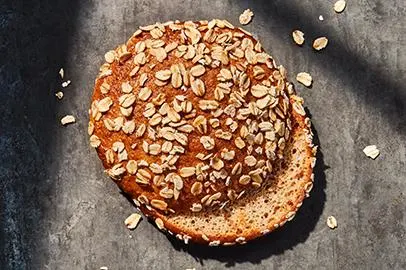 Lowest Calorie Bagel at Panera
Sprouted Grain Bagel Flat: 180 Calories | 2g Fat | 34g Carbs | 7g Protein
The bagel flats at Panera are similar to "Bagel Thins" you might have seen at the grocery store, and are a great option if calories are a concern. While a bagel flat may not be quite as filling as a full bagel, you'll be saving 100+ calories.
Highest Calorie Bagel at Panera
Cinnamon Crunch Bagel: 420 Calories | 7g Fat | 84g Carbs | 9g Protein
It should come as no surprise that the sweetest option is also the highest calorie. The Cinnamon Crunch Bagel is baked with cinnamon and vanilla chips and topped with a cinnamon-sugar coating, making it the highest in carbs as well.
Panera Bagel With the Most Protein
Asiago Bagel: 310 Calories | 3g Fat | 63g Carbs | 12g Protein
If high protein is your goal, the asiago cheese bagel is the way to go. With a layer of asiago cheese baked on top of this bagel, it adds an extra kick of protein compared to other bagel options.
Calories & Nutrition Facts For Panera Sandwiches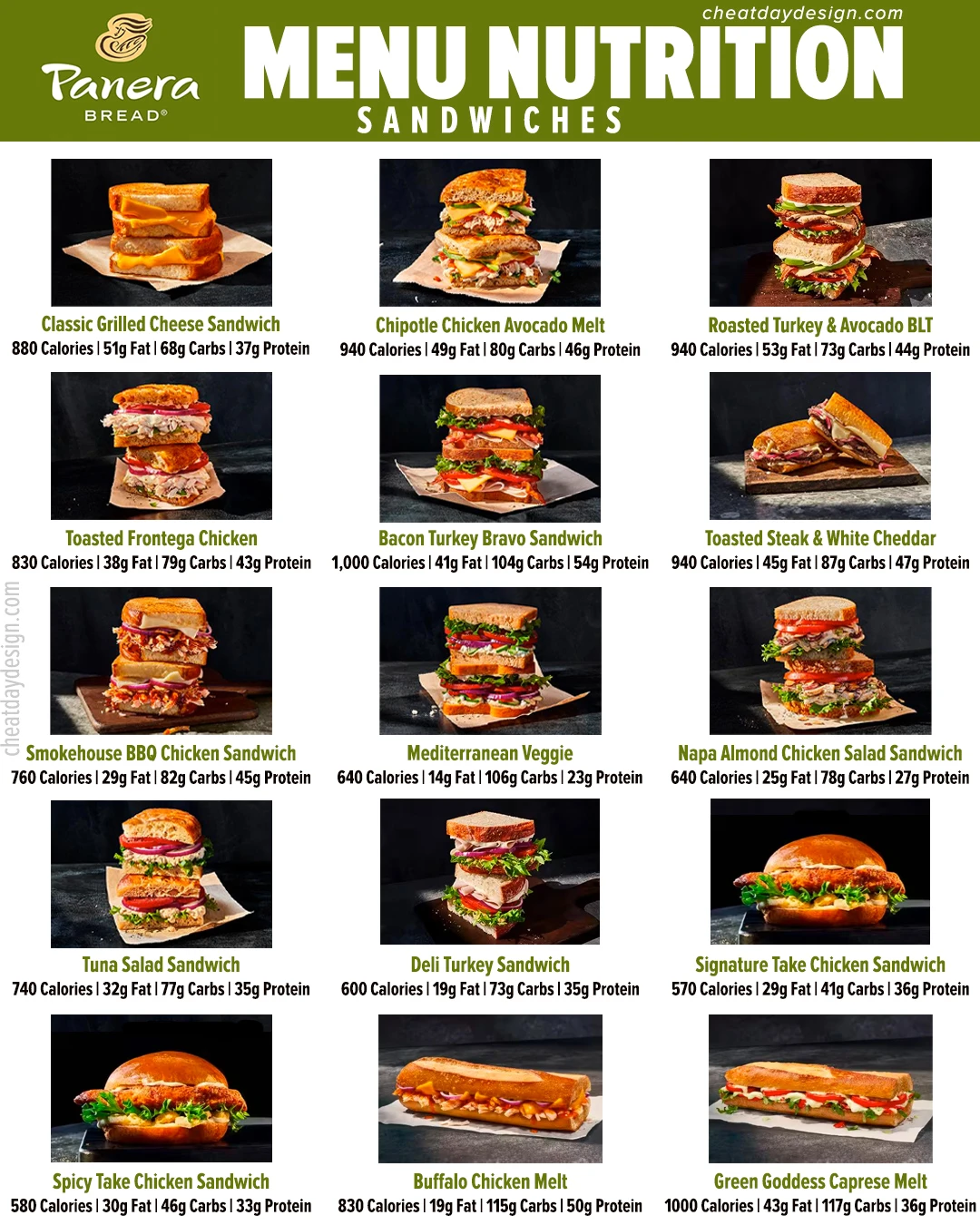 Bread is the glue that holds your sandwich together, and Panera has no shortage of sandwich options.
A popular way of ordering at Panera is the "you pick two" option, which allows you to choose half of a sandwich paired with either a cup of soup or half salad.
The nutrition listed here is for a full sandwich, so if you were to go with the "you pick two" option, or simply want to order a half sandwich, you'd simply divide everything in half.
Lowest Calorie Panera Sandwich
Signature Take Chicken Sandwich: 570 Calories | 29g Fat | 41g Carbs | 36g Protein
You wouldn't expect a fried chicken sandwich to be low-calorie, but it's actually the lowest-calorie full sandwich on the Panera menu. In fact, no other sandwich comes in under 600 calories.
The next lowest calorie sandwich would be the deli turkey sandwich, which contains exactly 600 calories for the entire sandwich. If you order a half sandwich, that's only 300 calories, which is a very low-calorie option.
Highest Calorie Sandwich at Panera
Bacon Turkey Bravo Sandwich: 1,000 Calories | 41g Fat | 104g Carbs | 54g Protein
You won't often find an option over 1,000 calories at Panera, but the bacon turkey bravo is a monster. The protein count of this sandwich is very impressive considering it contains roasted turkey, applewood-smoked bacon, and gouda, but those 54 grams of protein come with a hefty caloric pricetag.
Most Macro-Balanced Panera Sandwich
Half Toasted Steak & White Cheddar: 470 Calories | 23g Fat | 43g Carbs | 23g Protein
Finding a macro-balanced option at Panera may be more important to you than finding the lowest-calorie option, and the steak & cheddar sandwich is actually a really solid option. While the full sandwich is pretty high in calories, ordering a half sandwich gets you a really balanced meal, especially when paired with another healthy option.
A very similar option is the turkey & avocado BLT, which contains the same amount of calories and 22 grams of protein.
Vegetarian Sandwich Option
Mediterranean Veggie Sandwich: 640 Calories | 14g Fat | 106g Carbs | 23g Protein
The Mediterranean Veggie Sandwich is one of my favorites at Panera, and it does not contain any meat. Fresh vegetables are combined with feta and hummus, and the Tomato Basil bread really takes it over the top.
Calories & Nutrition Facts for Panera Soup & Bowls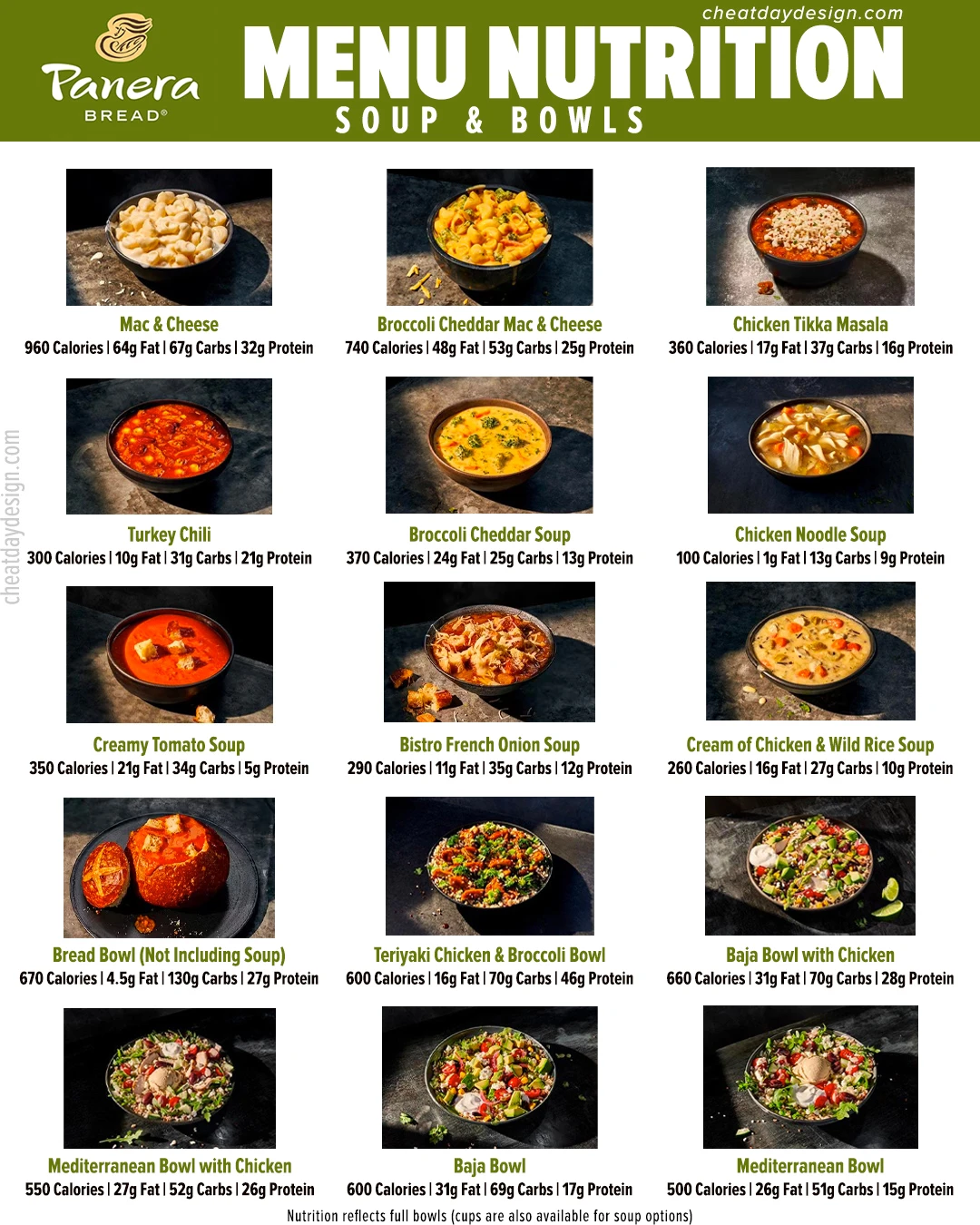 Nothing pairs better with a sandwich than a hot bowl of soup! Panera has a few rotating soups that will come and go with the changing seasons, but for the most part, they stick with the staples.
We're including the mac & cheese here since it needs a place to live on this menu breakdown, but I won't compare it apples-to-apples with soup, because it's obviously higher in calories!
All of the nutrition listed here is for a bowl of soup (or mac & cheese), but you also have the option to order soup in a "cup" serving size. A cup is roughly 2/3 the size of a bowl for these purposes.
For example, a bowl of Turkey Chili contains 300 calories, and a cup of Turkey Chili contains 200 calories.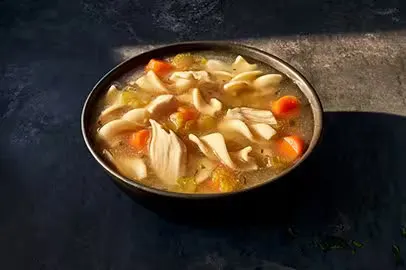 Lowest Calorie Soup at Panera
Chicken Noodle Soup: 100 Calories | 1g Fat | 13g Carbs | 9g Protein
If you want low-calorie, look no further than the classic chicken noodle soup! While it may look like a typo, it's true that a full bowl of chicken noodle soup at Panera contains only 100 calories, which means a cup of this soup contains only 60 calories.
With 9 g protein to add to those 100 calories, the chicken noodle soup is a really solid option.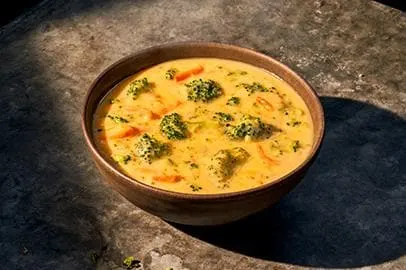 Highest Calorie Soup at Panera
Broccoli Cheddar Soup: 370 Calories | 21g Fat | 25g Carbs | 13g Protein
While this soup is certainly not high-calorie, it is technically the highest-calorie option on the menu, so it's worth pointing out. It's surprising to me that this soup contains more calories than turkey chili, but that tends to be the case when the base of the soup is a cheese sauce.
Panera Bowl with the Most Protein
Teriyaki Chicken & Broccoli Bowl: 600 Calories | 16g Fat | 70g Carbs | 46g Protein
If you're in search of a high-protein option, the chicken teriyaki & broccoli bowl is easily your best option. With 600 calories and a whopping 46 grams of protein, this bowl is one of the highest protein items on the entire Panera menu.
If you need a nutritious option with a good amount of protein, you'd be hard-pressed to find a better option.
Calories & Nutrition Facts For Panera Salads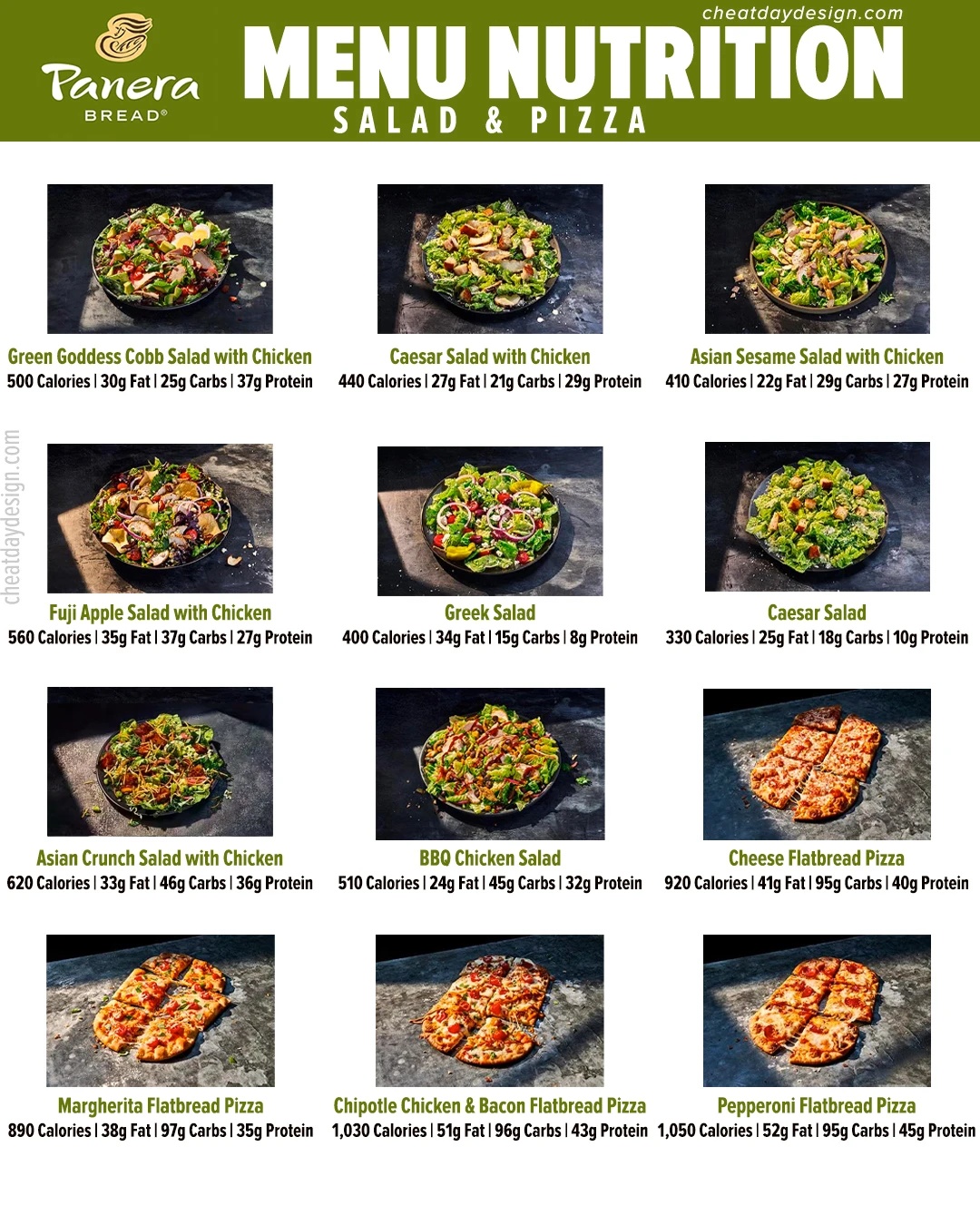 Just like the sandwiches, you have the option to order half salads at Panera if you want to go with the "you pick two" option.
Whether you choose a salad because you want to keep your calories low, because you want the micronutrients, or simply because you think salad is delicious, there are some great options.
In my personal opinion, the Fuji Apple Salad (with grilled chicken breast) is one of the best salads out there!
And it's worth mentioning that I am including the flatbread pizza alongside the salad options, but of course, they are VERY different options!
For the sake of keeping things concise, I included them here, but we won't compare them directly to salads, because pizza and salad are quite different.
Lowest Calorie Salad at Panera
Caesar Salad: 330 Calories | 25g Fat | 18g Carbs | 10g Protein
Are you surprised to see that the caesar salad contains fewer calories than the Greek salad? I certainly am! Any time you have a cream-based dressing, the calories tend to be very high, but that's not the case here with just over 300 calories for this entire salad.
If you're someone who follows a low carb or keto diet, the caesar salad without croutons is going to be one of the best options on the menu for you.
Highest Calorie Salad at Panera
Citrus Asian Crunch Salad with Chicken: 620 Calories | 33g Fat | 46g Carbs | 36g Protein
While this salad is the highest-calorie option, it's also the salad with the most protein, so it is certainly not a terrible option. If you'd like to save some calories, I recommend asking for the dressing on the side.
Since this salad is tossed in a tangerine soy ginger dressing and then topped with an additional teriyaki drizzle, most of those calories are coming from the dressing. When you order the dressing on the side, you have control over how much you add, so you're likely to save quite a few calories.
Calories & Nutrition Facts for Panera Bakery Items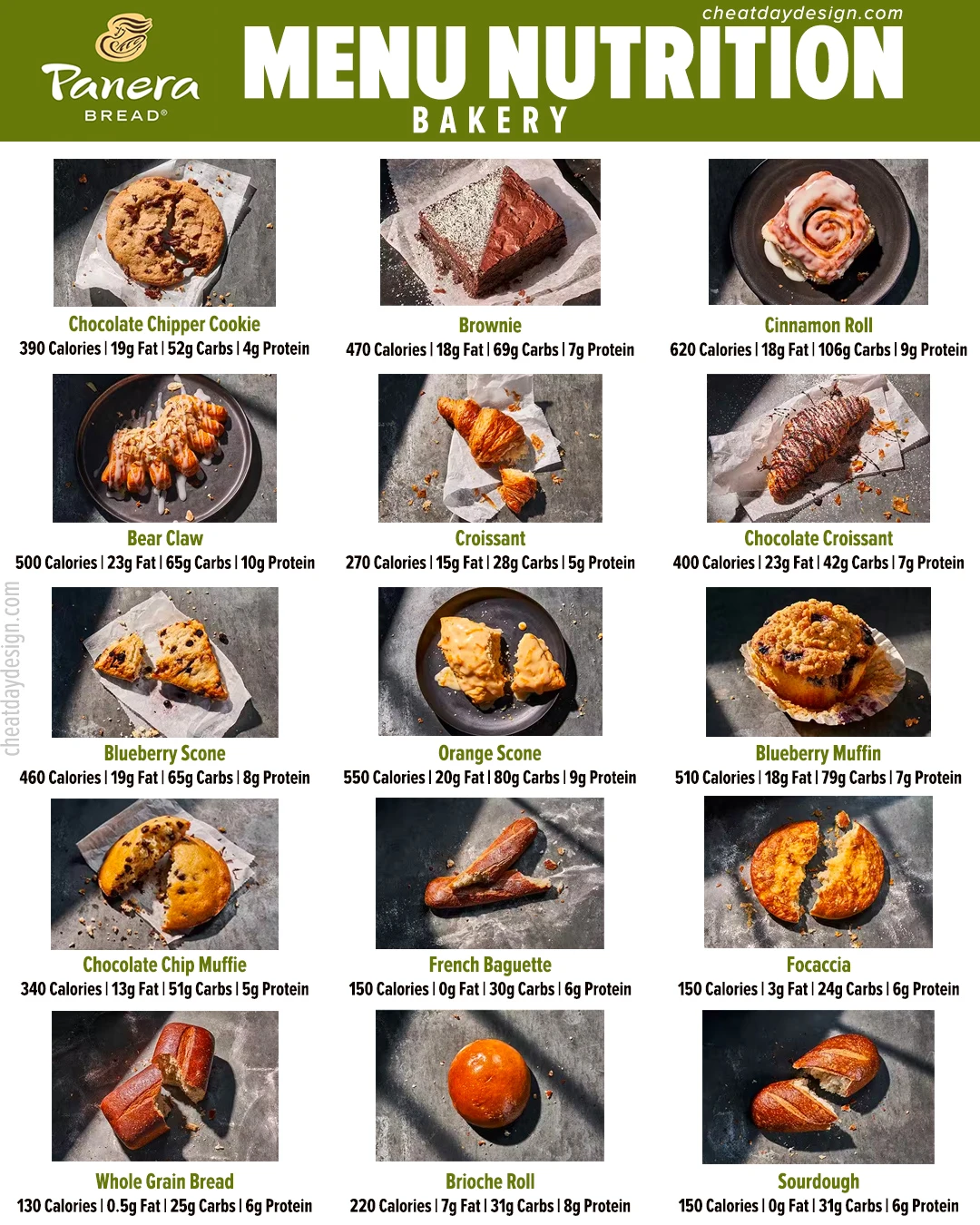 Unlike the other sections of the Panera menu, I don't think it's really fair to break down the "healthiest" bakery items, for two reasons:
When it comes to sweets, you likely just want to enjoy a delicious treat without worrying too much about calories.
Each bakery item is SO different, so it makes comparison very tough.
That being said, one item really stands out at Panera: the chocolate chip "muffie."
The muffie at Panera is a muffin top that contains nearly half the calories of a normal muffin. While a regular blueberry muffin contains 510 calories, the chocolate chip muffin contains only 340 calories. If you're craving a delicious sweet but want to keep the calories in check, this is a great option to have!
Not pictured in the menu above are also mini scones, which are a great option at Panera. While they are quite small, each mini scone contains just 150-180 calories, making them excellent dessert options for anyone on a low-calorie diet.
Panera Calorie Saving Tips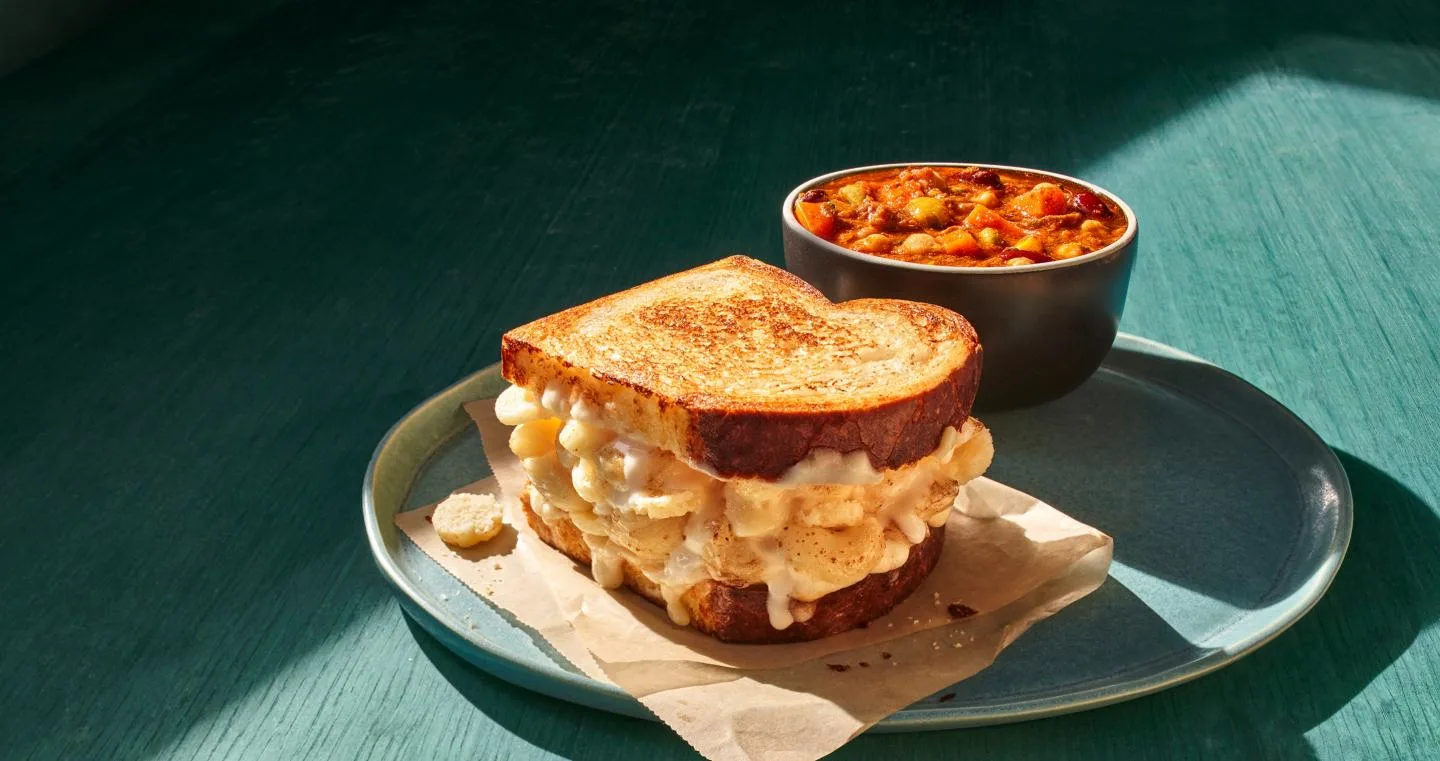 No matter what you order at Panera, there are plenty of swaps and substitutions you can make to save a few extra calories.
1) Swap the bread
When you order a breakfast or lunch sandwich, you can swap out the bread for any different type on the menu. If the ciabatta contains too many calories, you can go with a bagel flat instead!
2) Dressing on the side
Asking for salad dressing on the side is one of the easiest calorie savers there is. By adding the dressing yourself, or by dipping your salad into the salad dressing, you'll often use way less than you otherwise would have if they had served it over your salad.
3) Skip the heavy sauces
If you order a sandwich with mayo, ranch, or any other milk-based sauce, it's going to come with a fair amount of calories. I typically will leave those off my sandwich and instead go with a much lower calorie condiment like mustard, hot sauce, or salsa.
4) Avoid the bread bowl
Don't get me wrong, I think bread bowls are absolutely delicious, but they can add a ton of unwanted calories to your meal. If you order a soup that is 300 calories, but you have it in a bread bowl, that is going to add an additional 670 calories! That means your soup will now come in at nearly 1,000 calories.
5) Be mindful of your side choices
It's not uncommon to pair your lunch with a French baguette or side of chips, but there are other side options available to you that may be more appealing, not to mention more filling. You can order an apple or banana, a fresh fruit cup, or Greek yogurt on the side for fewer calories.
6) Split your baked goods
Everything in the bakery at Panera looks unbelievable, so I don't blame you if you want a chocolate chip cookie, muffin, cinnamon roll, croissant, or anything else with your breakfast. While there's nothing inherently wrong with ordering these items, it's worth it to be mindful, because a single chocolate chip cookie contains nearly 400 calories. If you want to give them a try, it might benefit you to split it with someone!
7) Take advantage of the "You Pick Two"
You Pick Two means choosing two options out of a half salad, half sandwich, or cup of soup. By having multiple smaller portions, we often eat slower, which in turn gives us a chance to realize we are full and to feel more satisfied. While I can easily finish a whole sandwich in about 2 minutes, if I have half of a sandwich with a small salad, I'm bound to eat much slower.
Is the Panera Menu Healthy?
If you're looking to eat healthy on the go, Panera is a fantastic option.
Sure, there are certain menu items that may not support your dietary goals, but there is no shortage of substitutions and swaps you can make in order to create a meal that works for you.
Panera calories are on-par with many other restaurants out there, but based on our breakdown in this post, it's clear that it completely depends on what you are ordering.
With fresh, quality ingredients, Panera is a great option for healthy eating, especially if you are on the road and in need of something quick.