October 2021 Update: This cookie has been given a major upgrade! I mean, just check out this cookie compared to the original recipe:
This protein cookie is now bigger and better than before. It's not quite as big as my Half-Pound Chocolate Protein Cookie, but at 6oz, this thing is still a monster!
——-
Protein cookies you buy at the store are historically pretty terrible.
Nothing beats a fresh-baked cookie, so you must lower your expectations when you buy a pre-packaged cookie anyway. But, even with those expectations lowered, I still find that protein cookies are so dry and tasteless.
Let's change that. Let's bake up a perfectly soft, gooey, GIANT chocolate chip cookie…
This chocolate chip protein cookie weighs 6 ounces and packs 30g of protein!
Plus, this protein cookie has no eggs and no wheat, so it can safely be eaten raw (or underbaked).
I originally went through 8 versions trying to get this giant chocolate chip cookie recipe just right. I played with the ratios, made substitutions, and adjusted the cook time/temperature. High-protein baking can be very stubborn if it's not done correctly, so I want to share with you all of the trials and errors I went through.
Ultimately, my goal was to create a giant chocolate chip cookie that was high in protein but still tastes delicious. Foods that are packed with protein often just take on the artificial flavor of protein powder, so I wanted to make sure these tasted like a legit cookie.
If the idea of baking up a giant protein cookie is intimidating to you, don't worry, I've got No-Bake Protein Cookies and Protein Cookie Dough you can whip up instead.
How Big Are These Chocolate Chip Protein Cookies?
I'm sure a lot of you are familiar with Lenny & Larry's cookies. They're the leading "protein cookie" on the market, and it seems a lot of people love them. I happen to not like them at all, but that's just me.
I wanted to use Lenny & Larry's as a my jumping-off point for these cookies. In terms of size, I wanted them to be larger, and I wanted the nutrition to be more appealing. Here's how they end up comparing: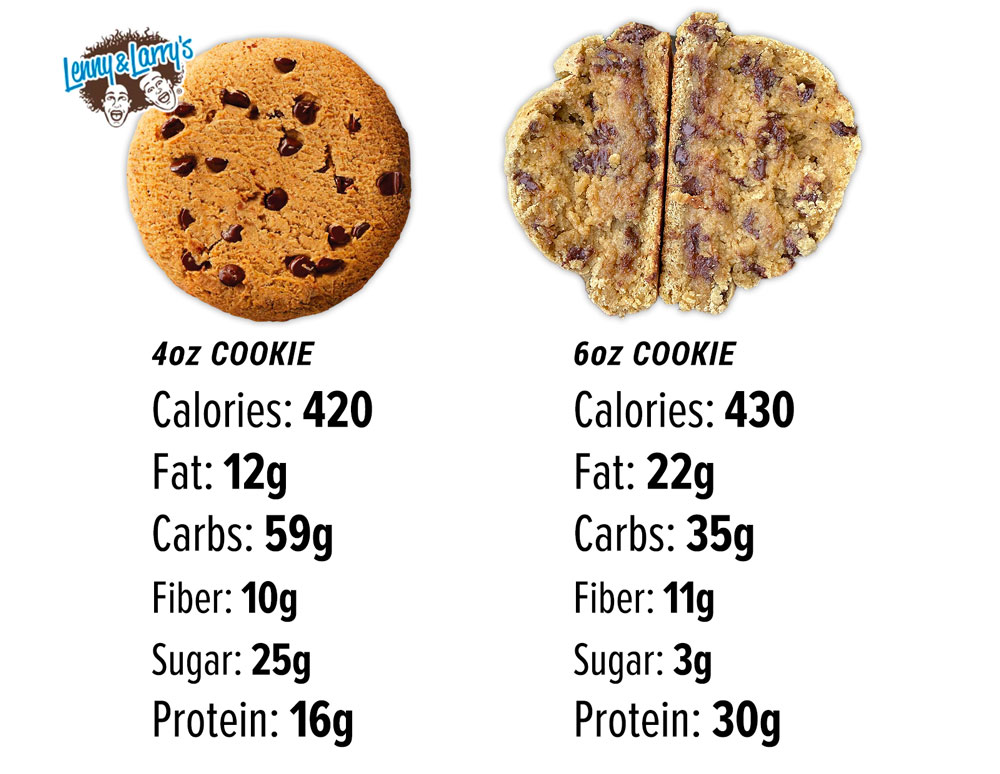 This recipe is a bit higher in fat (which isn't necessarily a bad thing), but other than that, I'd say it's much more appealing across the board.
Plus, once you taste the difference, you'll never turn back.
Through my many trials of these cookies, I played with the ratios to try to make these as "macro-friendly" as possible. However, trying to go super low-calorie just didn't work. This final recipe is the most appealing I could make the nutrition while having this hold us as a delicious cookie.
Main Ingredients & Substitutions for Protein Cookies
One of the toughest parts of healthy baking is successfully making substitutions (I have a full substitution guide coming very soon for you). If you swap one tiny ingredient, it can result in a completely failed end result.
Like I mentioned earlier, I went through 8 variations of this recipe, so I want to tell you which ingredients work best, and why.
Main Protein Source: A Whey/Casein Blend.
If you go through the recipes on my site, you'll find that I most often use a whey/casein blend. Whey protein alone tends to lead to dry baked goods, so the addition of casein protein actually helps to hold onto moisture.
Whey protein alone can work, but you need to know what to expect.
Here, I tested the difference between a whey/casein blend, and whey protein alone…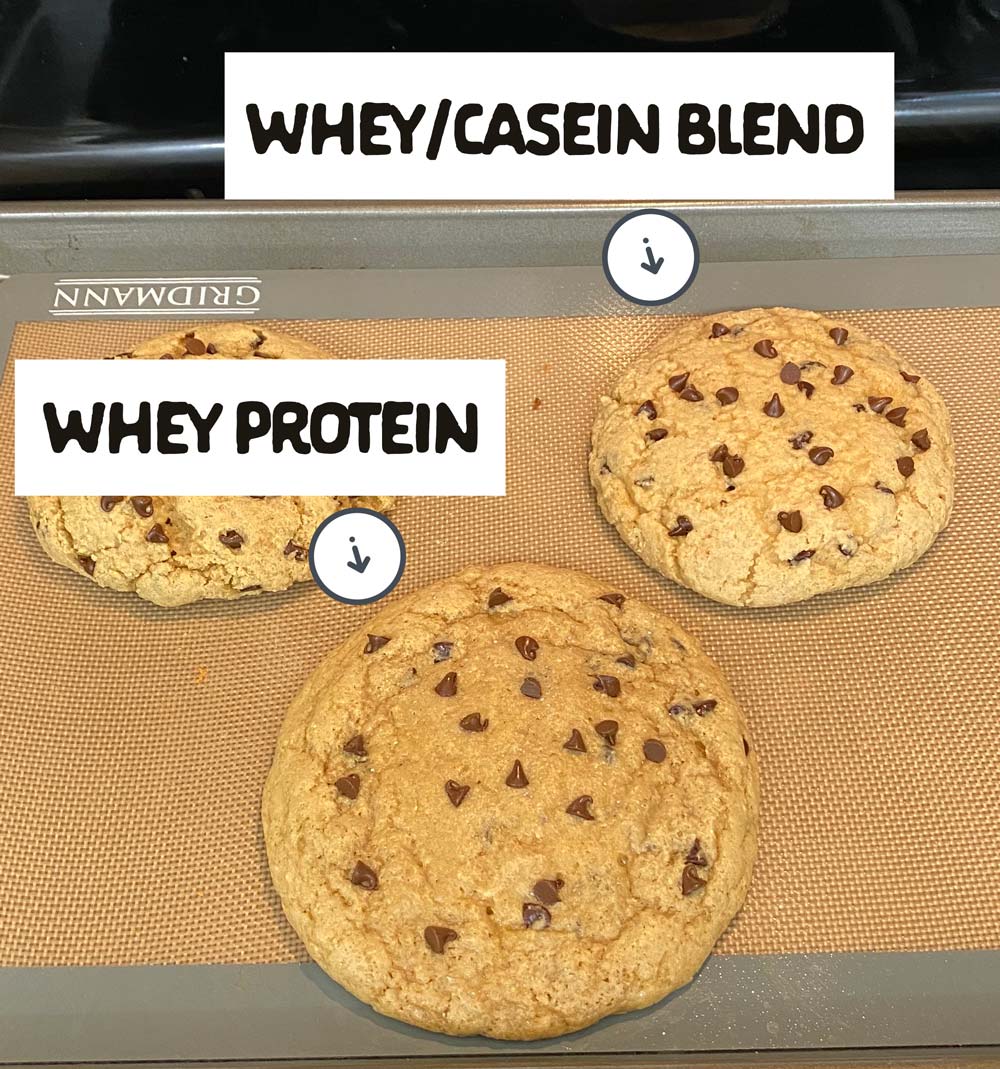 I purposely undercooked the whey protein cookie in hopes of preventing it from drying out, but that resulted in the middle being undercooked and the outside still becoming dry. You'll also see that the whey protein caused the cookie to spread out much thinner.
All in all, whey protein works, but not nearly as well, which is why I HIGHLY recommend grabbing a protein blend. I use PEScience in all my recipes, and you can pick yourself up some protein while saving 15% with my code "Matt".
If you don't want to use PEScience for any reason, Quest also makes a great whey/casein blend.
If you're vegan, I don't think a plant protein will work nearly as well. Structurally it might work, but the flavor will definitely not be there.
I will add this: make sure you like the taste of the protein powder you use. If you have an old vanilla whey protein in the pantry that you can't stomach, don't try to make this recipe with it. The protein is the main ingredient, so it's going to taste terrible if you hate the protein powder. I highly suggest investing in a good brand, and PEScience has been treating me quite well so far. In fact, it's a powder you can taste right of the tub and enjoy (if you want to).
Main Flour: Oat Flour
I love using oat flour in cookies– it helps to give it the most authentic flavor when paired with protein powder. Plus, it pleases anyone who may be gluten-free! If you don't have oat flour, you can very easily make your own by throwing some oats into a food processor or spice grinder.
Can you swap out oat flour in these protein cookies? Not really. I tried a version with regular all-purpose flour, but the cookie ended up being cakey. If you want a soft cookie, oat flour is the way to go.
Other Flours: Coconut Flour & Almond Flour
In my original attempt at this protein cookie, I utilized only coconut flour (without any almond flour). The cookie came out great, but coconut flour tends to have an overpowering taste. If you have a nut allergy and can't use almond flour, leave that out of the recipe and double up on the coconut flour as I did.
The cookie will come out great, but you'll be able to taste the coconut flour. When you use only a small amount like the recipe calls for, you cannot taste it at all (which is great, because I personally do not like coconut flour).
I use coconut flour because it is super absorbent and helps hold the structure of the cookie while still being low in calories. If you can't do coconut flour for any reason (it's a small amount in the recipe) you can likely just replace it with more almond flour. The final result will be a little bit different, but it shouldn't be detrimental.
Fat Source: Light Butter
Cookies need a fat source to keep them soft and chewy inside. If you try to make these low fat, you're gonna end up with a cakey cookie, and that's the opposite of what we want.
I use Country Crock, which is just a butter spread that contains half the calories of regular butter. If all you have is butter, you can absolutely use that, it will just add some extra calories to this protein cookie.
Vegan buttery spread will also work here if needed- I've had success with an Avocado Buttery Spread I found. Coconut oil will also work, but like full-fat butter, will add extra calories.
In one of my trials, I did try cutting the butter in half and swapping it out for unsweetened applesauce. Generally speaking, you can swap some fat in recipes with applesauce and get decent results. However, I've found that only truly works well in cakes.
When I swapped some of the butter for applesauce, the resulting cookie was cakeier and a bit spongy. Save the applesauce for cupcakes or muffins, but we'll leave it out of these protein cookies.
How to Make 6oz Protein Cookies
These protein cookies are very easy to make, but there are a few key steps that I need to highlight for you.
To start, we're going to mix everything together in a bowl except our protein powder.
This is going to leave us with a very wet batter, which may not seem like what we want, but trust me.
Once that is all mixed together, we're going to add the protein powder in LAST.
This is a trick I learned when I was making my Protein Cookie Dough Sandwiches. If you add the protein powder in first, you're gonna end up with a significantly different end-product. Adding it last acts as a thickener, so we're able to turn that sticky batter into a workable cookie dough.
At this stage, you'll be left with a dough ball that's roughly 6oz. Mine weighed in just under that, but that's because I ate a small piece.
Hey, no judgement; this protein cookie is safe to eat raw!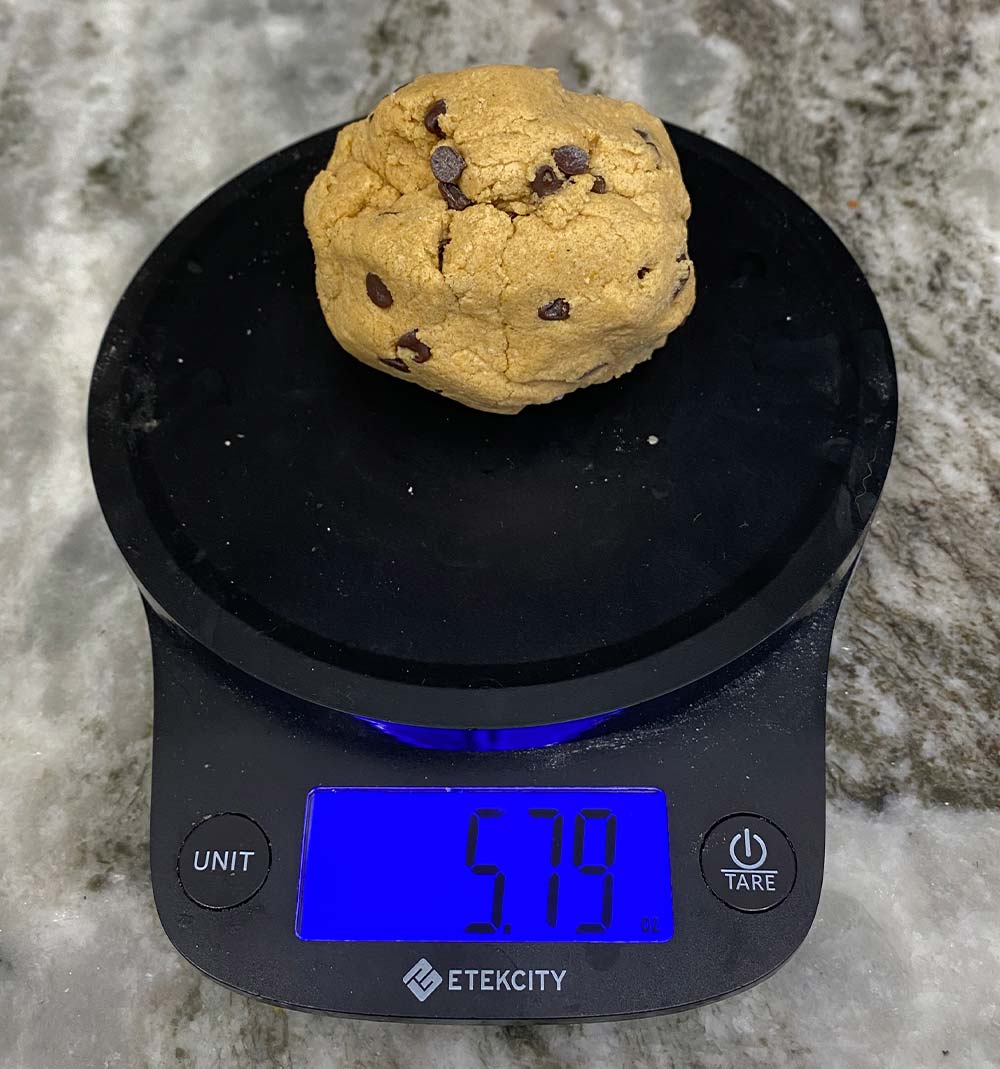 Now refrigerate the protein cookie dough for one hour.
I know, waiting is the worst. But, if you do not chill this cookie dough, you're not going to end up with a thick cookie. Chilling the dough helps prevent the cookie from spreading too thin, and it actually helps to develop the flavors even better.
After an hour, we'll form the cookie. I wanted my protein cookie to be nice and tall (we love that thick aesthetic) so I formed it into an oval, similar to my Half-Pound Protein Cookie.
If you want the cookie to be a little bit less tall and resemble a traditional cookie, form the cookie dough into a ball instead.
We're going to bake the cookie at 325 degrees F for 12 minutes, then let the cookie sit for one hour.
Letting the protein cookie sit allows it to firm up inside to be ready to eat. If you were to bite into the cookie right out of the oven, the inside would taste like steaming hot cookie dough.
And if you formed your cookie into an oval as I did, the extra hour of cooling time allows it to shrink down a little bit, as you can see by the shape above.
Once the cookie is cooled, you're ready to cut into it and enjoy!
If it still feels too soft inside, you can let the cookie sit out at room temperature for even longer, or you can add it to the fridge to speed up the process.
But remember: these protein cookies are 100% safe to eat raw!
Storing Leftover Cookies
In my many trials of this cookie, I've cut it into quarters and enjoyed pieces, leaving the rest out on the counter. After a few hours, the cookie actually firms up quite well. In fact, that's how I ate my massive half-pound protein cookie.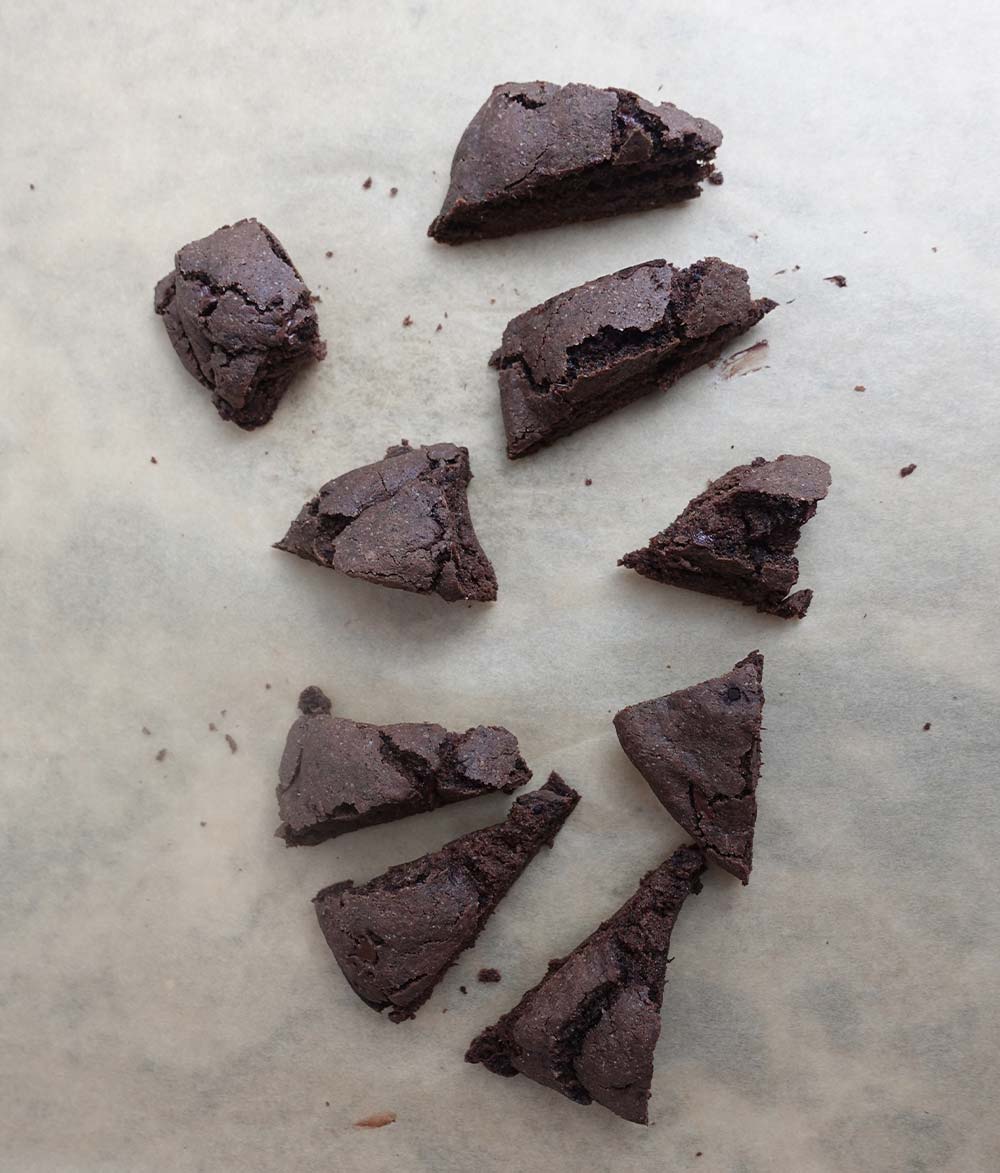 You can leave the cookie out at room temperature and it will stay soft inside through the week. I recommend keeping it in a bag or sealable container to prevent it from drying out.
These cookies can be stored in the fridge if you prefer them a little bit harder, but it isn't necessary.
Baking Smaller Protein Cookies
If a giant protein cookie with over 400 calories is too much for you, then you can easily form this recipe into smaller cookies.
Reader Nick has said "I made this cookie twice this week and don't feel bad one bit. I also used this to make smaller cookies and confirm they were good." You can follow the recipe exactly as-is and form smaller cookies. Even if you split the recipe into 2 cookies, they'll still have 15g of protein each, which is on par with any other protein cookie other there.
This site is full of high-protein cookie recipes, so if this one doesn't do it for ya, be sure to check out any of my other protein cookies to find the perfect fit for you!
6oz Chocolate Chip Protein Cookie
Total Time:
2 hours
22 minutes
This giant chocolate chip protein cookie weighs in right around 6oz and is packed with 30g of protein! You'll never buy another protein cookie again.
Ingredients
28g Oat Flour
5g Coconut Flour
5g Almond Flour
1/4 tsp Baking Soda
28g (2 Tbsp) Light Butter- I use Country Crock Original Spread
1 tsp Vanilla Extract
20g (1 Tbsp) Canned Pumpkin
Pinch of Salt
Instructions
In a large bowl, mix together the butter, canned pumpkin, vanilla extract, and brown sugar. Add all of the dry ingredients except for the protein powder and mix it all together. This will leave you with a wet batter.
Mix the protein powder in last until it forms a dough ball (protein powder is very absorbent so it will thicken into a dough). Fold in your chocolate chips and then refrigerate for one hour. Chilling the dough is what will prevent it from spreading too thin.
After one hour, preheat the oven to 325 degrees F.
Form your cookie dough into a ball. I like to form it into more of an oval so it stays relatively tall, but if you prefer it to be a little rounder, like a traditional cookie, you can just roll it into a ball.
Add to a parchment paper-lined cookie sheet and bake for 12 minutes.
Remove from the oven and let the cookie sit for 1 hour. The cookie continues to bake inside once it is removed from the oven and will firm up. If you were to eat it right away, the inside would be extremely soft.
If you want to firm the cookies up even more, you can add to the fridge to speed up the process, but note that these cookies are 100% safe to eat raw, so it's okay for the inside to be on the soft size.
Notes
This recipe is safe to eat raw, so no harm in underbaking if you prefer that.
The nutrition here is calculated based on the specific ingredients I used. If you plug your ingredients into your tracking app, it may come out slightly different.
If you do not have canned pumpkin, or do not want to use any, you can use a little milk in its place. Start with 1 tablespoon of milk, and use 2 tablespoons if that is not enough.
If you only have whey protein and not a whey/casein blend, the batter is going to be very sticky and liquidy. The same cook time should still work with whey protein, but I might lean closer to 10 minutes since the cookie is going to spread thinner. To see how different types of protein powder affect cookie recipes, check out my Ultimate Protein Powder Substitution Guide.
Good vanilla extract is key as well. I've always used imitation vanilla to save money, but have recently started spending a few extra dollars for a pure vanilla extract, and I can tell you that you can really taste a difference.
If your giant chocolate chip cookie feels underdone when you take it out of the oven, just know that it's going to firm up as it sits! There's a chance that it is actually undercooked depending on the initial size of the cookie you baked, but remember that this is safe to eat under-baked.
Final note: I don't count sugar substitutes in my macros since they do not contribute to the overall calories. If you are super strict about carbs, make sure you take the sugar substitute into account.
Recommended Products
As an Amazon Associate and member of other affiliate programs, I earn from qualifying purchases.
Nutrition Information
Yield

1
Serving Size

Entire Cookie
Amount Per Serving
Calories

430
Total Fat

22g
Carbohydrates

35g
Fiber

11g
Sugar

3g
Protein

30g