Giant cookies seem to be all the rage these days, and that's for good reason. Who wouldn't want to eat a giant gooey cookie?
Whether it's the infamous Levain cookies, or my recent discovery of Fat & Weird Cookies, I've officially hopped on that big cookie bandwagon.
The only problem is, I haven't come across a big thick cookie that is also protein-packed….until now.
This protein cookie weighs a full HALF OF A POUND. Yes, that's an 8-ounce cookie, my friends.
It's fudgy, gooey, gigantic, and protein-packed.
And, it's safe to eat raw, so you can safely underbake this beauty for a delicious half-baked protein cookie.
Now, fair warning: this isn't the lowest-calorie cookie you'll ever make. But in fairness, it weighs half a pound. I don't expect you to eat the entire thing, but if you did, it eats like a meal.
And even if it were a full meal, the nutrition would still be rather impressive…
This half-pound protein cookie is 650 calories, 33g fat, 47g carbs (with a whopping 12g fiber), and 51g protein.
Yup, this cookie has over 50g of protein in it!
Don't worry about the high-calorie count. This cookie is massive, so I don't expect you to down the entire thing in one sitting.
But, if you are worried about that, you can easily turn this recipe into smaller cookies.
If you use this recipe to make 3 cookies, then each cookie will be 215 calories, 11g fat, 16g carbs, and 17g protein.
Even though these cookies are massive, they follow the same general directions as most other cookies.
I put together a large protein cookie a while back, and it taught me 2 very important lessons when it comes to making large protein cookies…
Chilling the dough is necessary. We let the cookie dough sit in the fridge for one hour before baking to help prevent the cookie from spreading too thin.
The type of protein powder you use makes a huge difference.
I use PEScience protein (Code "Matt" will save you 15%), which is a blend of whey & casein protein. The addition of casein protein is what leads to a thick final product. If you use whey protein alone, the results vary quite a bit…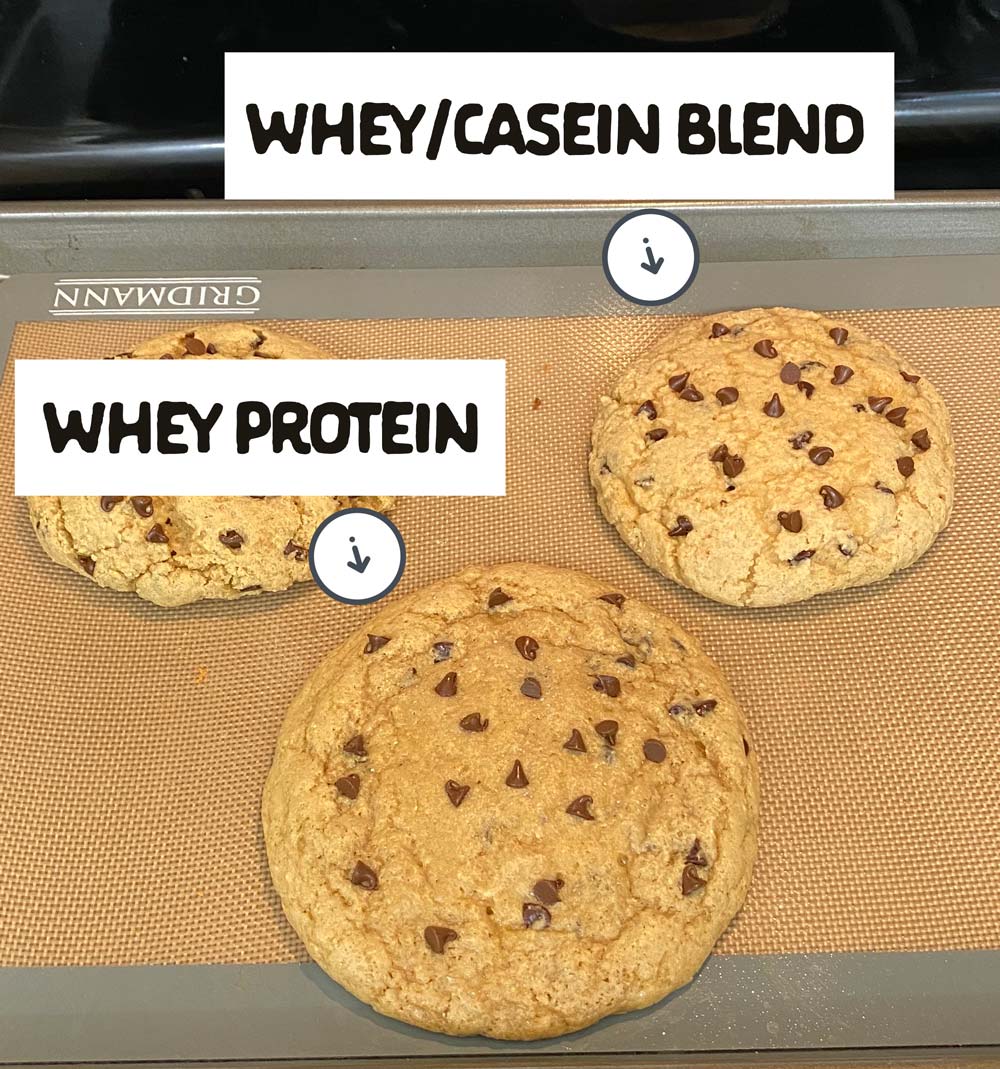 If you use whey protein, just be warned that the end product will likely be a thinner, dry cookie. I cannot recommend that PEScience protein enough (Quest makes a great whey/casein blend too).
Step 1: Cream together the wet ingredients
The mixture won't be totally smooth, but mix everything together until the brown sugar has dissolved into the liquids.
Step 2: Add the dry ingredients
It may seem like the cookie dough is too dry, but continue mixing until it all comes together (use your hands if you need to).
At this stage, the dough will weigh over 8 ounces (a half-pound).
I added some mini chocolate chips to the dough at this stage, but it's totally optional. To be completely honest, I don't think it made that much of a difference, so you can very easily omit them. But more chocolate is never a bad idea.
Step 3: Chill the dough for one hour
I know, waiting stinks. But chilling the cookie dough will really help the final product. Trust me.
Step 4: Form the cookie
We're going to shape the cookie into an oval so it is taller than it is wide. You can form the cookie into a ball, but I prefer this method so it stays nice and thick without spreading out wide too much.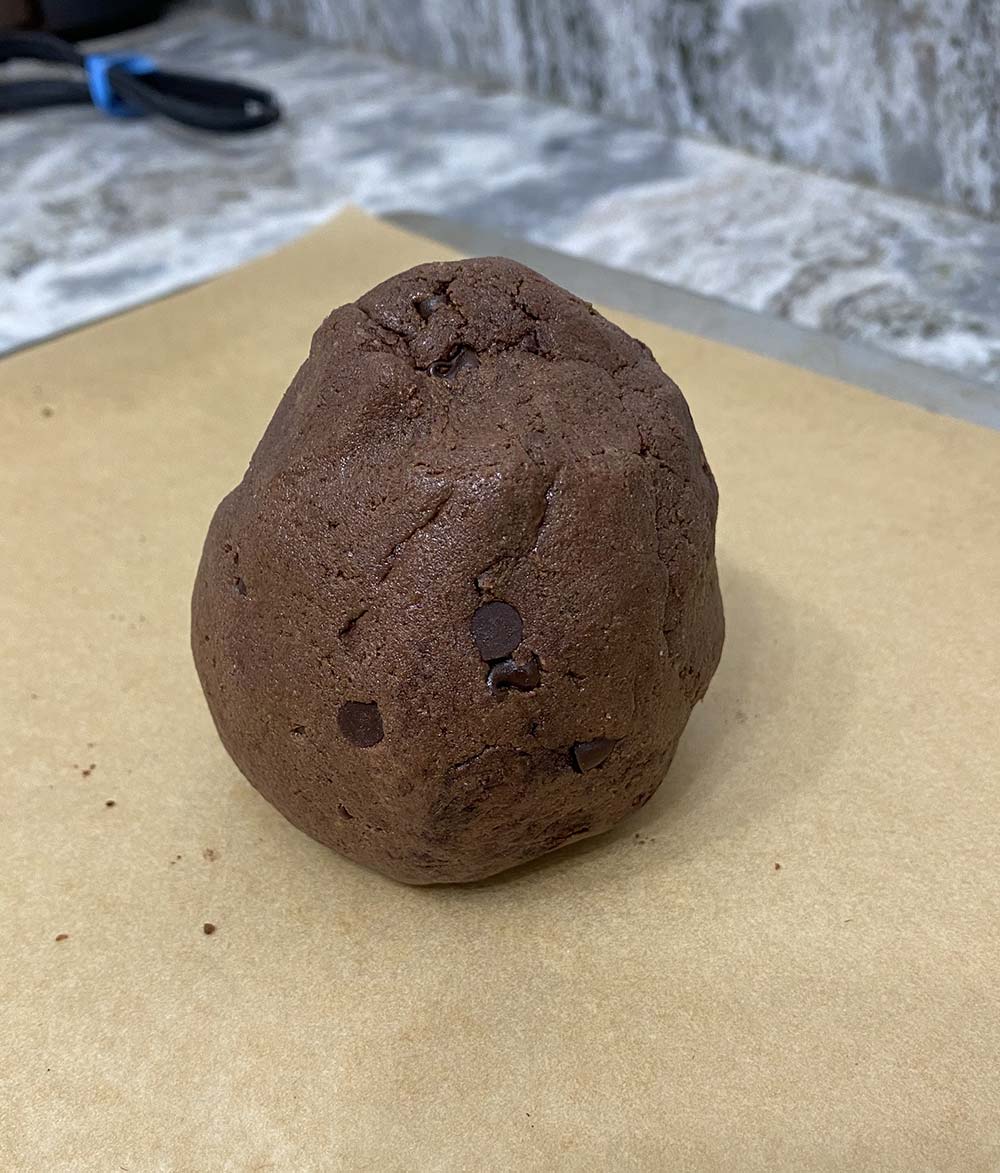 Step 5: Bake at 325 degrees F for 12 minutes
I've experimented with different bake temperatures and times, and this is the best result. Trust the process!
When the cookie comes out of the oven, it's going to be pretty soft and may not look done…
But the magic happens as we let this cookie sit.
You want to let this cookie set for one hour after baking.
As the cookie sits, the inside solidifies but still stays very soft & moist. If you were to bite into the cookie right out of the oven, it would be way too gooey.
One hour is the perfect amount of time, but you can let it sit for even longer if needed.
If you don't want to eat the entire cookie, you can do what I did and slice it up into bites for easy portion control.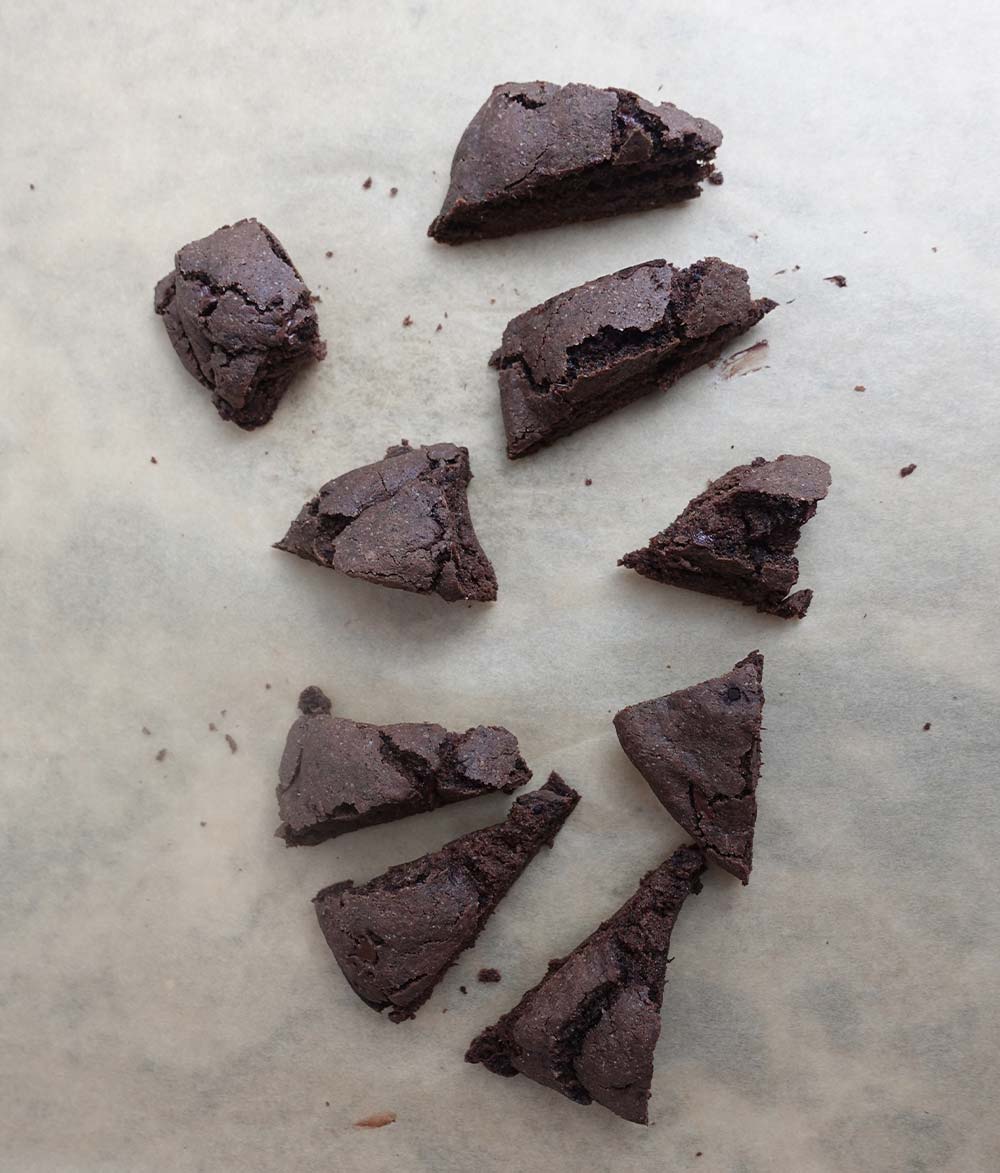 You can save these leftovers at room temperature, or if you want them to thicken up a bit, they can also be stored in the fridge.
Either way, this cookie holds up VERY well as leftovers. Even two days later, this half-pound cookie was still incredibly soft and gooey.
More recipes for chocolate lovers
If you're willing to make a half-pound chocolate protein cookie, I'm willing to bet that you love chocolate.
Be sure to check out these other recipes that you are sure to love: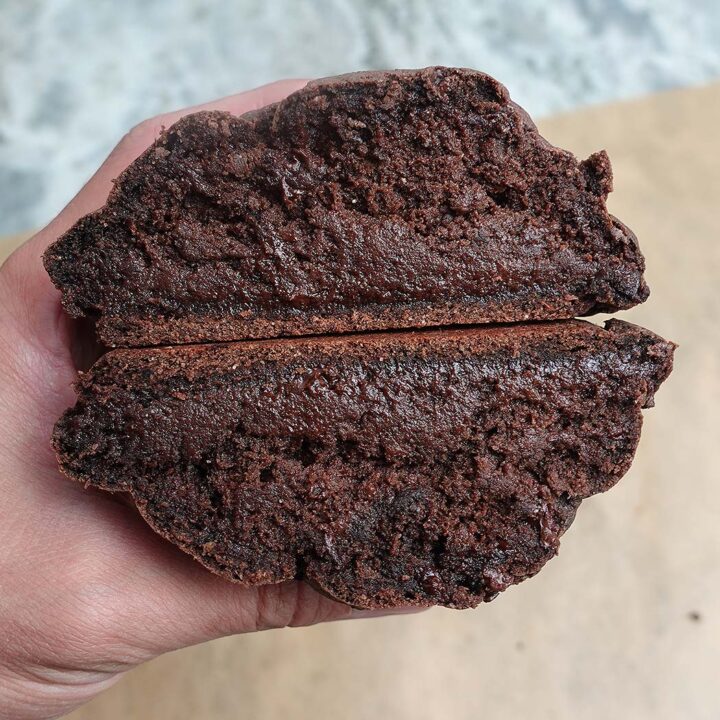 Half Pound Chocolate Protein Cookie (Gluten-Free)
Total Time:
2 hours
17 minutes
Your hunt for the ultimate protein cookie is over with this HALF POUND chocolate protein cookie.
Ingredients
28g Oat Flour
15g Unsweetened Cocoa Powder
1/4 tsp Baking Soda
Pinch of salt
32g (2 Tbsp) Peanut Butter
50g Unsweetened Applesauce
28g (2 Tbsp) Light Butter - I use "Country Crock"
10g Mini Chocolate Chips (Optional)
Instructions
In a large bowl, mix together the peanut butter, butter, applesauce, and brown sugar. It won't be completely smooth, but mix it together until all of the brown sugar has dissolved into the mixture.
Add all of the dry ingredients to your bowl, then use a silicone spatula to mix it all up until a dough forms. It's going to be thick and may seem dry, but keep mixing- it will come together.
Fold in mini chocolate chips if you want extra chocolate in your cookie, then refrigerate for one hour. Refrigerating the cookie dough helps keep the shape so it won't spread out as much.
After the dough is chilled, preheat your oven to 325 degrees F.
Form the cookie dough into an oval so it is slightly taller than it is wide (see photos above). Doing this allows the cookie to remain nice and thick without spreading wide. Add the cookie to a parchment paper-lined cookie sheet.
Bake for 12 minutes.
Remove the cookie from the oven and let it sit for at least one hour. The cookie sets as it cools, and if you were to cut into it right out of the oven, the inside would be way too gooey. One hour is the minimum time you should allow the cookie to sit for it to come together and still be nice and soft inside.
Notes
This cookie will keep well at room temperature, but if you find that it is very soft, you can also add it to the fridge to firm up after baking.
You can divide this recipe up to make multiple smaller cookies if you prefer! If you make smaller cookies, bake at 350 degrees F for 8-10 minutes instead.
The type of protein powder you use really matters. If you use whey protein, this cookie is not going to come out nearly the same. To see how different protein powder affects cookie recipes, check out my Ultimate Protein Powder Substitution Guide.
The peanut butter can be swapped for any other kind of nut butter if you have allergies. Or, you should be able to swap it for regular butter, but I did not test this.
Oat flour works very well for cookies. I have no tested any other type of flour, but I don't think that using a low-carb flour like almond flour or coconut flour will work here because they are not as binding.
I do not count sugar substitutes as part of my carb totals.
Recommended Products
As an Amazon Associate and member of other affiliate programs, I earn from qualifying purchases.
Nutrition Information
Yield

1
Serving Size

Half Pound Cookie
Amount Per Serving
Calories

650
Total Fat

33g
Carbohydrates

47g
Fiber

12g
Sugar

8.5g
Protein

51g