Snickerdoodles are one of the most delicious cookies out there.
Cinnamon & sugar is always a crowd-pleaser, but the unique flavor of a Snickerdoodle takes them over the top.
We're taking that classic cookie, but giving it a healthy spin to create a version that has only 95 calories with 5g of protein. Not to mention only 1 gram of net carbs, too!
These protein snickerdoodle cookies have a soft interior with a subtle crispy exterior from the cinnamon sugar coating. In other words, they're exactly what you look for in a Snickerdoodle.
Since each cookie is only 95 calories, you can make larger cookies with slightly more calories if you prefer, but these are the perfect size and thickness for me.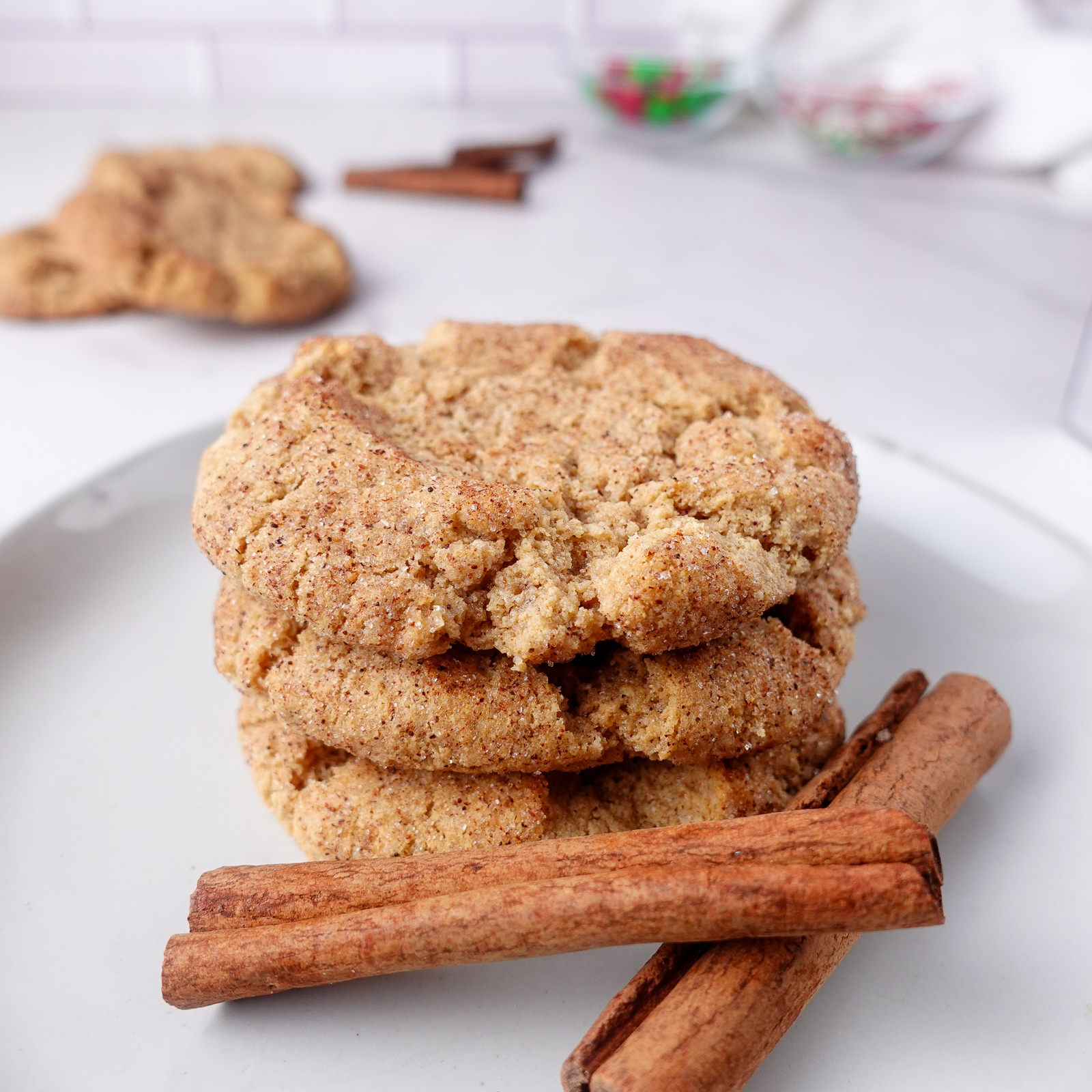 And would you believe that these Snickerdoodle cookies contain only ONE gram of carbs? If you or someone else in your life is following a low-carb diet, I can't imagine a better cookie recipe to help hit your goals.
What makes Snickerdoodle cookies unique?
Snickerdoodles are more than simply cinnamon and sugar. There is one secret ingredient that makes Snickerdoodles so special: cream of tartar.
What exactly is cream of tartar? It's an acid that is often used to stabilize recipes like meringue.
You wouldn't think that cookies would require such an ingredient since they aren't fluffy like meringue, but the acid from cream of tartar is what gives Snickerdoodles their unique flavor.
If you don't have any on hand, I highly recommend running to your local grocery store and grabbing some.
If that is not an option, you can omit it in this recipe, but you're going to be missing out on the authentic Snickerdoodle flavor we're after.
How to make healthy Snickerdoodle cookies
These Snickerdoodle cookies are easy to make, but there are a few unique steps that separate them from your average cookie recipe.
Once you have mixed and chilled the dough, you're going to separate it into 6 equal-sized cookie dough balls (note: I originally made this recipe as 8 cookies, as you'll see in the prep photos, but have found 6 cookies to be the preferred size for me).
You're then going to roll each cookie dough ball in a cinnamon & sugar mixture until they resemble donut holes.
In most cases, we'd be ready to back the cookies exactly as-is. However, if you were to bake the cookies like this, you'd end up with a very puffy result (trust me, I had many failed attempts).
The combination of the protein powder and the extra leavening from the cream of tartar will lead to a very airy cookie. Don't believe me? Here's how my first round of testing went:
Needless to say, that is not at all what we're aiming for.
To eliminate that issue, we need to press down the center of each cookie before baking. By doing this, it keeps the "puff" under control to become the true cookie shape we are after.
After baking the cookies for 8 minutes, the Snickerdoodles will come out looking slightly puffed up, but not nearly as much as that first batch.
Allow the Snickerdoodle cookies to cool for 15-20 minutes, which allows the interior to set, and the cookies will take shape.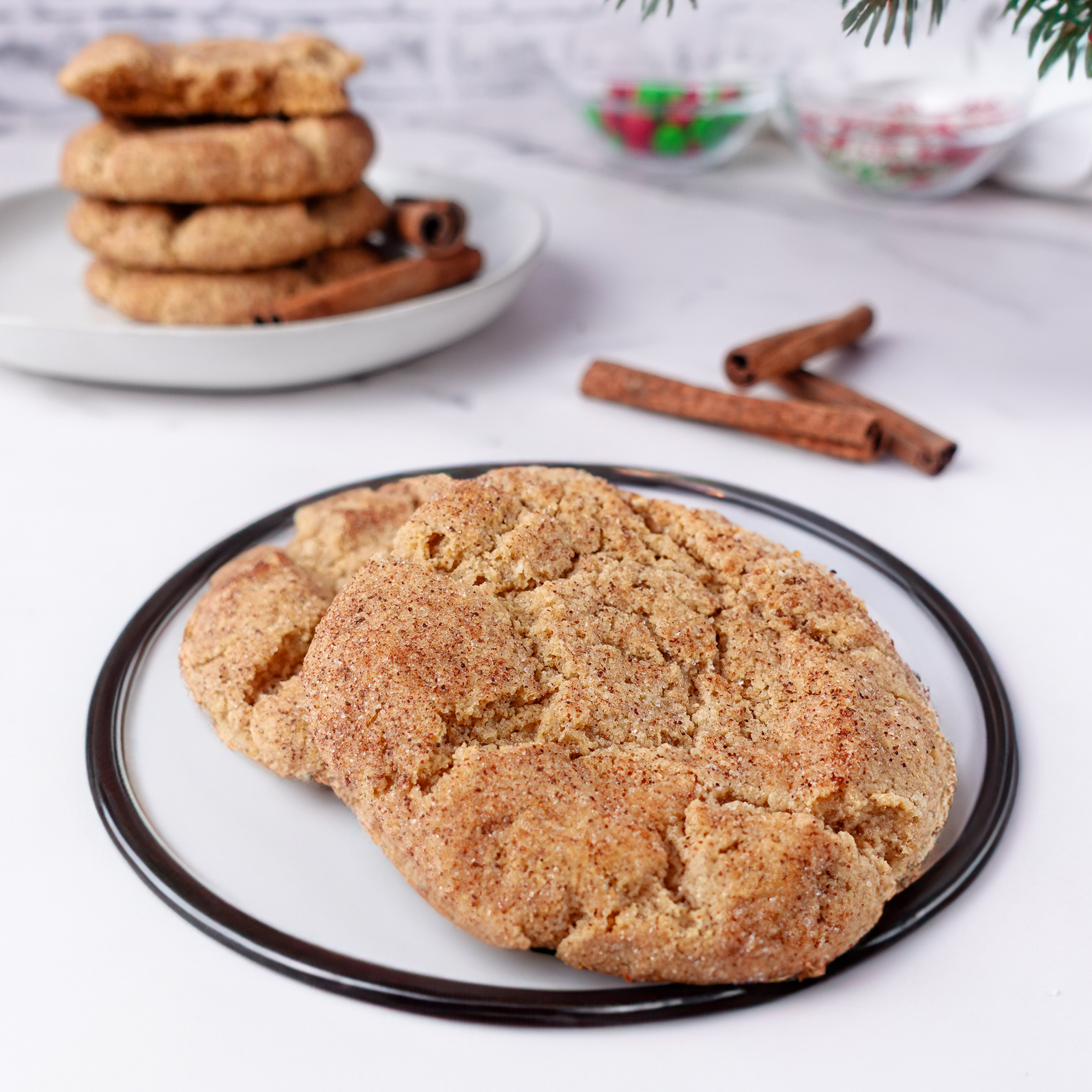 These Snickerdoodle cookies end up slightly crunchy, but the interior remains airy and dissolves in your mouth when you take a bite.
If you don't end up eating the entire batch at once, these protein Snickerdoodle cookies can be stored in an airtight container at room temperature for up to one week. After a few days, the Snickerdoodle cookies remain soft, delicate, and just as delicious as when they're fresh.
Want more cinnamon sugar?
If you love cinnamon & sugar, I've got plenty of recipes for you to enjoy. Here are some of my favorites:
Protein Snickerdoodle Cookies (Keto-Friendly)
Additional Time:
30 minutes
Snickerdoodles are arguably my favorite cookie of all time. I mean, cinnamon & sugar... what's not to love?! This high-protein version captures all the flavor you know and love with the added bonus of helping you to hit your protein goals.
Ingredients
Cinnamon Sugar Coating
Instructions
Melt your butter in the microwave, and then add the melted butter to a large mixing bowl along with the rest of the Snickerdoodle cookie ingredients except for the protein powder. Mix everything together until it forms a thick paste.
Mix the protein powder in last. Since the protein powder is very absorbent, it will all come together to form cookie dough once the protein powder is mixed in.
Add the cookie dough to the fridge to chill for 30-60 minutes.
Once the dough has chilled, preheat your oven to 350 degrees F.
Break the Snickerdoodle cookie dough into 6 equal-sized pieces and roll each into a ball.
In a small bowl, combine the cinnamon and sugar to make the coating. Roll each cookie dough ball in the coating, then place on a parchment paper-lined baking sheet.
Using your hands or the back of a spoon, slightly press down the center of each cookie to prevent it from puffing up. Without the step, the cream of tartar will cause the snickerdoodles to rise in the center and become cakey, so this will help to produce flat cookies.
Bake the protein Snickerdoodle cookies at 350 degrees F for 8 minutes.
Transfer your cookies to a cooling rack and allow the cookies to set for 15-20 minutes, then enjoy! Keep leftovers stored in an airtight container for up to one week.
Notes
If you don't have cream of tartar, you can leave it out and your cookies will still turn out. However, the tang it provides is what gives snickerdoodles their unique, signature flavor.
PEScience is my preferred brand of protein powder, and the Snickerdoodle flavor works great here. But I've also used vanilla protein (from the same brand) and these cookies were still delicious. You can use the code "Matt" to save 10% on any PEScience order.
The cookies firm up as they cool, so it's important to allow your cookies to cool for at least 15 minutes before enjoying.
Note that I do not count sugar substitutes in my carb totals, so if you are strict about carbs, be sure to include those.
Recommended Products
As an Amazon Associate and member of other affiliate programs, I earn from qualifying purchases.
Nutrition Information
Yield

6
Serving Size

1 Snickerdoodle
Amount Per Serving
Calories

95
Total Fat

8g
Carbohydrates

1g
Protein

5g