I'm not keto by any stretch of the imagination (I love bread too much) but I know there's a large audience out there who are keto.
And even if you're not keto or low-carb, many people are also grain-free or gluten-free.
Well, these cookies satisfy all of those!
It's been almost 2 years since I first took a stab at some keto chocolate chip protein cookies…
The recipe was totally fine, but as you can see in this photo, the result was more of a dry, almost crunchy cookie:
If you're on Team Crunchy Cookie, then this would have totally worked for you.
But I'm on Team Soft Cookie, and I knew I wanted to revisit this recipe to create a soft, gooey, keto-friendly chocolate chip cookie.
I am pleased to announce that I've done exactly that.
These cookies are insanely soft, which is exactly the way I want my cookies!
They may not be as good as a traditional, homemade chocolate chip cookie (you really just can't beat the classics), but these are damn good for protein cookies. Dare I say, significantly better than anything you'll find on shelves.
By using almond flour and protein powder, we're replacing all of the flour (and carbs) to create these soft, chewy cookies.
Each cookie is just over 100 calories and has 7 grams of protein, and if you're a net-carb counter, only has 1.5g of net carbs!
You could have a protein bar, or you could make these chocolate chip protein cookies. I'll leave that up to you.
How to make keto-friendly chocolate chip protein cookies
A lot of cookies will require chilling before baking (like my giant 6oz protein cookie) but I wanted to keep this recipe very simple, so there is no chilling required!
Once you preheat the oven to 350 degrees F, you only need about 5 minutes to get everything prepped and ready to go.
To start, we'll be mixing up our dry ingredients; almond flour, vanilla protein powder, brown sugar substitute, baking soda, and a pinch of salt.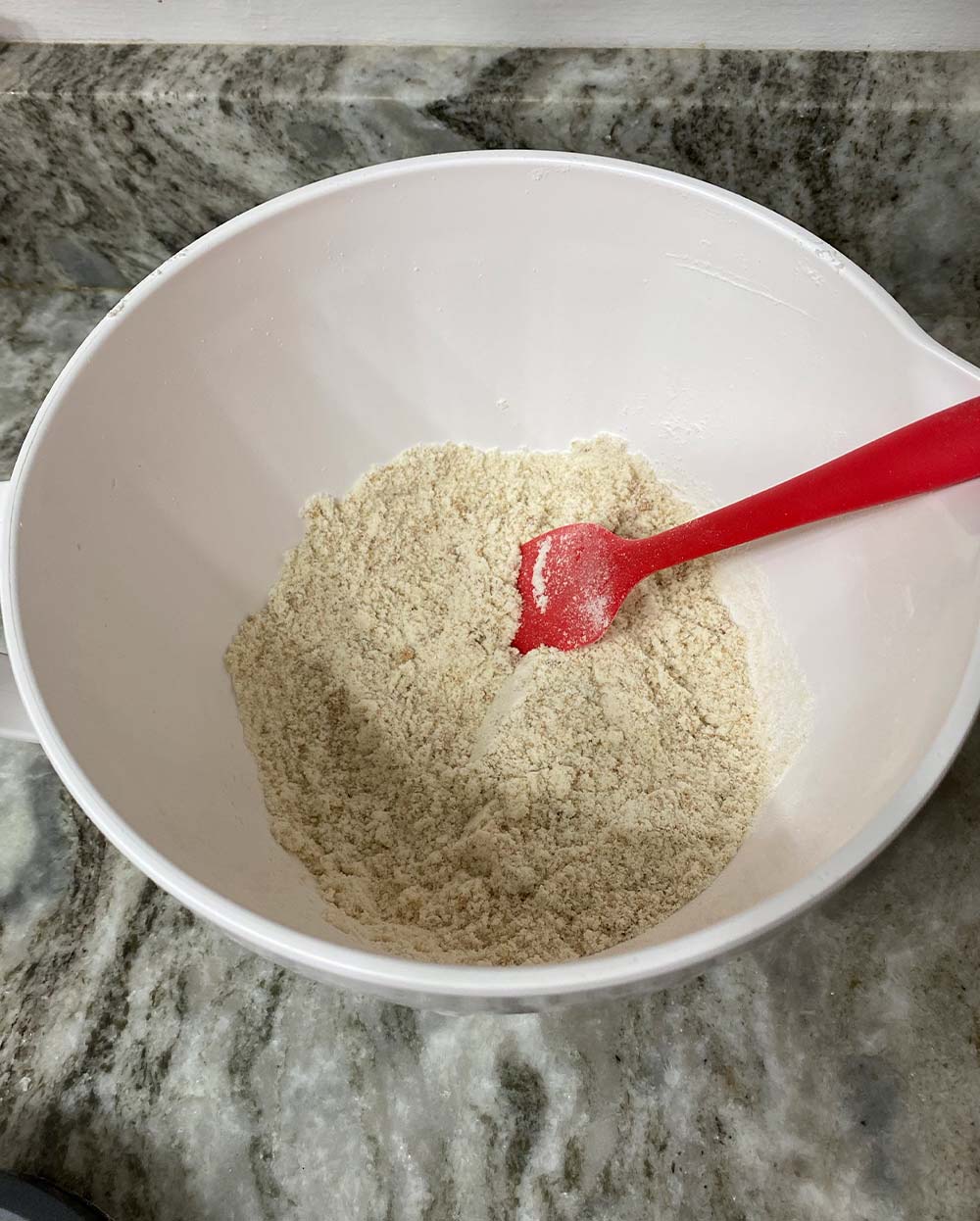 Once it's all mixed up, all we need to do is add in our light butter (I use Country Crock Spread) and vanilla extract, then our chocolate chips.
At this point, our dough is ready to go! It's also completely safe to eat raw, so feel free to give it a taste.
I use a medium cookie scoop to form my cookies, but if you don't have a cookie scoop, you can easily just use a spoon. I've done a lot of trial and error with cookies, and I do find that cookie scoops are 100% worth it! This is the exact cookie scoop I got on Amazon if you want to grab yourself one.
Space them out evenly on your baking sheet (I line mine with parchment paper). They're not going to spread super thin, but you still want to leave space for them to bake all the way around.
If you use a medium cookie scoop, you should get about 7 cookies total. I baked 6 and ate the 7th raw, because odd numbers freak me out.
You can likely make an even 8 out of this recipe (like the stuffed protein cookies) but I went a little bit bigger so didn't quite get as many.
There's no need to press these down- simply add to the oven for 10 minutes and let them do their thing!
These chocolate chip protein cookies will spread out a bit but still have plenty of structure to them. If they spread too thin they'd get crispy, and the goal here is soft chocolate chip cookies!
These cookies will solidify as they cool, but stay very soft inside. If you eat them right out of the oven, the inside will be quite gooey. If they sit for about 30 minutes or longer, you'll find that they have solidified inside but stay soft all the way through.
These cookies hold up great as leftovers throughout the entire week, so feel free to double the recipe to make a full dozen if you'd like!
And if you want to take these cookies to the next level, check out my brownie batter stuffed protein cookies.
It utilizes this recipe along with my edible brownie batter to create these epic stuffed protein cookies: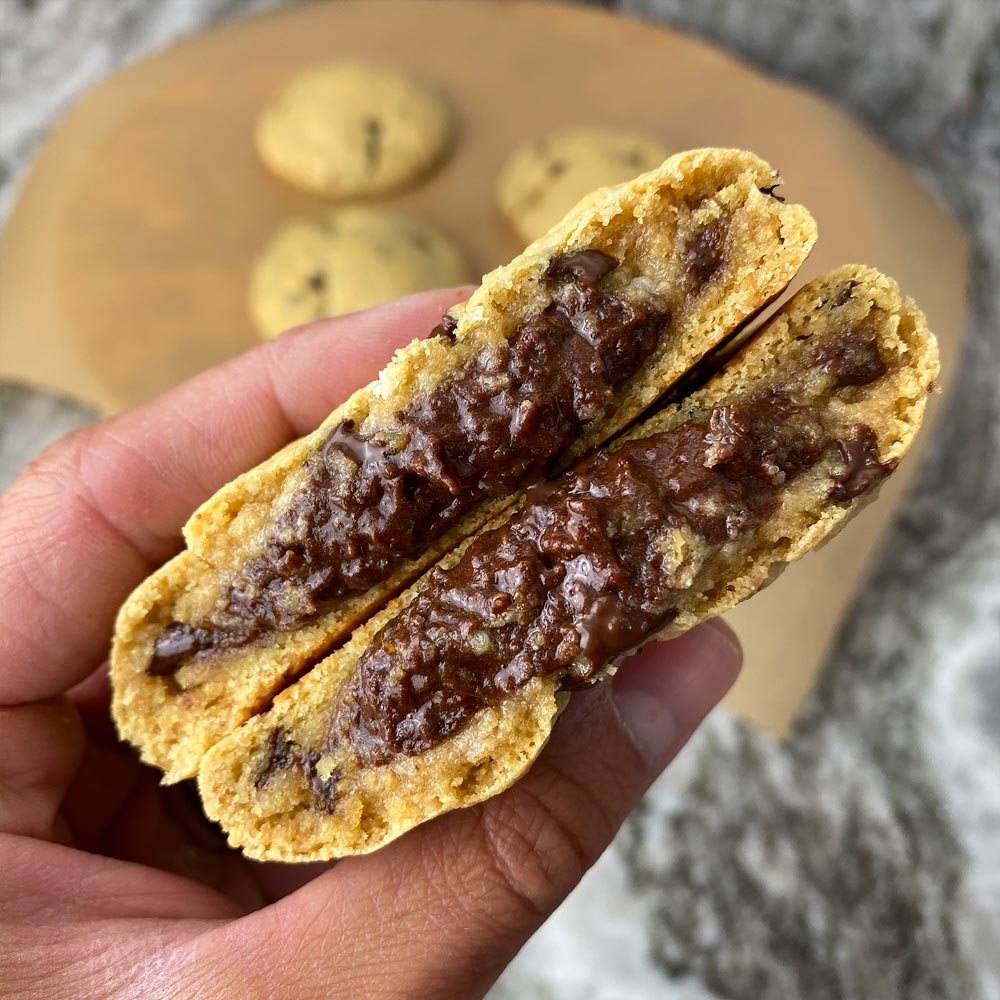 I hope you enjoy these!
And if chocolate chip cookies aren't your jam, I've got plenty of other protein cookie recipes to choose from: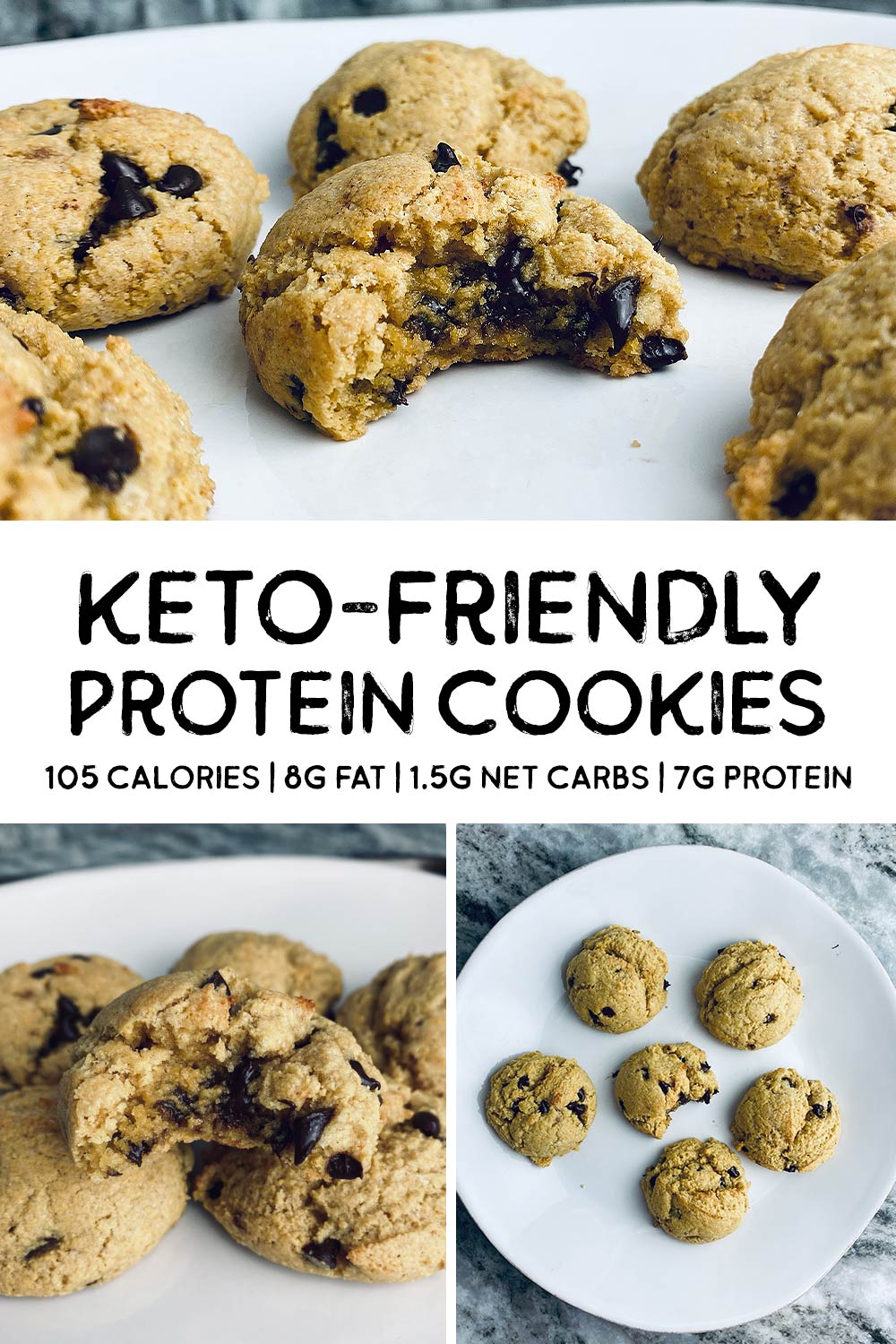 Keto-Friendly Chocolate Chip Protein Cookies
These aren't your typical dry & crumbly protein cookies. These chocolate chip cookies are soft and gooey, contain only 1.5g net carbs, and 7g of protein per cookie!
Ingredients
56g Almond Flour
56g Light Butter Spread (I use Country Crock)
1 Tsp Vanilla Extract
1/4 Tsp Baking Soda
Pinch of Salt
15g Chocolate Chips (can use any, but mini chips work the best)
Instructions
Preheat your oven to 350 degrees F.
Combine all of your dry ingredients (minus the chocolate chips) in a large bowl.
In a large bowl, combine all of the dry ingredients (except the chocolate chips) and mix them together.
Add in the butter and vanilla extract, then mix together with a silicone spatula until a dough forms.
Fold in your chocolate chips.
Line a baking sheet with parchment paper or a silicone baking mat, then use a medium cookie scoop to create roughly 7 dough balls (but the size & amount is totally up to you, and you can likely get 8 out of this recipe). If you do not have a cookie scoop, you can use a regular spoon.
Bake for 10 minutes. Remove from the oven and let the cookies cool for about 15 minutes. This cooling time allows the cookies to firm up a bit inside.
Enjoy fresh out of the oven, or keep cookies at room temperature for up to a week. Don't worry, they'll stay soft all week!
Notes
***I do not count the sugar substitute in my carb count. If you are very strict Keto, there are 5g of sugar substitutes to account for in each cookie. Since they do not contribute any calories, I do not typically count those towards my totals. Similarly, this nutrition is based on using sugar-free chocolate chips (Lily's brand) so you may need to adjust if you use regular chocolate chips.
Nutrition below is based on 7 cookies, but you can more than likely make 8 cookies for slightly lower calories.
I only tried these cookies with a whey/casein blend protein powder, but I would venture to say that a whey protein powder should work just fine. To see how different types of protein powder affect cookie recipes, check out my Ultimate Protein Powder Substitution Guide.
Instead of butter spread, you can use full-fat butter or coconut oil, but you may not need quite as much overall.
"Light Butter" is simply a butter spread that has half the calories of regular butter. It's essentially margarine, and the brand I use (Country Crock) is actually dairy-free. It can be subbed for any butter or butter spread.
Recommended Products
As an Amazon Associate and member of other affiliate programs, I earn from qualifying purchases.
Nutrition Information
Yield

7
Serving Size

1 Cookie
Amount Per Serving
Calories

105
Total Fat

8g
Carbohydrates

3g
Fiber

1.5g
Sugar

.5g
Protein

7g