My protein brownies are still one of my favorite recipes on the blog, but sometimes you just don't feel like baking.
That's where this edible brownie batter comes into play.
If you're a fan of raw cookie dough, you're going to love this one, too. No raw flour or brownie mix is needed, so this recipe is completely safe to eat with no baking at all.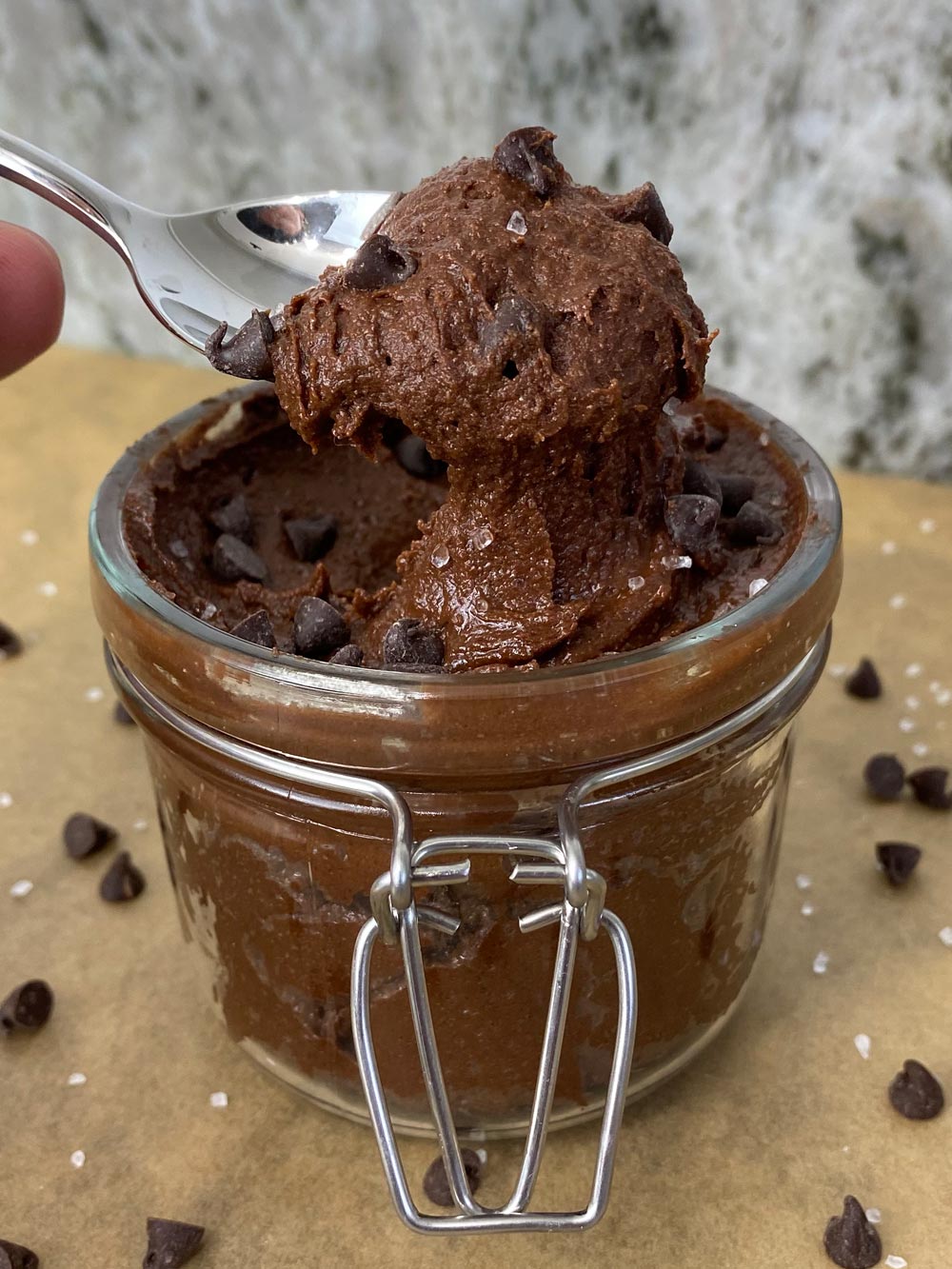 I mean, just look at that beauty.
This edible brownie batter is grain-free, gluten-free, high-protein, low-carb, and absolutely delicious.
I split this recipe into 2 servings because it is incredibly filling. If you'd rather go to town on the entire batch, then by all means, go for it! But if you split this into 2 servings like I did, this edible brownie batter is:
205 Calories, 5g fat, 21g carbs (8g fiber & 4g sugar), and 30g protein!
And even though this brownie batter is so high in protein, you'd never know by tasting it. This is as good as any brownie batter you've tasted!
How to make edible brownie batter
This one is as simple as mix & let sit, just like my edible cookie dough recipe.
Simple no-bake recipes are quickly becoming my favorite around here because let's face it… sometimes you just don't feel like cooking.
Lucky for you, this edible brownie batter could not be easier.
To start, we just need to mix all of our dry ingredients together. This is essentially just a mix of protein powder, cocoa powder, sugar, and powdered peanut butter.
I actually used vanilla protein powder in this recipe, but you'd never know the difference because we are adding cocoa powder to it. If you have chocolate protein powder, that will obviously work great- I just don't happen to have any at home right now.
Then, all it takes is adding two liquid ingredients to bring it all together: canned pumpkin & syrup.
The maple syrup (any sticky sweetener should work) will help deliver the proper amount of sweetness, and the canned pumpkin is my magic ingredient that creates a nice smooth consistency without adding any additional flavor.
Once it is all mixed up, all we need to do is let it sit! The edible brownie batter will thicken in the fridge, and the flavors really develop as it sits.
Don't get me wrong: the brownie batter will taste great right away. But I promise you, it's worth letting it sit! Give it at least one hour in the fridge, but I recommend letting it sit overnight (like my Oreo Parfait or Cookie Dough Parfait) if you are patient enough!
Main ingredients and substitutions
Since this is no-bake & safe to eat raw, we do have some flexibility with the ingredients we use.
That being said, substitutions with high-protein recipes can be tricky, so let's break down the main ingredients and what you can use as possible substitutions.
Protein Powder
I actually used vanilla protein powder for this recipe, and you would never know the difference! I typically stick with vanilla, because it acts as a great base that you can add flavor to.
Obviously, a chocolate protein powder will work great, and you can also get creative with a peanut butter flavor, or anything else you think would pair well with chocolate (like coffee).
I love using PEScience protein (I have a referral code "Matt" to save you 15%), which is a whey/casein blend. I used this blend because the addition of casein yields a very smooth consistency.
Whey alone is going to be stickier, but will still work for a no-bake recipe like this.
If you have a vegan protein powder, that should also work great. Just keep in mind that sometimes vegan protein requires some extra sweetener because it's going to taste a bit "earthier." If you want to go the vegan route, I recommend checking out my No-Bake Vegan Brownies.
Canned Pumpkin
I use canned pumpkin in this recipe for the texture, but I promise you cannot taste any pumpkin. Canned pumpkin is a magic ingredient that stays nice and soft as it sits without adding any flavor, and it's the secret ingredient in many recipes like my 6oz Chocolate Chip Protein Cookie and Protein Brownies.
If you absolutely need to omit it, or you don't have access to this ingredient, you can swap it out for unsweetened applesauce, or most other fat sources: butter, coconut oil, nut butter, etc.
Keep in mind that if you do make a swap here that you may need to adjust the amount- add a little bit at a time until you have a brownie batter consistency!
Remember, this recipe is very forgiving since it does not require baking, so you can adjust as needed.
Peanut Butter Powder
I use peanut butter powder in this recipe to act as a thickener. The end result doesn't taste at all like peanut butter, but it really helps the final consistency.
If you don't have peanut butter powder, hate the taste, or have allergies, you can use almond flour as a substitute. Almond flour has a very mild taste and should work just as well! Like any other substitution, it may require a slightly different amount of liquid, so be sure to add your liquids slowly in case you need to make an adjustment.
If you have a nut allergy and can't use either of those, something like oat flour should also work.
How to store this edible brownie batter
As long as you keep this in the fridge, it will stay delicious throughout the week.
If you find that your raw brownie batter is sticky, the texture will actually smooth out as it sits. You may like the final product after a day or two.
I kept my brownie batter in a sealed jar in the fridge- as long as it is covered, it will stay fresh.
When you're ready to dig in, I suggest topping with some additional chocolate chips and coarse sea salt! Both are totally optional, and the edible brownie batter is delicious on its own, but nobody would ever complain about more chocolate!
Enjoy this recipe as a brownie dip with a graham cracker, top with a little ice cream, or make my Stuffed Edible Cookie Dough Bites!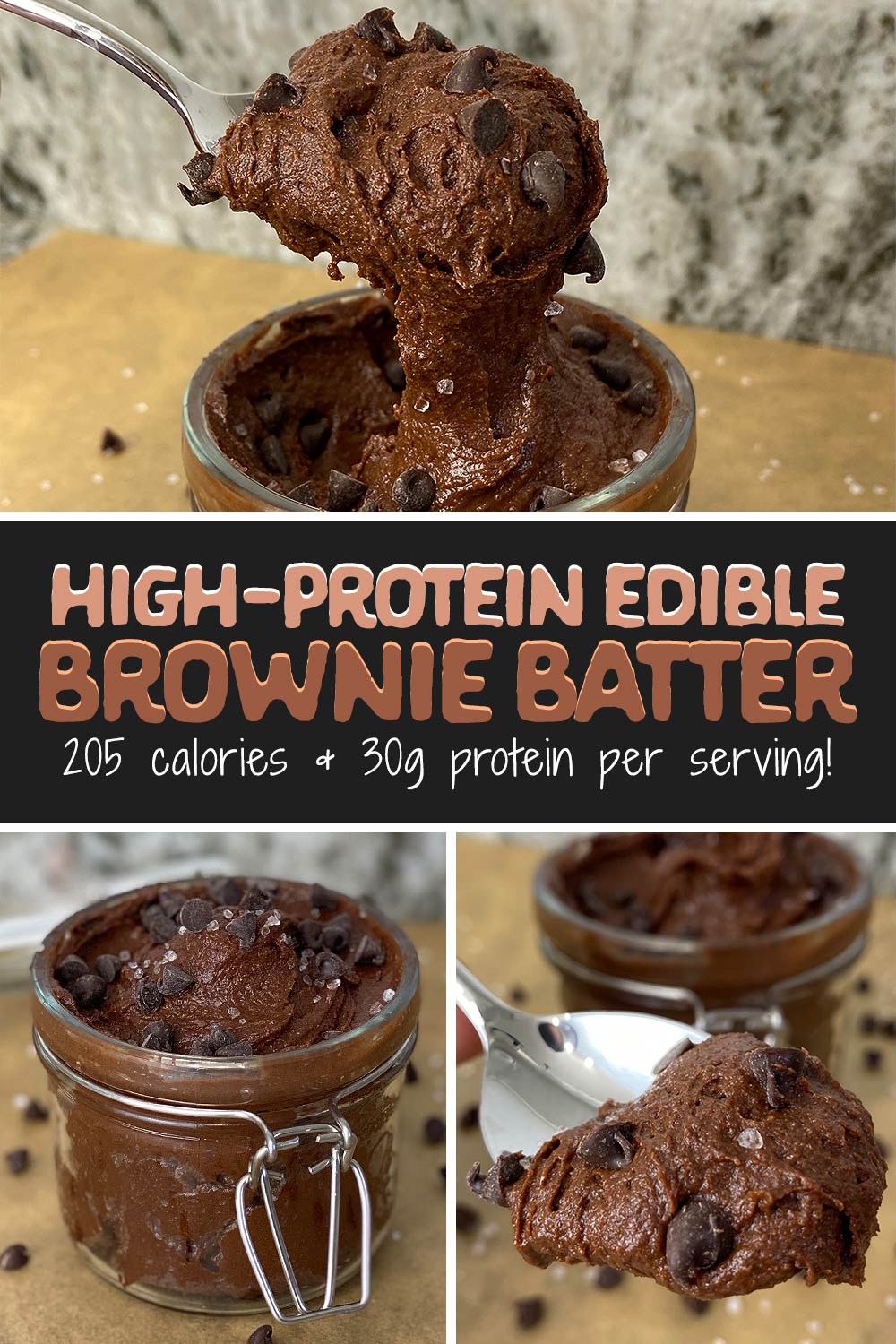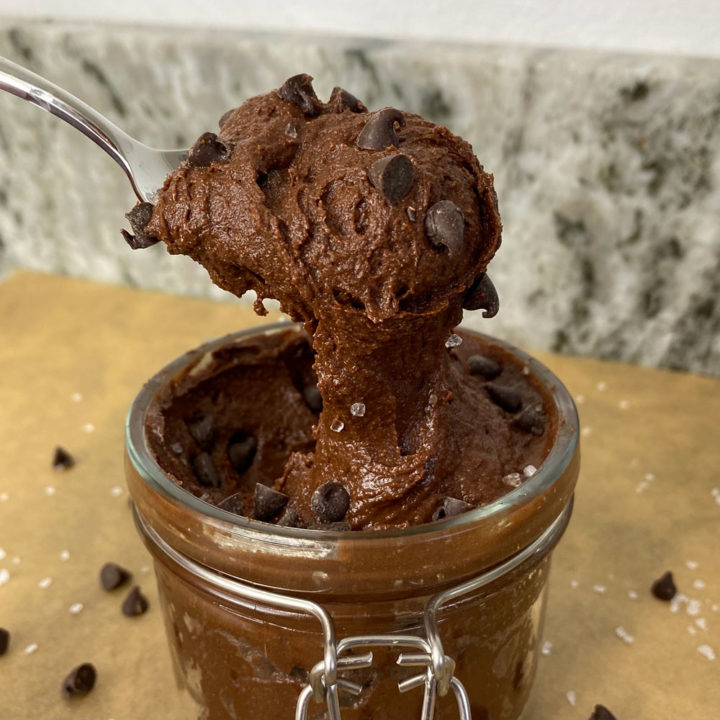 Edible Brownie Batter (Protein-Packed & Gluten-Free)
Total Time:
1 hour
5 minutes
Nothing beats a fudgy brownie, but sometimes you don't want to bake an entire batch of fresh brownies. This edible brownie batter recipe packed with 30g of protein is exactly what you need!
Ingredients
70g Canned Pumpkin
25g Unsweetened Cocoa Powder
13g (2 Tbsp) Peanut Butter Powder
1/4 cup Sugar-Free Syrup (or any sticky sweetener of choice(
Pinch of Salt
15g Chocolate Chips (I used Lily's Sugar-Free Baking Chips)
Instructions
Combine all of the dry ingredients (protein powder, cocoa powder, sugar substitute, powdered peanut butter, and salt) in a bowl and whisk together.
Add in the canned pumpkin & maple syrup, then mix it all together with a silicone spatula. It's going to be thick, so continue stirring until a batter begins to form.
Put your brownie batter in the fridge to fully cool & thicken for at least one hour. Trust me, the flavor develops as it sits. For even better results, let the brownie batter sit in the fridge overnight (covered).
When ready to eat, top with some chocolate chips and coarse salt (optional), or get creative with your own toppings! Keep any leftovers stored in the fridge.
Notes
I used a Whey/Casein blend of protein powder because the addition of casein yields a very smooth consistency. Whey alone is going to be stickier, but will still work! If you find it too sticky, melt down some chocolate chips and stir the chocolate right into your batter to help smooth it out.
I actually used a vanilla-flavored protein here because we are adding cocoa powder. You can use a chocolate protein powder, or get creative with something like peanut butter flavor! It won't make a huge difference.
The canned pumpkin is the magic ingredient that will yield the consistency we want here without needing to rely on any butter or other fat source. Without it, this batter will be very sticky. If you need to omit it for any reason, you can likely use applesauce, but that will give a stronger taste than pumpkin.
This recipe is very forgiving since it is no-bake, so feel free to play around with the ratios and add more of a specific ingredient if needed.
I do not count sugar substitutes in my carb totals since they contribute 0 calories. If you are very strict with your carb counts, be sure to include those.
Recommended Products
As an Amazon Associate and member of other affiliate programs, I earn from qualifying purchases.
Nutrition Information
Yield

2
Serving Size

1/2 of Recipe
Amount Per Serving
Calories

205
Total Fat

5g
Carbohydrates

21g
Fiber

8g
Sugar

4g
Protein

30g