Pumpkin pie is arguably one of the best pies out there, but making pie is quite the process.
For me, I want to keep things simple. Give me a no-bake pie any day!
But let's make it even easier… let's skip the pie altogether and make pumpkin pie truffles instead.
The beauties don't require any baking, and each pumpkin pie truffle is only 55 calories with 5g of protein!
If you want easy, this recipe delivers.
These pumpkin pie truffles have a delicious graham cracker coating to mimic my favorite type of pie crust. If you want to switch things up and turn these into pumpkin spice latte truffles, check out my No-Bake Pumpkin Spice Latte Bites.
How to make no-bake pumpkin pie truffles
Like my other no-bake recipes, this recipe is as simple as mix and sit. However, since we're not baking, there are a few very important factors to keep in mind.
To start out, we're going to add canned pumpkin & vanilla extract to a large bowl, then mix in graham cracker crumbs, oat flour, and pumpkin pie spice. If you don't have pumpkin pie spice, regular ol' cinnamon will do the trick.
Once you mix these together, you'll be left with a sticky batter.
We're going to mix the protein powder and powdered sugar substitute (regular powdered sugar will also work great) in last.
By adding these ingredients at the very end, they act as thickeners to bring it all together into a dough.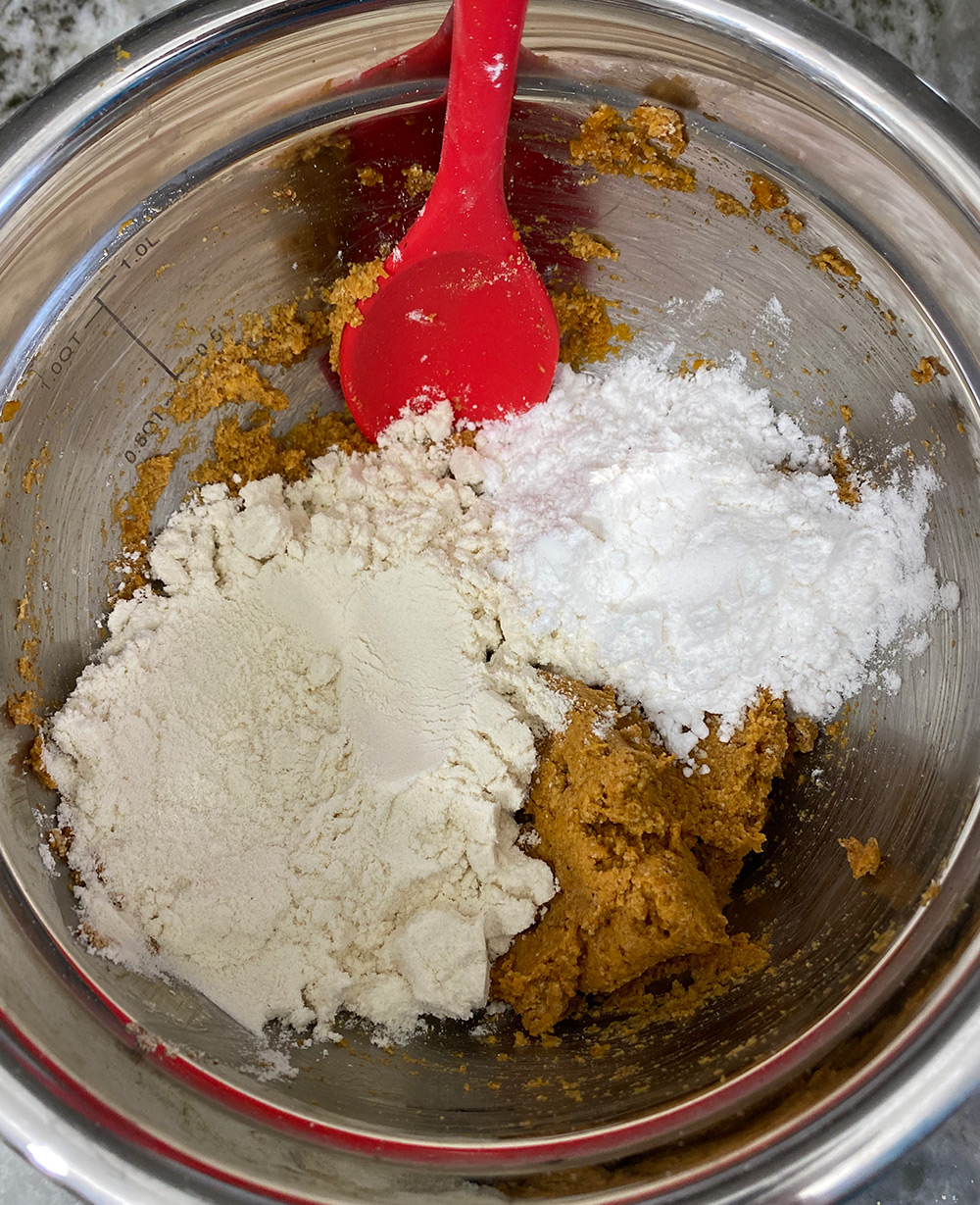 I use PEScience, which is a blend of whey & casein protein. As I demonstrated in my Protein Powder Substitution Guide, there's a huge difference between this type of protein powder and regular whey protein.
The addition of casein protein means that the protein powder is much more absorbent. Whey protein alone is going to end up being very sticky- if you go that route, be prepared to add additional oat flour (or another type of flour) to make the dough workable.
I always use PEScience protein in my recipes, so if you want to make your life easy and use the same type of protein I use, you can grab some protein here and use the code "Matt" at checkout to save 10%.
The dough will be slightly sticky, but you should have no problem breaking off pieces and rolling them in your palms to create your truffles.
I formed 8 truffles from my initial recipe test (as seen in this photo) but I've since made 12 slightly smaller ones and prefer that. The exact number you get will depend on how large (or small) you choose to make your pumpkin pie truffles.
Roll each one in graham cracker crumbs to coat 'em, and then there's only one more little step to go!
To get a thicker coating on these bites, I like to give them a spray with some butter spray before rolling them in the graham cracker crumbs one more time.
This is a similar strategy I use to get that extra crunch in my Healthier Cinnamon Crunch Bagels and Crispy Protein Churro Donuts.
Once you coat them with the butter spray and roll them in the graham cracker coating another time, these are done!
Add them to the fridge to let them chill for at least 2 hours, but I find them best after they have sat overnight.
The time in the fridge not only enhances the flavor, but also allows these pumpkin pie truffles to firm up.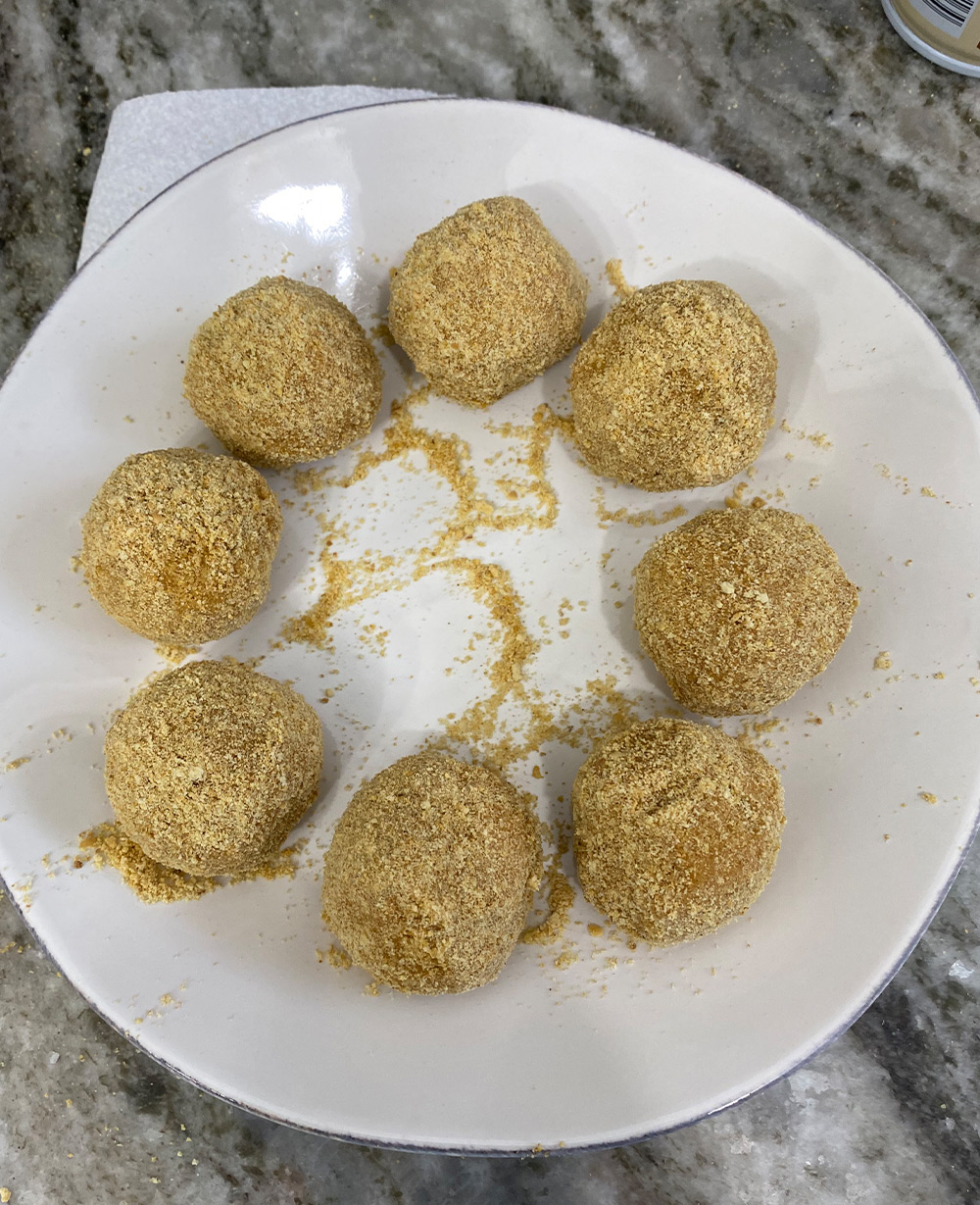 If you were to eat these right away, they would have a slight artificial or "protein" taste to them, and that completely goes away after they have time to sit!
Measuring the graham cracker crumbs for your coating
If you want to track your calories as closely as possible, here's a little trick to help you. Rather than measuring out the exact amount of graham cracker crumbs to use for your coating, I like to use the negative function on my food scale to measure out exactly how much I used (this is what I used to measure the coating for my Air Fryer Crispy Chicken Sandwich).
All you have to do is add a bunch of graham cracker crumbs to a large bowl, put the bowl on the scale, and zero it out.
Coat all of your pumpkin pie truffles, then see how much weight the bowl has lost.
In the example here, you can see that we have -9g.
This means that I used 9g of graham cracker crumbs in this example!
Using this method is going to make your life so much easier if you want to accurately count your calories.
Some more healthy pumpkin recipes you'll love
If you love all things pumpkin, here are some other recipes of mine that you're sure to love…
No-Bake Pumpkin Pie Protein Truffles
Total Time:
2 hours
10 minutes
All the flavor of pumpkin pie rolled up into delicious no-bake protein truffles. These pumpkin pie truffles contain only 35 calories each and 3.5g protein.
Ingredients
120g (1/2 Cup) Canned Pumpkin
1 tsp Vanilla Extract
30g (1/4 Cup) Oat Flour
15g (2 Tbsp) Graham Cracker Crumbs
1 tsp Cinnamon or Pumpkin Pie Spice (can use more if desired)
Extra 15g Graham Cracker Crumbs for Coating
Instructions
In a large bowl, combine canned pumpkin and vanilla extract (the only liquid ingredients in this recipe).
Add the graham cracker crumbs, oat flour, and pumpkin pie spice (or cinnamon), then mix it all together until it forms a sticky batter.
Add the protein powder & powdered sugar last, using a silicone spatula to fold everything together until dough forms. NOTE: I use a protein powder that is a blend of whey & casein, which makes a huge difference. Whey protein alone is going to be very sticky, so you may need to add additional oat flour to soak up some of the moisture.
In a separate bowl, add graham cracker crumbs for your coating.
Break off small pieces of the dough to create your truffles, then roll in your palms. The dough will be slightly sticky but still easy to work with. I was able to create 12 truffle bites from my dough.
Roll each truffle in the graham cracker crumbs to coat. Spray each truffle with butter spray (or any cooking spray) and roll them in the graham cracker crumbs once more. This will create a thicker coating, which is ideal!
Put your truffles in the refrigerator and let them sit for at least 2 hours, but for best results, let them sit overnight. The flavor enhances as these chill, and they will also firm up in that time.
Notes
I don't count the sugar substitute as part of my carb total since it contributes 0 calories. If you are very strict with carbs, be sure to add those in.
The flavor will improve significantly as they chill, so don't skip the time in the fridge! That's very important in no-bake recipes.
Remember, the protein powder blend I use is very different from standard whey protein. See this post for more.
Recommended Products
As an Amazon Associate and member of other affiliate programs, I earn from qualifying purchases.
Nutrition Information
Yield

12
Serving Size

1 Truffle
Amount Per Serving
Calories

35
Total Fat

0.5g
Carbohydrates

4.5g
Protein

3.5g