Move over Panera, we've got our own version of your famous Cinnamon Crunch Bagels coming to town!
Panera makes some quality baked goods, and the Cinnamon Crunch Bagels are no exception. Problem is, those delicious baked goods often come with tons of calories.
The traditional Cinnamon Crunch Bagels packs in 420 calories and 83g of carbs (32g of which are sugar). We can do better.
Our Healthier Cinnamon Crunch Bagels have only 200 calories and 35g of TOTAL carbs with only 2g of sugar! Plus, 10g of protein to boot.
If you've made my Quick & Easy Bagels before, this recipe is going to be very familiar to you.
In fact, the process is identical, with the obvious exception of that added cinnamon sugar crunch on top.
How to make these quick & easy bagels
The bagels in this recipe are a take on the "2 ingredient bagels" you may have seen before. It's essentially just flour & Greek yogurt mixed together to make a dough.
Here's a quick walkthrough of my original 2-ingredient bagel recipe:
View this post on Instagram
For this dough, we traditionally mix together self-rising flour and Greek yogurt. However, I know that many people don't have self-rising flour on hand, so I've started using All-Purpose flour instead.
Self-rising flour is just all-purpose flour mixed together with baking powder and salt to make your life easy. If you have those 3 ingredients, we can just use them separately instead! In the case of this recipe, that's exactly what we're going to do.
Add all the dry ingredients together in a bowl, then mix in your Greek yogurt. If it seems too crumbly, don't worry! Once you get in there with your hands, you should be able to form it into a ball of dough no problem.
If you work the dough with your hands and find that it is still too dry, you can add a bit more Greek yogurt into it. Since every brand of yogurt is different, you may have more (or less) liquid in the yogurt, which affects the final dough.
Luckily, this recipe is very forgiving! Anywhere from 180 – 200g of Greek yogurt should do the trick, but don't be afraid to add more if needed.
Once we have a ball of dough, we're going to break it up into 4 smaller pieces and add those to a lightly floured surface. Don't worry about the calories from the extra flour- it is very minimal, but it really helps make the dough easier to work with.
You can just break the dough apart into roughly equal-sized pieces, or you can weigh the entire ball of dough and then divide that up into 4 equal pieces.
My dough was just about 400g, so each smaller piece came out to around 100g each.
To form your bagel, roll the dough out with your palms until it's about the size of your hand. It doesn't need to be an exact size, but 6-7 inches should work great.
Roll out each bagel, then pinch the edges together to form the bagel shapes.
The edges won't press together very easily since the dough is dry, so pinching the ends together really helps.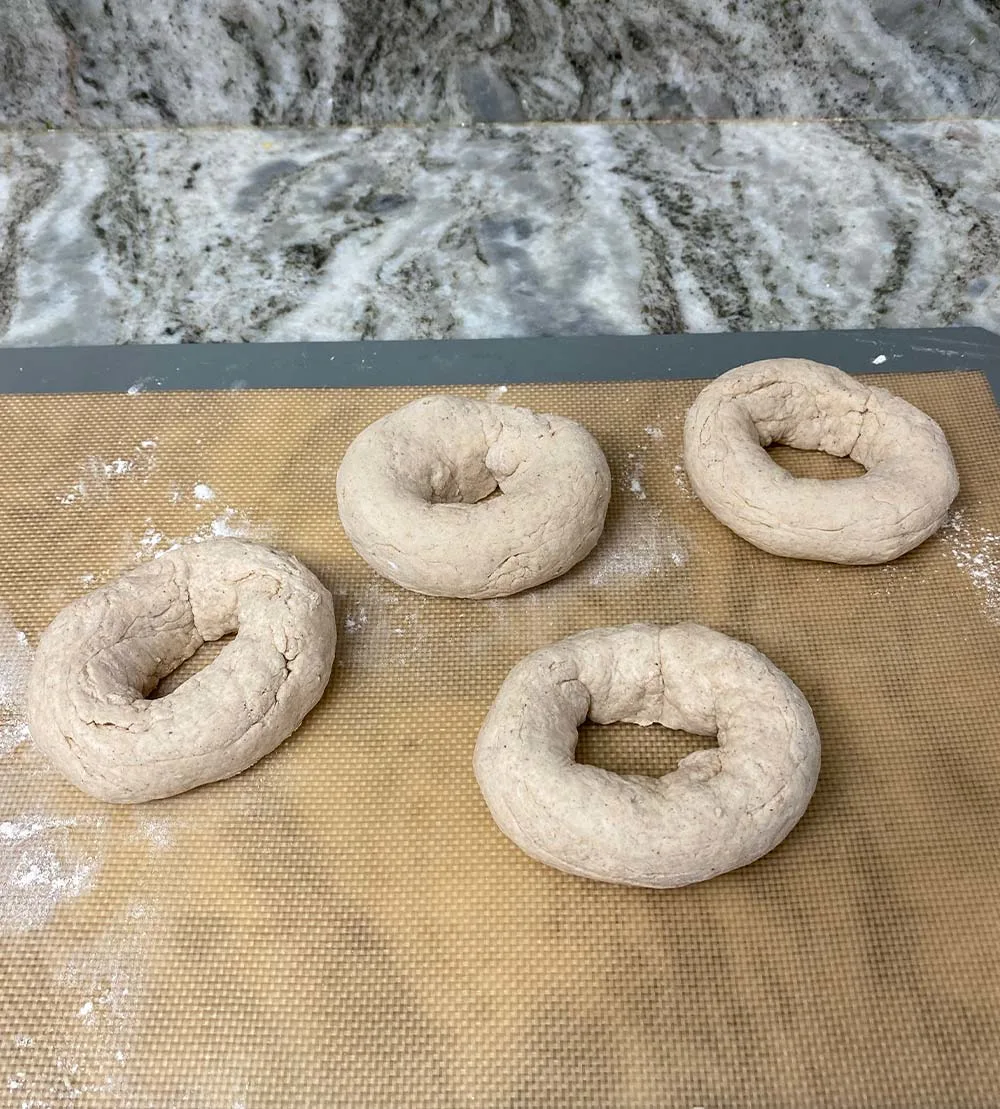 How to create the cinnamon crunch
What's a Cinnamon Crunch Bagel without the cinnamon crunch?
To accomplish this, we're following a similar process to my Protein Churro Bites and melting sugar right on top in the air fryer.
First, whisk an egg in a bowl and then brush the tops of the bagels. This really helps to allow the topping to stick and to brown the tops of the bagels (like we do with the Bagel Bombs).
We're going to create our topping by mixing together cinnamon, granular sugar, and brown sugar. If you only have one type of sugar, you can use them to replace the other, but the combination really creates the best flavor and crunch.
I use a sugar substitute for these, but regular sugar & brown sugar will work great! You really can't go wrong with any specific brand, but I've had great success with So Nourished Brown Sugar Substitute and Anthony's Granular Sugar Substitute, if you need recommendations.
Sprinkle about 2/3 of the topping over the bagels, leaving a little bit leftover for the end.
Air fry the Cinnamon Crunch Bagels at 350 degrees F for 9 minutes, but stop them after 8 minutes. At this point, you'll see that the sugar and cinnamon have completely melted.
Sprinkle the rest of the cinnamon-sugar topping over the bagels and let them finish cooking for the final minute.
By doubling up the topping, we're creating an extra layer for that crunch!
When the Cinnamon Crunch Bagels are done cooking after the 9 minutes, the tops are going to be very brown- don't worry, that's to be expected. I promise they won't taste burnt.
Carefully remove the bagels from the air fryer using tongs and put them on a cooling rack. The melted sugar is going to be very hot, so I cannot emphasis enough how careful you need to be!
Before the topping fully cools, sprinkle a little bit of extra cinnamon and granular sugar on the tops of the bagels. This is optional, but it serves 2 purposes:
It adds an extra cinnamon flavor to these bagels
It makes them look way prettier
Let your bagels cool for about 10-15 minutes or so. If you were to cut into the bagels right away, the insides would be far too soft. They will finish cooking as they sit and cool.
How to reheat Cinnamon Crunch Bagels
These bagels are GREAT as leftovers, and make for awesome breakfast sandwiches, but you need to be careful about how you re-heat them.
Since there is a cinnamon-sugar topping on these Cinnamon Crunch Bagels, if you were to put them in the toaster, that would likely lead to the topping getting very hot & melty again.
Instead, I sliced my bagels and put them in the oven on broil to toast up the insides! This allowed them to warm up nicely without melting the topping.
Of course, you could just bite into them as-is without toasting, but everybody knows that bagels are better toasted!
If you end up making these bagels, be sure to share them to your stories on Instagram and tag me so I can see!
Looking for some other cinnamon-related recipes? Give these a try!
Healthier Cinnamon Crunch Bagels (Panera Copycat Recipe)
Additional Time:
10 minutes
Panera's Cinnamon Crunch Bagels are delicious, but they also have over 400 calories and 32g of sugar. We're going to make our own copycat version that is every bit as delicious but with half the calories and 10g of protein!
Ingredients
180g All-Purpose Flour
180-200g Plain Nonfat Greek Yogurt (or use vanilla for a little extra flavor)
2 Tsp Baking Powder
1/2 Tsp Salt
Tsp Cinnamon
1 Egg for Egg Wash
Cinnamon Sugar Topping
Tsp Cinnamon
25g Brown Sugar Substitute (or regular brown sugar)
10g Granular Sugar Substitute (or regular sugar)
Instructions
Mix together all of the dry ingredients for your bagels in a large bowl, then add in the Greek yogurt. The exact amount you'll use is dependent on how much liquid is in your yogurt, so don't be afraid to alter the amount if needed. Anywhere from 180g-200g should be great.
Use a silicone spatula to mix it up and then use your hands to form it into a ball of dough.
Add your dough to a lightly floured surface and break it into 4 equal pieces (you can sue a food scale to determine the size of just eyeball it).
Roll out each ball of dough until it's about 6-7 inches or so (about the size of your hand) and then form them into bagel shapes by pinching the ends together.
Preheat your air fryer for a few minutes at 350 degrees F. You can skip this step if absolutely necessary, but it will help create the crisp we want.
While the air fryer is heating up, make your topping by mixing up the cinnamon, brown sugar, and granular sugar.
Spray your air fryer basket with nonstick spray (or line with an air fryer parchment sheet) and add your bagels. Whisk up an egg and then lightly coat the tops of your bagels. Sprinkle about 2/3 of your cinnamon sugar mixture on top.
Air fry at 350 degrees for 9 minutes. After 8 minutes, open up the air fryer and sprinkle the remainder of your cinnamon sugar mixture over the tops before returning to the air fryer for the final minute.
Carefully remove your bagels with tongs and put them on a cooling rack (the bagels are going to be HOT due to the melted sugar). Sprinkle with a little bit of extra cinnamon and granular sugar (this will help them look nice and pretty at the end) and let them sit for about 10 minutes. After 10 minutes, slice and enjoy!
Notes
You can use self-rising flour to make these even easier, like I did with my original Protein Bagels. Use the same amount of flour, leave out the baking powder, and lower the salt used to 1/4 tsp.
It may seem like the sugar is burnt at the end (that's what I feared) but that browning is to be expected. Don't worry, it doesn't have a burnt taste in the slightest.
Letting these bagels cool is pivotal. If you were to try to slice these right away, they would still feel undercooked inside.
I saved these bagels and enjoyed them the next day, but please do not try to toast them in your toaster because the sugar will drip and can become a fire hazard. If you want to reheat these bagels, slice them and broil them in the oven.
I do not count the sugar substitute in my carb totals because they are 0 calories. If you're very strict about carbs, be sure to include those.
Recommended Products
As an Amazon Associate and member of other affiliate programs, I earn from qualifying purchases.
Nutrition Information
Yield

4
Serving Size

1 Cinnamon Crunch Bagel
Amount Per Serving
Calories

200
Total Fat

1g
Carbohydrates

35g
Fiber

1.5g
Sugar

2g
Protein

10g