The EASIEST bagel recipe you'll ever make, and ready in less than 15 minutes. No long recipe required for this one, I'm just going to get right into it.
This is a variation of a recipe that has floated around the internet for years, so I cannot take credit.
The bagels are made from flour and greek yogurt…that's it!
I use self-rising flour to make things super easy. Self rising flour is just All-Purpose flour pre-mixed with some salt and baking powder, so you don't have to do any measuring at all. I love using it in most recipes so you don't have to worry about there being any room for error with measuring out 2 extra ingredients! If you only have all-purpose flour, worry not- it'll still work great. Check the instructions below! And if you want a quick walkthrough, swipe through the below post for a visual breakdown:
View this post on Instagram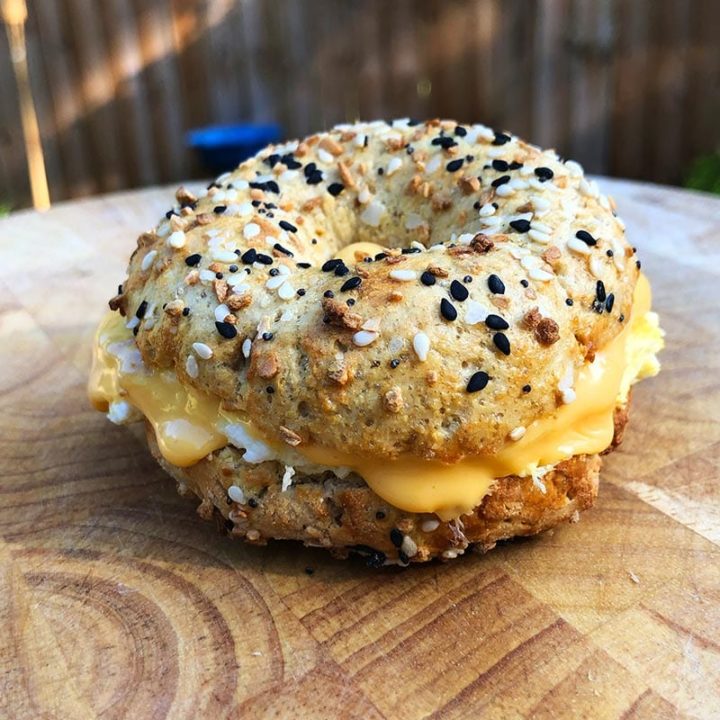 Quick & Easy Protein Bagels
Self rising flour, Greek yogurt, and some seasoning is all you need to make these beauties!
Ingredients
180g (1.5 Cups) Self Rising Flour. You can also use the same amount of All Purpose Flour plus 2 teaspoons baking powder.
180g (2/3 Cup) Plain Nonfat Greek Yogurt
1/4 tsp Salt (use 1/2 teaspoon if using AP flour instead of self-rising)
1 Egg for Egg Wash (optional)
Instructions
Add your ingredients to a bowl and mix until you have a dough ball. Use your hands to knead the dough until all the flour is absorbed.
Separate into 4 roughly equal sized pieces, then roll them out with your hands.
Add to your air fryer basket (or baking sheet if using an oven), and lightly brush with egg to help topping stick and so they become golden on top.
Add toppings of your choice, then air fry at 350 degrees for 10 minutes.
Let them sit for 10-15 minutes to firm up inside and then slice into them and enjoy!
Notes
The amount of Greek yogurt you need may vary based on how liquidy yours is, so feel free to adjust if needed!
Nutrition Information
Yield

4
Serving Size

1 Bagel
Amount Per Serving
Calories

180
Carbohydrates

35g
Protein

10g
You can slice these and freeze them, and then throw them into a toaster when ready to enjoy. Breakfast meal prep made easy!
Side note: these worked with 1 cup of flour when I first tried, but were too small for my liking and the dough was much stickier. It works to save cals if needed though. And they DO NOT work with almond flour, I made that mistake so you don't have to.