McDonald's McGriddle sandwiches are one of the best breakfast sandwiches on the planet.
Fluffy eggs, melty cheese, and crispy bacon or juicy sausage are all sandwiched in between thick, sweet pancakes. Does it get any better than that?
Well, now it does! McDonald's Sausage Egg and Cheese McGriddle contains a measly 19g of protein, and our homemade McGriddle recipe is cranking it all the way up to 40g of quality protein.
Not only is this a delicious way to start your day, but that 40 grams of protein will keep you full for hours.
Don't worry, this recipe does not taste "healthy" at all. In fact, if you make these for breakfast and serve them up, I can personally guarantee that nobody would ever know they were packed with protein.
In my eyes (which may be slightly biased) I think this copycat McDonalds McGriddle is even better than the real thing. Plus, the satisfaction of making them at home is tough to beat.
In case you need a little more convincing, here's a comparison of a McDonalds McGriddle vs our Homemade McGriddle:
Our version tastes better AND is more appealing across the board from a nutritional standpoint?!
That's enough talking. Let me show you how to assemble a delicious McGriddle sandwich.
The best breakfast meat to use for McGriddles
For our McGriddle recipe, we have the option to use either bacon or sausage. Personally, I love a sausage McGriddle, so that's the route I recommend. However, nobody is going to complain about being served bacon, and you can even double up by adding bacon and sausage to your McGriddle.
How to make crispy bacon
For bacon, I always like to use center-cut bacon. It's leaner than typical full-fat bacon but still becomes very crispy when cooked.
You can use turkey bacon, but it just never gets quite as crispy as other options, so I highly recommend using center-cut bacon.
To make crispy bacon, my preferred method is the air fryer. Lay your strips of bacon in the air fryer, and air fry them at 400 degrees F for 7 minutes, no flipping necessary. This method always works great for me!
If you prefer to pan-fry your bacon, you can fry the strips over medium-high heat for a few minutes per side until cooked to your liking. Cook time will vary based on how well-done you like your bacon, but they won't take more than 10 minutes total.
How to make sausage breakfast patties
If you want to make sausage McGriddles, making your own sausage patties is a very simple process.
I use this Jennie-O turkey sausage, which tastes just like pork breakfast sausage to me. If calories are not a concern, pork sausage will give you an authentic McGriddle flavor.
Since it comes in a log, you need to form your own patties, but that part is incredibly simple. Just break the sausage up into 6 pieces, then shape them into patties.
Pan fry over medium-high heat for about 5 minutes per side, or until the patties are cooked through with crispy edges.
I like to make all of the sausage patties at once to then save the leftovers, but we'll only need 2 patties to make this McGriddle recipe.
You can certainly make just what is needed to assemble these sandwiches, but storing leftovers to make additional breakfast sandwiches throughout the week is never a bad idea.
I like to prep the meat first because it's the most time consuming part of this recipe, then I move right onto making the fluffy pancakes.
How to make fluffy high-protein pancakes
Thanks to my very own protein pancake mix, which contains 15g of protein per serving, we can easily whip up a batch of fluffy protein pancakes to make these McDonald's McGriddles.
You can use any pancake mix you'd like, and it certainly doesn't need to be high-protein, but this protein pancake mix from PEScience will be the best-tasting protein mix you've ever had.
Maybe I'm biased because I formulated it, but I truly believe that. Give it a try and see for yourself! If you want a similar high-protein result, you can also use Kodiak Cakes as your mix, which is one of the more popular options out there.
No matter which pancake mix you go with, the process will be exactly the same.
Whisk the pancake mix in a bowl with an egg, syrup, and milk until you have a thick pancake batter.
To make pancakes that are the perfect size for McGriddles, I highly recommend using a DASH pancake maker. This little machine is very inexpensive (I bought mine for $12 on Amazon) and it makes fluffy, perfectly round pancakes every single time.
Simply fill the machine with some of your batter, close the lid, and let the magic happen.
Since the top and bottom of the pancake heat at the same time, the protein pancakes cook quickly and fluff up quite a bit. When they're done, they come out looking just like McDonald's hotcakes that they use for their McGriddles.
If you prefer to make pancakes in a pan, you certainly can! Just like how any pancake mix will work for these sandwiches, any pancake recipe will also work.
Add a few tablespoons of pancake batter to a skillet over medium heat and let the pancakes cook for a few minutes before flipping. You'll know your pancakes are ready to go when bubbles start forming and you can slide a spatula cleanly underneath the pancake.
If you want to make perfectly round pancakes, you can use an egg mold or even a mason jar lid to cook the pancakes in. Just be sure to use some cooking spray to make sure the batter doesn't stick.
These pancakes aren't overly sweet, either, but they have enough sweetness to perfectly complement the rest of the sandwich. There's just something about a sweet breakfast, like this Cinnamon Roll French Toast Egg Bake, that just takes breakfast to the next level when it's served up with something savory.
How to make folded eggs
Last but not least, we need to make the folded eggs for our McGriddles.
Don't be intimidated, it's much easier than you might think.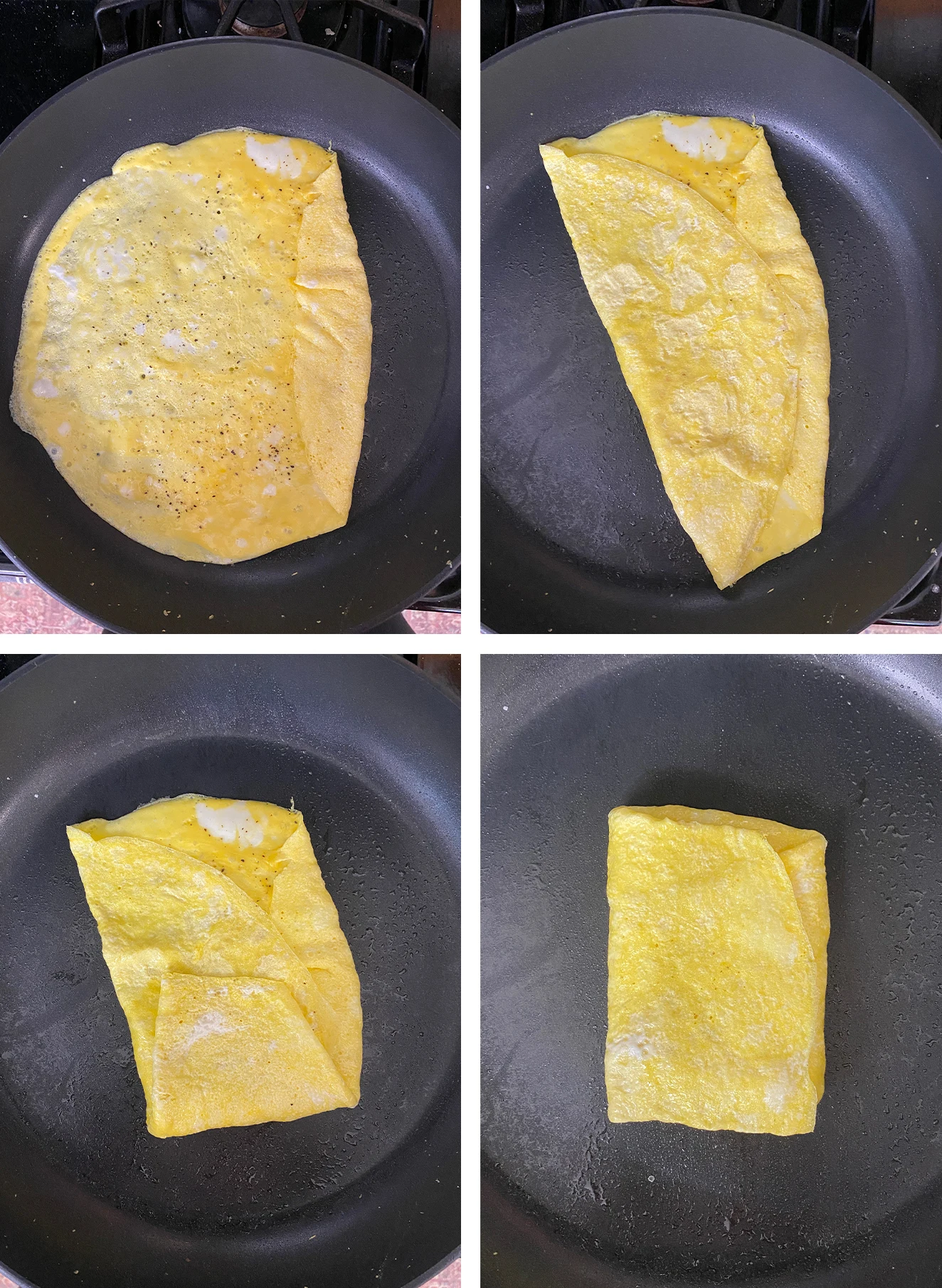 As you can see from the above photos, I am far from an egg-flipping expert. But even if you don't fold your eggs perfectly, it will still come out deliciously fluffy.
Whisk up eggs in a bowl with some milk to create a fluffy egg mixture.
Pour into a pan over low heat and let cook.
Let the eggs cook for a few minutes until they look mostly cooked through.
Sprinkle with a little salt & pepper, then fold in one of the sides with a spatula.
Fold the opposite side.
Fold in the remaining 2 sides, and you should have perfectly fluffy folded eggs.
You can flip the entire egg mixture before folding, but for me, that's a dangerous step because I almost always break the eggs doing that. Once the eggs are folded, the inside will continue cooking, so you won't have any undercooked eggs to worry about.
And if all else fails, you can make scrambled eggs instead. Folded eggs just make for a perfect McGriddle copycat, but it doesn't change the flavor at all, so it's not completely necessary.
Putting it all together
You've got all the pieces to make your homemade McGriddles, so now all you have to do is assemble!
Add a slice of fat free American cheese (or any sliced cheese) to one of your pancakes, add your sausage patty, then your folded egg, and top with another fluffy pancake.
Serve with some additional maple syrup if you want to kick the flavor up a notch, but you won't even need it- these copycat McGriddles are packed with TONS of flavor. I use sugar-free syrup to keep the calories low, but if you want a true McDonald's experience, pure maple syrup would be incredible.
Serve these homemade McGriddles up with some crispy air fryer hash brown patties for the ultimate homemade McDonald's breakfast.
And since breakfast food is the best food, here are some other amazing breakfast recipes worth trying:
Protein-Packed McGriddles Better Than McDonald's
Yield:
2 McGriddle Sandwiches
These homemade McGriddle breakfast sandwiches are better than McDonald's (if I do say so myself), ready in under 30 minutes, and have 40g of protein in each sandwich! This will take your breakfast to the next level.
Ingredients
High-Protein Fluffy Pancakes (Makes 4)
Folded Eggs
4 Eggs
1/4 Cup Milk of Choice
Salt & Pepper
Meat Options
4 Strips Center Cut Bacon
Tube of Jennie-O Lean Turkey Sausage (I use this to make my own sausage patties, but you can buy pre-formed patties as well)
Additional Ingredients
2 Slices Fat Free American Cheese (or any sliced cheese of your choice)
Syrup for Topping
Instructions
Prep the meat first by making either your bacon, turkey sausage, or both.
To make bacon: Air fry your bacon at 400 degrees F for about 7 minutes (no flipping required). This is my preferred method, but you can also pan fry over high heat until cooked to your liking.
To make turkey sausage: Open up the package of turkey sausage and form into 6 small patties. Place in a skillet over med-high heat and cook on 5 minutes per side until cooked through.
Prep the pancake batter by combining the protein pancake mix, egg, syrup, and milk in a large bowl until you have a thick batter.
Fill a DASH pancake maker with your batter, then close and cook until done. This machine makes the PERFECT fluffy pancakes for McGriddles, and it's what I used to achieve these amazing protein pancakes . If you do not have this machine, you can add 3-4 tablespoons of batter to a skillet and cook the pancakes for a couple minutes per side. Continue until you've made 4 pancakes.
Finally, make the eggs. Whisk your eggs in a large bowl with milk, then pour half of the eggs into a skillet over low heat. Let the eggs cook for a few minutes until they look almost completely cooked through (some shine is totally fine) then sprinkle with salt & pepper.
Carefully fold all 4 sides of the eggs into the center to create a folded egg (see the photos above this recipe card for reference). Repeat once more to make all of your eggs.
Now it's time to assemble! Take one of your fluffy pancakes, add a slice of American cheese, then top with your folded egg. Add either 2 strips of bacon or a turkey sausage patty, then top with your other pancake.
Serve with some additional syrup and enjoy!
Notes
I originally made this recipe with Kodiak Cakes, so I can assure you that mix will work great. Since then, I've released my very own protein pancake mix with PEScience and need to recommend that because it tastes so good. If you want to give it a try, use my code "matt" to save some money.
I'm all about making healthy, high-protein swaps, but that's totally optional in this recipe! You can use regular pancake mix, full-fat bacon, and regular cheese, and you'll have an incredibly delicious breakfast sandwich, the calories will just be higher.
I highly recommend the DASH pancake maker for these McGriddles. It's certainly not necessary, but if you want fluffy pancakes like McDonald's serves, this little machine works wonders.
From reader Katy H: If you have a Hamilton beach breakfast sandwich maker, cook the pancakes in the bottom rings where you would normally put your English muffins.
The nutrition facts below are for a Sausage Egg and Cheese McGriddle. For a Bacon Egg and Cheese McGriddle (using 2 strips of center cut bacon per sandwich) it will be 400 calories, 17g fat, 26g carbs, and 36g protein.
Recommended Products
As an Amazon Associate and member of other affiliate programs, I earn from qualifying purchases.
Nutrition Information
Yield

2
Serving Size

1 McGriddle (Sausage)
Amount Per Serving
Calories

430
Total Fat

18g
Carbohydrates

26g
Protein

40g