If you're looking for an easy recipe, you're in the right place.
This Maple Bacon French Toast Casserole just requires some very simple prep (which is mostly just throwing ingredients together) and baking together in a dish. That's it!
If you want to make your life even easier, you can prep this casserole the night before, then just throw it in the oven for a quick & easy breakfast for the entire family!
And if meal-prep is your style, this French Toast Casserole heats up incredibly well. Just grab a slice and reheat in the microwave or oven and you'll be ready to go!
How to make the Maple Bacon French Toast Casserole
When I say easy, I'm not kidding! Here's all you have to do to make this French Toast Casserole…
Step 1: Cube up some bread
You can use any bread you'd like for this recipe! As you can see, I used two completely different types of bread here. Why?
Because this recipe is a great way to use old bread!
I had some bread in the fridge that hadn't gone bad, but was far from fresh. Rather than throw it out, I used it for this French Toast Casserole! Once baked, you'll never know the difference between fresh and old bread, so I wouldn't waste your good bread on this.
I cubed up a total of 8 slices (each slice was 1 ounce each) but you can customize it however you'd like.
Step 2: Make some bacon
Bacon really helps to elevate this French Toast casserole. If you're trying to save calories and thinking of leaving it out, I urge you to reconsider!
Bacon gets a bad rap for being very greasy, fatty, and straight-up terrible for you.
But not all bacon is the same. Check your local grocery store for Center Cut Bacon:
The nutrition for center cut bacon is amazing, and it gets very crispy! It is my go-to for any recipes that require bacon.
Sure, you could use turkey bacon, but I've never been a fan of that.
For this recipe, you can make the bacon with any method you prefer. For me, I find it easiest to dice up the bacon (raw) and then cook it in a skillet until crispy. When you dice is up first, it helps to speed up the cooking process!
Step 3: Make your French toast mixture and combine everything together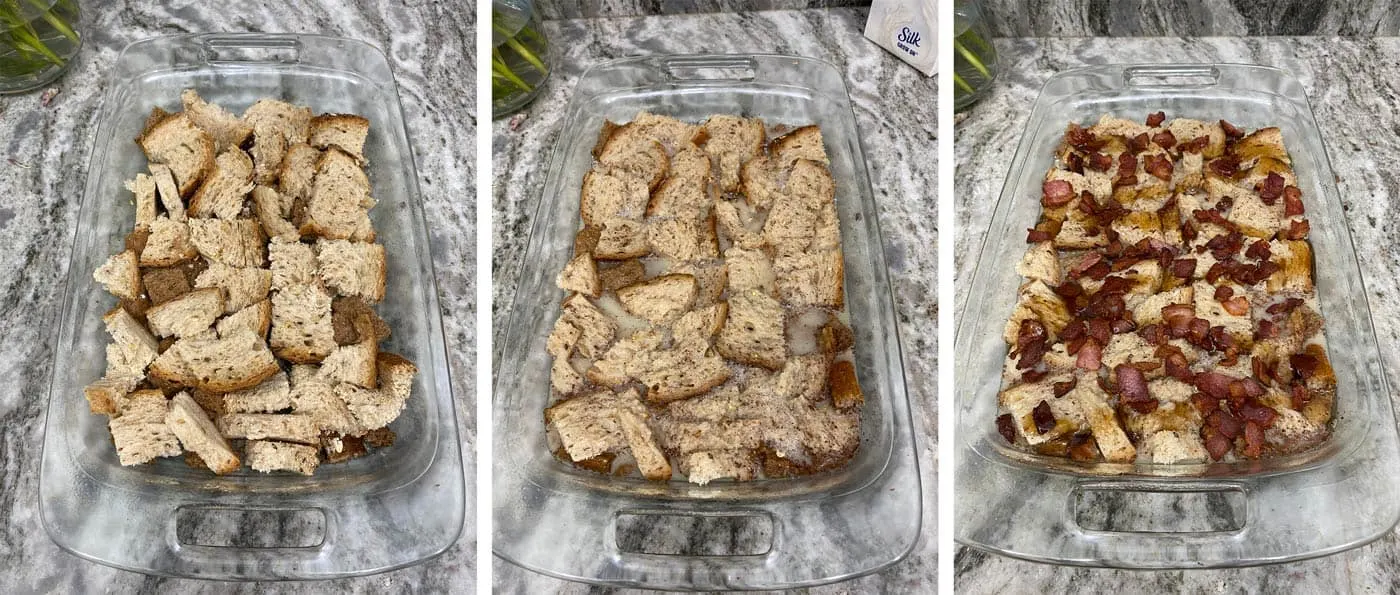 In a large bowl, we're going to whisk together all the liquid ingredients to make our French Toast liquid mixture.
Spray a 9x13in baking tray, then layer in the bread. Cover with the liquid mixture, then top with the bacon and a drizzle of syrup.
Notice that I left the bacon slightly undercooked from what I'd normally do since it will crisp up a bit more in the oven!
All that's left to do is bake the entire tray. At 350 degrees F, it will be ready in 40-45 minutes.
Step 4: Slice and enjoy!
This entire tray should give you about 8 servings, but it obviously depends on how large you want to make your slices!
8 portions was a great serving size in my opinion, but feel free to adjust it.
Drizzle some additional syrup over the top and enjoy!
Why egg whites?
I used egg whites for this French Toast casserole instead of whole eggs.
The reason: protein!
I wanted to make some high-protein French toast without needing to use any protein powder, so egg whites help accomplish that.
And, to be honest, you really can't taste any kind of a difference with this recipe! I absolutely love whole eggs and I eat them every single day, but sometimes I prefer to maximize the protein content.
By all means, you can use whole eggs instead! Or a combination of whole eggs & egg whites. But trust me, this tastes great with egg whites alone.
Want to add extra protein?
Thanks to Adam J (loyal Instagram follower and member of the Stack Pack) I have a tip for you to up the protein even more!
Adam made this amazing-looking French Toast Casserole below, and added 62g (2 scoops) of Snickerdoodle PEScience protein powder to add some extra protein into it.
He says that if you mix the protein powder into your wet ingredients along with an extra 1/4 cup of milk, that the result is great and not at all dry! I'll take his word on it based on how good it looks:
How to reheat this French Toast Casserole
This French Toast Casserole will keep very well in the fridge (covered) for the entire week.
When you're ready for breakfast, simply take your slice and microwave until hot (or bake in the oven). Don't worry, the eggs don't get rubbery or strange when reheated- it reheats quite well!
Want more breakfast?
You're in the right place. Breakfast is the BEST kind of food, and I have no shortage of breakfast recipes around here:
Maple Bacon French Toast Casserole
This casserole is every breakfast lover's dream. Not only does it taste like delicious French toast (with crispy bacon) but it's also incredibly easy to make to enjoy throughout the entire week!
Ingredients
8 Slices Bread of Your Choice (about 8 ounces)
8 Strips Center Cut Bacon
750g Egg Whites (about 3 cups)
1/3 Cup Milk
1 1/2 Tsp Vanilla Extract
1/4 Tsp Black Pepper
1 Tsp Cinnamon
1/4 Cup Sugar-Free (or regular) Maple Syrup
Instructions
Preheat your oven to 350 degrees F.
Cook the bacon first. You can use any method you want, but I like to dice up my bacon and then cook it in a pan over medium-high heat until crispy. I find this method goes very quickly, and the bacon is typically ready in under 10 minutes. Once done, drain and set aside.
Cut up your bread into cubes. My bread was sliced into 1oz slices, so I used 8 total, but you can use as many as you'd like! Set aside.
In a large bowl, whisk together the rest of the ingredients to make your French toast egg mixture. The black pepper is optional, but I love the tiny kick it adds along with the bacon.
Spray a 9x13in baking dish with nonstick spray. Add the bread, making sure it covers the entire tray as much as possible. Pour the French toast egg mixture over the entire thing (making sure all the bread gets wet), then top with your bacon. I drizzled a little bit more syrup on top for good measure, too.
Bake for 40-45 minutes. Test with a fork to make sure it comes out cleanly to ensure the eggs are cooked through.
Let cool for a few minutes, then slice into 8 portions and enjoy with some additional syrup.
Notes
You can prep this casserole ahead of time: go through the entire process of assembling the casserole, then let it sit in the fridge (covered) overnight. It'll be ready to bake the next morning!
This recipe is great for meal prep. Slice it up and keep in the fridge throughout the week, then reheat in the microwave or oven to enjoy as an easy breakfast.
I used egg whites here to keep the calories down and maximize the protein. Don't get me wrong, I love whole eggs and eat them every single day! But when it comes to this casserole, I believe it tastes just as good with egg whites. Feel free to use whole eggs, or a combination of the two, if you prefer.
This can be made without any bread at all. It will certainly lack structure and a true French toast flavor, but it'd still be a delicious egg casserole.
Recommended Products
As an Amazon Associate and member of other affiliate programs, I earn from qualifying purchases.
Nutrition Information
Yield

8 Servings
Serving Size

1 Slice
Amount Per Serving
Calories

165
Total Fat

3g
Carbohydrates

17g
Protein

16g