This isn't because I like to hear (er, read) myself talk- it's to help break down the what and why of the recipe.
When it comes to healthy / high-protein baking or cooking, there is a lot of room for error, especially when it comes to making substitutions.
Don't worry- this Oreo Parfait recipe is different! We don't need a bunch of notes for this one, because you have a ton of room for experimenting.
But I'd still like to steer you in the right direction, so let me at least break down the basics of this recipe for ya!
What ingredients do you need for the Oreo Parfait?
This recipe is layers of flavored Greek yogurt and Oreo brownie batter. I modified my original Protein Brownie Batter to lighten it up a bit and of course, to make it Oreo flavored.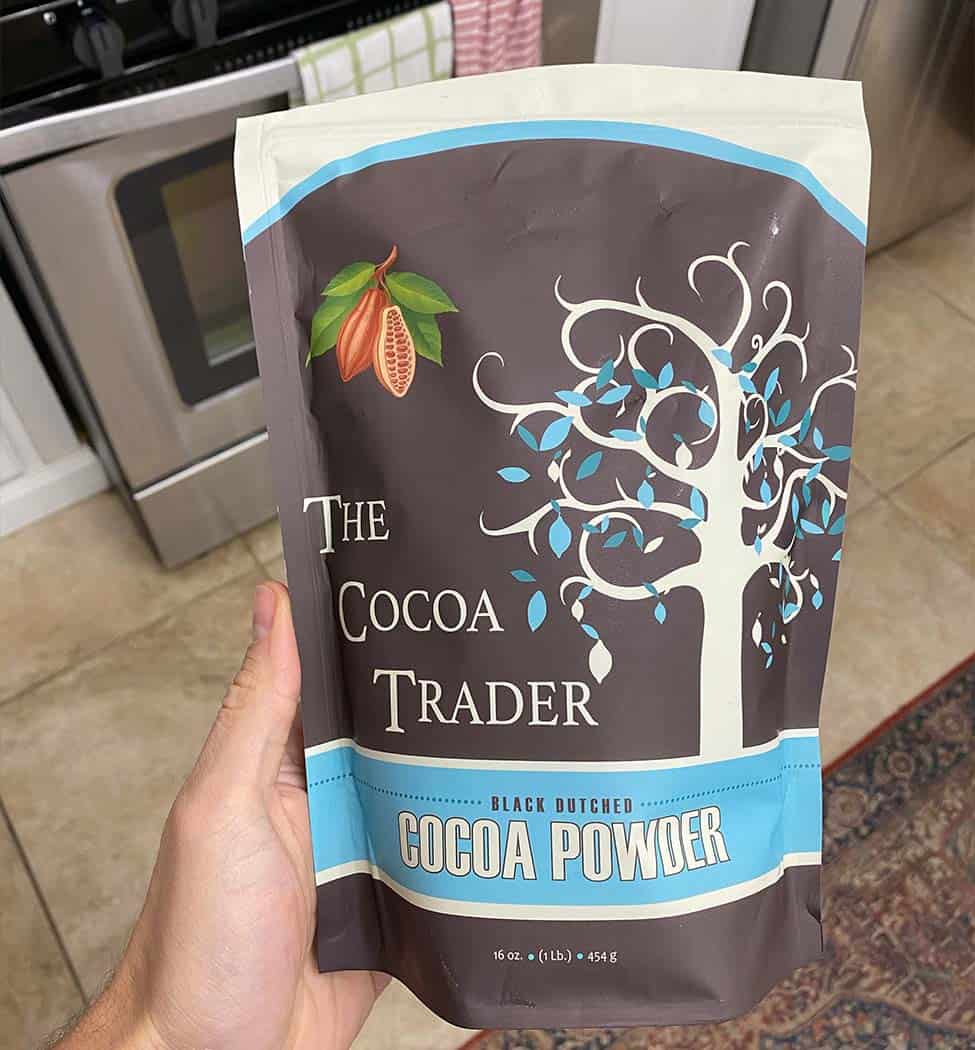 This is the "secret sauce" to making any Oreo flavored recipes. When I made my Protein Oreo Cupcakes, I used regular dark cocoa powder. While it tastes great, it didn't have that signature black color or rich flavor of Oreo cookies.
Once I purchased this black cocoa powder, everything changed! I first tried it with my Protein Oreo Brownies, and the result was amazing. Trust me, you need to grab yourself some! It will be totally worth it.
Otherwise, cocoa powder will work, but it's not going to be an authentic Oreo flavor or color.
Cookies & Cream Protein Powder
I like to use a protein powder that is a blend of whey & casein powder. However, I know that whey protein is the most popular out there, and it will definitely work for this recipe.
Since this Oreo parfait requires no baking, you can swap out any kind of protein powder you'd like without worry.
I picked up some Cookies & Cream Protein from Quest Nutrition for this recipe and decided to give it a try. I must say, it worked really well.
It has little cookie pieces in it, which was a nice addition to the cream layer!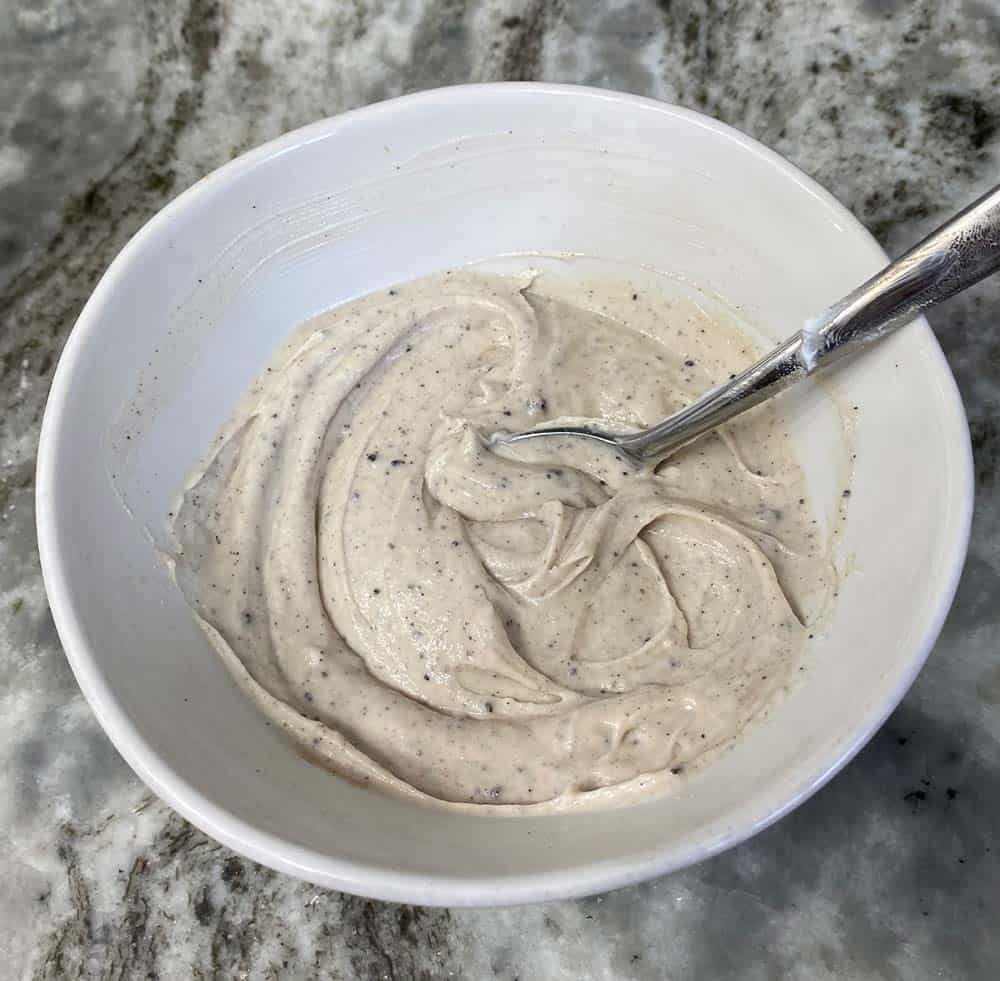 Don't worry, you don't need to go out and buy a new protein powder.
I also tried this recipe using vanilla protein for the cream layer, and chocolate for the Oreo layer, and it still tasted great. So, way, you can't go wrong!
Nonfat Greek Yogurt
The other obvious star here is the Greek yogurt. This is a parfait, after all!
I like to use plain Greek yogurt because you can dress it up however you'd like, but using vanilla Greek yogurt would probably work even better here.
Like the rest of this recipe, feel free to experiment.
Assembling the Oreo Parfait
This recipe will make enough for 2 parfaits, unless you decide you want to make one giant one.
I assembled one of the parfaits in a bowl to enjoy right away, and another in a small jar to be able to store it overnight and have it the next day.
This Oreo Parfait keeps very well, and it will stay fresh in the fridge for the whole week!
Note: the Oreo layer is going to be quite thick depending on the type of protein you use. This didn't bother me at all, but if you want to thin it out, you can adjust the ratios in the recipe to add more liquid. Remember, this recipe is very forgiving, and since there's no baking required, you can taste it along the way.
Want more Oreo recipes?
Oreos are an obvious favorite of mine, as evident by the large assortment or Oreo-related recipes on my blog! Here are some more worth checking out:
High-Protein Oreo Parfait
Additional Time:
12 hours
Total Time:
12 hours
10 minutes
Layers of decadent cookies & cream, packed with 43g of protein. Tastes like dessert, fuels like breakfast!
Ingredients
Oreo Cookie Layer
15g Almond Flour
100g Canned Pumpkin / Puree
1 Tbsp Sugar Free Syrup
Pinch of Salt
Cream Layer
170g Plain Nonfat Greek Yogurt
1 Tsp Vanilla Extract
4 Oreo Minis (or full-sized Oreo)
Instructions
In a large bowl, mix together all of the dry ingredients for your Oreo cookie layer. Cocoa powder can clump up, so make sure it is all mixed well.
Add the canned pumpkin and syrup, then use a silicone spatula to mix it up until a thick batter forms. Set aside.
In a separate bowl, mix together all of the ingredients for your cream layer except for the actual Oreo.
Now it's time to layer the parfait! The recipe should make enough for 2 parfaits, but can make one larger one depending on the size you want to make.
Start by taking a heaping spoonful of the Oreo cookie layer and spreading it on the bottom of your jar or bowl. It's going to be quite thick, but you can spread it with your spoon to make sure it covers the entire surface.
Next, add a heaping spoonful of your cream mixture and spread it as the next layer. Take one of your mini Oreos and crush it up, then sprinkle directly over this layer.
Continue with one more layer of each, then top with one more mini Oreo.
The parfait can be enjoyed immediately, or can sit in the fridge overnight to enjoy the next day!
Notes
I used a Cookies & Cream protein for maximum flavor, but I tested with vanilla and chocolate protein as well and both work great! If you're in a pinch and only have vanilla, you can use vanilla for the entire recipe as well.
The protein powder I used is a blend of whey & casein protein. The addition of casein helps the consistency a lot because casein is thicker and pudding-like, but a whey protein powder will work just fine here as well.
I used mini Oreos because I find it easier! The nutrition info here includes using 2 mini Oreos in each parfait. By all means, feel free to add more Oreos or use full-sized! Or, you can omit them, but this is an Oreo parfait for a reason ?
The Oreo layer used canned pumpkin because it's a magical ingredient that is low in calories and has a perfect soft texture. You can swap it out for more Greek yogurt if you want to up the protein even more. Personally, I don't love the taste of yogurt, so I didn't want to go overboard with it.
Recommended Products
As an Amazon Associate and member of other affiliate programs, I earn from qualifying purchases.
Nutrition Information
Yield

2 Parfaits
Serving Size

One Parfait
Amount Per Serving
Calories

310
Total Fat

8g
Carbohydrates

29g
Protein

43g