When I released my Protein Cheesecake Bites recipe a little while back, it became an instant hit.
I love that recipe, and I highly recommend you check it out!
Wanting to make the recipe again, I decided I'd switch things up a bit and make them Oreo cheesecake bites! Can you just follow the same recipe and use an Oreo coating instead of a graham cracker coating? Of course.
But with this recipe, I made some tweaks to make the Oreo flavor come through a little bit more. Since the original recipe utilizes graham cracker crumbs in the cheesecake mixture itself, following the same recipe and leaving those out would lead to a liquidy cheesecake mixture. So, a few simple changes and we're ready to rock here!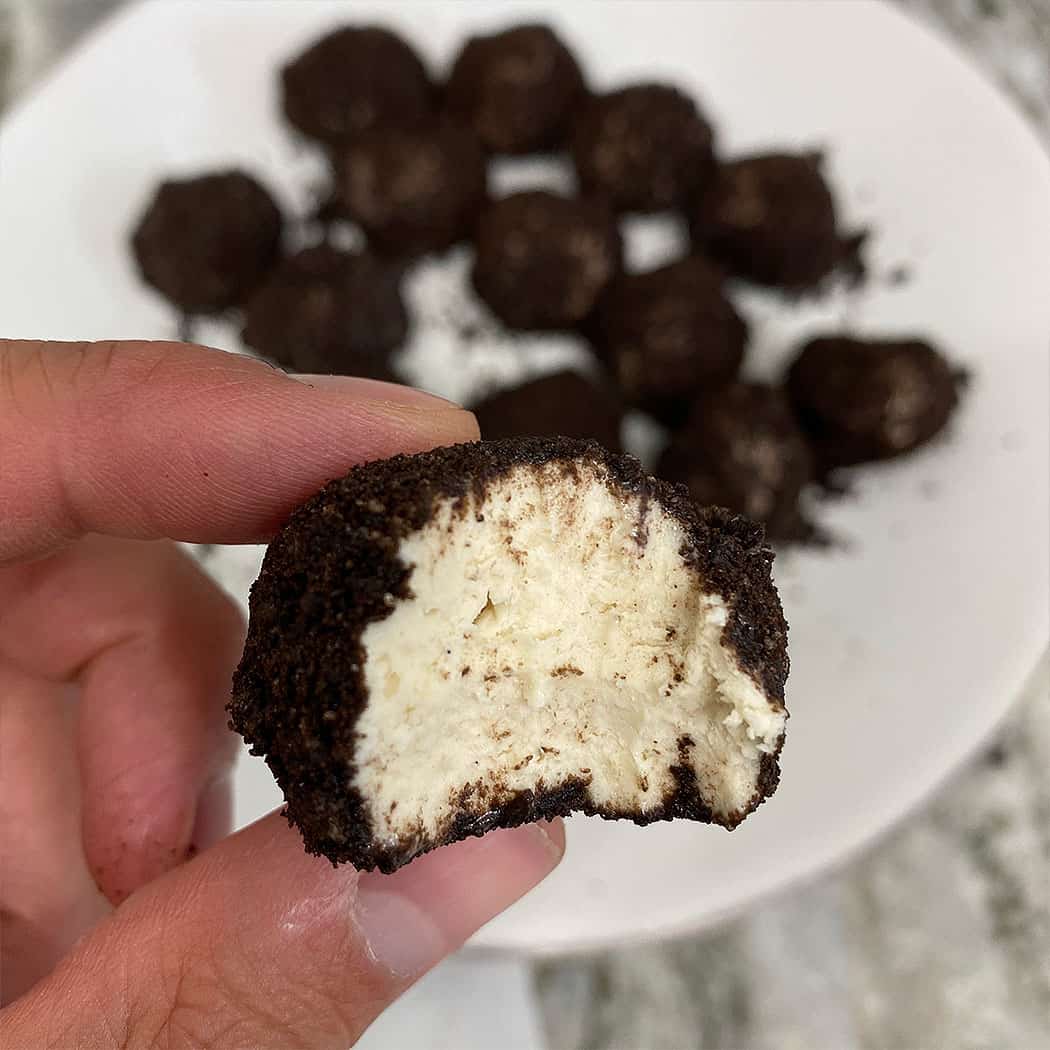 The Ingredients
If you're curious about specific ingredients and why I chose them…
Fat Free Cream Cheese: In my original Cheesecake Bites recipe, I used Greek Cream Cheese. Essentially, it's just a cream cheese mixed with some Greek yogurt, which bumps up the protein slightly. It's not a super familiar ingredient to a lot of people, but it's very similar to a reduced fat cream cheese. With this recipe, I went with a fat free cream cheese, but that is only because I had it available to me. Whether you choose fat free, reduced fat, Greek, or regular cream cheese, they'll all work! Just keep in mind that a whipped cream cheese won't work as well- we need it to be solid.
Whey/Casein Protein Blend: The biggest variable with protein desserts is the protein powder you choose. Most commonly, people will use whey protein. It may not seem like a big deal, but using a protein that's a mix of whey protein AND casein protein makes a huge difference, especially in this recipe. Whey alone gets very sticky, so this recipe might end up being far too loose to form into balls. With the casein mixed it, it thickens the cheesecake mixture and makes the entire thing scoopable. I used PEScience and can definitely recommend it.
Fat Free Cool Whip: The cool whip in this recipe really helps to create an authentic cheesecake flavor, and it also helps smooth out the mixture. You don't have to necessarily use a fat free version, but it obviously brings the calories down a bit.
Oreo Thins: You don't have to use Oreo thins, but I chose those over regular Oreos. Since we really only need the cookies and not the cream (although I threw the cream in as well) using the thins makes it easier to just calculate the total calories. I counted the full Oreos in the nutrition, and it would get too complicated trying to calculate the nutrition of Oreos without cream if you use the regular ones. I like simple!
The Process
Making these bites is incredibly simple. As long as you have a little patience to let the cheesecake mixture set in the fridge for a few hours, it's a simple 3 step process…
Just scoop, roll, and enjoy!
I used a cookie scoop, but a regular spoon works as well. A little trick I like to use is to dip the scoop or spoon in cold water before scooping.
Doing this helps prevents the filling from sticking (since this is high protein, it's a bit sticky overall) and will save you a whole lot of trouble.
Then all you need to do is roll the ball in the Oreo crumbs and you're good to go!
Fridge or Freezer?
If these bites are eaten out of the fridge or at room temperature, they'll be very soft. Certainly still enjoyable, but not quite as firm as cheesecake.
I much prefer these stored in the freezer. I actually stored my entire batch in a Ziploc bag in the freezer and enjoyed them for months (I kind of forgot they were in there for a while).
All you need to do is take them out of the freezer when you want to eat them, and let them sit for a couple minutes at room temperature.
Fresh out of the freezer, they'll be rock hard. But like magic, they soften up plenty in just a couple minutes and are ready to eat! When they're nice and firm, they create a much more authentic cheesecake flavor.
Feel free to get creative with these: add a white chocolate coating, add some crushed up Oreos right into your filling, turn this into a full cheesecake, whatever you want! And if you're an Oreo lover like I am, don't miss these other recipes of mine…
Protein Oreo Cheesecake Bites
Total Time:
2 hours
5 minutes
Little bites of delicious cheesecake filling rolled in Oreo cookies, creating the ultimate Oreo lover's snack.
Ingredients
Ingredients for Bites
8oz Fat Free Cream Cheese (can use Greek cream cheese or reduced fat)
30g Plain Nonfat Greek Yogurt
2 tsp Vanilla Extract
30g Powdered Sugar Substitute (I used Swerve)
54g Fat Free Cool Whip
1 pinch Salt
Ingredients for Coating
12 Oreo Thins (regular Oreos work as well)
Instructions
Let your cream cheese and cool whip sit out at room temperature for 10-15 minutes. This is optional, but will make it significantly easier to mix everything if they are softened.
In the meantime, separate out your Oreo cream and Oreo cookies. I simply used a butter knife to scrape the filling out. Add your filling to a bowl (it won't be a lot) and set your Oreo cookies aside.
In a large bowl, use a hand mixer to mix together all of your cheesecake ingredients. A hand mixer will make this much easier because the mixture is going to be very thick, but you can use a silicone spatula as well. I always recommend adding in the protein powder last to make mixing even easier.
Add the bowl to the fridge for at least 4 hours, or overnight. It's going to be tempting to skip this step, but it's necessary to help turn the mixture from a frosting consistency to something scoopable.
Once the cheesecake filling sets, it's time for the coating. Take the Oreo cookies you set aside, add them to a sealable bag, and smash into a crumb.
Create a station for yourself by lining up the cheesecake filling, Oreo crumb, and a small bowl of cold water.
I highly recommend using a small cookie scoop, but a regular kitchen spoon will do in a pinch. Dip the spoon or scoop into the cold water (the mixture will be sticky, so this helps to be able to form a ball more easily), scoop a portion out, then roll it in the Oreo crumb. Add to a plate.
Continue until you've used the entire mixture, which should be roughly 23-25 servings.
Once all the bites are completed, add your bites to the freezer for 1 more hour. You can keep these stored in the fridge, but they firm up really well in the freezer and end up with a much more authentic cheesecake flavor. If stored in the fridge, they remain quite soft.
The bites will be fully frozen when stored in the freezer, but 1-2 minutes out at room temperature is all they need to soften up and be ready to eat! I kept these in my freezer for months and enjoyed periodically, and they stayed great.
Recommended Products
As an Amazon Associate and member of other affiliate programs, I earn from qualifying purchases.
Nutrition Information
Yield

23
Serving Size

1 Bite
Amount Per Serving
Calories

45
Total Fat

1g
Carbohydrates

5g
Sugar

3g
Protein

4g