Oreos are one of the best cookies out there. I don't think anyone can argue that.
They're absolutely delicious, but they're not necessarily the "healthiest" of cookies out there.
I mean, if you're eating cookies, you're likely not too worried about them being healthy or not. But when you find yourself 10 Oreos deep with no end in sight, you may begin to question your choices.
With these Healthy High-Protein Oreos, now you can eat as many as you want!
Well, you'll still end up with a major stomach ache if you decide to eat this entire recipe, but you know what I mean.
How do these Protein Oreos stack up against regular Oreos? Well well well, I'm so glad you asked…
As you can see, our Healthy Protein Oreos come out on top in nearly every single category.
With 9g of protein and only 135 calories, these are a great protein source.
I should note that I made large Oreos with this recipe. When I weighed the final product, a single homemade Oreo was heavier than 3 regular Oreos!
As you can see here, half of one of my Protein Oreos is still quite large.
So for comparison's sake, we'll say that one of these Protein Oreos is equal to 3 smaller Oreos.
The great thing about this recipe (one of many) is that you can make the Healthy Protein Oreos as large or small as you'd like. I'll dive into more details below for ya, but when I make 10 large Oreos with my recipe, you can easily double that to make 20 smaller Oreos.
The secret ingredient for Healthy Protein Oreos
Outside of the obvious ingredient of protein powder to make this high-protein, there is one very special ingredient we need: Black Cocoa Powder.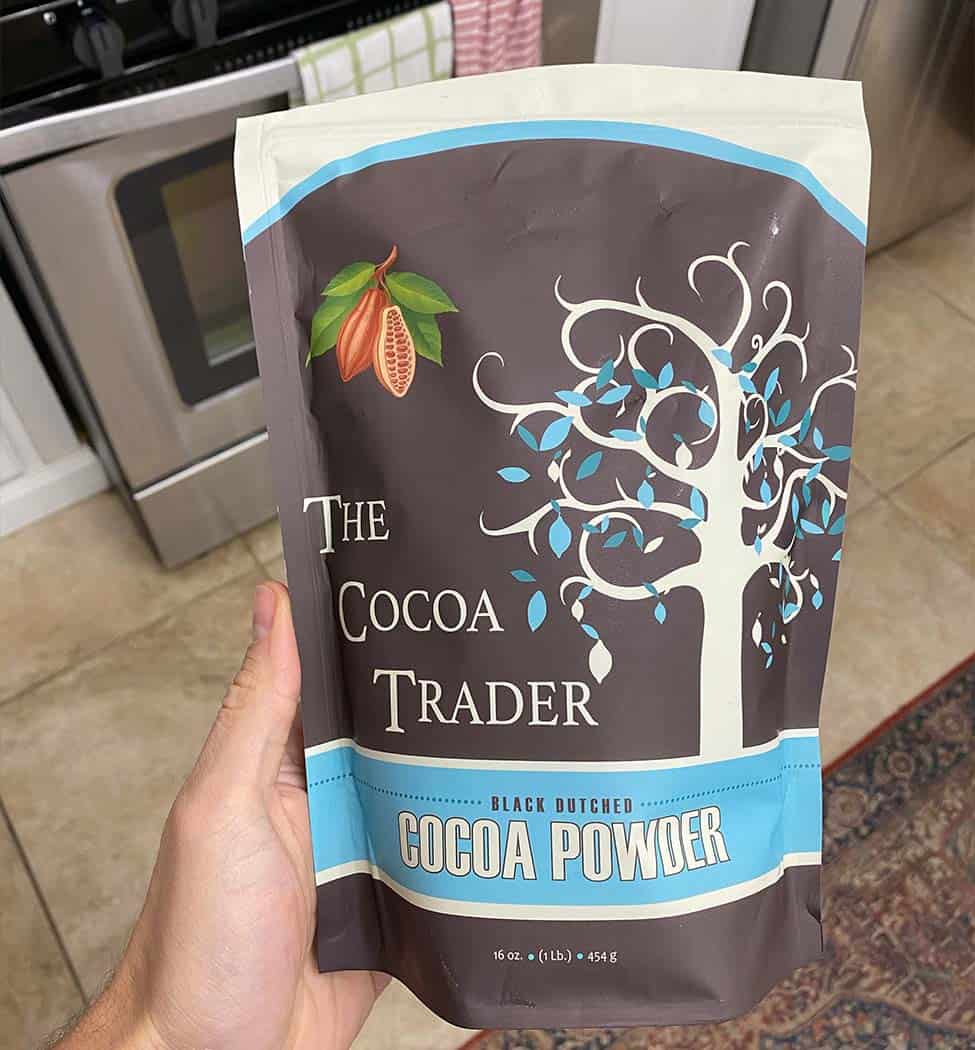 This is a special kind of cocoa powder that gives Oreos their black color.
But outside of just the color, it lends that very special Oreo cookie flavor to our recipe. It has a slight sweetness to it, so it isn't nearly as bitter as regular cocoa powder.
If you're in a pinch, you can use cocoa powder, but look for something like "Hershey's Special Dark" instead of regular cocoa powder. This will create a darker color and flavor than regular cocoa powder.
But I highly recommend getting some Black Cocoa Powder from Amazon. If you're worried about whether or not you'll use it enough, I use plenty of Oreo-related recipes here on my blog to help you use it up!
How to make Healthy Protein Oreos
These Protein Oreos are surprisingly easy to make, but there are a few tips and key ingredients we need to make it happen.
Please read through these steps to ensure you don't make any common errors along the way!
Step 1: Mix together all of the dry cookie ingredients
We're going to mix together some chocolate protein powder (you can use vanilla or even cookies & cream flavor, too), black cocoa powder, oat flour, sugar substitute, and a little salt.
It doesn't necessarily look black at this point, but don't you worry. Once we add the liquid, the dough will become very dark.
Step 2: Add the wet ingredients for the Oreo cookie dough
We're going to add in the butter and sugar-free syrup, then mix it up into a dough.
Mix with a silicone spatula, but then get in there with your hands to fully form it into a dough.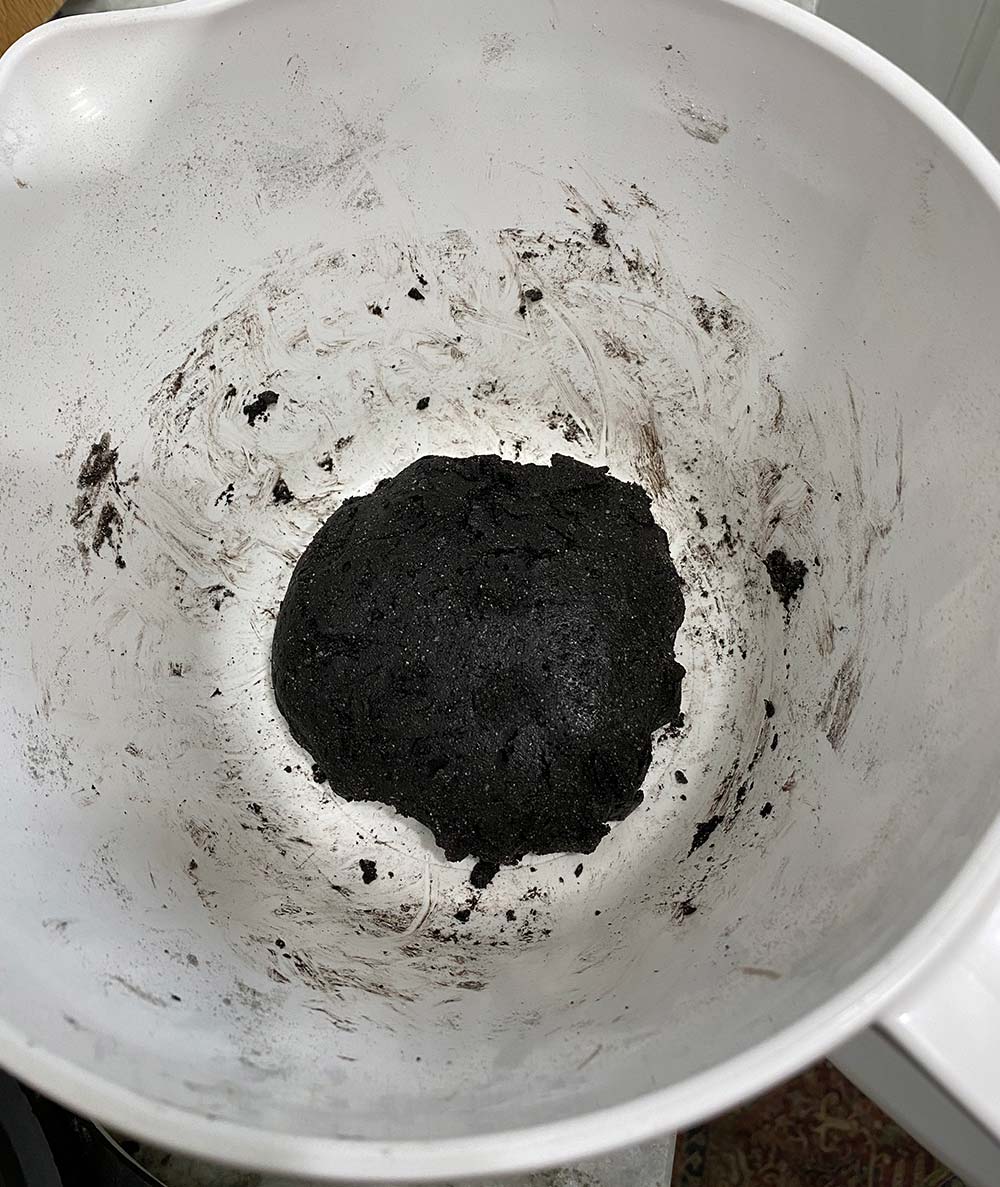 Step 3: Cover the bowl and refrigerate the dough for 30-60 minutes
This is very important! By chilling the dough, it is going to make it much easier to work with.
Step 4: Roll the dough out
We want to roll the dough out until it is very thin, because we want thin crunchy cookies. The cookies will expand a tiny bit when baked, so don't worry about them being too thin.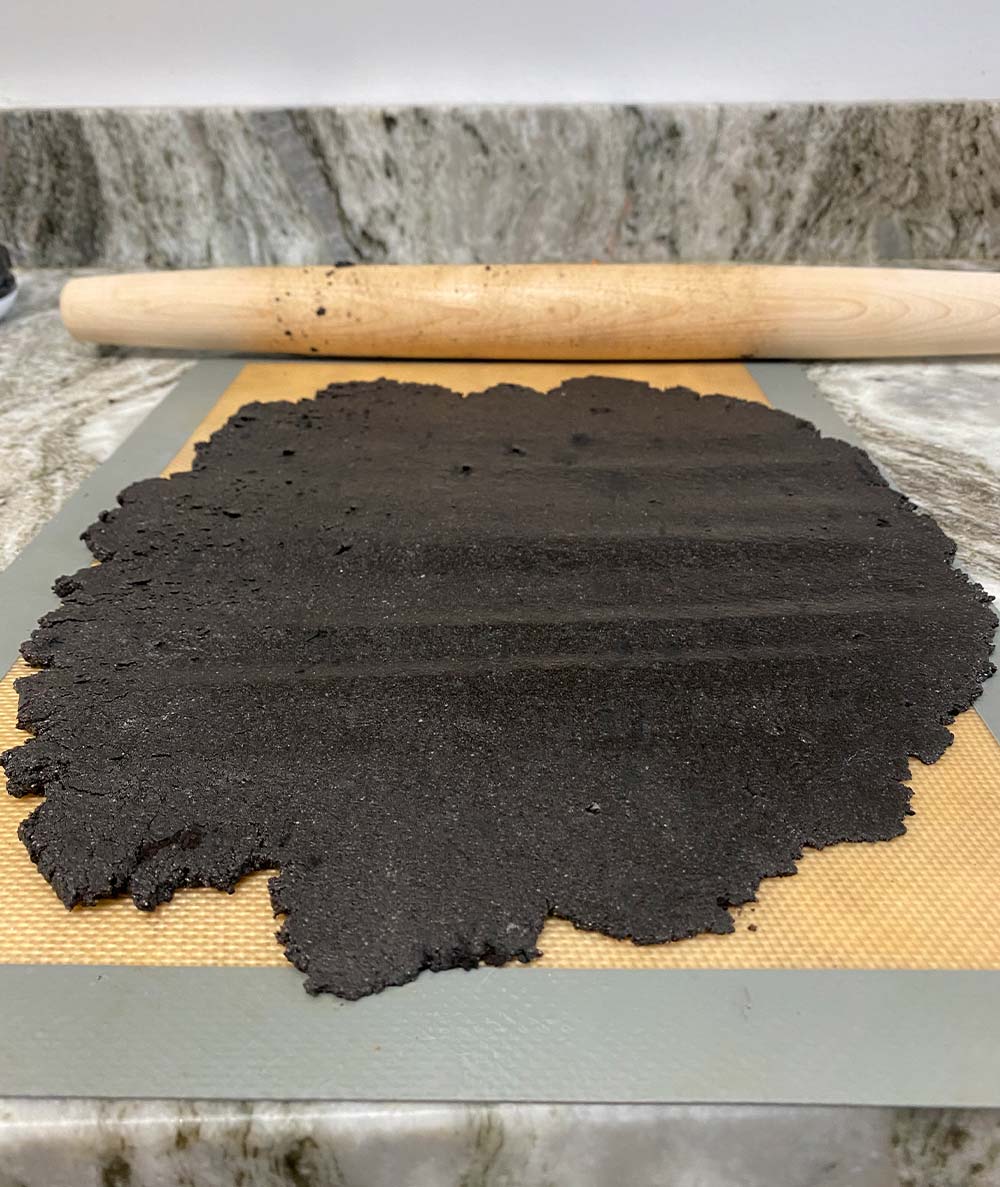 Step 5: Cut your cookies
I don't have any cookie cutters, so I just used the cap to my powdered peanut butter.
This was actually rather large, but I wanted to make large Oreo cookies. If you have a smaller cap (or small cookie cutter) you can use that. A shot glass would probably be the perfect size!
Press down and twist to cut the circles out. Continue until you cannot create any more circles.
Take the leftover dough, form it back into a ball, and roll it out. Cut more circles out, and continue this process until all of the dough has been used.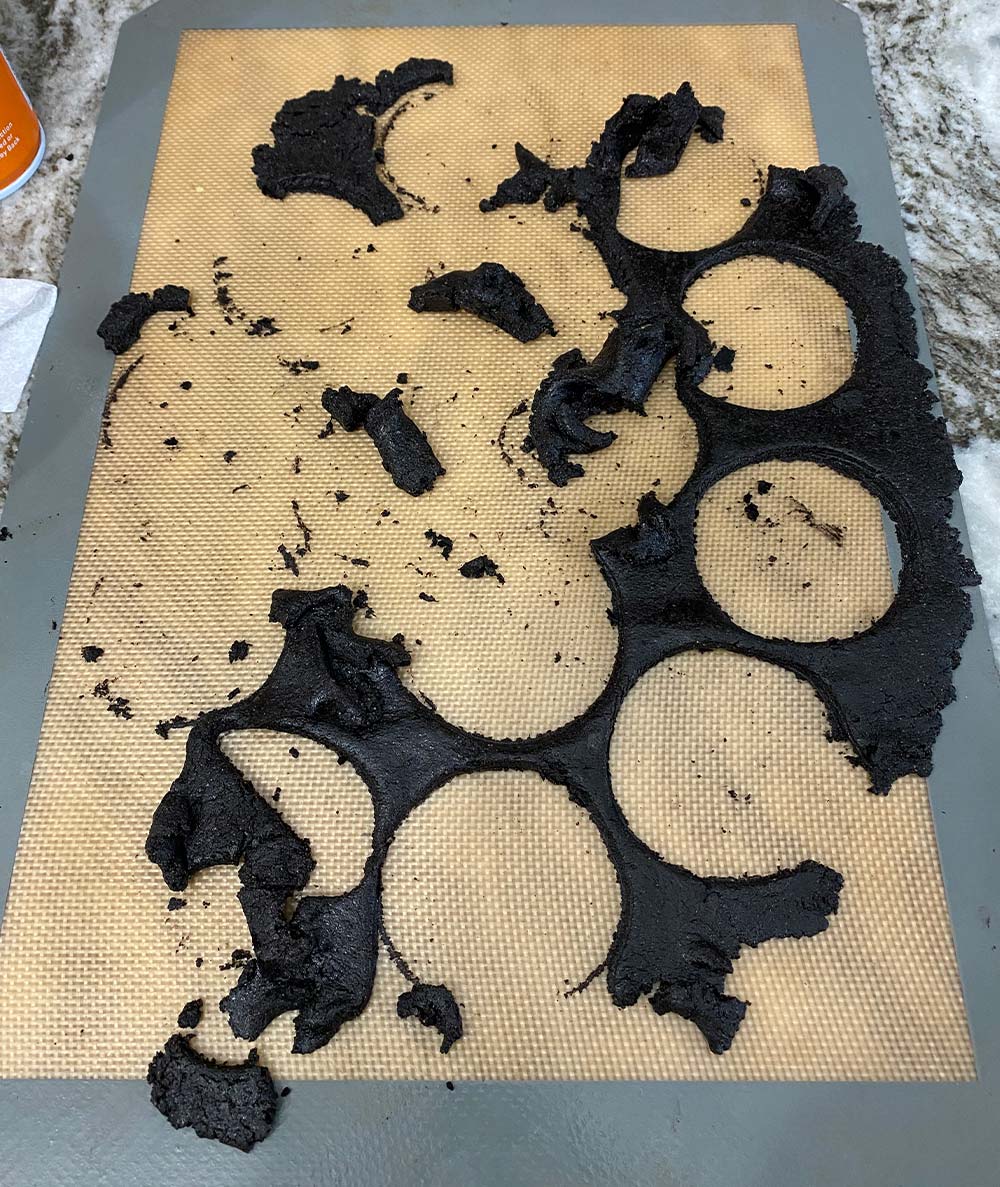 This should give you a sense of how thick mine were. Not too thin, but definitely thinner than a typical cookie.
Step 6: Bake the cookies at 350 degrees F for 10 minutes
Once baked, leave them on a cooling rack to fully cool and harden. This takes about 3 hours, in my experience.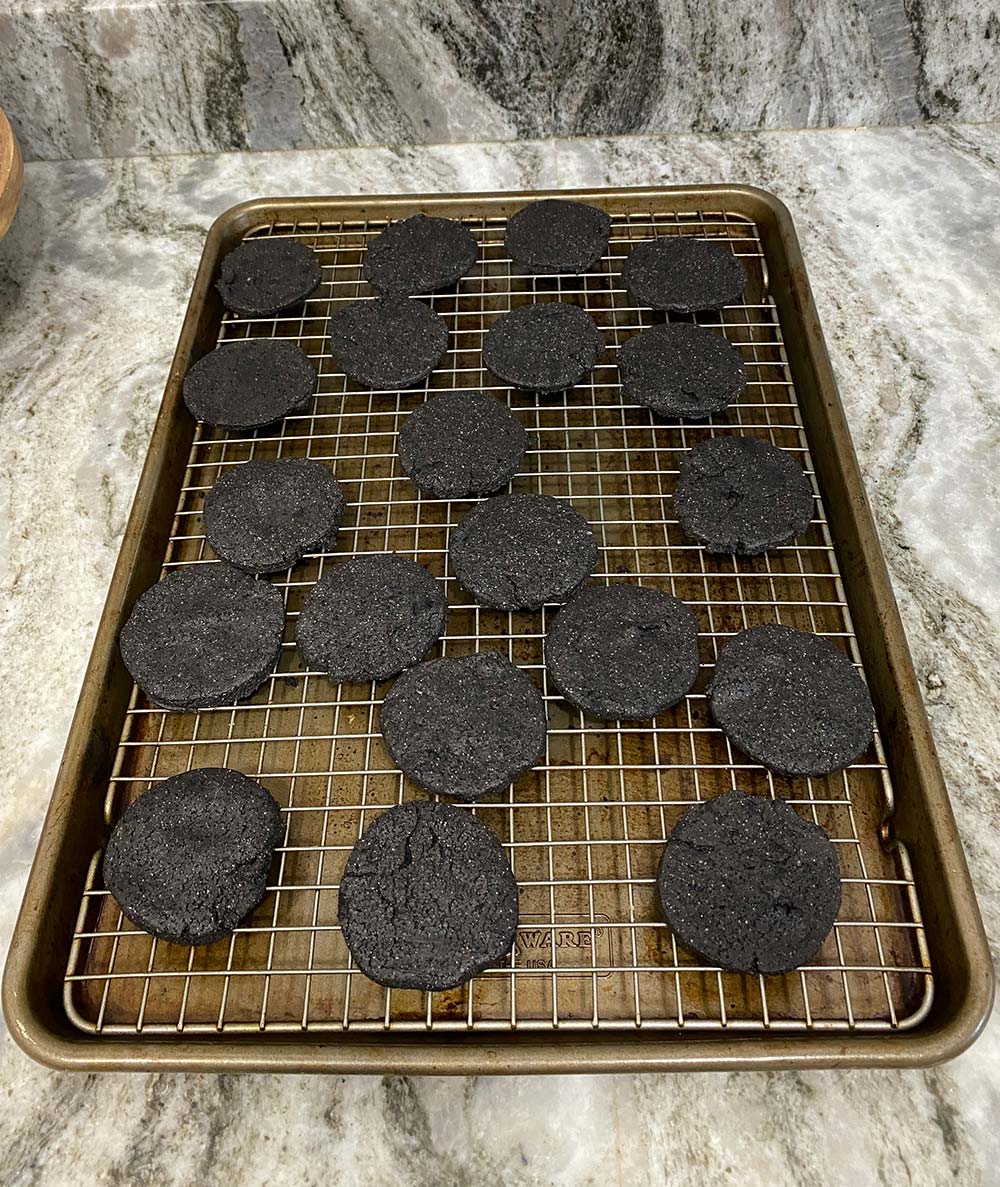 If you were to bite the cookies right away, they wouldn't be hard enough, so be patient!
The cookies end up having a slight crisp to them, but aren't super crunchy. In other words, they are exactly the way an Oreo cookie should be!
Step 7: Make the Healthy Protein Oreo cream filling
The cream filling mixture is simply vanilla protein powder (highly recommend you use the same one I did, which is a blend of whey & casein protein. You can get yourself some PEScience and save 15% with the code "Matt"), butter, powdered sugar, and vanilla extract.
Mix it all up into a nice thick filling, then refrigerate it for one hour to thicken a little bit more.

Step 8: Assemble the Healthy Protein Oreos
Once the filling is chilled, it will be very easy to work with. Just spoon out a small scoop, place it in the middle of one of your cookies, then sandwich it down with another cookie.
Then you're done!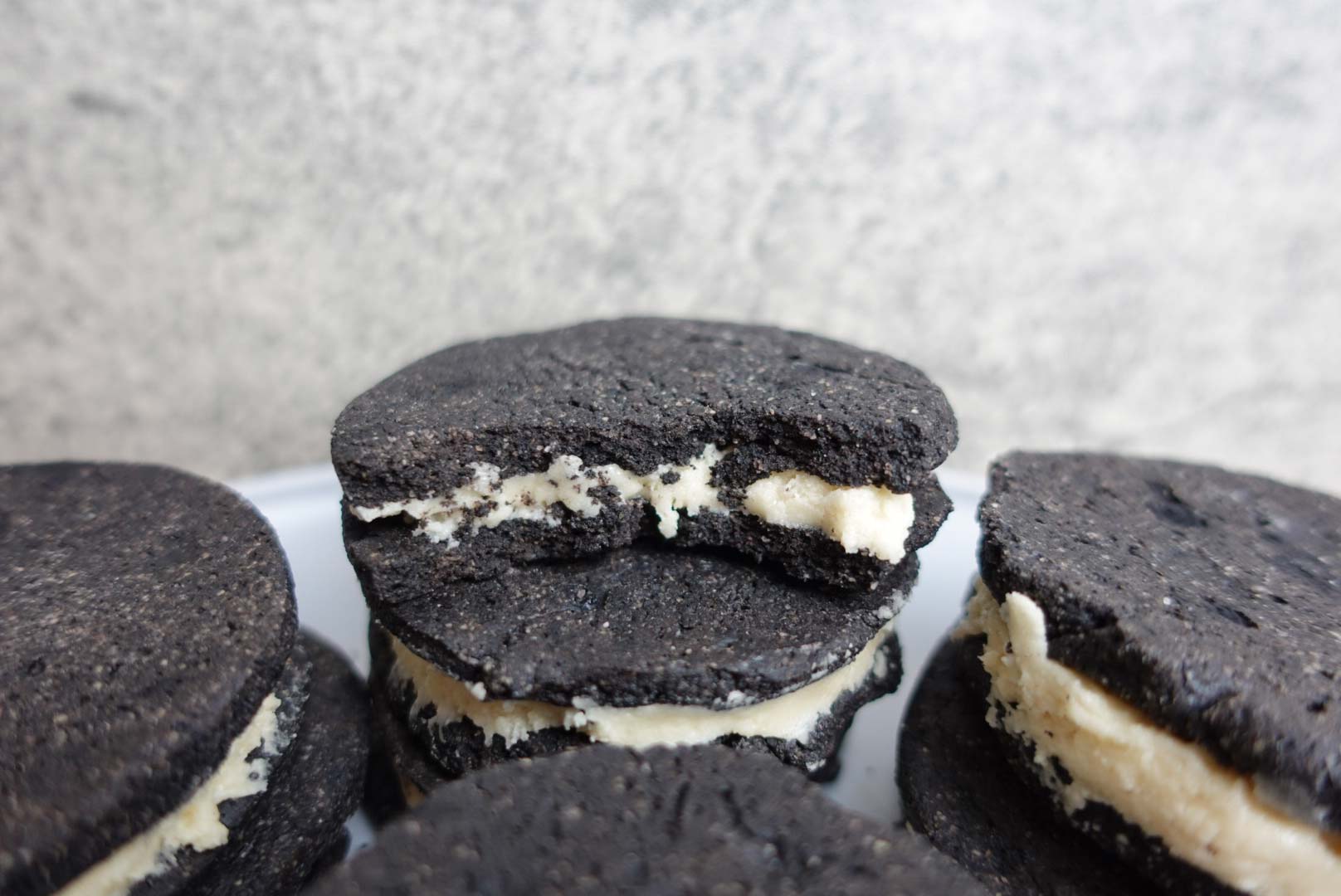 Enjoy these Healthy Protein Oreos right away, or store them in the fridge to enjoy them as leftovers.
You won't want to leave these out at room temperature because the filling will become soft. But if you keep them in the fridge, they'll stay fresh throughout the entire week!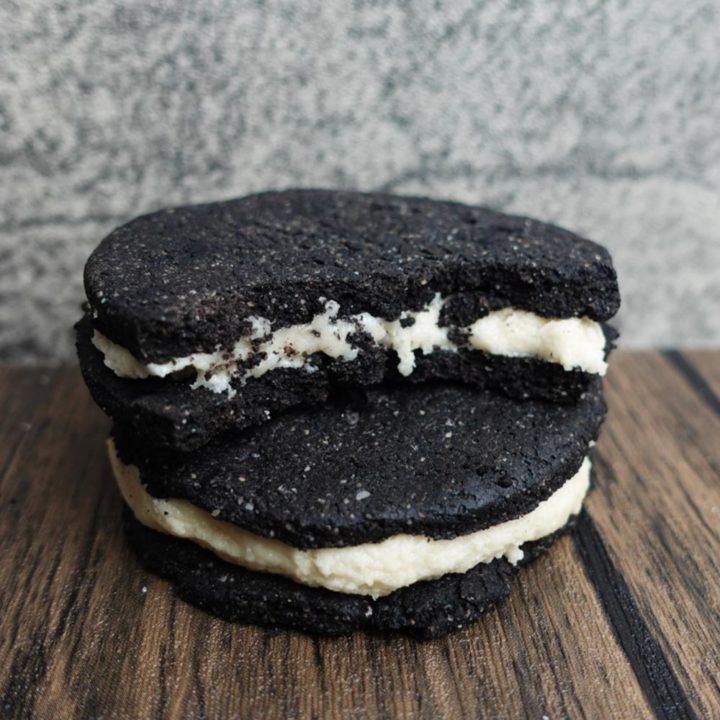 High-Protein Oreos (Sugar-Free & Gluten-Free)
Yield:
10 Large Oreo Cookies
Total Time:
1 hour
25 minutes
Healthy Oreos? Yes please. These homemade Protein Oreos are the real deal. A serving of these is 135 calories, only 9g net carbs, packs 9g of quality protein in, and is completely gluten-free!
Ingredients
Cookie Ingredients
Oreo Cream Ingredients
Instructions
In a large bowl, mix together all of the dry ingredients for your Oreo cookies. It should turn into a gray mixture but don't worry, it will become much darker once we add the liquids.
Add the butter and sugar-free syrup, then use a silicone spatula to mix it all together. Once it starts to form a dough, you can work it with your hands until you have a complete dough ball. Your hands are going to turn a little bit black from doing this, but it rinses off no problem.
Refrigerate the dough for 30-60 minutes.
Preheat the oven to 350 degrees F. Add the dough onto a silicone mat or clean surface (if you don't have a silicone mat, I recommend spraying a surface to avoid sticking) and roll it out flat. We want these cookies to be quite thin (like regular Oreos), but you can roll it out as thick or thin as you'd like. The cookies will expand a tiny bit in the oven, but not too much.
Using a small cookie cutter or cap (I used the cap to a jar of powdered peanut butter) cut cookies out of the dough. Press the cap or cookie cutter down and twist, then add each cookie to a baking sheet. Continue until you cannot cut any more circles out, then re-form the dough that is left over to make as many cookies as possible.
Bake at 350 degrees F for 10 minutes.
Remove the cookies from the oven, then let them cool on a cooling rack for about 3 hours to allow them to fully harden and become crunchy.
While the cookies sit, make the Oreo cream filling. Simply mix together all of the ingredients in a large bowl until you have a nice thick mixture. Refrigerate the filling for at least one hour before assembling the Oreos.
Once the cookies have hardened and the cream filling is chilled, you can assemble your cookies. Simply take a small spoonful of the filling, add it to the center of one cookie, then press down with another cookie. Continue until all of the cream filling has been used.
Store these cookies in the fridge to keep the cream filling firm and enjoy throughout the week!
Notes
I made 10 total cookies, and they were quite large, so the nutrition reflects that. Depending on how thick or thin you roll your dough, and how large the cookies are that you cut, you may end up with more or fewer cookies.
For size reference, each Oreo I made weighed about 45g. A serving of actual Oreos is three cookies, but the total weight is only 34g, so you're getting way more bang for your buck with these! Trust me, one cookie is very satisfying.
I do not count sugar substitutes in my carb totals. If you are strict with your carbs, be sure to include those.
The protein I use is a blend of whey & casein protein. To see how different protein powder affects cookie recipes, check out my Ultimate Protein Powder Substitution Guide.
Recommended Products
As an Amazon Associate and member of other affiliate programs, I earn from qualifying purchases.
Nutrition Information
Yield

10 Large Oreos
Serving Size

1 Cookie Sandwich
Amount Per Serving
Calories

135
Total Fat

7g
Carbohydrates

11g
Fiber

2g
Sugar

0g
Protein

9g