If anyone ever says they don't love cookie dough, they're a big fat liar.
But I suppose there is downside to cookie dough: it's generally not safe to eat raw (although when has that ever stopped us?)
Well, that is no longer than issue with this edible protein cookie dough!
This cookie dough is as authentic as any other cookie dough out there, but this one is loaded up with protein!
It's also gluten-free (and grain free), making it suitable for pretty much everybody out there.
The entire batch contains 485 calories and 40g of protein, and you can break that up into as many servings as ya want. But don't worry: if you eat the entire batch, I won't judge.
How to make protein cookie dough
If you're in search of an easy recipe, this is it.
All we have to do is mix and let sit. If you have zero baking skills, you're safe with this one!
The dry ingredients we need here are protein powder, oat flour, sugar, and coconut flour. Why these ingredients? Don't worry, I'll break them down in the next section for ya.
Then the magic happens when we add in butter, vanilla extract, and a little bit of syrup!
Mix everything together with a silicone spatula and it will all come together. It may seem like it's too dry (like the photo above) but just keep on mixing. It will turn into a beautiful ball of cookie dough: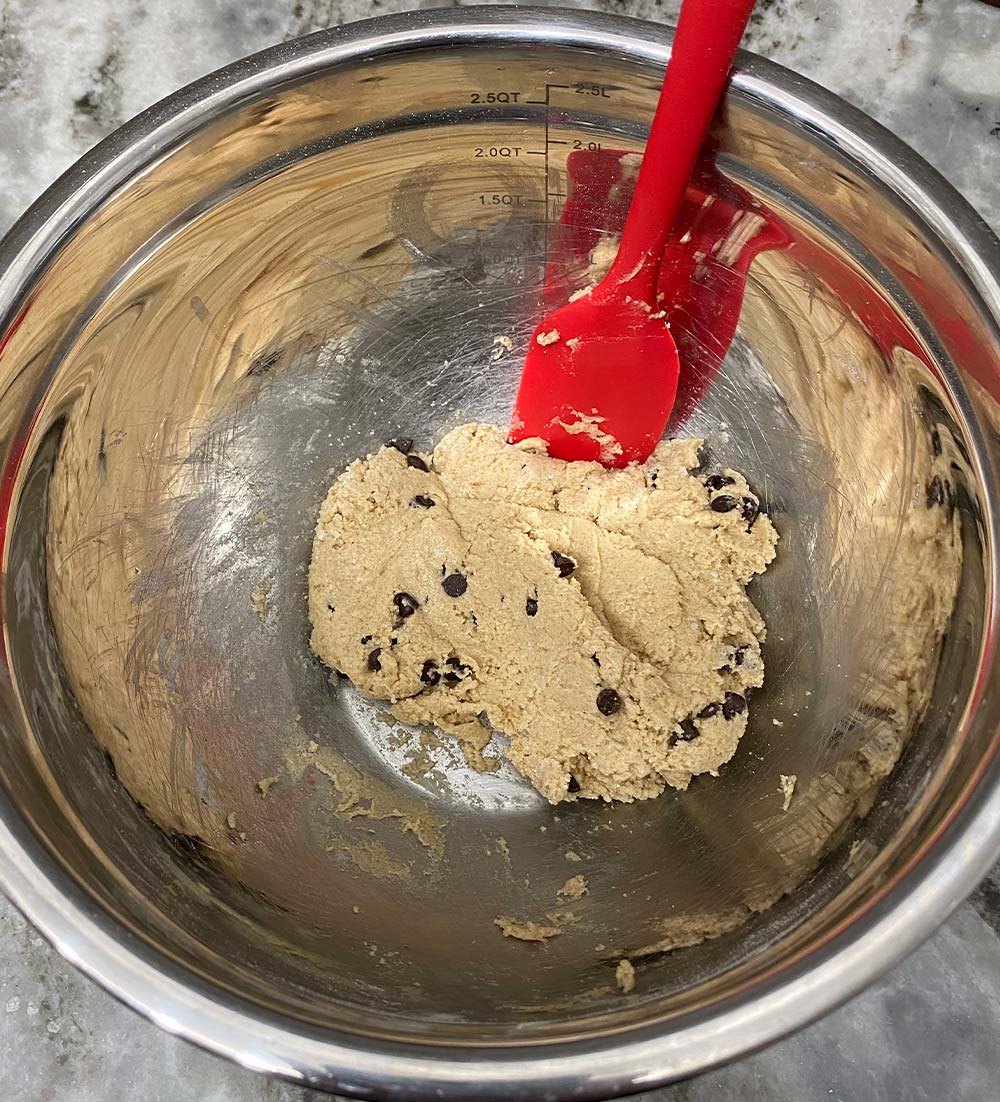 We just need to fold in some chocolate chips at the end and we're good to go!
At this point we're done with all the hands-on steps, but we need to let the protein cookie dough sit in the fridge for at least one hour.
When it comes to no-bake recipes, especially when there is protein powder involved, letting it sit in the fridge is pivotal. This time in the fridge allows the mixture to thicken, and the flavors really develop.
You'll see similar steps with my No-Bake Protein Cookies or No-Bake Sugar Cookie Bars– this chilling is necessary!
Ingredients needed for protein cookie dough
This protein cookie dough recipe doesn't require a ton of ingredients, but that means that the ingredients we do use are important.
Let's run through the main compontents and why I use what I do…
Quest Nutrition Vanilla Protein (whey/casein blend)
I used Quest Nutrition protein powder for this recipe because it's a blend of whey & casein protein (I switch off between this brand and PEScience most often).
If you happen to have whey protein powder AND casein protein powder handy, you can make your own mixture. According to the Quest Nutrition label, the blend is a 60/40 whey:casein blend.
Why use a protein powder blend instead of 100% whey protein?
For starters, because I use a blend in all of my recipes, so it's worth buying in order to make more of my recipes ?
The real reason is that the addition of casein helps the texture SO much, especially in no-bake recipes.
Generally speaking, whey protein will hold structure in your recipes (like if you are baking a cake) but it gets very dry very quickly. The casein is very absorbant and stays very soft, even when baked, which compliments the whey protein very nicely.
Check out my Giant Protein Cookie Recipe for a breakdown of the two types of protein powders. I did a ton of experimenting with both so you can see exactly what I'm talking about!
Country Crock Buttery Spread
Since I never really know what to call this stuff, I figured showing you a photo of exactly what I use would be the most helpful.
To put simply, this is butter with half the calories (50 calories per tablespoon vs 100 calories in a tablespoon of butter).
This is technically a vegetable oil spread, and contains no dairy, so it's safe to eat in a plant-based diet too.
Any kind of spread, like "I Can't Believe It's Not Butter" will work just the same. Or, regular butter will work great. I just like to keep the calories lower when possible.
Sugar-Free Syrup
The syrup helps the overall consistency of the protein cookie dough, but you can play with the exact brand you use.
I use this "Log Cabin" brand because it's super low calorie (10 calories per 2 tbsp) and actually tastes really good. You can use any sticky sweetener you'd like for this recipe, though. Honey would even work, although I recommend sticking with something "mapley" if you can.
Coconut Flour
I very much do not like coconut flour. It has a VERY strong flavor, but when used sparingly, it's sort of a magic ingredient.
I use a small amount in this cookie dough to help with the consistency- without it, the protein cookie dough is not thick enough.
If you don't have coconut flour, you can use a little bit more oat flour in its place. It won't work quite as well, because coconut flour is super absorbant, but it should work well enough.
How to portion this protein cookie dough
You may look at this final product and think "there's no way I won't eat this entire thing."
First of all: go for it! Nobody is stopping ya.
Secondly, I totally understand the dilemma, because it's not a huge portion by any means. I've run into this same issue with the edible brownie batter recipe, too.
However, if you break it down in 2 Tbsp portions (like peanut butter) you'll find that it's quite favorable.
Nonetheless, I don't expect you to just take 2 spoonfuls and call it a day, so a trick I like to use is creating cookie dough bites:
Simple break off pieces of the protein cookie dough and roll them into balls. You can make them any size you want, but by doing this, you create pre-portioned pieces of cookie dough! If you don't want to eat the entire batch, I definitely recommend going this route.
More recipes for cookie dough lovers
Turns out I have a lot of recipes for cookie dough lovers here on my website. If you want to stay aboard the cookie dough train, here are some recommended recipes for ya:
Protein Cookie Dough (Gluten-Free)
Total Time:
1 hour
5 minutes
Who doesn't love cookie dough? Now everybody can love it even more with this edible, gluten-free protein cookie dough!
Ingredients
8g Coconut Flour
28g (2 Tbsp) Light Butter (I use Country Crock brand)
2 Tbsp Sugar-Free Syrup or Sticky Sweetener of Choice
1 Tsp Vanilla Extract
15g Mini Chocolate Chips, or any chocolate chips you prefer
Pinch of Salt
Instructions
In a large bowl, combine all of your dry ingredients (except for the chocolate chips).
Add the butter, vanilla extract, and syrup to the bowl, then use a silicone spatula to make everything up. It may seem too dry, but continue mixing until a dough ball forms.
Fold in your chocolate chips.
Cover the bowl, or add your protein cookie dough into a small tupperware with a lid, and add to the fridge for at least one hour (or overnight). This time in the fridge allows the cookie dough to thicken and for the flavors to develop.
Dig in! You can eat with a spoon, form into cookie dough bites, or anything else you can come up with!
Notes
The protein I use is a blend of whey & casein protein. You can use a 100% whey protein, but it leads to a stickier result. The small amount of casein protein makes a world of difference in making this an authentic cookie dough consistency. If you go with a whey protein powder, add it as the LAST ingredient (after the wet ingredients). It sounds silly, but it makes a huge difference with the consistency.
Along those lines, if you do use whey protein, you may want to bump up the coconut flour a bit to balance out the texture.
This cookie dough tastes much better after it has been refrigerated. You can eat it right away if you're impatient, but giving it at least an hour in the fridge really helps the taste (and makes it feel much more like a real cookie dough).
To store this protein cookie dough, keep it in an air-tight container in the fridge. If it is exposured to air, the cookie dough will dry out.
I do not count sugar substitute in my carb totals because they contribute 0 calories.
Recommended Products
As an Amazon Associate and member of other affiliate programs, I earn from qualifying purchases.
Nutrition Information
Yield

As many servings as you want!
Serving Size

Entire Recipe
Amount Per Serving
Calories

485
Total Fat

20g
Carbohydrates

38g
Fiber

5g
Sugar

1g
Protein

40g