I love my original protein cookie recipe, as well as my super soft protein sugar cookies, but I believe that this high-protein skillet cookie is officially my favorite cookie recipe.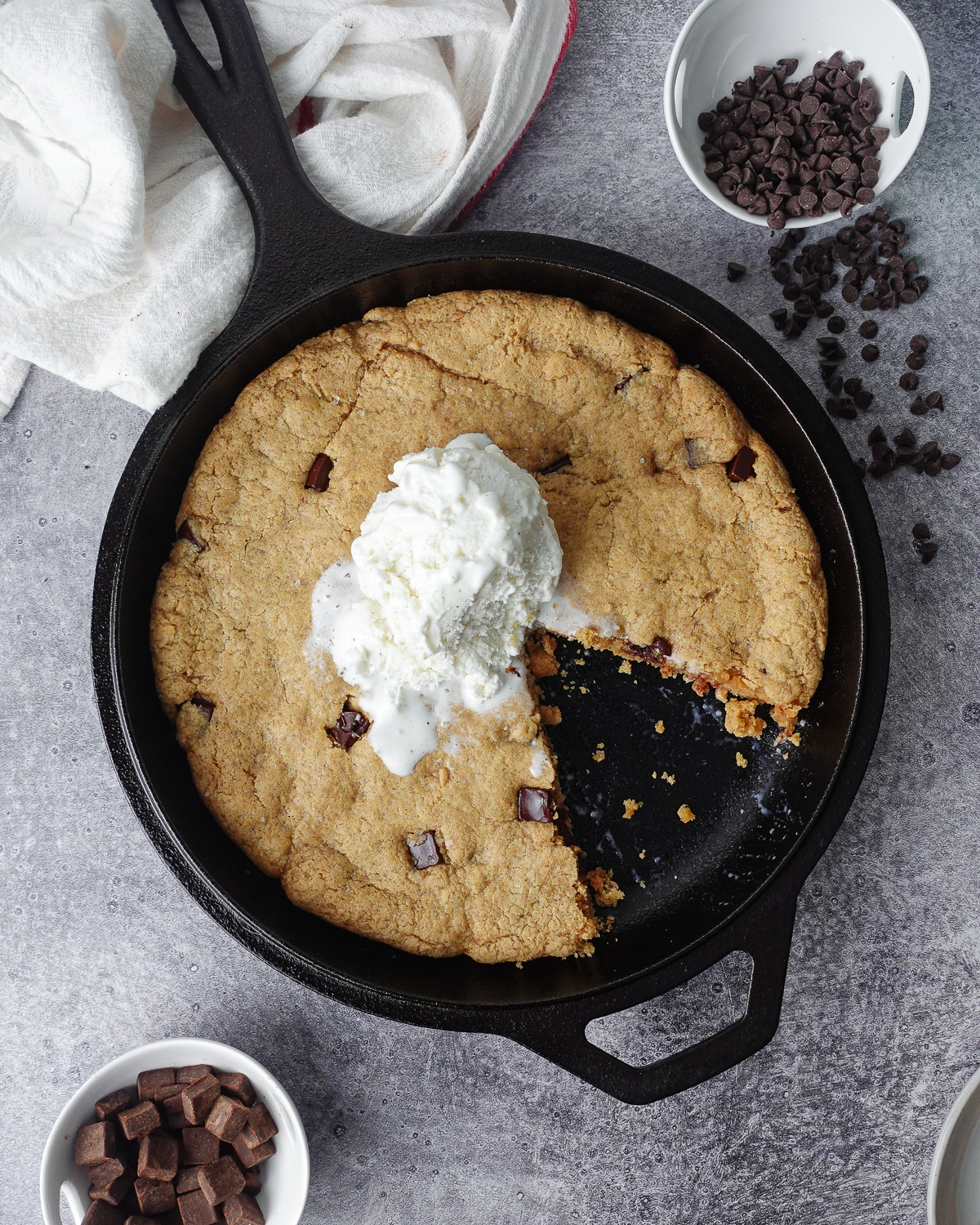 This skillet cookie is soft & gooey, the way any good cookie should be, and it is secretly packed with a ton of protein.
The entire 10″ skillet can be sliced into as many servings as you'd like, but 8 slices is the traditional way to serve it up. When sliced into 8 servings, each slice contains:
190 Calories, 11g Fat, 12g Carbs, 13g Protein.
Based on the texture of this skillet cookie, you'd never know that it had the same macros as a protein bar.
This protein skillet cookie is on the thinner side, like a cookie cake, but you can easily make it thicker if you prefer! Simply use a smaller skillet and you'll have yourself a thick and gooey chocolate chip cookie skillet.
And of course, you're not limited to chocolate chip here, either. Add raisins and cinnamon to create an oatmeal raisin cookie skillet, or add some cocoa powder and use chocolate protein powder to create a double chocolate protein cookie skillet.
Ingredients and substitutions

The ingredients for this healthy skillet cookie are pretty simple overall, but each ingredient is very important. Since there are always questions as to what substitutions you can use, I'll do my best to offer some solutions, but I can't promise the same results with different ingredients.
This recipe is a play off of my half-pound protein cookies, which I tested at least 5 times with different ingredients before landing on the texture I wanted. So, just know that if you make substitutions, the texture may be completely off.
Here are the main ingredients we need to make this protein cookie skillet (amounts are in the recipe card at the bottom of this recipe). I won't include baking soda, salt, and chocolate chips in this list, because those are self-explanatory.
Whey/Casein Blend Protein Powder: I use PEScience in all of my recipes and recommend you do the same. I have not tested this recipe with whey protein or plant-based protein, but the result will likely be dry & crumbly using either of those. A protein blend creates the best texture.
Oat Flour: This is my favorite flour to use for cookies because it has the best flavor, in my opinion. It can be subbed for regular all-purpose flour, whole wheat flour, or a 1:1 gluten-free baking flour.
Almond Flour: This helps to add some additional fat and protein to the recipe, but you should be able to use more oat flour instead to achieve a similar end result.
Creamy Peanut Butter: If you have an allergy, you can use any nut butter or comparable spread like sunflower butter or tahini. In a pinch, you can use regular butter as well.
Light Butter: This is essentially just margarine, which is a half-calorie alternative to full-fat butter. You can use regular butter or coconut oil in its place.
Unsweetened Applesauce: This is an amazing ingredient to help add moisture without adding additional butter. I don't recommend skipping this one, but if calories aren't a concern, you can use additional butter.
Brown Sugar Substitute or Regular Brown Sugar: Brown sugar is what helps keep cookies soft and moist. You can use regular sugar in its place, but the cookie might end up being too cakey.
I highly recommend following the recipe as written, but if you must make substitutions, hopefully that helps!
How to make a protein cookie skillet
This protein skillet cookie is a straightforward recipe, but to achieve the proper chocolate chip cookie texture, there are some important steps we have to follow.
First, mix up all of the wet ingredients in a large bowl. Stir the dry ingredients in, but leave the protein powder out.
This will leave you with a thick paste, but then by adding the protein powder last, it brings everything together to form cookie dough.
Trust me, adding the protein powder last makes a very big difference! Check out my protein cookie dough recipe for a visual representation of the difference it can make.
Once you fold the chocolate chips into the cookie dough, you must chill the dough for one hour.
Waiting is the worst part of any recipe, but one hour of chilling time is necessary for this skillet cookie. If you skip the chilling, the cookie ends up becoming cakey.
After the dough has chilled, you'll press it down into a 10″ cast iron skillet.
Don't worry if the edges aren't perfect because they'll smooth out as the cookie bakes.
Bake the skillet cookie at 325 F degrees for 14 minutes.
Anywhere from 12-15 minutes should work great, but I pulled mine at exactly 14 minutes and it worked perfectly.
If you prefer your cookie to be slightly underbaked, pull it at 12 minutes. All of the ingredients are safe to eat raw, so you can safely underbake this one!
When you pull the skillet cookie out of the oven, it will look a little bit puffed up, but it will sink and set as it cools.
Allow the skillet cookie to cool for one hour before slicing.
Again, I know that waiting is torture, but check out the difference in the skillet cookie immediately after baking and then after one hour:
If you want an authentic chocolate chip cookie texture, allow the skillet cookie to fully cool!
After one hour, you're ready to slice it up and enjoy. Don't worry, even though it has cooled, it will still be soft and gooey.
I highly recommend topping your skillet with ice cream before serving, because the contrast between cold ice cream and warm cookies simply cannot be beat.
This skillet is best served fresh (as is the case with ANY cookie, in my opinion) but that doesn't mean that the leftovers aren't still delicious!

Store leftover slices in an airtight container to enjoy the next day. If you want the cookie slices to last throughout the week, keep them stored in the fridge.
Can you make this recipe without a skillet?
I was curious if this recipe could be made as one giant cookie without a skillet.
I wasn't sure how it would turn out considering the dough itself weighs over one pound…
But it turns out that it works very well!
Follow the recipe exactly as written, but form the cookie dough into an oval on a baking sheet rather than pressing it down into a skillet. I like to make an oval shape, rather than a ball, so it doesn't spread out too thin.
Bake at 325 degrees for 14 minutes, and you'll have yourself a one pound mega cookie!
Just make sure you allow the cookie to cool for one hour before digging in, because it absolutely needs that extra time to firm up inside.
I would never expect you to consume an entire one pound cookie in one sitting, but I won't judge ya if you do.
This entire cookie contains over 1,000 calories, but it does also contain 100 grams of protein, so it could be worse!
Personally, I prefer a skillet cookie because it's much easier to control your portions, but that doesn't mean you can't slice up this high-protein mega cookie the same way!
To each their own. If you prefer a one pound monster cookie, have at it.
More protein cookie recipes to enjoy
As I said earlier, this protein cookie skillet is probably my favorite cookie recipe I have ever made, but I have a ton of honorable mentions.
Cookies are my favorite recipe to make, so I have no shortage of protein cookies on my blog.
It's tough to choose my favorites, so I won't rank them, but here are some of them that you should check out:
Soft & Delicious Protein Skillet Cookie
Total Time:
2 hours
19 minutes
This protein cookie skillet is as soft & decadent as any cookie I've ever had, but each slice is packed with a sneaky 13 grams of protein. Plus, if you prefer to eat low-carb, each serving contains only 10g net carbs!
Instructions
In a large bowl, combine all of the wet ingredients together: peanut butter, applesauce, and butter. Give it a quick mix.
Add the rest of the ingredients except for the protein powder and chocolate chips (so you'll add oat flour, almond flour, baking soda, and salt). Mix until it forms a thick paste.
Add the protein powder last, then mix until it forms cookie dough. At this point, I like to use my hands to bring it all together. Once you have cookie dough, fold in your chocolate chips.
Refrigerate the dough for one hour. This step is very important for an authentic cookie texture.
Once the dough has chilled, preheat your oven to 325 degrees F.
Lightly spray a 10" skillet and press the cookie dough into the skillet so it touches the edges. Note that you can use a smaller skillet to achieve a thicker cookie if preferred.
Bake at 325 degrees for 14 minutes (anywhere from 12-15 minutes should work depending on your oven, but 14 minutes was perfect for mine. You can safely underbake this recipe if you choose as well.)
When you remove the cookie skillet from the oven, it will look a little bit cakey, but it's going to settle as it cools. Allow the skillet to cool for one hour. I know waiting is the worst, but you'll end up with the perfect texture after one hour and it will still be warm & gooey inside.
Top with vanilla ice cream, cut into 8 slices, and enjoy!
Notes
If you don't have a skillet, you can make this as a giant one pound protein cookie! Follow the recipe exactly the same, but instead of forming the cookie in a skillet, form the cookie dough into an oval and place it on a baking sheet. Walkthrough can be seen above this recipe card.
Leftovers can be left out at room temperature for a few days but are best preserved in an airtight container in the fridge.
The skillet cookie will be relatively thin, but you can create a thicker cookie by using a smaller skillet. The bake time should be about the same.
All of the ingredients in this skillet cookie recipe are safe to eat raw, so you can underbake this skillet cookie if you prefer!
I have only tested this recipe with a whey/casein protein blend, which I've found to be superior in baking. If you use 100% whey protein or plant-based protein, I cannot promise the same results.
For additional substitution questions, be sure to check out the post above this recipe card.
Recommended Products
As an Amazon Associate and member of other affiliate programs, I earn from qualifying purchases.
Nutrition Information
Yield

8
Serving Size

1 Slice
Amount Per Serving
Calories

190
Total Fat

11g
Carbohydrates

12g
Fiber

2g
Protein

13g