These Chocolate Crinkle Cookies are easily one of my favorite recipes ever.
I know, that's very high praise. But if you make this recipe, you'll see exactly why I love it so much.
These healthy chocolate crinkle cookies are essentially soft, decadent brownies in cookie form.
They're soft and moist inside, and yet the outside has a slight crisp to them. If you like brownies with crackly tops (who doesn't?) then you're going to LOVE these chocolate crinkle cookies.
Each of these cookies is only 60 calories, contains 4g of protein, and is gluten-free and sugar-free.
Healthy cookies have never tasted so good.
How to make healthy chocolate crinkle cookies
Once you have mixed up the ingredients for your chocolate cookie dough, we have to let the dough chill for one hour.
Since the "crinkle" effect is so important for these cookies, chilling is essential. By chilling the dough, it prevents the cookies from spreading, allowing us to create that crackly effect after they are baked.
If you skip the chilling process, your cookies will spread thinner and you won't achieve the same crinkle effect.
Once the dough has chilled, we're going to roll 9 cookie dough balls and generously coat them in powdered sugar substitute (or regular powdered sugar).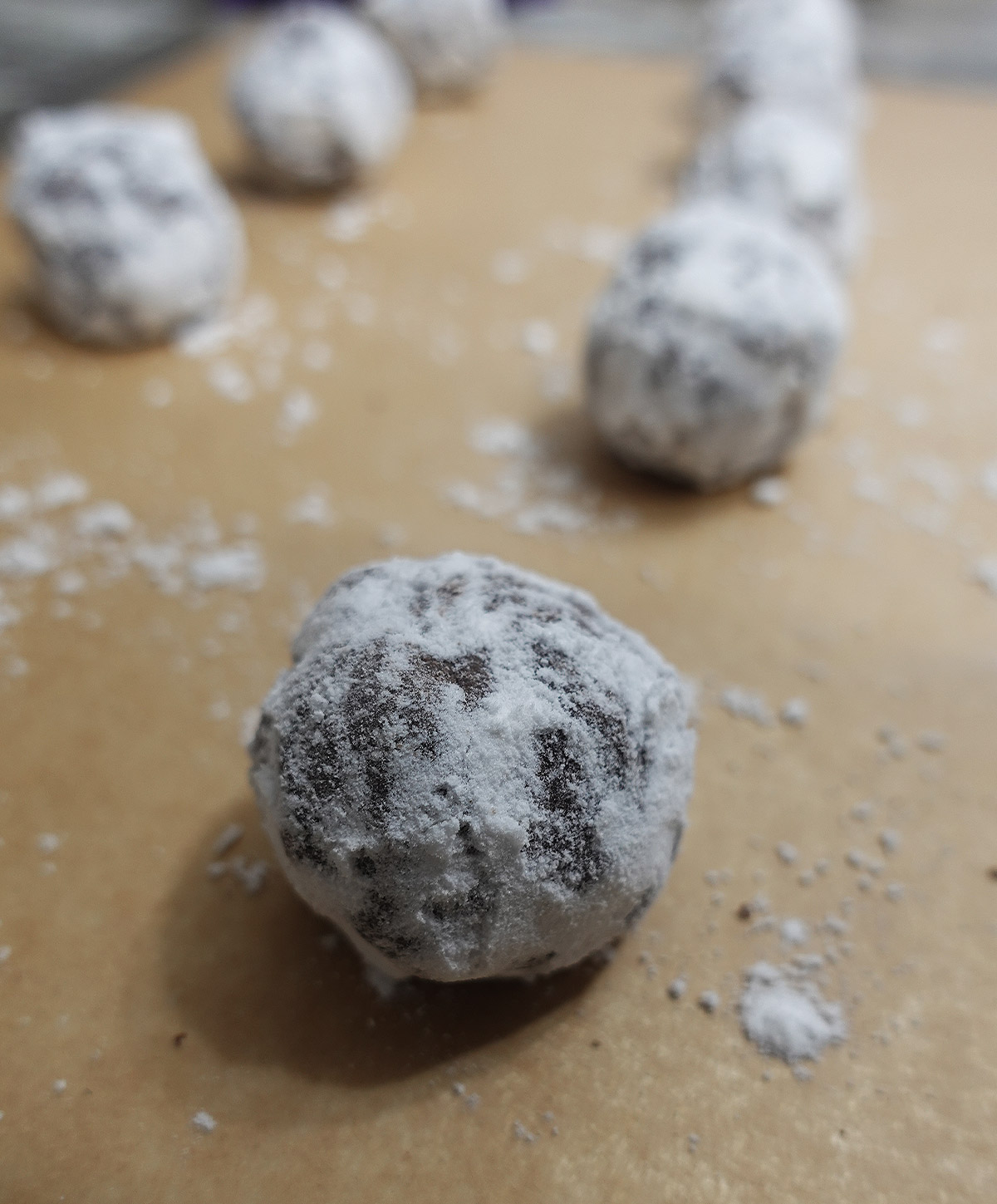 These cookie dough balls should look just like Chocolate Donut Holes at this point (and you can technically eat them at this point if you truly couldn't help yourself since the chocolate cookie dough is safe to eat raw).
Bake the cookies at 350 degrees F for 8 minutes.
Remove from the oven, then immediately press the cookies down with a spatula or with the back of a spoon to create the crinkle effect.
Don't squish the cookies completely flat, because we still want there to be a soft & gooey interior to them. Just a little bit of pressure is all you need to press the tops of these chocolate crinkle cookies down.
Allow the cookies to cool for roughly 10 minutes, then they are ready to be enjoyed.
You can store these cookies at room temperature, or they are great served chilled out of the refrigerator, for up to one week.
More chocolate recipes to enjoy
Ready to get chocolate wasted? While these chocolate crinkle cookies are truly my favorite chocolate recipe on the blog, I have plenty more chocolatey recipes to satisfy your cravings. Here are some of my favorites that are worth checking out:
Healthy Chocolate Crinkle Cookies
I am proudly dubbing this one of my favorite cookies of all time! Think of a moist, decadent brownie, but in cookie form.
Ingredients
30g Oat Flour
10g Unsweetened Cocoa Powder
32g (2 Tbsp) Creamy Peanut Butter
50g Unsweetened Applesauce
1 tsp Baking Soda
30g Dark Chocolate Chips (melted)
Pinch of salt
Instructions
Melt down your chocolate chips in the microwave until melted, about 30 seconds.
Add the melted chocolate and all of your other ingredients to a large mixing bowl EXCEPT the protein powder (that ingredient needs to be added last). Mix everything up until it forms a thick & sticky dough.
Mix in your protein powder last to thicken it into a workable cookie dough. You may need to use your hands to mix until there is no dry powder left.
Refrigerate the dough for one hour to firm up.
After the dough has chilled, preheat your oven to 350 degrees F.
Break off small pieces of the dough and roll them into balls before placing them on a cookie sheet. I made 10 cookies out of my dough, but you can make more or less depending on the size you would like.
Roll each dough ball in powdered sugar to completely coat, then bake for 8 minutes.
Remove the cookies from the oven and immediately press the cookies down with your fingers or the back of a spoon to flatten them and create the crinkle effect.
Let the cookies cool for 10 minutes to firm up inside, then enjoy!
Notes
PEScience Chocolate Truffle protein made the BEST version of these cookies, but I have also used the vanilla flavor for a solid result. That obviously leads to a less rich chocolate flavor, but it still works great.
The protein powder I use (PEScience) is a blend of whey & casein protein. In my experience, this works best for cookies. You can likely use 100% whey, but the resulting cookie may be dry. You can check out my protein powder substitution guide here, and you can save 10% on PEScience protein using the code "Matt"
If you cannot eat peanut butter, you can use any other type of butter in its place. I find the peanut butter & chocolate combo to work great, but regular butter, almond butter, sunflower butter, etc, should all work.
I don't count the sugar substitute in my carb totals, so be sure to include those in your calculations if you are very strict about carbs.
Recommended Products
As an Amazon Associate and member of other affiliate programs, I earn from qualifying purchases.
Nutrition Information
Yield

10
Serving Size

1 Crinkle Cookie
Amount Per Serving
Calories

60
Total Fat

3g
Carbohydrates

6g
Protein

4g