If you want an easy recipe that is nearly impossible to screw up, allow me to introduce you to this Easy Chocolate Fudge Recipe.
When I say easy, I mean easy.
This fudge is not only easy, but it's also low calorie, low carb/ keto-friendly, and has some protein snuck into it!
All we need to do is melt down some ingredients in the microwave for 2 minutes, then mix together the rest of the ingredients for another 5 minutes or so. That's it! Once we let the mixture set in the fridge, it will leave you with soft, chocolatey fudge.
How to make this Easy Chocolate Fudge
The not-so-secret ingredient for this fudge is a sugar-free pudding mix. Using pudding mix allows this fudge to stay soft and smooth, without it becoming too soft.
You don't have to use the sugar-free version, but I like to keep the calories as low as possible in my recipes when I can, so I opted for this one.
Two important notes regarding the chocolate pudding mix:
This is the 1.4oz package. The larger package of pudding mix is over 4oz, so make sure you are using the right one. If you have the larger box, portion out 1.4oz (39g) for this recipe.
This is INSTANT pudding mix, not "Cook & Serve". Since we're not doing any cooking in this recipe, the Cook & Serve Pudding Mix will not work the same. This is called Easy Chocolate Fudge for a reason, so we want to keep things quick and easy.
Okay, now that we have that taken care of- let's walk through the actual process!
First, we're going to melt down chocolate, buttery spread (I use Country Crock spread, but regular butter works great too), and some water. About 2 minutes in the microwave is all ya need:
This will leave us with a watery chocolate "sauce." We'll thicken that up by adding our instant pudding mix and mixing until it thickens.
It's going to seem weird and chunky at first, but keep mixing for about 2 minutes and it will start to come together:
It's going to be oily and gelatinous at this point, but don't worry! This is basically pudding and butter at this stage, so that's normal.
To bring it all together, we're going to add the powdered sugar and continue mixing until that is all fully blended in, and THEN our protein powder last.
When it comes to no-bake recipes, I always recommend adding the protein powder last. When you add protein powder to recipes early, it tends to get sticky. When you add it last, it works great as a thickener.
As you can see by these photos, the easy chocolate fudge starts to come together after adding the powdered sugar (left) but really comes together once the protein powder is added (right):
Now that we have a big ol' ball of chocolate fudge, it's time to form it into our fudge square!
Line an 8×8 tray with aluminum foil (no need to spray) and add your fudge mixture. Flatten it down so it extends to all the edges, and don't worry if it isn't perfectly smooth.
Put this in the fridge for at least 1-2 hours. It should work after an hour, but I found the result more favorable after 2 hours. If needed, you can definitely leave this in the fridge to set overnight, too.
Once set, remove from the fridge, dump the mixture out so it is upside down, and take off the foil. Return the fudge to the pan upside down to reveal the smoother side on top:
Then all that is left to do is slice and enjoy! I sliced these into 16 total chocolate fudge squares, but you can make these as large or small as you'd like. If you want thicker fudge, you can use a smaller tray and cut into fewer pieces. For me, these 16 squares ended up being a great snackable size.
How to customize this easy chocolate fudge
One of the amazing things about no-bake recipes like this is that you can customize them however you want. With this fudge, there are infinite swaps you can make to change up the flavor! Here are some ideas:
Use white chocolate and vanilla pudding mix to create a vanilla fudge like I did in my Cookies & Cream Fudge recipe.
Swap the butter out for peanut butter or a different nut butter.
Instant of chocolate pudding mix, choose a different flavor. Pistachio fudge, anyone?
Use a different flavor of protein powder. I actually used a cookies & cream protein powder in my fudge, and the combo of flavors between the chocolate pudding mix and the cookies & cream protein powder worked out insanely well.
Do any combo of the above!
Here's an example for some peanut butter fudge: Swap the butter out for peanut butter and use white chocolate chips. Use an instant vanilla pudding mix, then add some peanut butter-flavored protein powder. Viola! Healthy peanut butter fudge.
If you decide to get creative with this recipe, please share your recreations with me on Instagram! I always love to see your creativity.
Ps: If you need more chocolate in your life, check out some of my other favorite chocolate recipes: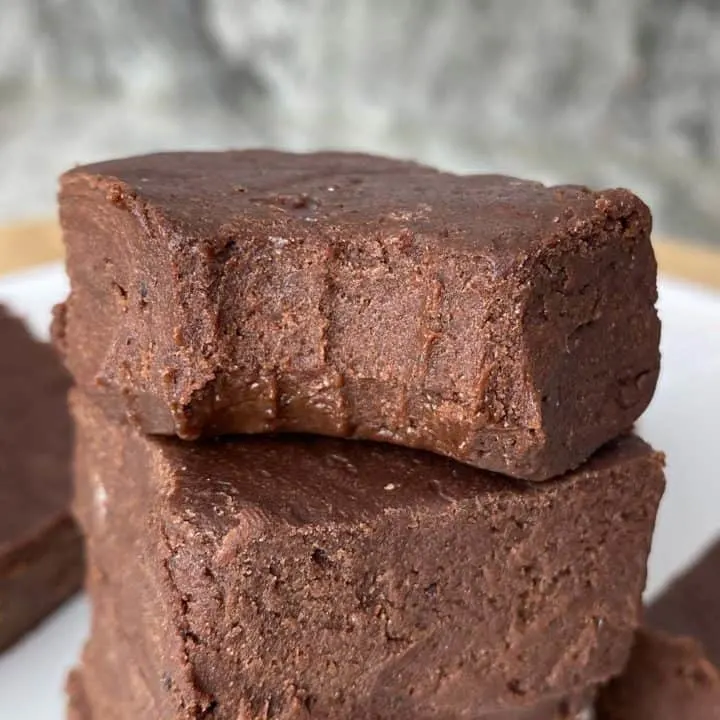 Easy Chocolate Fudge (Keto Friendly)
Total Time:
2 hours
10 minutes
This recipe is SO easy that anyone can do it! Just mix some ingredients together and let them set in the fridge to have delicious chocolatey fudge. Each square only contains 7g of carbs, but you can bring that total down even further with sugar-free chocolate chips!
Ingredients
114g (4oz) Chocolate Chips or Chocolate of Choice
84g (6 Tbsp) Buttery Spread (Can use regular butter)
1/3 Cup Water
1 Package (1.4oz) Sugar-Free INSTANT Chocolate Pudding
Instructions
In a microwave-safe bowl, combine your chocolate chips (or any chocolate you are using), water, and butter. Microwave until melted, about 2-3 minutes (this will depend on your microwave, so check on it after 2 minutes).
Remove from microwave and stir to fully blend everything together.
Add the sugar-free pudding mix and stir for 1-2 minutes. It will come together as your stir. Don't worry that it seems really slimy at this point- trust the process!
Add the powdered sugar and mix with a silicone spatula until it is all fully dissolved. The mixture should be much thicker at this stage.
Finally, add in the protein powder and mix it in. This will really help thicken the mixture, and it should leave you with a beautiful chocolate dough ball.
Line an 8x8 baking tray with aluminum foil (no need to spray) and add your mixture. Using a spatula (or your hands) press the mixture down so it covers the entire tray. Don't worry if it's not perfectly smooth!
Refrigerate the mixture for about 2 hours. At minimum, you want to give it one hour, but I found the texture better after 2.
Remove the fudge from the fridge, then flip over so the fudge falls out. Remove the foil if it came out with the fudge, then return the entire block of fudge into the tray. This step flips the entire mixture over, revealing the smoother side of the fudge on top.
Use a butter knife to slice into 16 total pieces, or as many as you'd like, and enjoy! Keep these covered and stored in the fridge to enjoy throughout the week.
Notes
The protein powder I use is a blend of whey & casein protein powder. This works really well because casein is thicker than whey- when you use whey protein alone, it tends to be pretty sticky. That being said, a whey protein powder should work for this as well.
I used a Cookies & Cream flavored protein powder (Quest brand), which worked very well here. Obviously chocolate makes the most sense, but I ran out. I was not disappointed in the result, that's for sure.
The "buttery spread" I use is Country Crock. It's basically margarine and has about half the calories of regular butter. You can use regular butter or a vegan spread, and you should be able to use the exact same amount.
I use sugar-free chocolate chips a lot, but this recipe calls for a decent amount of chocolate and they are expensive to buy, so I just want with regular ol' chocolate chips this time around. The nutrition reflects regular chocolate chips. If you're keto and want to bring the carbs down, some sugar-free chocolate is the way to go for sure.
I tried freezing these, but they freeze into rock-hard blocks. They will stay plenty firm in the fridge without the need to freeze.
I don't count the powdered sugar substitute as part of my carb total because it contributes no calories (or a very tiny amount). If you want to count the powdered sugar substitute, each piece of fudge will have roughly 22g of total carb (15g from sugar substitute)
Recommended Products
As an Amazon Associate and member of other affiliate programs, I earn from qualifying purchases.
Nutrition Information
Yield

16 Servings
Serving Size

1 Fudge Square
Amount Per Serving
Calories

80
Total Fat

4g
Carbohydrates

7g
Sugar

4g
Protein

3g