It's Peanut Butter Jelly Time!
If you want to have a peanut butter & jelly sandwich, but you also want to eat dessert, these peanut butter & jelly cookies are here to save the day.
Plus, they're packed with a ton of protein.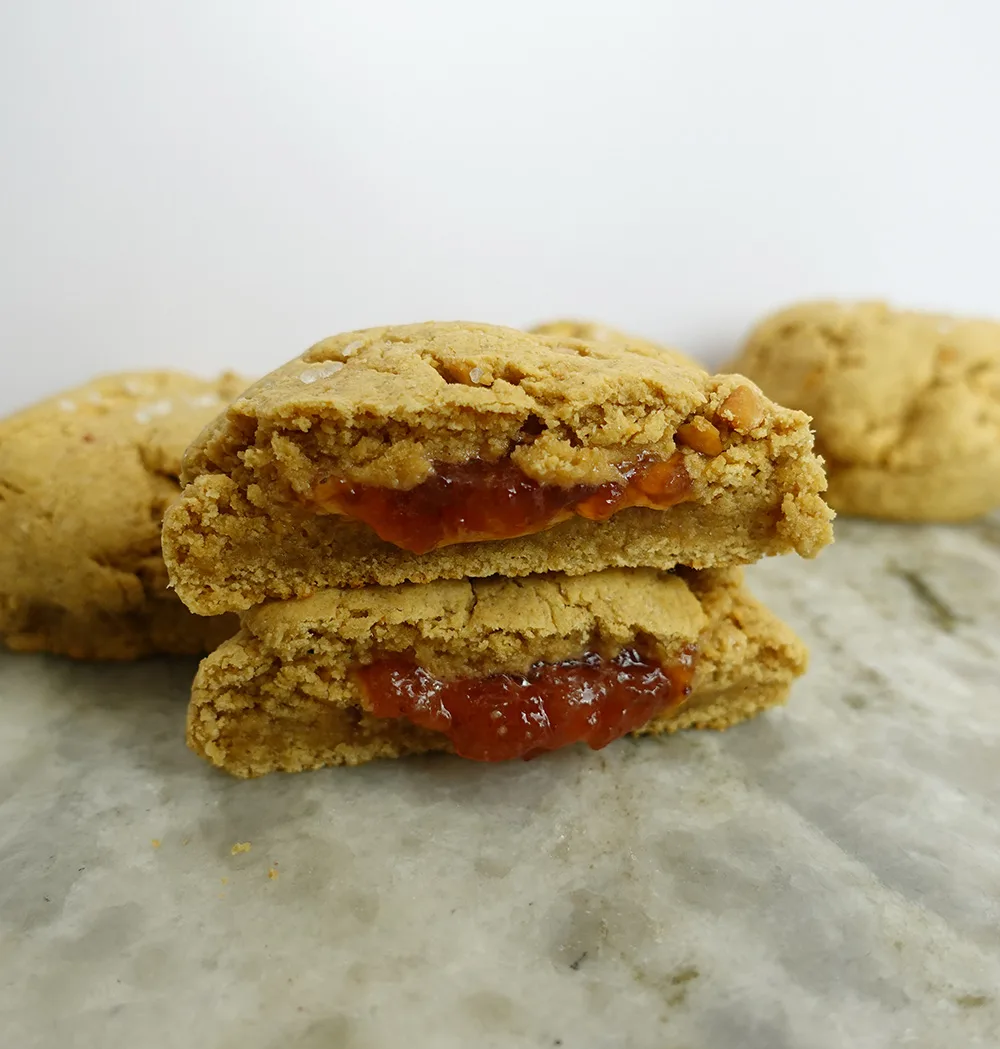 These cookies ended up being SO much better than I hoped.
By making these a bit healthier than traditional peanut butter cookies, I was worried they'd taste too much like protein and not like a classic PB&J.
But these cookies defy the odds- they are AWESOME.
Many years ago, I used to eat Welch's "Graham Slam" sandwiches, which were graham cracker peanut butter & jelly sandwiches. Unfortunately, they were discontinued. Somehow, someway, these cookies taste JUST like those, which I am absolutely thrilled about.
These peanut butter & jelly cookies even held up really well throughout the week and still taste awesome as leftovers. But if you're a fan of toasted peanut butter and jelly sandwiches, you'll want to enjoy these warm and gooey cookies right out of the oven.
How to make these peanut butter & jelly cookies
The process for these peanut butter & jelly cookies is pretty straightforward, but let's quickly walk through the steps for forming these cookies so you don't end up with a huge mess.
First and foremost, we're going to chill the dough for an hour to allow it to firm up. If you absolutely have to skip this step, you can, but as I've learned with my 6oz Chocolate Chip Protein Cookie, chilling the dough helps the cookies to not spread too thin. Plus, if your dough is sticky, the chill time helps to eliminate that.
One chilled, we're going to break the peanut butter cookie dough into 8 total pieces, then flatten them out.
It's okay to not have perfect circles at this point- you'll see it all come together beautifully.
All these peanut butter & jelly cookies require is a small spoonful of jelly, but if you want an extra hit of flavor, add a little bit of peanut butter into the center, too.
Lay the remaining cookies over the jelly, then pinch down the sides to fully enclose the jelly inside these cookies.
Pick up the cookies and do your best to shape them into balls, but be warned that they'll likely crack a bunch. That's totally fine!
Even with cracks in these cookies, the jelly won't ooze out, so you'll be perfectly okay.
Bake these peanut butter and jelly cookies at 350 degrees for about 7 minutes or so. This dough is perfectly safe to eat raw, so you can underbake them as well!
When you remove these cookies from the oven, they won't seem quite done. Allow them to cool for about 15 minutes to allow the inside to firm up and the cookie to flatten out a bit.
As you can see by the photo above, it still looks like a ball, but it will sink a bit as it cools.
Ingredients needed for peanut butter & jelly cookies
No matter the recipe, there are always people who don't enjoy the final product. When we troubleshoot, it almost always comes down to them making substitutions with ingredients they don't like.
If you use a protein powder you think doesn't taste very good, these peanut butter & jelly cookies aren't going to taste very good.
If you fill these cookies with jelly you don't like, they're not going to taste very good.
And so on.
Let's break down some of the key ingredients for this one…
Whey/Casein Blend Protein Powder
There are hundreds (more likely thousands) of protein powder options out there to choose from, so I don't expect you to always use the same protein powder I use.
If you DO want to use the same protein I have, I can't recommend PEScience enough, which is a whey/casein protein blend.
The addition of casein, rather than using 100% whey protein, tends to work better in baked recipes. Whey alone ends up getting quite dry, so the addition of casein leads to a final product with more moisture (and I much prefer my cookies to be soft).
I used PEScience for years before I was able to secure a referral code for ya. Now, if you do want to use the same protein I use, you can use the code "Matt" to save 15% on your order.
Peanut Butter
Peanut butter is a pivotal ingredient here because we want these to actually taste like a classic pb&j.
But when it comes to peanut butter, you can choose whichever type you enjoy.
You can choose crunchy or smooth (I went with crunchy peanut butter, which is why you see pieces of peanuts in mine) but I always recommend using peanut butter without extra "stuff" added. When it comes to peanut butter, I'm a bit of a purist. Just give me peanuts and salt!
Wegmans makes the absolute best peanut butter, but I'm also a sucker for the freshly ground stuff you can get at a lot of stores.
Do not substitute the peanut butter for powdered peanut butter.
We're going to use powdered PB as well for some extra flavor and structure, but we need the peanut butter here to create a cookie that isn't extremely dry. Without the additional fat that peanut butter provides, these cookies would end up very dry and crumbly.
If you try to substitute it for powdered peanut butter, don't say I didn't warn ya.
Jelly Filling
Similar to peanut butter, you can choose any jelly you'd like for the cookie filling.
I used to eat sugar-free jelly to save some calories, but the difference in flavor is night and day. The jelly (or fruit spread) I used isn't insanely high sugar, and the flavor is significantly better than anything sugar-free.
You can use anything you want here since this is only for the filling, and thus will be very forgiving, but I definitely recommend picking something that tastes great.
Measuring your filling (a useful tip)
There's a little kitchen scale trick that is too often overlooked, so I want to run it by you for your memory bank…
For this recipe, I wrote that you'll need 30g of jelly. Should you measure out 30g in a bowl and then add those to your cookies? Nah, that just dirties up a bowl for no reason.
Instead, use the negatives on your kitchen scale:
Put your container on the scale (without the lid) and zero it out. Then, simply scoop out the jelly and fill all of your cookies.
The weight will drop down into the negatives. Once I filled all my peanut butter & jelly cookies, I was left with approximately -30g, meaning I used 30g total.
I use this technique all the time, and it makes things way easier so you don't have to mess with extra dishes!
By the way, this kitchen scale was only $15 on Amazon, and it has been awesome for me. I love that it includes decimals, so you can get very exact. Here's a link if you're on the hunt for a new scale.
More Recipes for Peanut Butter Lovers
If you love peanut butter as much as I do, here are some more recipes of mine that you're sure to love
High-Protein Peanut Butter & Jelly Cookies
Inactive Time:
15 minutes
Get your peanut butter & jelly fix and dessert fix at the same time, all while getting in a ton of extra protein. This recipe makes 4 large cookies, but you can make 6 slightly smaller cookies if ya need to save some calories.
Ingredients
28g Oat Flour
16g Powdered Peanut Butter (I used PBFit)
Pinch of Salt
1/2 tsp Baking Soda
45g (3 Tbsp) Peanut Butter of Choice
30g Unsweetened Applesauce
1 tsp Vanilla Extract
1-2 Tbsp Milk of Choice (I use Silk Protein)
30g Preserves or Jelly/Jam of Choice
Instructions
In a large bowl, mix together all of the dry ingredients to avoid any clumping.
Add the peanut butter, applesauce, and vanilla extract, then mix together.
Since the dough will still be crumbly and dry at this stage, add milk one tablespoon at a time to bring it all together. Since the exact amount of liquid needed will depend on the brand/type of protein powder you use (since different protein powders will require more or less liquid) start with one tablespoon and use two if needed.
Add your dough to the fridge for 30-60 minutes to firm up. If you are using a 100% whey protein powder, it's much more important to refrigerate the dough for 1 hour. This helps prevent the cookies from spreading too thin, which is especially important with whey protein.
Once the dough is chilled, preheat your oven to 350 degrees F and prep a baking sheet with either parchment paper or a silicone baking mat.
Take your dough and break it up into 8 roughly equal-sized pieces. Roll them in your hands to create balls and add to your baking sheet. Your dough shouldn't be too sticky at this stage, but if it is, wet your hands with cold water to prevent the dough from sticking to your hands.
Flatten your dough into discs. Take your jelly or preserves and spoon it onto the center of half of your cookies, leaving enough room around the edges to seal them up (add a little extra peanut butter into the center if you'd like to, as well).
Take the remaining cookies and place over the top of the jelly, pinching down the edges to seal the cookies. Pick up each cookie and form them into a ball the best you can (it's okay if there are cracks in the cookies), then place them back on the baking sheet.
Bake the cookies for 7-8 minutes. Since this dough is safe to eat raw, you can bake these for less time to achieve a softer cookie, but 7 minutes worked out great for me.
Let the cookies cool for about 15 minutes to allow them to firm up, then dig in.
Notes
Note that I do not count sugar substitutes as part of my carb total since they do not contribute any calories.
If you have a peanut allergy, you can also use almond butter and almond flour in place of peanut butter and powdered peanut butter, if needed. In one of my trials, I used the same amount of almond flour in place of peanut butter powder and it worked great.
These peanut butter & jelly cookies keep great as leftovers. I store mine in the fridge and enjoy them throughout the week.
The protein powder I use is a blend of whey & casein protein. To see how different protein powder affects cookie recipes, check out my Ultimate Protein Powder Substitution Guide.
Recommended Products
As an Amazon Associate and member of other affiliate programs, I earn from qualifying purchases.
Nutrition Information
Yield

4
Serving Size

1 Large Cookie
Amount Per Serving
Calories

180
Total Fat

7.5g
Carbohydrates

15g
Protein

15g