Reese's Peanut Butter Cups are the best candy on the planet, and I'll fight anyone who says otherwise.
There is just no better combination in this world than peanut butter and chocolate, and Reese's has nailed that combination absolutely perfectly.
Today we're going to make our own Reese's Peanut Butter Cups, but with over 2x the protein!
I know what you're probably thinking: "there's no way that healthy peanut butter cups actually taste like Reese's."
Trust me, I'm as surprised as you are, but these are seriously incredible. As an avid Reese's lover, I can assure you that these taste surprisingly similar. Of course, there's a slight difference since Reese's Cups are the perfect snack, but these are as close as you're going to get.
One high-protein peanut butter cup contains 100 Calories, 8g Fat, 3g Carbs, and 5.5g Protein
A pack of Reese's Cups is 210 Calories with 5g of protein, and our version will be 200 Calories with 11g of protein for 2 peanut butter cups, which is nearly identical to Quest Nutrition peanut butter cups!
How to make protein peanut butter cups
The star of peanut butter cups is obviously the peanut butter filling!
Reese's Cups are filled with a combination of peanut butter & sugar, but we're changing that up by adding protein powder into the mix.
Specifically, I used PEScience Peanut Butter Cookie protein powder. Any peanut butter flavored protein powder should work, but there are 2 reasons why I chose to use this particular protein powder:
The flavor of this particular protein powder compliments the peanut butter PERFECTLY. Seriously, you can't tell that there is protein powder in this at all.
PEScience is a blend of whey & casein protein powder, which leads to a thicker end result than whey protein alone. Whey protein might work okay in this recipe, but the addition of casein really helps create a favorable texture.
Seriously, that peanut butter filling comes out perfect:
I recommend PEScience in all my recipes, and you can use my referral code "Matt" at checkout to save 10% on your order!
Once you've made the peanut butter filling by mixing together the creamy peanut butter, powdered sugar substitute, and protein powder, it's time to make the chocolate coating.
To make the chocolate, all you need to do is melt coconut oil in the microwave until it's completely liquified.
Then, whisk in cocoa powder, powdered sugar, and some chocolate protein powder until you have a chocolate sauce.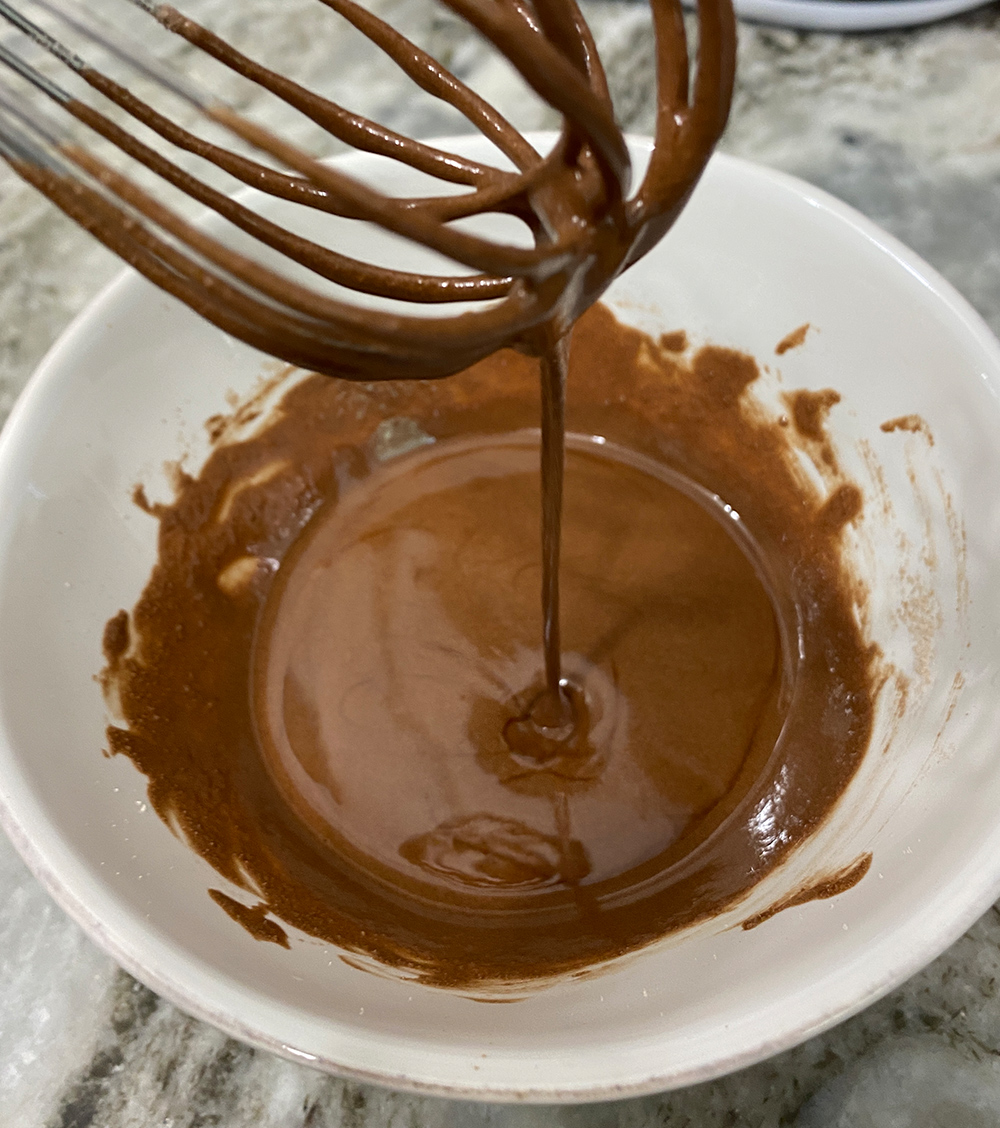 There will be a very slight grittiness to the chocolate sauce, but that's due to the protein powder not fully absorbing into the coconut oil.
To combat this issue, I like to combine the 3 ingredients (cocoa powder, powdered sugar, and chocolate protein powder) in a spice grinder and grind it up into a fine powder: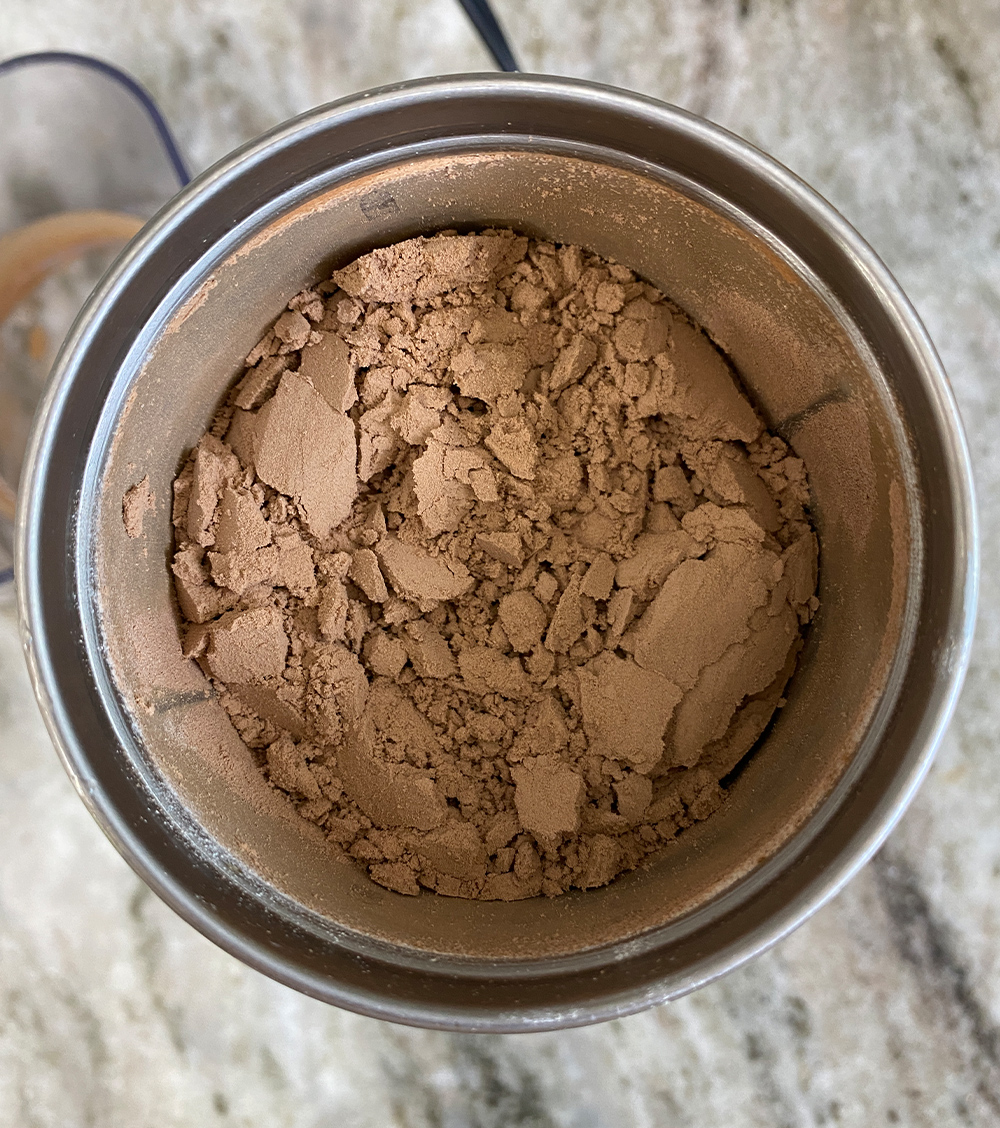 This step can be skipped, but I find it helps to create a smoother end-product. If you mix the ingredients into the coconut oil without blending them down, it will still absolutely work.
If you want to keep things simple, you can also use chocolate chips (milk or dark chocolate chips) and simply melt them down into a chocolate sauce. While much easier, that will also come with a higher calorie count.
Now that you have the two components, it's time to put it all together! Here's a quick visual on creating the protein peanut butter cups.
Break the peanut butter filling into 2 pieces and add to a muffin tin lined with cupcake liners.
Press the peanut butter down into discs.
Drop each peanut butter disc into the chocolate mixture, then use 2 forks to make sure it is fully coated before returning to the cupcake liner.
Take the remaining chocolate sauce and spoon it over the tops of the peanut butter cups to create smooth tops (you should have enough to cover most of the peanut butter, but it's okay if there are small pieces still showing like above).
Refrigerate for 30 minutes to allow the chocolate coating to harden, then enjoy!
These protein peanut butter cups have the perfect chocolate to peanut butter ratio in my eyes, but as you can see, the chocolate is relatively thin. If you prefer more chocolate, you can definitely make extra.
These protein peanut butter cups are best stored in the fridge to keep them solidified, but they're also incredible frozen! Personally, I prefer to keep these stored in the freezer, because everyone knows that Reese's Cups taste better frozen.
Possible substitutions for protein peanut butter cups
Since I always get lots of questions on making substitutions, here are some of the common questions I'd like to get ahead of:
Creamy Peanut Butter: If you have a peanut allergy, you can use any nut butter you'd like. This will change these from being peanut butter cups, but almond butter or sunflower butter would work just fine in terms of texture. Don't use powdered peanut butter in its place or the flavor will seriously suffer (trust me, I tried it and did not love the final product).
Coconut Oil: Works perfectly because it becomes a liquid when heated and then completely hardens when chilled. Unfortunately, there is no substitution for this as butter or another oil won't work. However, you can use melted down dark chocolate as the coating instead of making your own if it's totally necessary. Any chocolate chips will work as melted chocolate since it will solidify once chilled, it will just add additional calories.
Protein Powder: When it comes to protein powder, making substitutions is pretty iffy. Since this is a no-bake recipe, you can likely swap out the protein powder for different types if needed, but I can't guarantee the same results.
Plant-Based: Good news! If you want to make this plant-based (and still high-protein), here's a test batch I made that worked out great: swap the peanut butter protein powder for powdered peanut butter, using the same amount. For the chocolate, sub a vegan chocolate protein powder but double the amount of sugar used to offset the earthy flavor of plant protein.
Need more chocolate + peanut butter? Check out these recipes.
When I say that Reese's are my favorite candy of all time, it's because chocolate + peanut butter is an unbeatable flavor combination.
If you're fiending for more, here are some more recipes from my blog you're sure to love: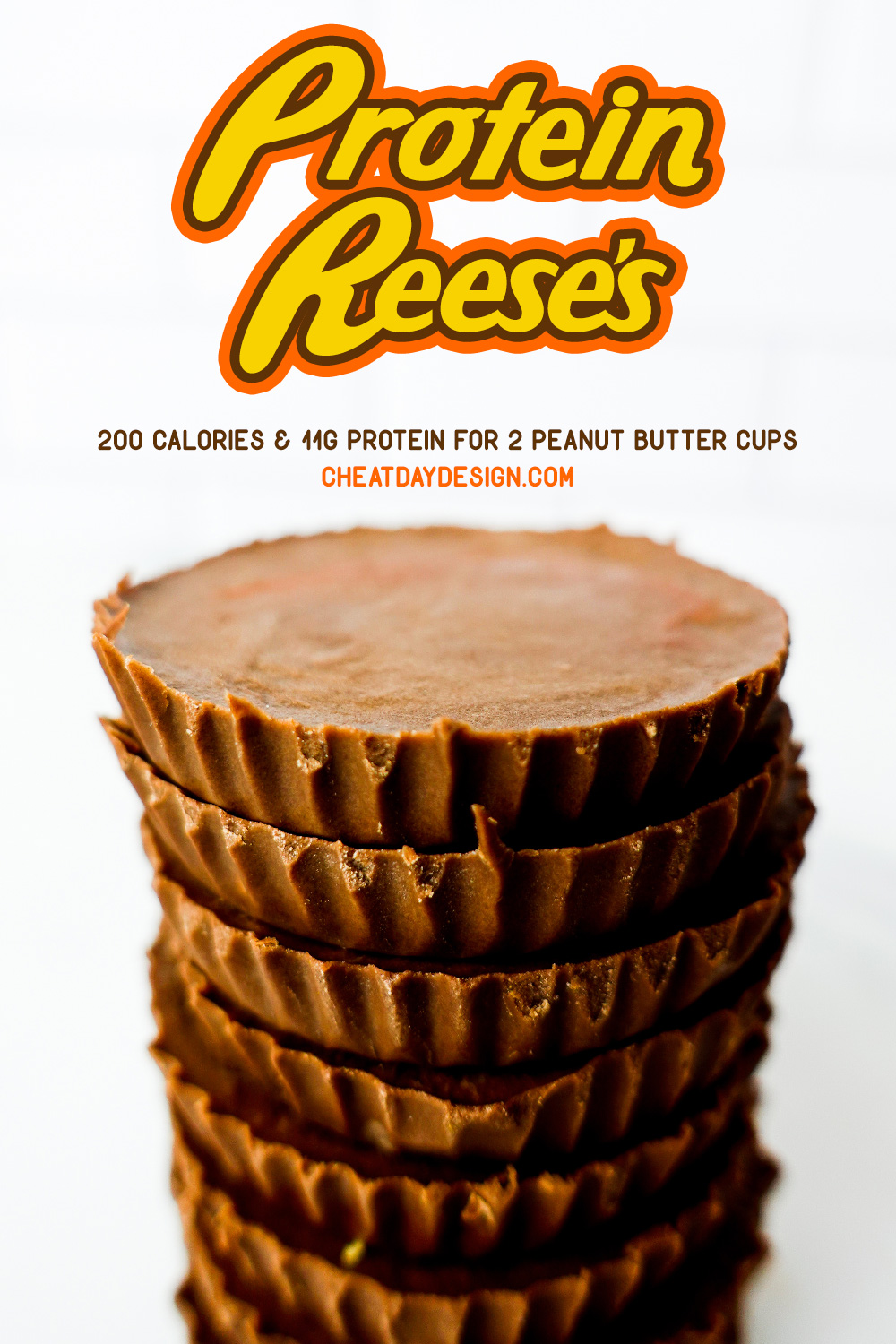 Protein Peanut Butter Cups
Yield:
12 Peanut Butter Cups
Additional Time:
30 minutes
Would you believe me if I said you can make your own Reese's Peanut Butter Cups at home, but with 11g of protein? What if I told you that these taste nearly identical to actual Reese's? Well, my friends, both of those statements are true, and you're going to have to taste these to believe it.
Ingredients
For Peanut Butter Filling:
For Chocolate Coating:
56g (4 Tbsp) Coconut Oil
10g Unsweetened Cocoa Powder
Instructions
Add your creamy peanut butter to a bowl and microwave for 30 seconds to melt it down.
Add the scoop of protein powder and powdered sugar, then mix until it forms a thick dough-like mixture (I ended up mixing with my hands). Refrigerate for 30 minutes (or put in the freezer for 10 minutes to speed the process) to allow the peanut butter to cool and fully set.
After 30 minutes, we'll prep the chocolate coating.
Melt coconut oil in the microwave for 30 seconds until it is completely liquified.
Mix together the chocolate protein powder, cocoa powder, and powdered sugar in a small bowl to avoid any clumping. At this stage, I blended the mixture up in a spice grinder to form a very fine powder, but you can skip that step if necessary. I've found that blending it up helps to eliminate any possible grittiness once it sets, so I recommend it if you can, but I tested a batch without blending and it still worked out fine.
Add the chocolate powder mixture to the coconut oil and whisk together to make a chocolate sauce.
Take a cupcake pan and line it with cupcake liners. Remove your peanut butter mixture from the fridge, break off small pieces, and press them into discs at the bottom of each cupcake liner. You should have enough peanut butter to fill the bottom of each liner (12 total).
Remove the peanut butter from each cupcake liner (we just add them in there to shape them) and set them aside.
Drop each peanut butter disc into the chocolate sauce and make sure it is completely covered in chocolate. Use 2 forks to lift the peanut butter disc out of the bowl and allow excess chocolate to run off, then drop it into one of the cupcake liners. Continue for all 12.
At this stage, your peanut butter cups and going to look ugly with a lot of peanut butter showing. Don't worry! You'll have chocolate sauce leftover, so spoon that over the top of each peanut butter cup to create a smooth top. They won't be flawless, but that's A-OK. You should have the perfect amount of chocolate for 12 cups, but you can always make more if you're feeling extra chocolatey.
Add your peanut butter cups to the fridge for about 30 minutes to allow the chocolate to harden, then dig in!
Notes
How to make plant-based protein peanut butter cups:
Follow the recipe as-is, but swap the peanut butter protein powder for powdered peanut butter (like PB2) using the same amount.
For the chocolate coating, swap the protein for a plant-based chocolate powder. Since plant-based protein powder has a strong flavor, double the amount of powdered sugar in the chocolate.
I tested this and it worked great! The flavor definitely changes a bit due to the Earthiness of plant-based protein, but it certainly works if you're plant-based.
General recipe notes:
Don't swap creamy peanut butter for powdered peanut butter. Whenever I make a recipe with peanut butter, people ask me if they can sub powdered peanut butter, but it doesn't work here. Correction: technically it works, but it doesn't taste like an authentic peanut butter cup in the slightest. Real peanut butter makes a WORLD of difference.
Peanut Butter Cookie PEScience powder works SO well in these peanut butter cups for 2 reasons: 1) The flavor compliments the peanut butter perfectly and you can't taste protein powder in the slightest (my wife is my anti-protein powder taste tester and she approved these). 2) The whey/casein blend creates the ideal thick mixture vs whey protein alone that will end up stickier.
When it comes to the chocolate coating, it's more forgiving, so chocolate whey protein should work. I used PEScience Chocolate Peanut Butter Cup protein for the obvious flavor compliment, but you can swap that out for another brand.
I tried a batch with melted dark chocolate for the coating instead of the coconut oil mixture and it works great, but it comes with extra calories. Feel free to just melt down some chocolate for your coating if you prefer.
I recommend keeping these stored in the fridge so they don't melt on you, and you can even store them in the freezer so they last you months. I mean, Reese's are best when they're frozen anyway.
Recommended Products
As an Amazon Associate and member of other affiliate programs, I earn from qualifying purchases.
Nutrition Information
Yield

6
Serving Size

2 Peanut Butter Cups
Amount Per Serving
Calories

200
Total Fat

16g
Carbohydrates

6g
Protein

11g