If you love peanut butter as much as I do, then you're going to absolutely love this creamy homemade protein peanut butter!
Regular peanut butter is absolutely delicious, the only problem is that with 200 calories for just 2 tablespoons, it's not the most diet-friendly food out there.
Well, our high-protein peanut butter is going to completely change that.
Two tablespoons of our homemade peanut butter contain just 90 calories and 9 grams of protein! Plus, it tastes just as good as any peanut butter you'd buy at the grocery store.
You can enjoy two servings of this protein peanut butter for just 180 calories and 18 grams of protein, which is as much protein as most store-bought protein bars you'll find.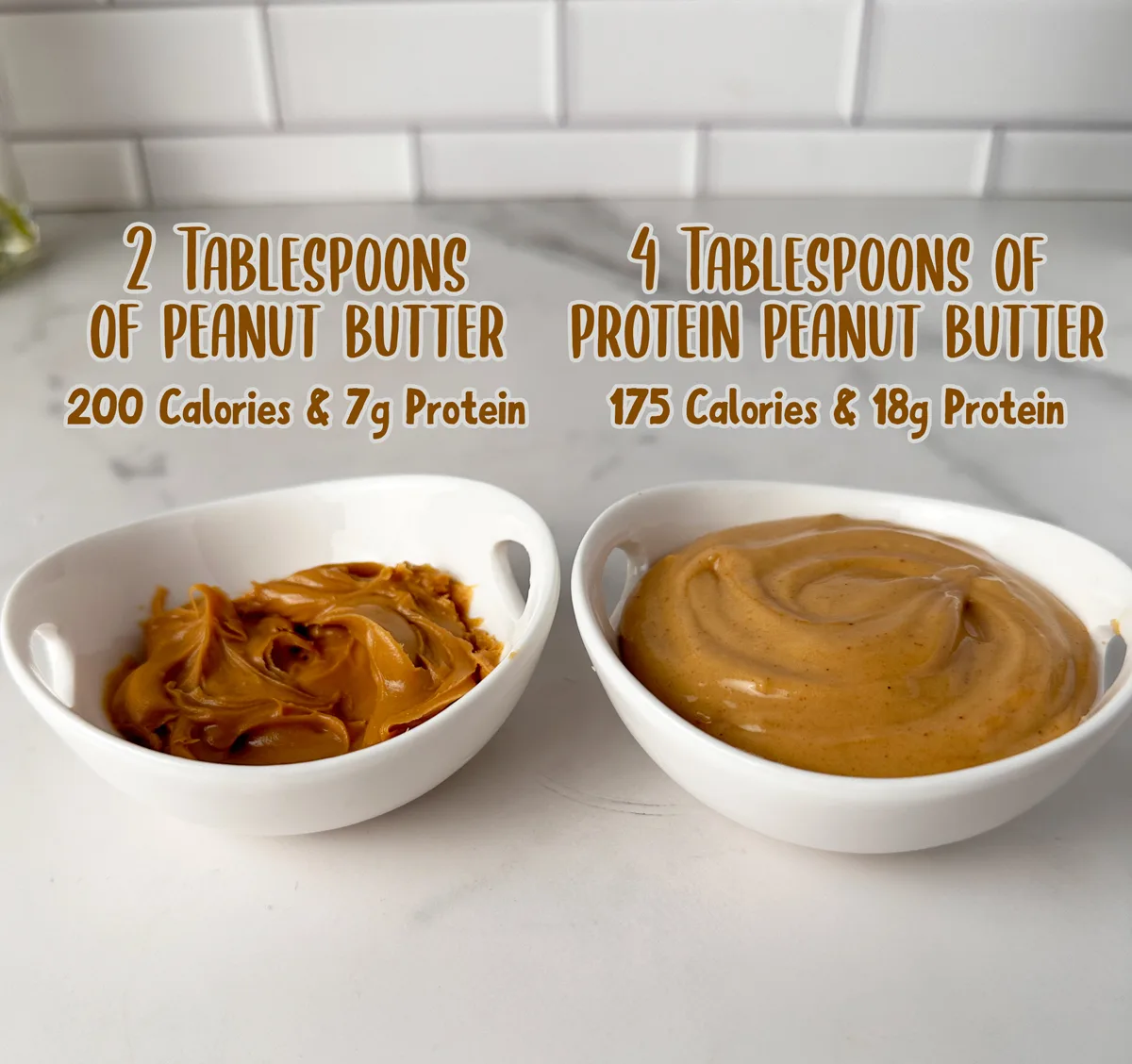 If you need a quick breakfast or an easy way to get in some extra protein, this protein peanut butter is perfect for you.
How to Make Protein Peanut Butter
With just a few simple ingredients, you can have a full jar of protein peanut butter ready in minutes.
Here's what you'll need (amounts are in the recipe card below):
Creamy Peanut Butter (I prefer to use natural peanut butter)
Peanut Butter Powder (like PB2 or PBFit)
PEScience Peanut Butter Protein Powder (more on that in a minute)
Sugar Substitute (a very small amount)
Salt
Water
All you need to do is add everything to a high-speed blender or food processor and blend until smooth. Pretty straightforward, right?
Since this is such a simple recipe, the ingredients you use are very important and can make all the difference.
I use PEScience protein powder, which is a blend of whey & casein protein powder, and I highly recommend you do the same. I haven't tested any whey protein powder or plant-based protein powder, but I did test a bunch of variations for my Protein Cookie Butter recipe, so you can see those results and how big of a difference each type of protein powder made.
​The combination of whey & casein protein powder leads to the perfect consistency, and the peanut butter flavor is perfect for this recipe. You can use my code, "Matt," to save 10% on any PEScience order.
You can use vanilla protein powder if that's all you have, but it will result in a vanilla flavor in the end result. If you want authentic peanut butter, a peanut butter-flavored protein powder is the way to go.
I also add a very small amount (just 5 grams) of sugar substitute to this recipe to balance out the protein powder. With no-bake recipes (like my homemade protein bars), a small amount of added sugar goes a very long way in developing the flavor. You can omit it if necessary, but for best results I recommend leaving it in.
You might be tempted to try to save calories by swapping out the creamy peanut butter for more peanut powder, but don't do it! The peanut butter in this recipe gives us the healthy fats we need to create the perfect peanut butter consistency.
I prefer my protein peanut butter spread to be nice and creamy, but if you prefer thicker peanut butter, you can use slightly less water when blending. When I first tried this recipe out I didn't add enough water for my liking, but it still turned out great.
If your personal preference is to have thicker peanut butter, you can use less water to achieve a thicker spread. Or you can swap with water out for unsweetened almond milk or other milk of your choice, which will lead to a thicker result.
Chunky peanut butter fan? You can also stir some crushed peanuts into your peanut butter spread! You can either add peanuts to the blender at the very end or crush the peanuts separately and stir them directly into the peanut butter.
How to Store Protein Peanut Butter
I never quite understood the reasoning for storing peanut butter in the fridge, because I prefer my peanut butter to be silky smooth and easy to spread.
Luckily for me, this recipe doesn't require any chilling. Simply keep the protein peanut butter stored in an airtight container and it will stay nice and fresh. When you want a quick healthy breakfast, you can just open up the jar and throw together a quick sandwich (with extra peanut butter since it contains half the calories) and be ready to rock.
If you prefer your peanut butter chilled, you can keep the jar stored in the fridge. When you do this, the protein peanut butter will thicken a bit as well, so if you prefer thicker peanut butter, that will be the best route for you.
More High-Protein Recipes for Peanut Butter Lovers
​Since you clearly love peanut butter, I've got a ton of awesome peanut butter-related recipes to help you hit your protein goals.
If you only make one recipe, let it be the protein peanut butter cups. Each one truly tastes like a Reese's peanut butter cup, and it's a great way to get some extra protein in without tasting it in the slightest.
Of course, the other recipes are all good options as well for a healthy diet as well, but it's tough to beat a Reese's cup.
Creamy Protein Peanut Butter (Low Calorie and High Protein)
Everybody loves peanut butter, but not everybody loves the fact that just two tablespoons contain nearly 200 calories. Our protein peanut butter contains just 90 calories for two tablespoons and an impressive 9 grams of protein!
Ingredients
36g (3 Tbsp) Powdered Peanut Butter
5g Sugar Substitute (Or Regular Sugar)
64g (1/4 Cup) Creamy Peanut Butter
1/4 tsp Salt
2/3 Cup Cold Water
Instructions
Add all of your ingredients to a high-speed blender and blend until smooth.
Store in an airtight container and allow the protein peanut butter to cool for a few minutes before enjoying.
Leftovers can be kept at room temperature, but if you prefer your peanut butter chilled and thicker, it can be stored in the refrigerator.
Notes
PEScience is a blend of whey & casein protein powder. I did not test this recipe with another type of protein, so I cannot guarantee the same consistency with other types.
For thicker peanut butter, use less water (around 1/2 cup).
If you prefer chunky peanut butter, you can add peanuts to the blender at the end and pulse a few times to break them up into smaller pieces, or you can crush peanuts directly into the protein peanut butter and stir them in.
Peanut butter flavored protein is important here to achieve a true peanut butter taste, but you can play with the flavors to create different peanut butter variations as well.
Recommended Products
As an Amazon Associate and member of other affiliate programs, I earn from qualifying purchases.
Nutrition Information
Yield

9
Serving Size

2 Tbsp
Amount Per Serving
Calories

90
Total Fat

4.5g
Carbohydrates

4g
Protein

9g