What do you get when you cross protein cookies with brownies? The gooiest, fudgiest, best chocolate fudge cookie you ever did see, that's what!
I've got quite a few cookie recipes here on my blog for you cookie lovers:
And quite a few others, too. If you explore the recipes, it'll become clear to you that they'll all pretty unique. Sure, you can create a cookie recipe and then make some small substitutions to change the flavor, but that's the lazy way out.
Every single cookie needs to be treated differently. While I always prefer a soft cookie, there are differences to the texture of a cookie depending on the flavor we're looking for! That's why these cookies need to be extra gooey and fudgy inside, but still have some bite on the outside.
I want these cookies to be all of the amazing flavor and texture of a brownie, wrapped up inside a delicious cookie. If you like chocolate, you're going to love these cookies. I promise.
Main Ingredients & Substitutions
Healthier baking (especially high-protein baking) requires using pretty specific ingredients. If you make substitutions without too much thought, you'll often end up with a terrible result. I'll break down some of the main ingredients in this recipe, along with some possible substitutions to help you out!
Main Protein Source: A Whey/Casein Blend.
To this point, my cookie recipes have utilized a whey protein. Whey protein is typically the cheapest and easiest to find, and most people have some form of whey protein in their cabinet already. That being said, I started experimenting with PEScience protein powder, which is a combination of whey protein AND casein protein, and I've been absolutely loving the result.
The understand the difference in powders, I like to use the "just add water" test. If you put some whey protein in a bowl, add a few tablespoons of water, and mix, you're going to get a really sticky mixture. It's not something you'd just want to eat by the spoonful. But when it's a whey/casein mixture (or 100% casein), it'll mix up and be similar to pudding. The casein doesn't absorb the same amount of liquid, so you get a much smoother result.
When used in baking, you end up with more moisture using whey/casein together. Whey protein on its own tends to dry out much quicker, so using the combination of whey & casein allows you to go lower fat while still retaining plenty of moisture.
Look at this example from my giant protein cookie recipe: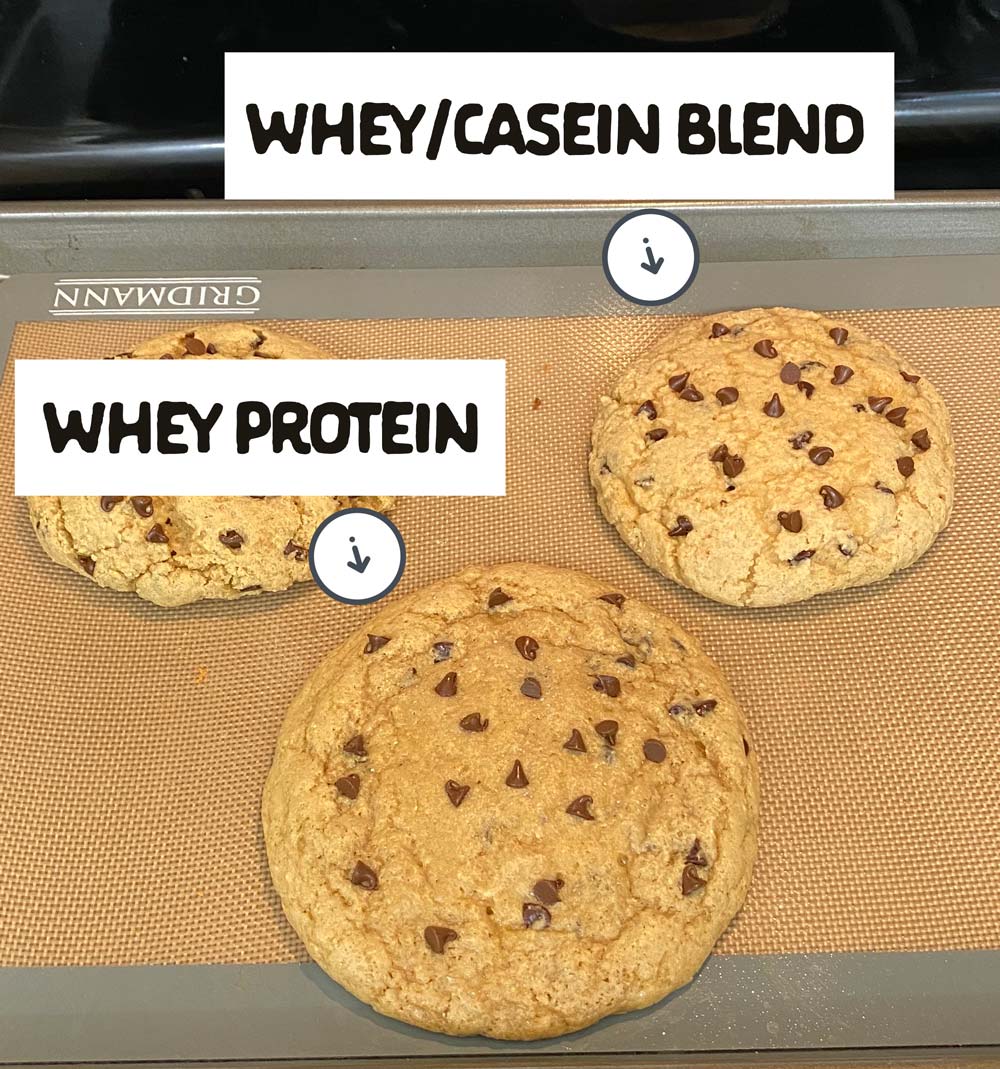 When I used whey protein, the cookie spread thinner and ended up being more dry.
In this recipe I used PEScience Gourmet Vanilla and I cannot recommend it enough- it's absolutely delicious, and VERY versatile. Quest is another popular protein powder brand that is a whey/casein blend and would also work well here.
I've used Bowmar Nutrition's whey in the past, and you can definitely use that (or another whey protein) in these cookies. However, be warned that the final result might be on a dry side. A nice little trick I like to use is adding a little bit of canned pumpkin to the recipe. If you use straight whey protein, you might want to try swapping out the milk for canned pumpkin (2 tablespoons). Pumpkin adds instant moisture, and since this is chocolate, you won't even taste it.
Main Flour: Oat Flour
I've been loving baking with oat flour recently, and it's my go-to for cookies. Not only does it lend a really authentic cookie flavor, but it's gluten-free AND plays really nicely with protein in baking. You can very easily make your own by throwing some oats into a food processor or spice grinder.
If you need to swap oat flour out in this recipe, I like to use a combination of almond flour and coconut flour. Almond flour on its own wont work great because it doesn't bind very well, so the coconut flour really helps add structure. You can use All-Purpose flour as well, but see my previous note about whey protein: you might need to add a little extra moisture to avoid these becoming too "cakey".
Liquids: Peanut Butter & Applesauce
Peanut butter is my fat source for these cookies, because it works SO well with chocolate. Once baked, the flavor is very subtle, so I wouldn't call these peanut butter cookies by any means. Any nut butter will work in place, or you can use regular butter as well. It's vital for these cookies to have SOME fat though, so make sure you keep this in your recipe.
Applesauce is a secret ingredient in baking that mimics eggs, without adding any extra fat. To help keep the calories on the lower side, I love using unsweetened applesauce in place of eggs or oil. This is a necessary ingredient to keep these cookies moist and gooey! That being said, an egg instead of the applesauce will likely also work great.
Sweetener: Brown Sugar Substitute
Generally speaking, you want to use brown sugar in cookie recipes. When a recipe calls for baking SODA, which most cookie recipes do, brown sugar will play nicely with it to help cookies spread but stay soft inside. When recipes call for baking POWDER, you'll typically want to use granular sugar to help prevent spreading too thin.
I've always used Swerve sweeteners in my recipes, but I ran out and decided to try a new one. This time around I used Anthony's brown sugar substitute since it was pretty cheap on Amazon, and I must say, I really liked it. It's a combination of erythritol and monk fruit, but I enjoyed the taste quite a bit. It shouldn't matter what brand you go with, though. Regular ol' brown sugar will also work great!
If you don't have any brown sugar, you can make do without it. The final result may not be quite as good, but it should be close! I'd recommend using half granular sugar and half liquid sweetener, like honey or maple syrup. The liquid sweetener will help to add a little bit of moisture that will be missing from the omission of the brown sugar!
Cocoa Powder: Hershey's Special Dark
I'll say it up-front: any cocoa powder will work absolutely fine here. Hershey's Special Dark is a Dutch cocoa powder, meaning it's darker than regular cocoa powder. The result is a darker color and deeper chocolate flavor. I've been using it instead of regular cocoa powder in a lot of recipes, but it's not necessary. I recommend trying it if you want a really deep chocolate flavor, though!
The Process
Making these cookies is very easy, but there's a simple trick I like to use to accomplish the extra fudginess:
What we're going to do is place our 4 cookies on a baking sheet, but create a cavity in the center to fill with chocolate chips. Then all you have to do is close it up, sprinkle some sugar on top, and bake! This little trick results in a super soft, gooey center, and the exterior gets a little bite from the sugar on top.
And even though they're entering the oven almost in the shape of a ball, they spread out really nicely!
Protein Chocolate Fudge Cookies
Rich chocolate cookies stuffed with even more chocolate. If you're a chocolate fan (you are a human, right?) then you'll love these cookies.
Ingredients
28g Oat Flour
15g Cocoa Powder (I used Hershey's Special Dark)
30g Brown Sugar Substitute (I used Swerve)
32g (2 Tbsp) Peanut Butter
50g Unsweetened Applesauce
1/4 tsp Salt
1/2 tsp Baking Soda
2 tbsp Milk of Choice
30g Lily's Semi-Sweet Baking Chips (or other chocolate chips)
Granular Sugar Substitute for Topping
Instructions
Preheat your oven to 350 degrees F.
Add all of the dry ingredients (except the chocolate chips) to a large bowl and whisk together to avoid clumping. Add the peanut butter, applesauce, and milk, then use an electric hand mixer to mix it up. You can mix by hand, but it's much easier to get the peanut butter mixed up and smooth with an electric mixer.
Use a spoon to scoop out dough into 4 roughly equal sized pieces, and place them on a baking sheet lined with either parchment paper or a silicone baking sheet (my preferred method). Side note: many cookie recipes require chilling the dough, but we don't need to do that here.
Wet your fingers with cold water to make it easier to work with the dough since it'll be sticky. Form circles with cavities in the center to fill with your chocolate chips (reference the instructions with photos above). I ended up using 2 servings (30g) of chocolate chips total, but you can use more or less.
Making sure your fingers are still wet with cold water, bring the edges of the cookie in to close the top up and keep the chocolate chips in the center of the dough. Make sure to completely seal the top. Don't worry if the cookies seem tall- they're going to expand and spread when they bake.
Sprinkle some granular sugar on top of the cookies, then bake for 8 minutes.
Remove from the oven and let cool for a few minutes, then dig in!
Recommended Products
As an Amazon Associate and member of other affiliate programs, I earn from qualifying purchases.
Nutrition Information
Yield

4
Serving Size

1 Cookie
Amount Per Serving
Calories

160
Total Fat

7g
Carbohydrates

15g
Fiber

7g
Sugar

2g
Protein

13g
Additional Notes:
This recipe is safe to eat raw, so no harm in underbaking if you prefer that! 8 minutes was the perfect amount of time to accomplish a nice soft cookie, though.
I don't count sugar substitute in my macros since they do not contribute to the overall calories. If you are super strict about carbs, make sure you take the sugar alcohols (depending on which sugar substitute you use) into account.
These cookies can be stored and enjoyed throughout the week! I just stored these in a sandwich bag, and when I tested them the next day, they were still awesome. The chocolatey center solidifies a bit, but the cookie remains nice and soft: