Are sugar cookies the best kind of cookie out there?
Yes, of course they are.
I mean, what's not to love about cookies that are mostly butter & sugar?
Well, the calories, for starters.
Let's take ALL of the flavors you'd expect from a classic sugar cookie and pack them into a buttery cookie with only 40 calories.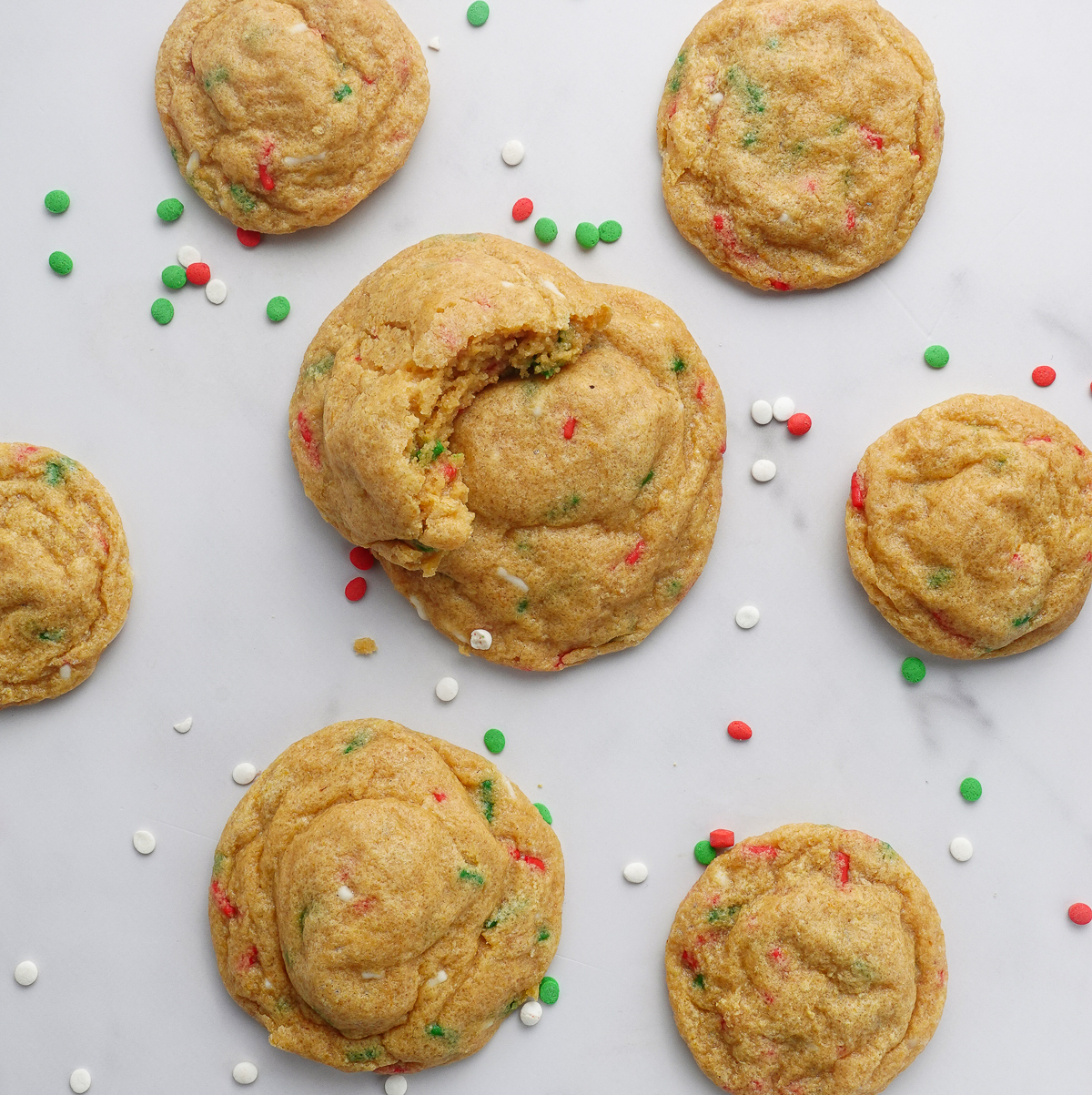 These cookies are every bit as soft, buttery, and sweet as you'd want a sugar cookie to be. Yet these cookies are low-calorie, gluten-free, high-protein, and keto-friendly.
Each cookie is small, which is why they're only 40 calories. But don't let that deter you from making these! If you want to make larger cookies, you definitely can.
Double the size to have soft sugar cookies that still only have 80 calories each.
Sugar cookies are my favorite way to ring in the Christmas season, but these are great any time of the year!
If sugar cookies aren't your cup of tea, I've got plenty of other Christmas cookie recipes here on my site to keep your spirits high and your stomach full.
How to make low-calorie sugar cookies
We're going to mix up all of our ingredients to make the sugar cookie dough, but we are going to add the protein powder LAST.
Similar to my No-Bake Sugar Cookie Bars, adding the protein powder as the final ingredient is absolutely pivotal. While it may work out just fine if you add your protein powder in early, it will often lead to a sticky result.
By adding the protein powder last, it absorbs most of the liquid and brings everything together to form a workable cookie dough.
With that being said, this cookie dough is still going to be soft and slightly sticky, so we're going to refrigerate it for one hour to allow the dough to firm up and become easier to work with.
Using a small cookie scoop (or tablespoon) scoop your sugar cookies and roll them into balls using your hands.
Evenly space out your sugar cookies on a parchment paper-lined baking sheet.
I was able to create 12 small cookies, but if you prefer larger cookies, I would aim for about 6 total cookies.
Bake at 325 degrees F for 6 minutes. Since these sugar cookies are small, they don't need very long in the oven. If you make larger cookies instead, you'll want to bake them for closer to 8 minutes.
When you remove these sugar cookies from the oven, they're going to appear very cakey and soft. Don't worry!
As you'll see with most of my healthy cookie recipes, the magic happens as the cookies cool. As the cookies sit, they will sink and firm up inside, creating the perfect cookie consistency that we are after:
20-30 minutes should be all you need for these low-calorie sugar cookies to firm up inside and be ready to eat.
If you decided to make larger cookies, you may need an extra minute or two in the oven to fully cook these. However, since this cookie dough is completely safe to eat raw, you can safely underbake these healthy sugar cookies to enjoy a delicious half-baked cookie.
Full disclosure: I tested this recipe by making 6 cookies instead of 12, but kept the bake time the same. While they still turned out, they were incredibly soft (probably too soft). I definitely recommend a few extra minutes in the oven if you go that route!
How to store these low-calorie sugar cookies
If you have leftover cookies from this recipe (which is unlikely based on how good they are) they can be stored in an airtight container at room temperature for up to one week.
To make these healthy sugar cookies firm up even further, you can store these in the refrigerator. When chilled, the cookies will very closely resemble sugar cookie dough.
Take your sugar cookie to the next level…
You can take this same recipe, make a few tiny tweaks, and turn it into one GIANT sugar cookie that is stuffed with a vanilla frosting core.
This giant cookie does contain over 500 calories, which is quite high for a cookie, but it also contains 30g of protein! Plus, considering it weighs over 6 ounces, it's a very filling cookie.
If you want to give it a try, you can find that recipe right here.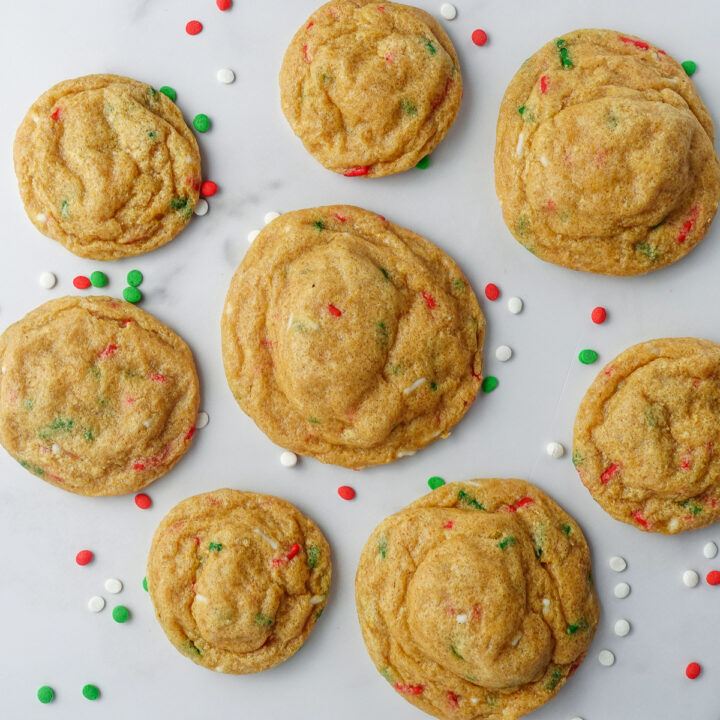 Low-Calorie Sugar Cookies
Total Time:
1 hour
11 minutes
For me, nothing says Christmas like a batch of delicious sugar cookies, but these are great at ANY time of the year. Plus, these are gluten-free, keto-friendly, & packed with protein, so they'll help keep you on track all year long no matter what your dietary preferences are.
Ingredients
30g Oat Flour
10g Almond Flour
1/4 tsp Baking Soda
42g (3 Tbsp) Light Butter- I use Country Crock Original Spread
1 tsp Vanilla Extract
20g (1 Tbsp) Canned Pumpkin
5g Rainbow Sprinkles
Instructions
Mix together the sugar, butter, pumpkin, and vanilla extract in a large bowl. Add all of the dry ingredients except for the protein powder and sprinkles.
Mix the protein powder in last until it forms a dough ball (protein powder is very absorbent so it will thicken into a dough). Fold in the sprinkles, then refrigerate the dough for one hour. While you can get away with not chilling the dough, I find that it leads to a significantly better cookie overall.
After one hour, preheat the oven to 325 degrees F.
Using a small cookie scoop (or tablespoon), scoop out your cookies and roll them into balls in your hands. I opted for small cookies and was able to scoop 12 total cookies out, but it may vary depending on how large you choose to make your cookies.
Add to a parchment paper-lined cookie sheet and bake at 325 degrees F for 6 minutes. Note: these cookies are quite small, so 6 minutes works well. If you make larger cookies, 8 minutes will be
Let cookies cool for about 20 minutes. When you remove the sugar cookies from the oven they will seem a little bit cakey, but they will sink and firm up into a great texture as they cool.
These cookies can be stored in an airtight container at room temperature for up to a week.
Notes
If you do not have canned pumpkin, or do not want to use any, you can omit it and this recipe should still work out great. The pumpkin just helps keep these soft without requiring extra butter.
I don't count sugar substitutes in the carb totals since they do not contribute to the overall calories. If you are super strict about carbs, make sure you take the sugar substitute into account.
Recommended Products
As an Amazon Associate and member of other affiliate programs, I earn from qualifying purchases.
Nutrition Information
Yield

12
Serving Size

1 Small Cookie
Amount Per Serving
Calories

40
Total Fat

2g
Carbohydrates

2.5g
Protein

2.5g