What happens when you take protein cookies and stuff them full of protein brownie batter?
Magic. Pure high-protein magic.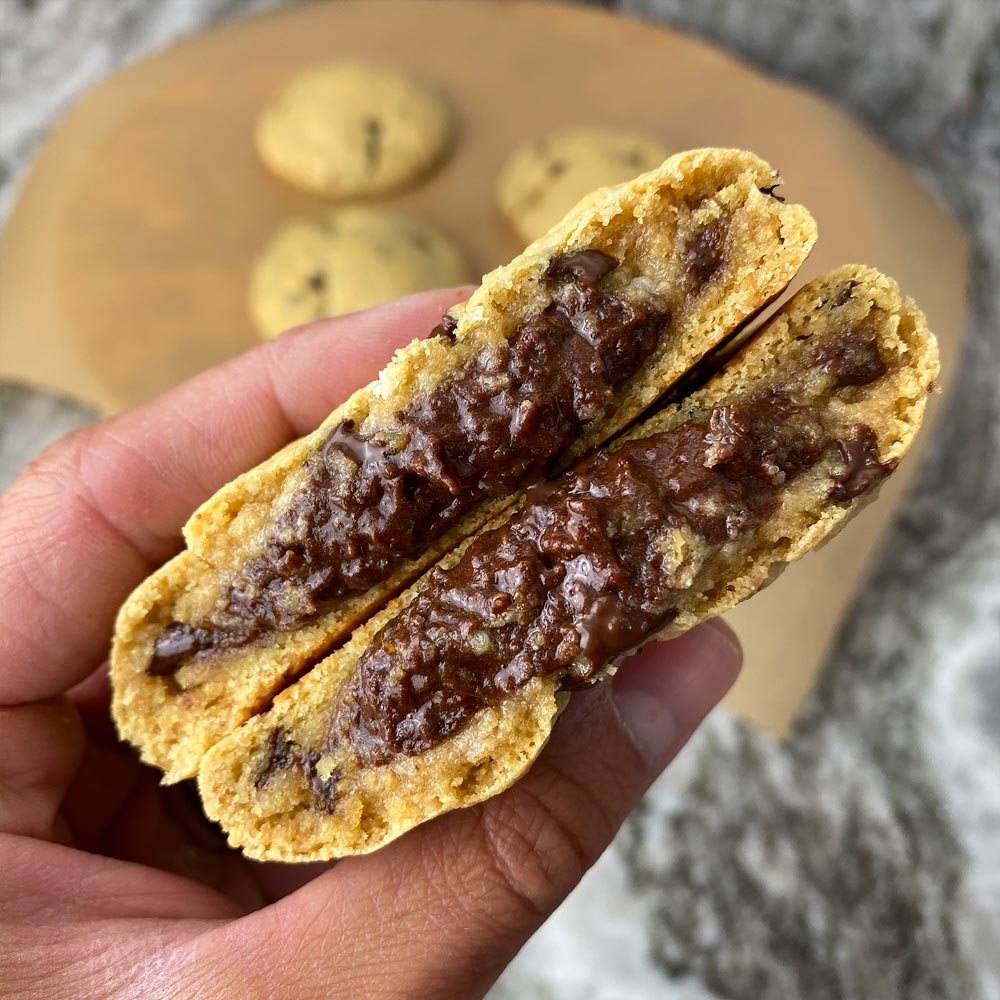 These cookies are incredibly soft and are guaranteed to please all chocolate fans.
Each cookie is just over 200 calories, which might seem like a lot, but they are quite large AND stuffed, so it's worth the calories.
Here's a size reference for ya:
You could choose a protein bar for around 200 calories, or go for one of these stuffed protein cookies. Each cookie packs in 18g of protein, and if you're someone who eats low carb, they contain only 5g of net carbs each!
That's right, these brownie batter stuffed protein cookies are gluten-free, grain-free, keto-friendly, high-protein, and straight delicious.
Let's get into it.
How to make brownie batter stuffed protein cookies
The cookie part of this recipe is pulled right from my updated keto chocolate chip protein cookies recipe.
Don't be put off by the lack of flour or sugar in this cookie dough- it is absolutely delicious!
We'll be mixing together almond flour, vanilla protein powder, brown sugar substitute, baking soda, and a pinch of salt. Then, we just need to add butter, vanilla extract, and of course, chocolate chips, and we have a delicious cookie dough.
This cookie dough is actually safe to eat raw (or you could make my protein cookie dough recipe) so feel free to give it a taste.
These don't require any chilling and will be ready to go right when it's all mixed up!
For the brownie batter filling, we're going to make my edible protein brownie batter.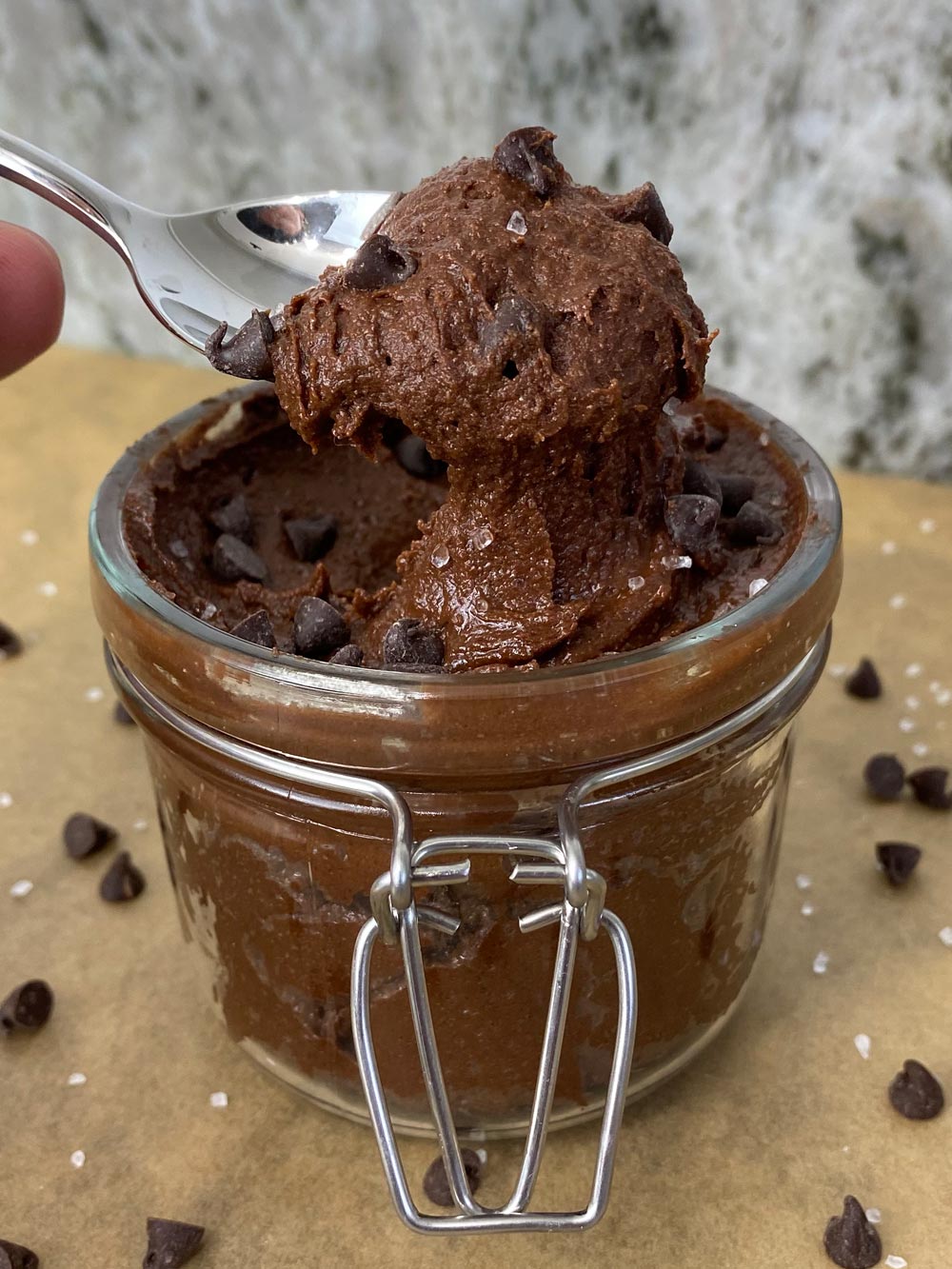 It's the exact same recipe as you'll find here, with 2 small differences:
We're omitting the chocolate chips since we're adding 'em to our chocolate chip cookies (although nobody would ever complain about too many chocolate chips).
The recipe is getting cut in half, since we can only fit so much brownie batter inside a batch of cookies.
This stuffed protein cookie recipe requires making the brownie batter and adding it to the freezer for a few minutes to solidify a bit. If you make yourself a batch of the protein brownie batter ahead of time and keep it in the fridge, you won't need to add it to the freezer. You'll simply take it out of the fridge and it will be ready to go!
Once your cookie dough AND brownie batter are ready to go, it's time to make some stuffed protein cookies!
To start, we're going to break the dough up into 8 roughly equal-sized balls.
We're making a total of 4 (large) stuffed protein cookies, so these are going to be the tops and bottoms of each (similar to how we create the breakfast bagel bombs).
Then, we need to flatten out each dough ball. You can just use your hands here because they do not need to be a perfect circular shape.
Take the edible brownie batter and add a heaping spoonful over 4 of your pieces of cookie dough.
I ended up using about 3/4 of the brownie batter and eating the rest, so the nutrition in the recipe card below reflects using that amount. You can certainly try to use it all up, but be careful about going too heavy-handed with the filling.
All that is left to do now is form the stuffed protein cookies!
Lay the remaining dough over the brownie batter, then pinch down all the edges.
It's going to have some gaps in it since the dough is delicate, so you simply need to pick it up with your hands and form it back into a ball. The brownie batter inside will be fully enclosed, so it shouldn't ooze out on your while baking.
Then, add it back to your baking sheet. There's no need to press these down- they're going to spread plenty.
Viola! Beautiful stuffed protein cookies.
Let them cool for about 15 minutes or so, because the filling inside is going to be very very hot.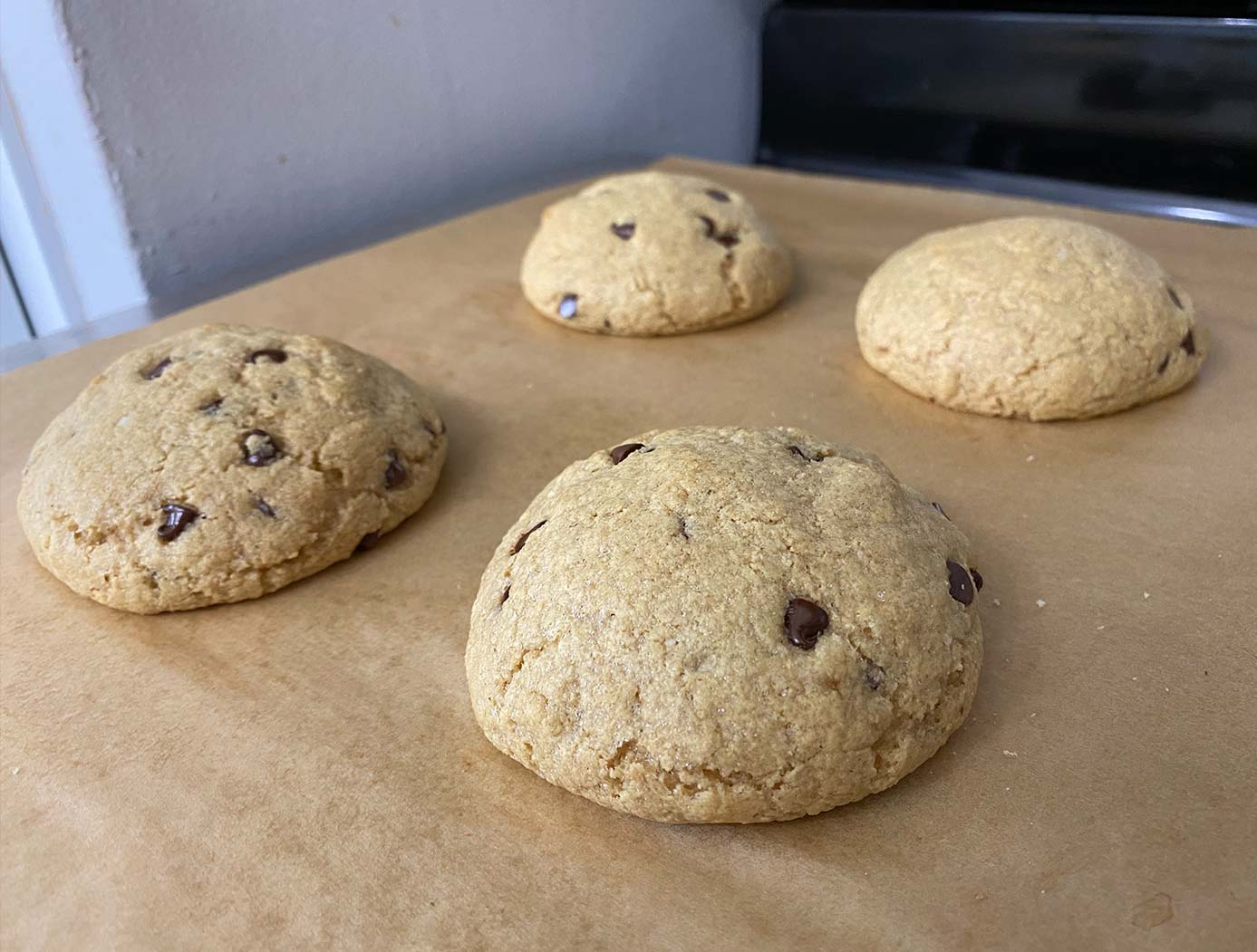 Then dig in!
Are these brownie batter stuffed protein cookies good as leftovers?
Call me crazy, but I may have enjoyed the leftovers of these stuffed cookies even more than when they were fresh out of the oven.
Check out this side-by-side comparison. On the left is fresh out of the oven, and on the right is 2 days later.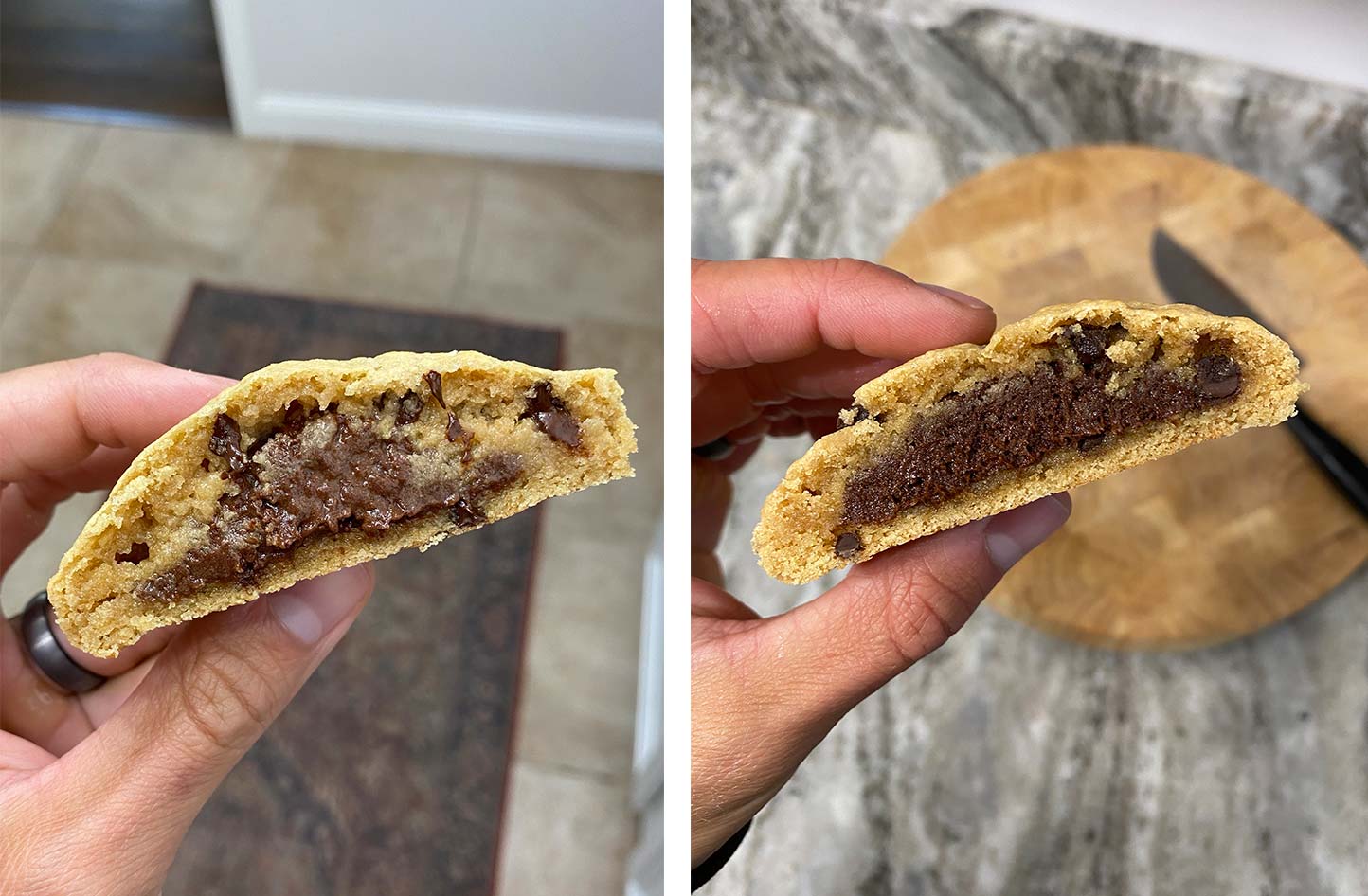 As the stuffed protein cookies sit, the brownie batter inside solidifies and isn't quite as gooey, and the cookie itself stays very soft.
Don't get me wrong, it's amazing both ways, but it holds up very well as leftovers.
If you want to save the leftover cookies, assuming there are some, I simply left them out at room temperature (in a sealed container) and they were great for 5 full days. You could always refrigerate these if you prefer, but that will definitely solidify the brownie batter inside even more.
Other ways to enjoy these stuffed protein cookies
If you want to make these without any brownie batter filling, you can! The recipe is actually exactly the same, but you'll simply be forming them into regular cookies instead.
I wrote up a full recipe here if you prefer to make regular cookies.
If you want to get reeeeeally fancy, you can turn this recipe into stuffed cookie cups, too!
Follow the recipe exactly as-is, but use a cupcake/muffin tin to bake your cookies in.
If you go the cookie cup route, you'll also be able to fit a bit more brownie batter inside. ?
One final way you can switch things up is using a different base cookie recipe!
You can take my peanut butter protein cookies and use them as the base to make a chocolate peanut butter cookie instead of stuffing 'em with jelly.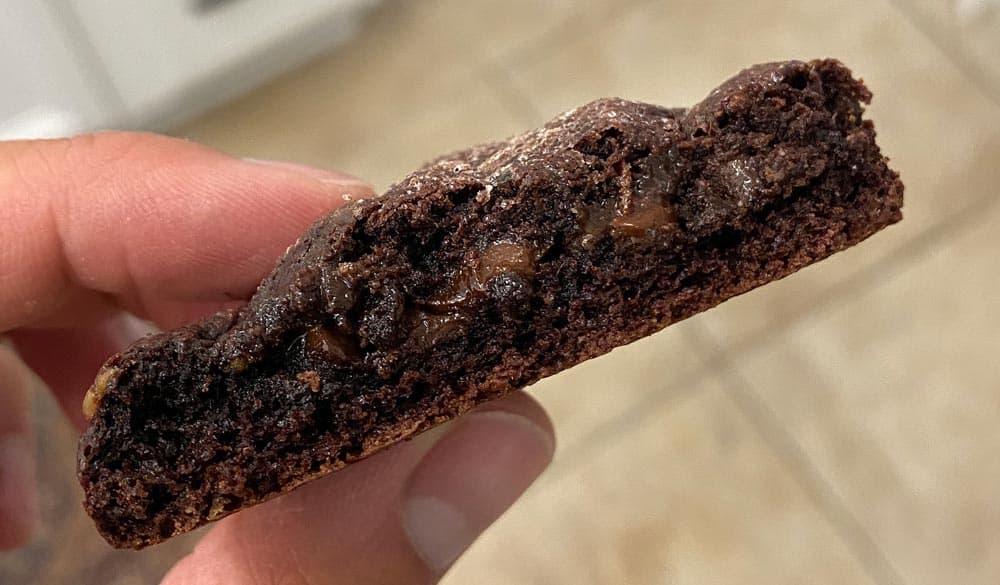 Or if you're a chocolate lover, you can go double chocolate and take my chocolate fudge cookies to use as the base.
Oh man, I think I may need to try that now…
Need more recipe inspiration?
If this recipe tickles your fancy, I have quite a few other recipes that you will undoubtedly love!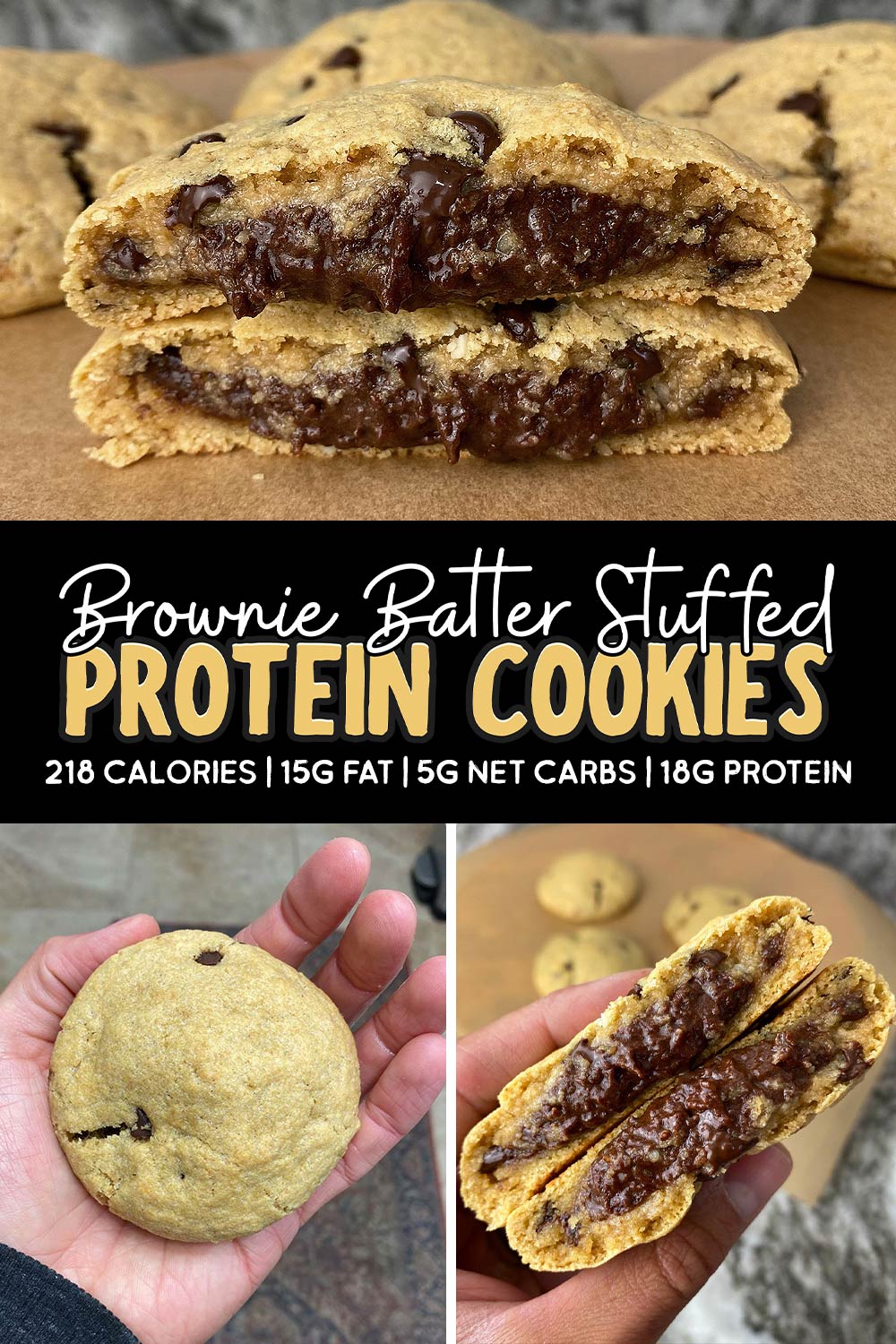 Brownie Batter Stuffed Protein Cookies
Ingredients
Cookie Ingredients
56g Almond Flour
56g Light Butter Spread (I use Country Crock)
1 Tsp Vanilla Extract
1/4 Tsp Baking Soda
Pinch of Salt
15g Chocolate Chips (can use any, but mini chips work the best)
Brownie Batter Ingredients
35g Canned Pumpkin
12g Unsweetened Cocoa Powder
2 Tbsp Sugar-Free Syrup (or sticky sweetener of choice)
7g (1 Tbsp) Powdered Peanut Butter
Pinch of Salt
Instructions
Start by making the brownie batter. Combine all of the dry ingredients (protein powder, cocoa powder, sugar substitute, powdered peanut butter, and salt) in a bowl and whisk together.
Add in the canned pumpkin & maple syrup, then mix it all together with a silicone spatula. It's going to be thick, so continue stirring until a batter begins to form.
Add the bowl to the freezer to allow it to thicken while you prep the cookies.
Turn your oven on to preheat it to 350 degrees F, then make your protein cookie dough.
In a large bowl, combine all of the dry ingredients for your cookies (except the chocolate chips) and mix them together. Once mixed, add in the butter and vanilla extract, then mix together with a silicone spatula until a dough forms.
Fold your chocolate chips into your cookie dough.
Line a baking sheet with parchment paper or a silicone baking mat, then break your cookie dough into 8 roughly equal-sized pieces. Roll them in your hands and add to your baking sheet.
Remove the cold brownie batter from the freezer. Flatten out all of your dough balls with your hands, then use a spoon to add a scoop of brownie batter to 4 of your flattened pieces of cookie dough (I only used about 3/4 of my brownie batter as I did not want to overfill the cookies).
Take your remaining 4 pieces of dough and lay them over the top of the brownie batter scoops. They're not going to completely cover the cookies, and that's totally fine! Pick up them and pinch the sides together, then simply use your hands to form it back into a ball before placing back on the baking sheet (see photos above for a walkthrough of the process).
There's no need to press these balls down- just make sure they are spaced out on your baking sheet to allow them to spread. Bake at 350 degrees for 10 minutes.
Remove from oven and let cool for 10 minutes, then enjoy!
Notes
***I do not count the sugar substitute in my carb count. Since they do not contribute any calories, I do not typically count those towards my totals. Similarly, this nutrition is based on using sugar-free chocolate chips (Lily's brand) so you may need to adjust if you use regular chocolate chips.
Adding the brownie batter to the freezer allows it to thicken up quickly to be easier to work with. If you make my brownie batter recipe ahead of time and leave it in the fridge, it will be chilled enough to work with.
These can safely be stored at room temperature for up to one week. After a few hours, the brownie batter inside the cookies will be less gooey and may even be preferred vs fresh out of the oven, depending on your preferences. Either way, the cookies stay incredibly soft for days.
I only tried these cookies with a whey/casein blend protein powder, but I would venture to say that a whey protein powder should work just fine. A vegan protein powder will likely not work.
"Light Butter" is simply a butter spread that has half the calories of regular butter. It's essentially margarine, and the brand I use (Country Crock) is actually dairy-free. It can be subbed for any butter or butter spread.
Recommended Products
As an Amazon Associate and member of other affiliate programs, I earn from qualifying purchases.
Nutrition Information
Yield

4
Serving Size

1 Stuffed Cookie
Amount Per Serving
Calories

218
Total Fat

15g
Carbohydrates

9g
Fiber

4g
Sugar

1g
Protein

18g