But I wanted these to have a cookie dough frosting to be authentic cupcakes. Because what's a cupcake without frosting?
It took me a few tries to get it right, but the final cookie dough frosting is SO GOOD.
And this recipe allows you to be pretty heavy-handed with the frosting, because everybody knows that's the best part!
Also, I shouldn't have to make this note, but I feel like I do: when it comes to my recipes, what you see is what you get! I've seen so many food bloggers out there clearly adding extra toppings and dressing up their food to make the photos look super appealing, but then when you dive into the recipe yourself they don't came out nearly as exciting.
That's not the case with these coookie dough cupcakes. What you see is what you get!
This recipe makes plenty of frosting and uses plenty of chocolate chips and it's all laid out for ya.
The magic 3 ingredient cupcakes
The base of these cookie dough cupcakes is my trusted 3-ingredient cupcake recipe.
I've used it quite a few times, and you can see it in my Protein Funfetti Cupcakes or my Protein Oreo Cupcakes.
All you need is cake mix, protein powder, and seltzer or diet soda! For real, that's it.
Most cake mix requires eggs and oil to make a cake, and it turns out that any kinf of soda can be used as a direct replacement for these! The result is a light and airy cupcake, which is the exact texture we want!
Adding one scoop of protein powder doesn't affect the voodoo science happening with the soda and it still works incredibly well.
I chose to use a sugar-free cake mix, but that's only because I had it in my pantry. You can use any cake mix you'd like, but I definitely recommend some kind of yellow cake! It will mimic cookies the closest.
As far as soda is concerned, anything will do. I went with seltzer because it has no flavor, but even any kind of flavored soda will not affect the final product. I've used lime seltzer, 7-Up, and even Coke in my chocolate recipes, and you can never taste the soda in the final product. My only note for ya is to match the color- don't use a dark soda like Pepsi or Coke in this specific recipe, or the final batter will be weird and brown.
By using the yellow cake mix and a clear soda or seltzer, our batter is going to look like cookie dough!
And when it baked up, it'll come out looking like chocolate chip cookies, too!
Making the cookie dough frosting
These started out as just cookie dough on a cupcake, but it was important for me to come up with a cookie dough frosting!
If you want to just make edible cookie dough, you can grab the exact recipe from my Cookie Dough Brownie Sandwiches.
We're going to utilize something similar here, but there is one key difference that transforms this from cookie dough to cookie dough frosting.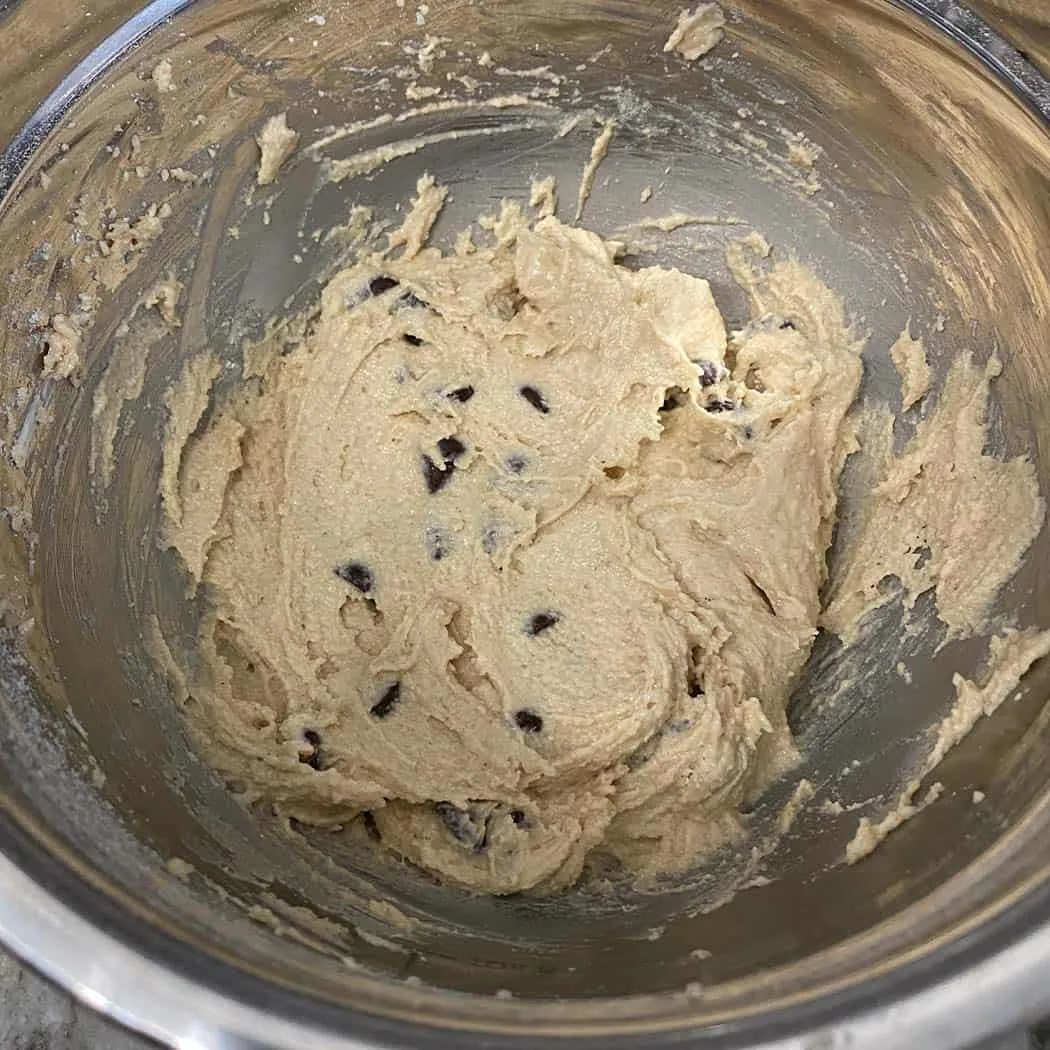 The secret is cool whip!
The ingredients used here are very similar to my regular edible cookie dough, but I'm swapping out all the butter and sugar for cool whip! Why?
Because it's delicious
It creates the perfect frosting consistency that we want vs just being globs of cookie dough
Any cool whip you'd like will work just fine, but for my cookie dough cupcakes, I went with fat-free cool whip. Calorically it is not all that much different, it just happened to be what I have. They have regular, sugar-free, lite, dairy-free, you name it! They will all work here.
Once we mix up all the ingredients for our frosting, we fold the cool whip in to smooth it out into a frosting. It creates a great texture, and keeps very well in the fridge.
Note: this is not whipped cream!
I've had someone make this mistake with my cheesecake bites before. This is not an aerosol can of whipped cream- it's a frozen whipped topping that is almost like an ice cream. When thawed, it stays nice and smooth!
Frosting the cookie dough cupcakes
You have two options for frosting these cupcakes.
You can go the slightly more difficult route and put all the frosting in a plastic bag, then cut the tip off to create a piping bag…
This will make your cupcakes look very professional, but in my opinion, it's not worth the trouble (as evident by the fact that all the cupcakes in the background did not utilize this method).
Instead, I much prefer to just use a knife and spread the frosting over the top…
Maybe not quite as pretty, but much easier! Simply glob a whole bunch on top, then spin the cupcake around while smoothening the frosting with your knife.
Originally, I cut little holes out of the top of these cupcakes and filled it in with even more cookie dough frosting, but I found it to be a bit much. Not only were they super sweet, but since these cupcakes are delicate, they didn't hold up all that well.
I prefer these cupcakes to be light and fluffy with the cookie dough frosting complimenting them, and that's exactly what these are!
Want more cupcakes?
I've got quite a few on the blog already with a few more on the way:
Want more cookie dough?
Silly question. Yes, you do.
High-Protein Cookie Dough Cupcakes
Total Time:
1 hour
27 minutes
If you love raw cookie dough, this is the recipe for you. Soft, fluffy chocolate chip cupcakes are topped with the most delicious cookie dough frosting! Each cupcake also has 10g of protein to help you hit your daily protein goals.
Ingredients
Cupcake Ingredients
135g (1 Cup) Sugar Free Yellow Cake Mix (or any cake mix!)
1/2 Cup + 2 Tbsp Seltzer or Diet Soda
14g Mini Chocolate Chips
Cookie Dough Frosting Ingredients
30g Oat Flour
2 Tsp Vanilla
2 Tbsp Sugar-Free Syrup
2 Tbsp Milk of Choice
90g Fat-Free Cool Whip (any cool whip will work)
1/4 Tsp Salt
10g Coconut Flour
Instructions
We're going to make the cookie dough frosting first so it can set in the fridge. Start by combining the protein powder, oat flour, and salt in a large bowl to break up any clumps.
Mix in all of the liquid ingredients except for the cool whip (vanilla, syrup, and milk). Mix that up with a silicone spatula until it resembles a batter.
Add the cool whip and use an electric hand mixer to mix it all up. Note that cool whip is much easier to mix when it has sat out at room temperature for about 10 minutes. Once that's all set, add in the 10g of coconut flour and mix it in well. Coconut flour is optional, but it acts as a great thickening agent and I highly recommend it.
Fold in the chocolate chips, then add to the fridge for one hour to fully set. Don't worry, it thickens up a bit in the fridge.
After an hour, we can make the cupcakes. Preheat the oven to 350 degrees F.
In a large bowl, mix up the cake mix and protein powder. Then add in the seltzer/diet soda and mix it up until you have a pourable batter. The type of cake mix and protein powder you use will determine how much liquid you need. For mine, 1/2 cup + 2 tbsp was the perfect amount. Start with 1/2 cup and add in more as needed until it's a pourable batter.
Finally, fold in your chocolate chips.
Grab a cupcake tin and add liners, then lightly spray with nonstick spray. Using a spoon, fill each liner about 2/3 with batter. You don't want to fill them all the way because they will rise.
Add to the oven and bake for 17-18 minutes. I pulled mine as 17 minutes, but watch these to make sure they are done. 15-18 minutes is the range to aim for, but final time may vary if you make any substitutions.
Remove from the oven and let cool for 10-15 minutes. Take your cookie dough frosting out of the fridge and frost your cupcakes! You can either use a small bag to pipe the frosting, or go the much easier route of just using a knife.
These can be enjoyed right away, or can be added back to the fridge to allow the frosting to harden a bit.
Notes
I have not tested this recipe with 100% whey protein. Remember, I use a BLEND that also contains casein protein. If you use whey protein, I would add it as the final ingredient in the cookie dough. Whey protein gets very sticky, and adding it last helps to limit that. To see how different types of protein powder affect cake recipes, check out my Ultimate Protein Powder Substitution Guide.
I originally made the same cookie dough as my Brownie Cookie Dough Sandwiches. It is a very similar recipe, but uses some light butter instead of cool whip. If you want to go that route, check out the recipe! I much prefer the use of cool whip to be more of a frosting, though.
I went very heavy haded with the frosting because that's the best part! You can keep the frosting light if you want to save some calories.
On the topic of calories, you can also leave out the chocolate chips and go with a sugar cookie flavor instead. But check out the Funfetti Cupcakes if you want to try that!
These cookie dough cupcakes are even better as leftovers! Keep these covered in the fridge and you can enjoy them throughout the week. When cold, the frosting tastes even more like an authentic cookie dough.
Recommended Products
As an Amazon Associate and member of other affiliate programs, I earn from qualifying purchases.
Nutrition Information
Yield

6 Cupcakes
Serving Size

1 Cupcake with Frosting
Amount Per Serving
Calories

190
Total Fat

3g
Carbohydrates

32g
Fiber

2g
Sugar

5g
Protein

10g