One of my all-time favorite desserts is crumb cake. Entenmann's crumb cake, specifically.
When I left New York, I quickly discovered that "crumb cake" as I've come to know and love wasn't really a thing everywhere- in most places, it's simply referred to as coffee cake.
Flavor-wise, a crumb cake and coffee cake are virtually the same thing.
But the major difference is that a traditional New York style crumb cake is made up of a majority of crumbs, vs a coffee cake that has a minimal crumb topping.
And let's be honest… the crumbs are the best part.
So we should absolutely overload our cake with crumbs!
With this recipe, we're making our own single-serving microwave crumb cake that's ready in no time. Plus, it's packed with 15g of protein!
Ingredients needed for this microwave crumb cake
When I first created this recipe, we were in the midst of a global pandemic. Because of this, the supermarket had pretty slim pickings, especially down the baking aisle.
Flour was hardly available, but there was plenty of cake mix, which led me to experiment with some cake mix recipes.
I opted for a sugar-free cake mix, but any cake mix will do. The sugar-free cake uses Splenda, so if you're not about that sugar alcohol life, grab yourself regular cake mix. I do suggest getting a yellow cake mix for the most authentic crumb cake flavor, though.
Our cake is going to be made of just two ingredients: cake mix and soda. Seriously, that's it!
One of my favorite baking tricks of all time is replacing the eggs & oil in your cake with diet soda. It sounds crazy, but it produces a very similar result! I used club soda here for the mild taste, but any soda you have on-hand will work. Even if it's not diet, that's totally fine. We're only using 2 tablespoons, so the caloric impact is going to be pretty much non-existent.
I do suggest sticking with a light soda like seltzer or 7-Up. If you only have Coke or Pepsi, they'll work, but you're going to get a slightly different taste, and likely a bit of a brown-colored cake.
I've since used this baking trick in lots of other recipes, so if you want to use these ingredients for even more, I recommend checking out my Cake Mix Pancakes, Funfetti Cupcakes, or Churro Bites.
Quick side note: whoever decided to name that cake mix "Moist Supreme" needs to be fired. Moist is gross sounding as is… we don't need supreme moist.
Making the topping for the microwave crumb cake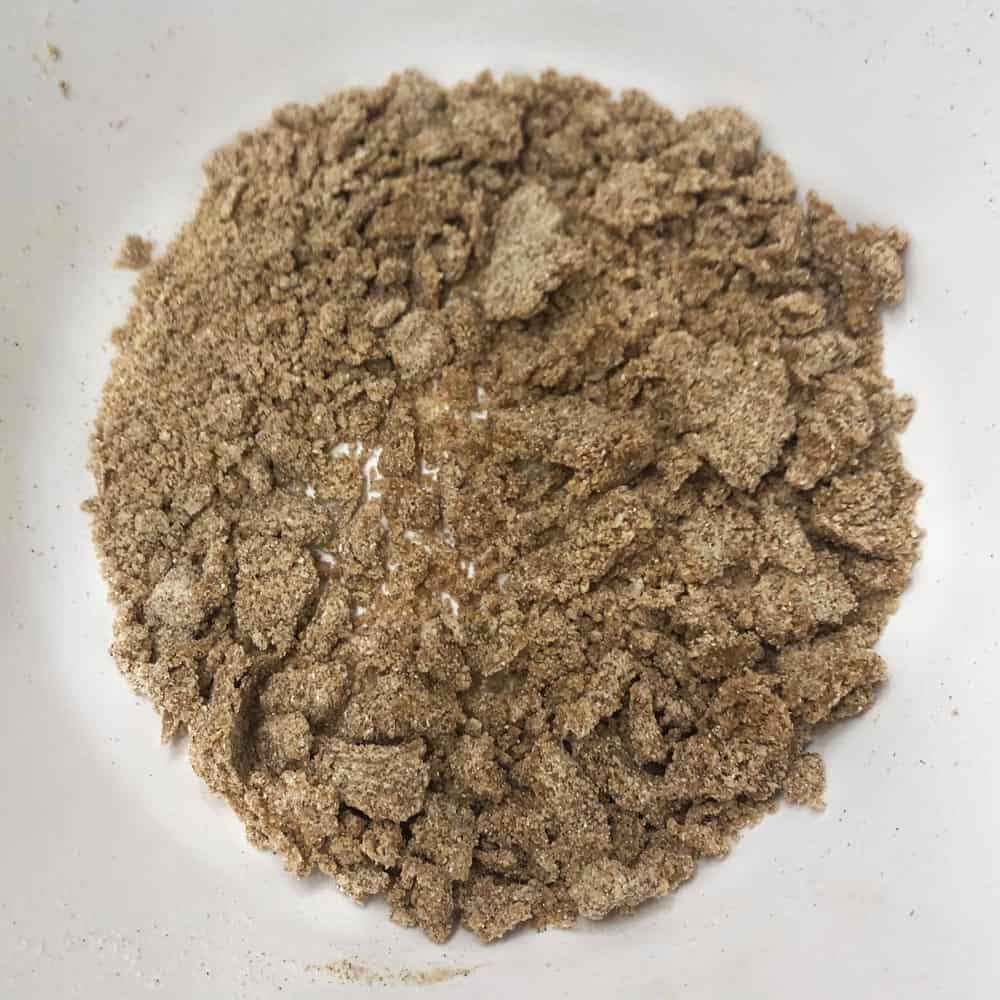 The crumb topping is where you have some room to experiment if you don't have all the ingredients you need.
The dry ingredients are vanilla protein powder, oat flour, cinnamon, and brown sugar.
A traditional crumb topping is basically just flour, sugar, and butter, so I wanted to utilize some whey protein instead.
The problem with whey protein a lot of times is that it is super sticky (this is why you can't directly swap it out for flour in recipes). To combat this, I paired it with oat flour, which is very absorbent. Don't have oat flour? You can make your own by throwing some oats into a food processor or spice grinder, or you can swap it out completely for regular flour.
To create the crumb texture, the dry ingredients are mixed with butter. In this case, I used "light butter," which is also known as a buttery spread. I specifically used Country Crock brand, but feel free to stick with regular butter or your favorite butter substitute.
Assembling your microwave crumb cake
If you've never made a mug cake, you're in for a treat. It is the easiest thing EVER.
All you do is assemble your cake in a mug and microwave for a minute. Does it get any easier?
Once we mix up our cake batter, we're going to add half of it to our mug.
To help us infuse some flavor into our cake, we're making a super quick syrup + cinnamon mixture to add a cinnamon swirl to our cake.
This step is totally optional, and not necessarily commonplace when it comes to crumb cake, but as you can see in the photo of my final product, it really helps give you that beautiful cinnamon swirl finish.
Add the rest of the cake batter over the cinnamon swirl, then add about 3/4 of the crumb topping right on top before microwaving (we're saving some of it to add on at the very end).
You can use any size mug you want, but I just stuck with a standard coffee mug. It was only filled about halfway, but don't worry, it will poof up to the top in the microwave! If you use a wider mug, it won't poof as high, but will still work just as well.
For the final product, I slid the cake right out of the mug for plating. Once cooked, we're going to add the rest of our crumb topping on top, and then a little powdered sugar for that authentic NY-style crumb cake look.
But one of the best parts of a mug cake, outside of how easy it is to make, is that you can eat it right out of the mug! If you need breakfast on the go, there's nothing better than taking the mug with you right out the door.
Now let's get into it…
Healthier One-Minute Microwave Coffee Cake
An authentic NY-style crumb cake for one that takes only 1 minute to cook!
Ingredients
Ingredients for Cake
30g Pillsbury Sugar-Free Yellow Cake Mix - ANY cake mix works great
1/4 Cup Diet Soda of Choice
1 Tbsp Sugar-Free Syrup
1 Dash Cinnamon
Ingredients for Crumb Topping
15g (2 Tbsp) Oat Flour
20g Brown Sugar Substitute
1/4 Tsp Cinnamon
20g Unsweetened Applesauce
Optional: Butter Extract for Flavor
Powdered Sugar Substitute for Topping
Instructions
Start by making the crumb topping. Combine the vanilla protein powder, oat flour, cinnamon, and brown sugar in a bowl.
Add the applesauce, and then use a silicone spatula to mix it all up. It's going to be pretty dry and crumbly, but keep mixing it together. You can use your hands if it's easier. Set aside.
In a separate bowl, make your cake by stirring together the cake mix, protein powder, and seltzer/diet soda. I add one tablespoon at a time while mixing to keep it smooth.
Generously spray a mug with nonstick spray (don't be shy!) and add half of your crumbs to the bottom.
Sprinkle cinnamon over the crumbs, then pour your batter over the top.
Optional step: in a small bowl, whisk together syrup and cinnamon until combined, Use a spoon to swirl it into the cake batter to make a cinnamon swirl.
Microwave for 45 seconds,
Slide the mug cake out onto a plate (you can use your silicone spatula to loosen it away from the edges if necessary) or enjoy it directly in the mug. Sprinkle the rest of the crumb topping over the cake, top with powdered sugar substitute, and dig in!
Notes
When I first created this recipe, I used a standard whey protein. I've since begun using a whey/casein blend protein in my recipes, but either should work great here!
I don't count the carbs from the brown sugar substitute or confectioners sugar (both Swerve products). Since they have no caloric value, I do not count them towards the total. The sugar alcohol in the recipe come from the cake mix.
Recommended Products
As an Amazon Associate and member of other affiliate programs, I earn from qualifying purchases.
Nutrition Information
Yield

1
Serving Size

Mug Cake with Crumb Topping
Amount Per Serving
Calories

270
Total Fat

5g
Carbohydrates

36g
Protein

27g