This recipe is a combination of two recipes that I absolutely love, with some tweaks to make them even better.
If you haven't tried my chocolate fudge cookies or edible cookie dough, check them out!
Chocolate chip cookie dough is one of my favorite things in the world- so why not use it as a filling for some high-protein sandwiches?
These sandwiches are not only absolutely delicious, but have 20g of protein in each!
You can eat a boring protein bar, or you can eat one of these fudgy, chocolatey, delicious cookie dough sandwiches.
The choice is yours.
Making the Edible Protein Cookie Dough
I promise you, this stuff is delicious.
I went through about 20 different iterations of this trying to make it perfect, and I think this is as close as we're going to get!
There are some notes on this that I want you to be aware of, because I did lots of exerimenting for ya.
Cookie dough tip 1: You can use any protein powder you want
Since we're not baking this cookie dough, the type of protein you use is less important here. I've been using PEScience in most of my recipes because the whey & casein blend lends itself really well to baking (I just get it on Amazon).
That being said, I did try this with a regular whey protein, and it still came out great! I can't vouch for pea protein, but I don't see why it wouldn't work. If anything, you may just need to add slightly more liquid, but it should work.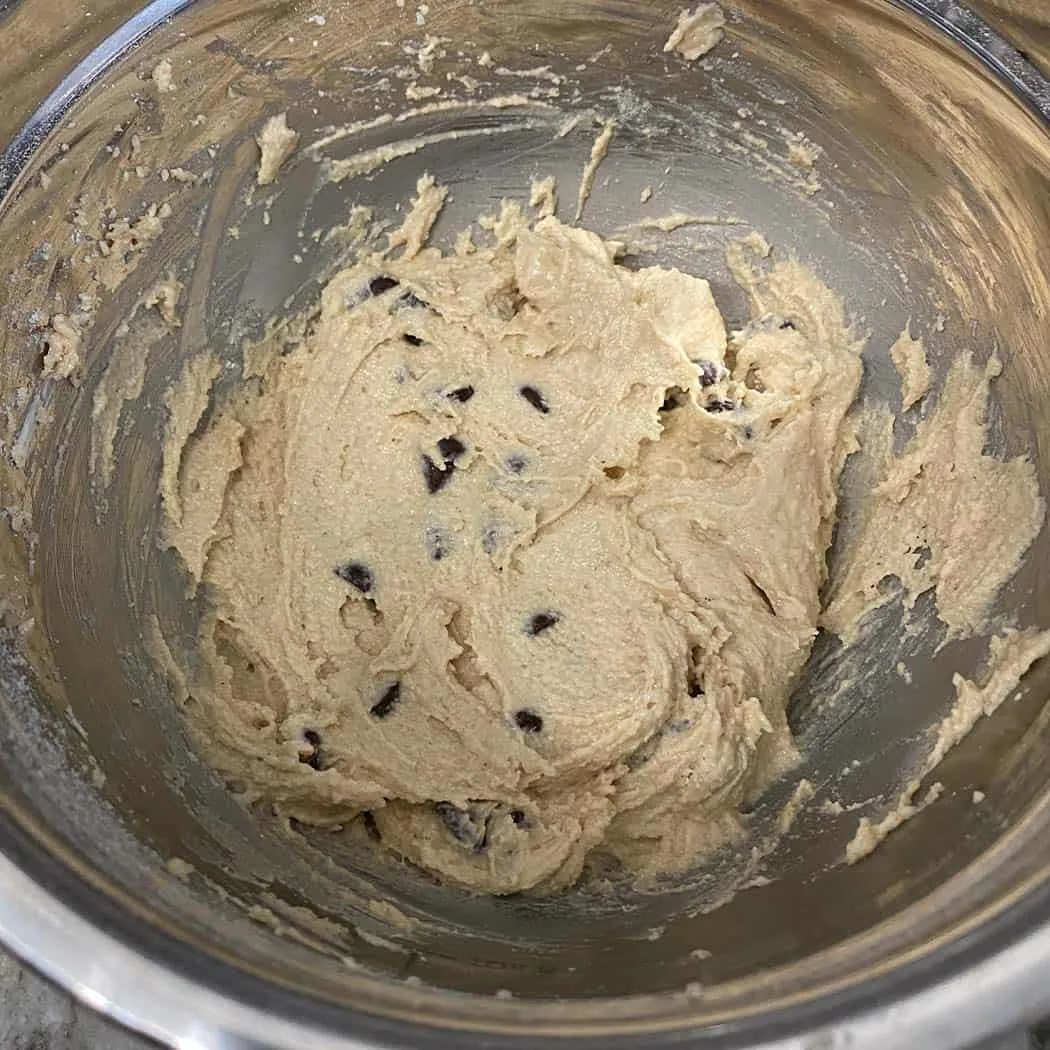 Which leads me to my next tip…
Cookie dough tip 2: Add the protein powder last
I tried a few different versions of this cookie dough and changed nothing but the order in which I mixed everything together, and I was shocked that it made such a huge difference.
Since I experimented with both whey protein and a protein blend, let's look at what happened with each.
If you add everything to a bowl and mix it up using whey protein, this is what happens:
There is no difference in ingredients between the two cookie doughs you see here, just the order. The cookie dough in the back is when I added the whey protein LAST. Clearly, there's a right way to do it.
And then I tried with the whey/casein blend. While it wasn't as egregious as the whey protein, there was still a very clear winner:
The cookie dough on the left was when I added the protein to the bowl with everything else and mixed it. The result was an insanely thick dough that was very difficult to mix. On the right is the cookie dough when following the instructions of adding the protein powder LAST.
Please do not miss this tip!!
Cookie dough tip 3: You need coconut flour
Trust me, I do not like coconut flour. The flavor of coconut is very gross to me, so I don't like using it very often.
That being said, it's essential here.
I experimented with different amounts to get it just right, and you can't taste it at all in this cookie dough.
When I attempted to make cookie dough with almond flour instead of coconut flour, it didn't turn out- it was way too runny. Coconut flour is a magical, super-absorbent ingredient, and it really can't be replaced.
If you're adamant on trying to substitute it, don't say you weren't warned.
Cookie dough tip 4: Have patience
The final tip when it comes to cookie dough is that you have to let it sit for at least one hour in the fridge. This is for two reasons:
The dough will be a bit sticky at first, and letting it set in the fridge allows it to thicken and really come together.
The flavors really develop in the fridge. I won't pretend to know the science of why it happens, but trust me.
Making the Brownie Cookies
These are a cross between brownies and cookies, and I'm not quite sure what they're considered, so we're going to call them both.
I used the exact recipe from my chocolate fudge cookies, but altered it slightly to make more cookies. If you're looking for larger, fudgier cookies, check those out!
There isn't a ton to know about these, but I do have a few quick tips for you:
I made a few batches of these, and for one of the batches, I added extra milk to create a thinner dough. To be exact, I used 1/4 cup milk for them. They came out pretty cakey, almost like whoopie pies. If that's more your style, go the extra milk route.
You don't HAVE TO chill the cookie dough, but I recommend it. The dough is quite sticky, so letting it sit in the fridge for an hour or so before baking really helps to be able to handle it.
These cookies won't spread like "regular" cookies, so we're going to form them before we bake them. Once removed from the oven, they might seem a little bit cakey. But once they cool, the cookies sink a bit and become fudgier. Just check out these progress photos:
Can you turn the cookie dough into cookies?
Short answer: not really. I added a little baking soda to the cookie dough and baked them, but it didn't quite work out.
They actually tasted really good, because the cookie dough itself is great, but they were as dry as can be! If you want to make chocolate chip cookies, I'd try a different recipe instead.
Anyway, that should do it- let's dive into the recipe!
Brownies & cookie dough are two of my favorite things, so I've got tons of related recipes that I also recommend you check out after you make these:
High-Protein Brownie Cookie Dough Sandwiches
Total Time:
1 hour
16 minutes
A decadent dessert that you'd never know was packed with protein! Delicious chocolate chip cookie dough sandwiched between two fudgy cookies- need I say more?
Ingredients
Cookie Dough Ingredients
30g Oat Flour
10g Coconut Flour
Pinch of Salt
28g Light Butter
1 Tsp Vanilla Extract
1 Tbsp Sugar Free Syrup (or any sticky sweetener)
1-2 Tbsp Milk of Choice
Brownie Cookie Ingredients
30g Oat Flour
15g Cocoa Powder
32g (2 Tbsp) Creamy Peanut Butter
50g Unsweetened Applesauce
1/2 Tsp Baking Soda
1/2 Tsp Vanilla Extract
Pinch of Salt
2 Tbsp Milk of Choice
Instructions
We're going to start with the cookie dough first. In a large bowl, add all of the cookie dough ingredients except for the protein powder, milk, and chocolate chips.
Use an electric hand mixer to mix it all together. It won't quite resemble a cookie dough YET.
Now add in your protein powder and mix it up. See my notes above this recipe on why I add the protein powder last. This should leave you with a thick crumb and not quite a cookie dough.
Add 1 tbsp of milk and mix again. Depending on the protein powder you use, the milk requirements will vary. For me (I used a whey/casein blend), 2 tablespoons was the perfect amount.
Fold in the chocolate chips and then add to the fridge to thicken for one hour.
Then we are going to prep the brownie cookies. Add all of your ingredients together except for the milk and use an electric hand mixer to mix it all up. At this point it's going to resemble a crumb because it does not have enough liquid.
Similar to the cookie dough, add milk 1 tablespoon at a time until you have a thick dough. 2 Tablespoons worked out perfectly for me. Fold in your chocolate chips and add to the fridge for 30-60 minutes to help the dough firm up and become less sticky.
Once the cookie dough has rested long enough in the fridge, preheat your oven to 350 degrees F.
Take your cookie dough and break it apart into 8 roughly equal-sized balls, rolling them in your palms before placing on the baking sheet.
Wet your fingers with cold water to help prevent sticking, then press each ball down into a cookie shape. Sprinkle with some additional salt (optional, but I love the addition!) and bake for 6 minutes.
Remove the cookies from the oven and let them cool for about 20 minutes. Take your cookie dough out of the fridge, assemble your sandwiches, and enjoy!
Notes
The protein powder I use is a whey/casein blend. Whey alone tends to lead to dry baked goods, and the whey/casein blend always works great for me. To see how different protein powder affects cookie recipes, check out my Ultimate Protein Powder Substitution Guide.
If you find your cookies dry or cakey, that typically means they need more fat. Feel free to sub out the applesauce for additional butter or coconut oil.
Nobody ever get mad about having too many chocolate chips- don't be afraid to get a little heavy-handed on the chips.
These didn't last very long in my house, but I stored the extra in the fridge overnight (just on a plate) and they were still great the following day!
The nutrition reflects using Lily's sugar-free chocolate chips. You can use any chocolate chips you want, but I always recommend calculating the nutrition on your own to reflect those changes.
Recommended Products
As an Amazon Associate and member of other affiliate programs, I earn from qualifying purchases.
Nutrition Information
Yield

4
Serving Size

1 Sandwich
Amount Per Serving
Calories

245
Total Fat

9.5g
Carbohydrates

36g
Net Carbohydrates

13g
Fiber

9g
Sugar

3g
Sugar Alcohols

14g
Protein

20g