What if I told you that you could bake delicious chocolate cookies with only 25 ingredients AND 4 ingredients?
That's right: not only are these cookies very low in calories, but they also only require 4 ingredients.
These low calorie cookies are gluten free, sugar free, dairy free, but far from flavor-free.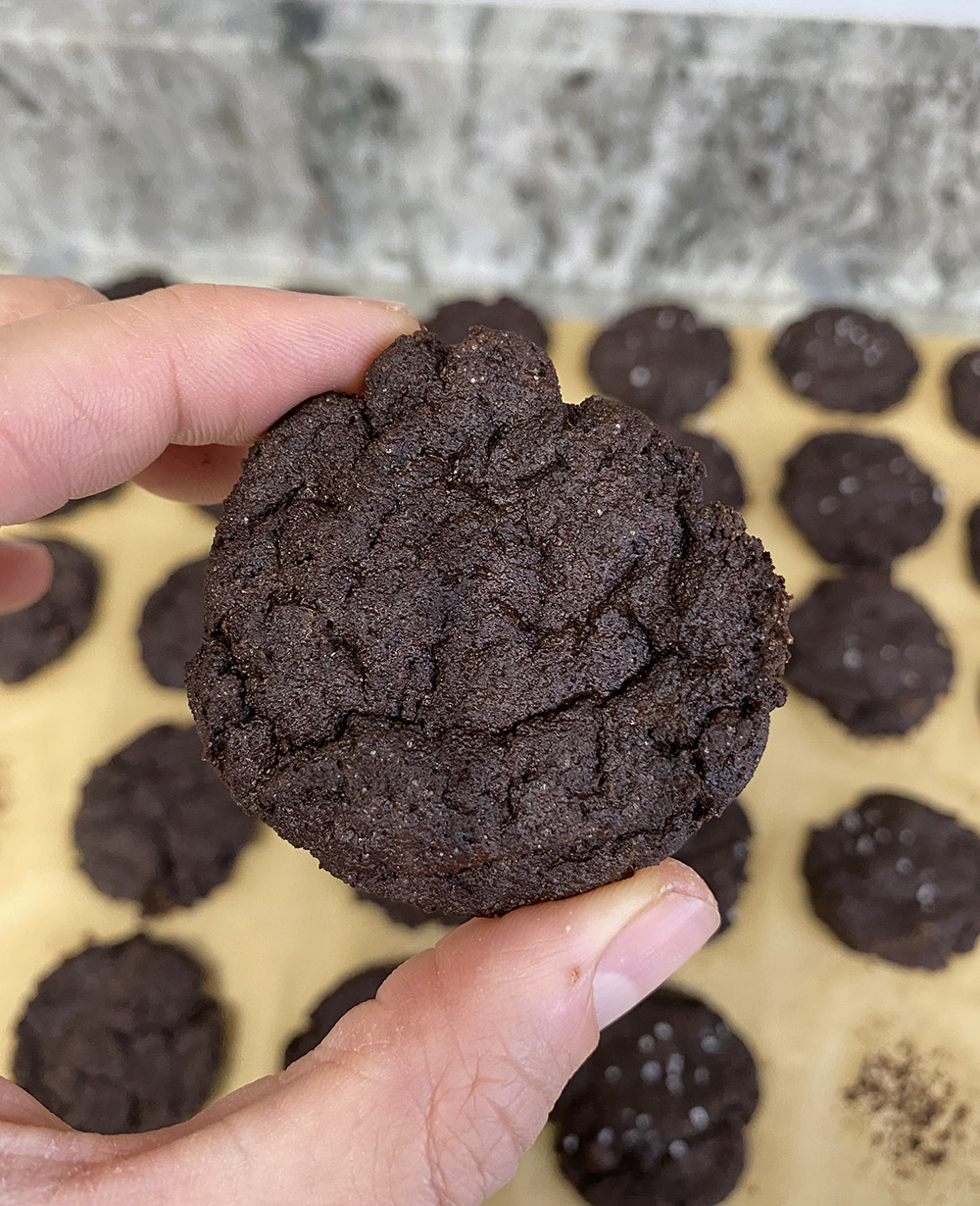 Whether or not you are counting your calories, these low calorie cookies are a must-bake for absolutely any diet!
Ingredients needed for
These chocolate cookies have only 25 calories, and the secret lies in the ingredients we are using.
The four ingredients we need for these cookies are:
Unsweetened

Canned Pumpkin

Creamy ) (or other

Substitute
Many healthy cookie recipes you'll come across will require some kind of flour (often almond flour or coconut flour), but we are able to make these without any flour at all (also making them totally gluten free). Most of my cookie recipes utilize oat flour for an authentic cookie flavor, but the cocoa powder here eliminates the need for that.
The canned pumpkin is the secret ingredient here, and it's my go-to ingredient when I want to make baked goods soft without adding a ton of extra calories (like with my Low Calorie Sugar Cookies or Protein Chocolate Chip Cookies).
Pumpkin is a magical ingredient that will stay soft when baked, and is very mild in flavor. In this cookie recipe, it replaces the need for butter that you'd find in most other cookie recipes.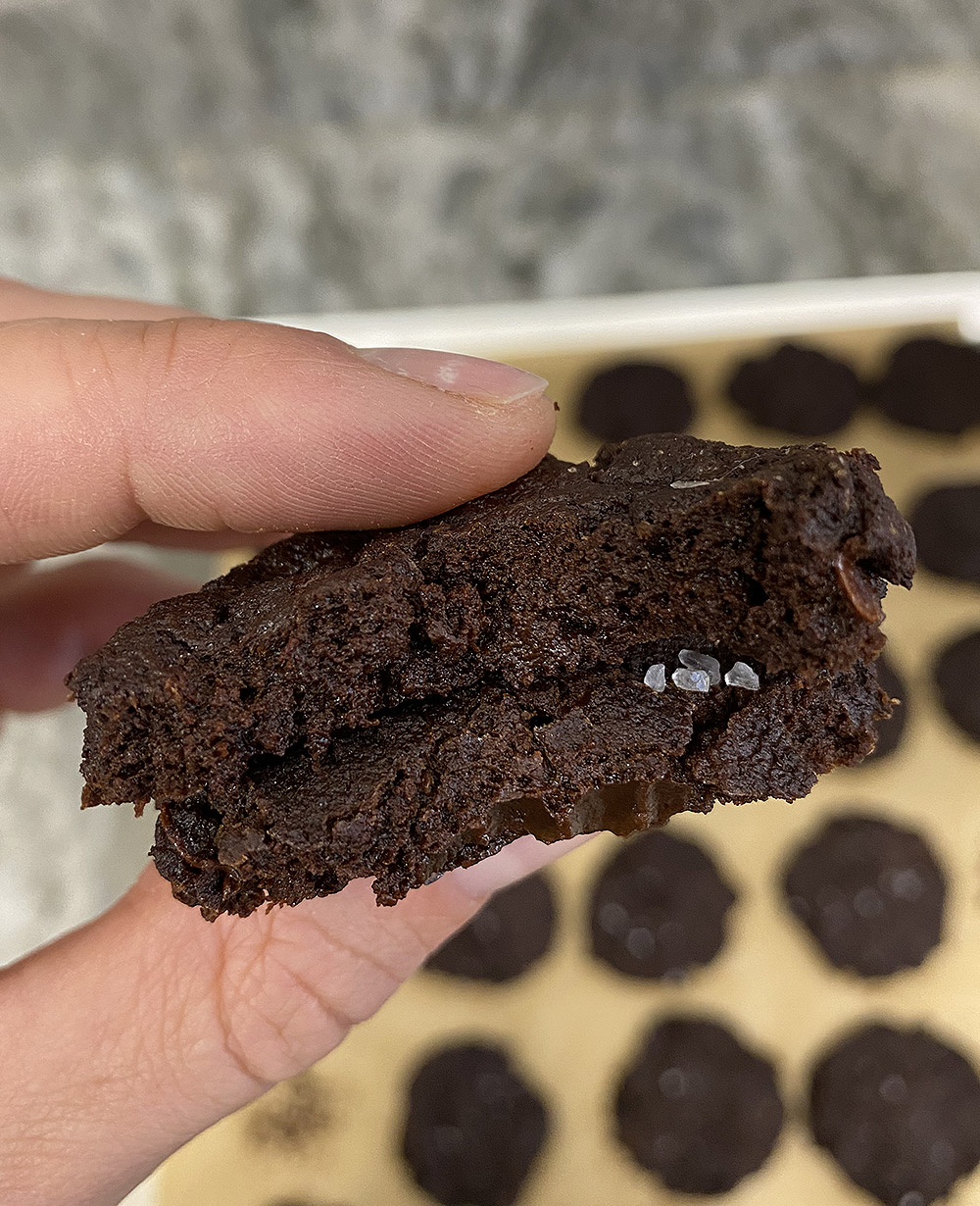 If you do not have access to canned pumpkin, there is not a great replacement for it. Unsweetened applesauce is a popular low-calorie ingredient, but it would not give these cookies the structure we need. You can check out my Peanut Butter Nutella Cookies if you do not have canned pumpkin, since that one DOES use applesauce!
These chocolate cookies are on the slightly bitter side, which makes them similar to a semi-sweet chocolate flavor. I don't like dark chocolate, but I really enjoy these cookies! To me, they have the perfect sweetness.
If you wanted them to be sweeter, you can always add additional sweetener!
I use brown sugar substitute to sweeten these cookies. If you only have regular brown sugar, you can definitely use that, but these cookies will be much higher calorie in that case.
Brown sugar helps keep these cookies soft, and I think that using regular granular sugar would result in a cookie that is too gritty and fragile, so I don't recommend that swap.
How to make
Since these cookies only require 4 ingredients, the process of making them is very simple!
Add the cocoa powder, pumpkin, peanut butter (or other nut butter), and brown sugar to a large bowl. No need to separate the wet and dry ingredients in this one!
Okay, technically we need to add a fifth ingredient here, but it's baking soda, which most people have in their pantry already, so we don't count it as a main ingredient.
Mix everything up until cookie dough forms, then use a small cookie scoop to create your cookie dough balls.
A small cookie scoop is roughly equal to 2 teaspoons, so if you do not have a cookie scoop, you can measure it that way. All in all, you should be able to create about 30 cookie dough balls from your chocolate cookie dough.
Space the cookie dough out on a cookie sheet (or regular baking sheet), then use your hands to lightly press them down into discs.
You do not need to completely flatten the cookies, but they will not spread a ton once baked, so we do not want them to be completely round.
Bake the cookies at 350 degrees for 10 minutes, then let the cookies cool for 10-15 minutes.
If you were to try to eat one of these low calorie cookies directly out of the oven, it will likely fall apart on you. By letting the cookies cool completely, you are also allowing them time to set and firm up inside.
As you can see in the photo below, I also topped some of my cookies with sea salt, but that is optional!
If you have leftover cookies, these can be stored in an airtight container and enjoyed throughout the week! I kept mine in the fridge, although that isn't necessary, and these cookies remained fresh for 5 full days.
More

recipes

to enjoy
Whether you're in search of more low calorie cookies, high protein cookies, or no-bake cookies, there's a healthy recipe here on my blog for you. Here are some of my favorites:
25 Calorie Chocolate Cookies (with only 4 ingredients)
With only 4 ingredients, these chocolate cookies could not be any easier. But these cookies are made even better because each one contains only 25 calories!
Ingredients
210g Canned Pumpkin
90g Unsweetened Cocoa Powder
64g (1/4 Cup) Creamy Peanut Butter
1/2 tsp Baking Soda
Pinch of Salt
Instructions
Preheat the oven to 350 degrees F.
In a large bowl, mix all of the ingredients together until cookie dough forms. If you want extra chocolate flavor, you can mix in mini chocolate chips at this stage, but that is totally optional.
Using a small cookie scoop (about 2 teaspoons if you do not have a cookie scoop) scoop out cookies onto a baking sheet. Using a small cookie scoop, I was able to create exactly 30 cookies, but it may vary slightly for you.
Using your hands, gently press down each ball of cookie dough into a disc. You do not need to press them down completely flat, but these cookies do not spread too much, so we do not want them to be cookie dough balls. See the photos above this recipe card for reference.
Optional: top with some coarse sea salt before baking if you enjoy the salty + sweet combo!
Bake for 10 minutes at 350 degrees F.
Remove from the oven and let cool for 10-15 minutes. These cookies will be delicate right out of the oven, but they will firm up as they cool. You can let them cool even longer if you feel the cookies are still too soft!
Notes
Since this recipe makes 30 cookies, you may find yourself with leftovers. I stored my leftover cookies in the fridge and enjoyed them for up to 5 days after baking, but you should be able to keep them stored on the counter in a sealed container.
If you do not have access to canned pumpkin, I cannot recommend a substitution. The canned pumpkin is the secret ingredient that keeps these cookies soft and is very low calorie, so there is not a great substitution! I'd recommend making my Peanut Butter Nutella Cookies as a simple cookie recipe if you do not have pumpkin.
Note that I do not count the brown sugar substitute in my carb totals because it contains 0 calories. If you are very strict about carbs, be sure to take those into account.
Recommended Products
As an Amazon Associate and member of other affiliate programs, I earn from qualifying purchases.
Nutrition Information
Yield

30
Serving Size

1 Small Cookie
Amount Per Serving
Calories

25
Total Fat

1.5g
Carbohydrates

3g
Fiber

1.5g
Sugar

0.5g
Protein

1g