All photos are property of Taco Bell unless otherwise stated
Before we dive in, I want to hit you with a few overall notes regarding Taco Bell's menu in general.
First and foremost, I should preface this post by acknowledging that you're likely not looking to eat at Taco Bell to be specifically "healthy."
Generally speaking, you're not going to a fast food restaurant in search of the healthiest food (with fast-food chains like Subway or Panera being general exceptions).
That being said, I always find it useful to understand what it is that I'm eating even if I'm not overly concerned with eating the healthiest options.
It's not about always trying to be as healthy as possible, but it's about knowing what choices are best to make for YOU.
In doing research for this post, it's clear to me that Taco Bell actually has some quality options for healthy eating.
We're going to break down the Taco Bell menu calories and full nutrition for the Taco Bell menu as of January 2023. I will be sure to keep this guide as up-to-date as possible, especially because menu items at Taco Bell tend to come and go rather quickly.
What are the Healthiest Options at Taco Bell?
Before we break down the full menu, let's explore what some of the healthier options are depending on specific dietary preferences.
Note that as we go through this post in general, I won't necessarily be touching on things like saturated fat or worrying about how many mg sodium or grams of fiber an item may have.
While those things are great to look at when determining healthy options, we're going to look strictly at calories and macronutrients for these purposes.
Best keto-friendly option at Taco Bell
Power Bowl With No Rice or Beans
240 Calories, 14g Fat, 4g Net Carbs, 21g Protein
Ordering a power menu bowl is a great option if you're looking to minimize your calories or carbs and eat high protein. Think of it as a burrito bowl you'd order from Chipotle.
Thanks to my friend Joe Duff over at thedietchefs.com, there is a full keto-friendly / low-carb Taco Bell breakdown for ya if you want to explore more options.
Best low-fat option at Taco Bell

Soft Grilled Chicken Taco Fesco Style
130 Calories, 3.5g Fat, 16g Carbs, 11g Protein
A chicken soft taco is a great way to eat low fat and low calorie. There are two swaps that will go a long way in saving you calories and/or fat when ordering at Taco Bell:
1) Swapping ground beef for grilled chicken.
2) Asking for your food "fresco style," which swaps out cheese & dairy-based sauces for tomato.
We'll dive more into fresco style options in a little bit.
Highest protein option at Taco Bell
Double Steak Grilled Cheese Burrito
920 Calories, 44g Fat, 91g Carbs, 40g Protein
Sure, this might not be the healthiest or best option in terms of overall nutrition, but it is definitely protein-packed.
The double steak grilled cheese burrito packs 40 grams of lean protein from the steak, but that also comes with over 900 calories, so it may not be the option you're going to be reaching for.
If you want to maximize your protein but bring the calories down a bit, ask for this same burrito without the sour cream and nacho cheese. It won't be a huge difference, but it will bring the total calories down to about 800 without reducing the protein content.
Now let's dive into the entire menu to help you find the best Taco Bell meals for the next time you find yourself in need of a healthy meal on the go.
The Healthiest Tacos at Taco Bell

Tacos, Doritos, Chalupas, oh my!
Tacos are the bread & butter here (if you're asking me, the Doritos Locos Taco is the best tasting on the menu, but many will argue for the Cheesy Gordita Crunch), but what you see here is not all you are limited to.
Lucky for us, whether you prefer flour tortilla, hard shell, double-stacked, or chalupa, there are countless options to choose from.
The tacos listed here are if you order them exactly as-is, but there are plenty of substitutions you can make to save some calories or up the protein.
Let's take the Soft Taco Supreme and make some changes to see how it affects the final nutrition.
As is, the Soft Taco Supreme is 210 Calories, 10g Fat, 20g Carbs, and 9g Protein.
If you want to save some calories and bump up the protein a bit, you can swap the beef for grilled chicken. That will change the taco to 180 Calories and 13g of Protein.
Another option you have is to order the taco "fresco style." Fresco simply means swapping out the dairy (cheese and sour cream) and mayo-based sauces for tomatoes. This will work for either a crunchy taco or a soft taco.
In this case, ordering the Soft Taco Supreme "fresco style" changes the nutrition to 160 Calories, 7g Fat, 18g Carbs, and 8g Protein.
Finally, you can make any of the tacos vegetarian by ordering a black bean taco instead of seasoned beef, chicken, or steak.
For the ultimate calorie saver, you can order the taco vegetarian AND fresco. In this case, the same taco would end up being just 140 calories- not bad!
Lowest Calorie Taco at Taco Bell
Crunchy Taco: 170 Calories | 9g Fat | 13g Carbs | 8g Protein
Highest Calorie Taco at Taco Bell
Cheesy Gordita Crunch: 500 Calories | 28g Fat | 41g Carbs | 20g Protein
The Most Macro-Balanced Taco at Taco Bell
Chicken Chalupa: 340 Calories | 17g Fat | 29g Carbs | 16g Protein
The Healthiest Burritos at Taco Bell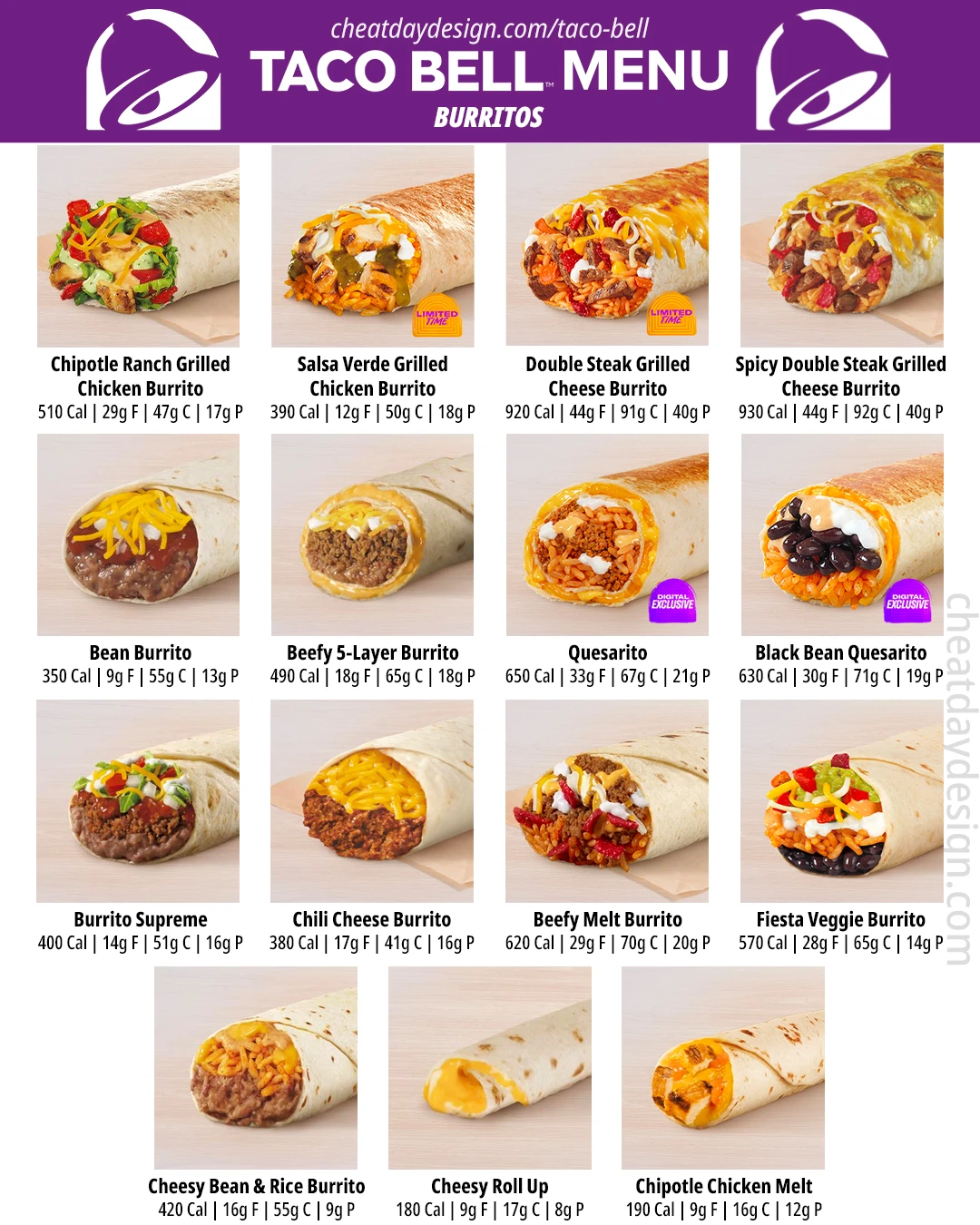 After tacos, burritos are the most popular items at Taco Bell. In terms of portability, you simply cannot beat the burrito.
By looking over the items here, you can see that the calories vary quite a bit, from 190 calories in the Chipotle Chicken Melt, all the way up to a Double Steak Grilled Cheese Burrito with over 900 calories.
The Quesarito packs an extra layer of nacho cheese sauce and includes sour cream & chipotle sauce, leading to a much higher calorie count overall compared to something like a Burrito Supreme.
When it comes to deciding what to order here, aside from calories, protein may be the largest differentiator.
If you're looking to maximize your protein intake (personally, that would be my goal), adding extra meat to a burrito will give you the best bang for your buck.
For example, a Beefy 5-Layer Burrito will go from 18 grams of protein up to 22 grams of protein with extra seasoned beef, and up to 29g of protein if you swap the beef out completely for extra chicken.
Overall, the nutrition facts of these burritos will vary greatly if you opt to leave out the extra cheese sauce or other dairy-based sauces like sour cream.
If you leave those out and focus on other items such as black beans, refried beans, or pico de gallo, you'll bring those calories way down overall.
Lowest Calorie Burrito at Taco Bell
Chicken Chipotle Melt: 190 Calories | 9g Fat | 16g Carbs | 12g Protein
Highest Calorie Burrito at Taco Bell
Double Steak Grilled Cheese Burrito: 920 Calories | 44g Fat | 91g Carbs | 40g Protein
The Most Macro-Balanced Burrito at Taco Bell
Salsa Verde Grilled Chicken Burrito: 390 Calories | 12g Fat | 50g Carbs | 18g Protein
The Healthiest Specialties & Sides at Taco Bell
Nacho Fries and Mexican Pizzas are back, baby! What a time to be alive.
It seems that Taco Bell will forever be rotating Nacho Fries on and off the menu, but at the time of writing this, they're back on the menu and there are talks of them becoming a permanent menu item, so let's all cross our fingers together.
Much like French fries at most fast-food restaurants, the amount of fries you receive is going to vary greatly depending on the day and Taco Bell location.
Consider these calories an estimate- and the same applies to the side of nachos, too.
If your server is in a good mood, you may get a much more generous serving on any given day, so the calories may be a bit higher.
Outside of the side dish options, we're also looking at quesadillas, Crunch Wraps, and bowls. Power Bowls are Taco Bell's equivalent to a burrito bowl from Chipotle.
If I were ordering a Power Bowl, I'd opt to go with grilled chicken, and I'd leave out the nacho cheese sauce and shredded cheese to maximize the protein and minimize the overall calories.
For me, cheese doesn't add a whole lot, so I don't mind leaving it out. I'll load up on salsa or pico de gallo instead (and hot sauce, of course).
Quesadillas are also a surprisingly good option if you're looking to maximize your protein intake as well, with a chicken quesadilla containing more protein than most of the burritos on the Taco Bell menu.
Lowest Calorie Specialty Item at Taco Bell
Nacho Fries without Nacho Cheese Sauce: 270 Calories | 15g Fat | 30g Carbs | 3g Protein
Nacho Fries With Nacho Cheese Sauce: 320 Calories | 19g Fat | 35g Carbs | 4g Protein
Highest Calorie Specialty Item at Taco Bell
Nachos BellGrande: 730 Calories | 38g Fat | 81g Carbs | 17g Protein
The Most Macro-Balanced Specialty Items at Taco Bell
There are actually two really solid options here, so I wanted to highlight them both…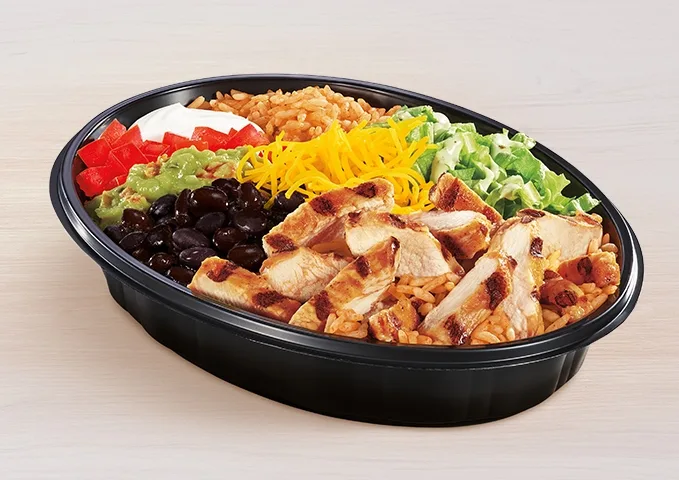 Power Menu Bowl: 460 Calories | 21g Fat | 41g Carbs | 27g Protein
Steak or Chicken Quesadilla: 520 Calories | 26g Fat | 41g Carbs | 26g Protein
The Healthiest Breakfast Items at Taco Bell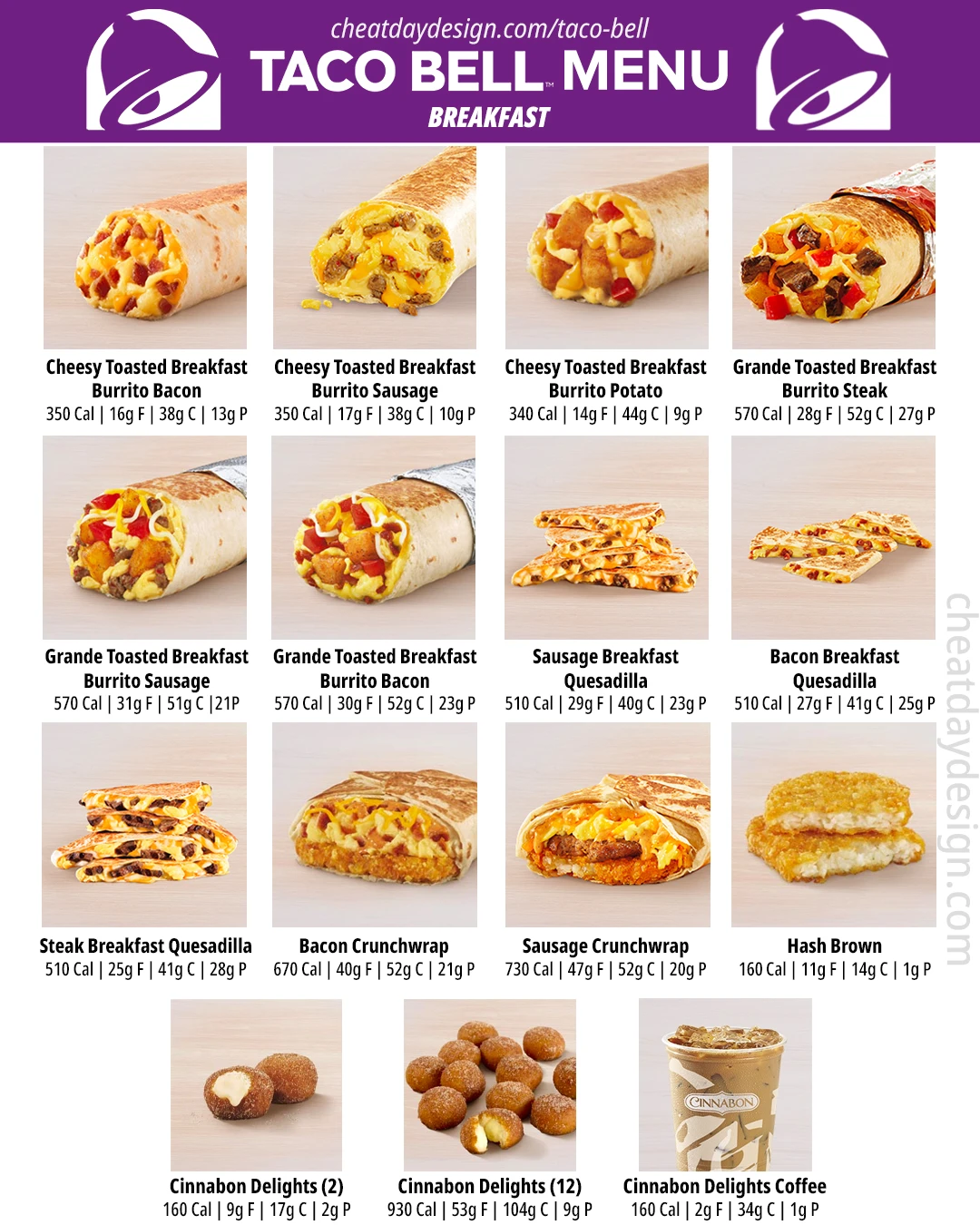 I've never had breakfast from Taco Bell, but looking at their options, I'm very tempted to give it a try.
With breakfast options, you have less room for substitutions or calorie savers, but that doesn't mean you're completely out of luck.
If breakfast meat (bacon or breakfast sausage) isn't your cup of tea, you have the option to swap them for grilled steak instead. And who doesn't love steak and eggs?
For a small calorie saver, you can always take the cheese out of any of the options as well.
It may not seem like much, but if you were to order the cheesy toasted breakfast burrito with steak and no nacho cheese sauce, it would bring the total calories to 310. It's not huge savings, but it's something!
And of course, you should always pair your breakfast with a crispy hashbrown. Hash browns are pretty much non-negotiable in my mind when ordering fast food breakfast (or any breakfast, for that matter).
Lowest Calorie Breakfast Item at Taco Bell
Cheesy Breakfast Burrito: 340 Calories | 16g Fat | 38g Carbs | 13g Protein
Highest Calorie Breakfast Item at Taco Bell
Breakfast Sausage Crunchwrap: 730 Calories | 47g Fat | 52g Carbs | 20g Protein
The Most Macro-Balanced Breakfast Item from Taco Bell
Steak Breakfast Quesadilla: 510 Calories | 25g Fat | 41g Carbs | 28g Protein
How to Save Calories at Taco Bell: Order Fresco Style
Fresco Style isn't technically its own menu, but rather a style of ordering you can choose (like "animal style" at In-N-Out).
If you order anything "Fresco Style," it replaces any mayo or dairy-based sauces (like avocado ranch sauce), shredded cheese, nacho cheese sauce, and sour cream, with freshly diced tomatoes.
Depending on what you order, that can lead to huge calorie savings.
If calories aren't a concern, fresco items are also great for anyone that chooses to (or has to) eat dairy-free.
To get an idea of the calorie savings, a regular Soft Taco Supreme with beef contains 210 calories. If you order that Soft Beef Taco "fresco style," it'll bring the calories all the way down to 160.
Personally, I find a fresco crunchy taco to be even better than one with cheddar cheese on it!
Small savings can go a long way, especially if you're ordering multiple items.
Custom Macro-Friendly Taco Bell Orders
If you want some inspiration for macro-friendly options at Taco Bell, I put together a few good options using Taco Bell's nutrition calculator.
There is not one single best option because you can easily switch up an order to fit your specific macro needs, but these are all high protein healthy options you can order:
1. Grilled Chicken Doritos Locos Taco
Order a Doritos Locos Taco, but swap the beef for grilled chicken and add extra grilled chicken.
190 Calories, 7g Fat, 12g Carbs, 19g Protein
2. Bean Burrito With Steak
Order a bean burrito, but add extra steak for added protein.
460 Calories, 14g Fat, 57g Carbs, 28g Protein
3. Grilled Chicken Power Bowl
Order a power bowl with extra grilled chicken, black beans, seasoned rice, easy/light cheddar cheese, lettuce, tomatoes, and the hot sauce of your choice.
390 Calories, 12g Fat, 38g Carbs, 32g Protein
4. Steak Quesadilla
Order a quesadilla with extra steak and ask for no creamy jalapeno sauce.
500 Calories, 23g Fat, 42g Carbs, 33g Protein
5. Steak & Eggs Breakfast Burrito
Order a cheesy toasted breakfast burrito without bacon, add extra steak, ask for extra eggs, and ask for easy/light nacho cheese.
440 Calories, 20g Fat, 39g Carbs, 27g Protein
Final Note: is Taco Bell healthy?
While Taco Bell has historically gotten a bad rap for using low-quality ingredients, that has certainly changed in recent years.
When you break down the menu, you can see that there are some real quality options. If you're looking for fresh food, a Taco Bell restaurant is actually not a bad choice at all.
Nutritionally, it's only as "unhealthy" as you make it. If you know what substitutions to make, the Taco Bell menu can actually be quite healthy.
All in all, if you're looking for low-calorie options, you'll want to limit the nacho cheese, sour cream, guacamole, or heavy sauces.
"Fresco style" without the cheese or sauce will save a ton of calories in some cases, and will still be very delicious with the addition of the salsa.
Ultimately, if you're going to eat a meal at Taco Bell, you certainly do not need to worry about nutrition. It's very likely that you're looking for a treat, in which case you can absolutely enjoy any item you'd like without worrying about the calories.
If you want to just enjoy some tacos without the thought of calories or macros, you absolutely should.
That being said, I always find it helpful to be educated about the nutrition of the food I'm eating. Whether or not I'm actively tracking my macros or counting my calories, I find it incredibly helpful to have a general idea of the calories/macros I'm consuming.