Is Starbucks healthy?
Well, that's ultimately your decision. If you've hung around here before, you know that "healthy" is very much subjective.
But let's do a deep dive into the Starbucks menu for you to be able to find yourself a healthy Starbucks breakfast.
First things first, though: this isn't the entire menu. Starbucks has a lot of additional items, but I could only fit so many items onto these graphics before it got too cluttered.
You may notice some of your favorite items missing, and that could be for a couple of reasons:
Starbucks releases a lot of seasonal items. Depending on when you're reading this, they may have released newer seasonal items that are not represented here!
I did not include most of the pre-packaged foods. Starbucks has lots of sweets & snacks available, but since most have the nutrition facts printed right on the packages, I didn't feel it necessary to include them all here.
And of course, I didn't include any drinks here. Since that menu is ALWAYS rotating, it is way too much to keep up with for the purposes of this healthy Starbucks blog post.
However, scroll down for a quick nutrition guide on the Starbucks drinks add-ins!
You can also see my Starbucks vs Dunkin Caffeine Guide for a breakdown of Starbucks coffee and how the caffeine content compares to Dunkin!
Starbucks Hot Breakfast Menu Nutrition
I don't spend a lot of time at Starbucks, mostly because I'm cheap and don't feel like dishing out $5+ daily for my coffee. I always make my own.
However, when I do go there, I always try out a different breakfast option. Taste-wise, I find their food to be decent, especially when you compare it to other coffee shops out there (I'm looking at you, Dunkin). Nutritionally, some options are certainly more appealing than others.
Starbucks recently came out with the "Impossible" breakfast sandwich for all the plant-based eaters out there, which I think is awesome.
However, I know that a lot of people see that and automatically assume that because the sandwich is plant-based that it is the best option, and that is certainly not the case.
It always depends on your goals, but if you're looking for a lower calorie option, the plant-based sandwich may not be your best bet. At 420 calories and 22g fat, it's certainly not terrible, but there are other options you may choose instead: the bacon, gouda, & egg sandwich has 370 calories, or you can go for the spinach, feta, & egg white wrap (which I tried and actually enjoyed) for only 290 calories.
Let's not be fooled, however. Lower calorie doesn't always mean "better". If you're looking for food with a small ingredients list, some of these are not going to be very appealing to you.
Let's look at the ingredients for the Bacon & Gruyere Egg Whites. I mean, they're little bites of egg, surely they contain minimal ingredients…
Ingredients: Cottage Cheese [Cultured Nonfat Milk, Milk, Nonfat Milk, Contains 2 Or Less Of Whey, Salt, Maltodextrin, Citric Acid, Carrageenan, Mono And Diglycerides, Locust Bean Gum, Guar Gum, Natural Flavors, Vitamin A Palmitate, Carbon Dioxide (To Maintain Freshness), Enzymes], Eggs [Eggs, Citric Acid, Water], Cheese Blend [Monterey Jack Cheese (Pasteurized Milk, Cheese Culture, Salt, Enzymes), Gruyere Cheese (Pasteurized Milk, Cheese Culture, Salt, Enzymes), Potato Starch, Powdered Cellulose, Natamycin (A Natural Mold Inhibitor)], Unsalted Butter [Pasteurized Cream, Natural Flavors], Uncured Bacon No Nitrites Or Nitrates Added Except As Naturally Occuring In Sea Salt And Celery Juice Powder [Pork, Water, Sea Salt, Cane Sugar, Cultured Celery Juice, Cherry Powder], Rice Starch, Corn Starch, Salt, White Distilled Vinegar [Diluted With Water To 4 Acidity], Hot Sauce [Distilled Vinegar, Red Pepper, Salt]
Yeah, that's a long list for a bite of egg.
Don't get me wrong- I'm not judging. If you want the egg bites, go for it! Just know that low calorie doesn't always equal "best."
Starbucks Bakery Menu Nutrition
After the hot breakfast options, we get into the bakery items. This is where things get interesting.
It's easy to think that if you grab a scone, it doesn't matter which you go with. But as you can see here, that is not true at all.
If you go with the Cranberry Orange Scone (a seasonal item at the time of writing this), you're looking at a delicious treat for 310 calories.
But if you're in the mood for a Pumpkin Scone instead, those calories are going to increase by nearly 200 calories! For 500 calories total, you can have the Pumpkin Scone, or you can two of the Turkey Bacon & Egg White sandwiches! Of course they are not at all the same, but if you want a breakfast that is going to fill you up for those 500 calories, a scone may not be the way to go.
Note that when it comes to bagels, they do not have anything on them. If you're adding butter or cream cheese, keep in mind that those calories are going to change depending on how much you glob on there.
Starbucks Baked Treats Menu Nutrition
Similar to the scones we looked at, not all baked good are created equally.
Let's say that you want a delicious sweet treat to pair with your morning coffee. If you go based on the sound alone, you may avoid a butter croissant, because you know that butter = high calorie. On the other hand, you assume that a simple donut cannot be that high in calories. In your mind, it's gotta be around 200 calories or so.
Sure, that's a made-up example, but it's not farfetched. In this example, the opposite is true: the croissant is quite low in calories at 260, and the doughnut has a whopping 480 calories!
This is why I love breaking down the menu like this- not because I think we HAVE TO be conscious of calories, but it can really help us make decisions on what we want to eat based on our goals. Knowing the Morning Bun is 420 calories, and the Coffee Cake is 330, I'll be more inclined to grab that coffee cake. It actually sounds much more delicious to me, but I would have assumed it was higher calorie had I not looked into it!
Starbucks Lunch Menu Nutrition
If you're getting work done at Starbucks and need to make it through the afternoon, they've got lunch options for ya, too!
I've never had lunch at Starbucks, but if your goal is to eat high protein, they've got plenty of options.
The one thing you will probably notice with the lunch items is that they are all pretty high in fat. If your goals require eating lower fat, your options are going to be a bit limited here. If you want to keep it under 10g of fat, your only option is going to be the grilled chicken & hummus protein box, which has 300 calories and 22g protein.
But if your goal is to eat as high protein as possible, and fat content isn't a huge concern for you, that turkey & basil option is going to be your friend. While it's a tad higher in calories at 550, it contains 34g of protein! That is definitely the one I would choose if I found myself wanting a solid lunch option.
Is Starbucks Food Healthy?
At the end of the day, it comes down to how you define healthy.
Starbucks surely has a ton of options, and based on your preferences, there is likely an option that is appealing to you.
Most of the food options are higher in fat, but given the option to go with egg whites for breakfast, you can easily grab a lower fat, higher protein option! For me, that makes some of their options healthier, because my goals have me eating high protein most of the time.
Baked goods aren't necessarily known for being "healthy" items, and should be looked at as treats. If you want to grab a baked treat, you're not going to be looking for a high protein or super low-calorie option.
That being said, these guides should help you choose between options based on your goals!
Starbucks Coffee Add-ins & Substitutions Nutrition
Starbucks offers a ton of different drink options, and the different combinations are practically endless. While you can order directly off the menu, sometimes you might want to make some substitutions, and there are plenty that you can make!
If you're ordering a custom drink, there are a few things to keep in mind.
First, it's best to avoid whipped cream if you're worried about calories. In terms of sugar, whipped cream is not going to add a whole lot, but it can easily add 100 extra calories to your drink. Sure, it makes the drinks aesthetic, but if you need to cut calories, that's a very easy way to do so.
The cold foam is on the opposite end of the spectrum of the whipped cream, and that is ALL sugar and no fat. Granted, it's a small amount, but for my Keto friends out there, keep that in mind.
Another thing to note is that any sugar-free syrups will be calorie and macro-free. But if artificial sweeteners aren't your thing, a pump or two of regular syrup will only add 20-40 calories, so it can still be a decent option.
If you want a (practically) calorie-free add-in, plus an extra caffeine boost, I recommend adding an espresso shot to your drink! Little calories, lots of jitters.
It turns out that Starbucks does not like to make their nutritional info easy to find (at least for the add-ins), and hunting down the info is damn hard. I'll try to keep this info as up to date as possible, but just keep in mind that there may be changes to be made depending on when you read this!
Do drink add-ins really make a difference?
If you're tracking your calories, you should take EVERYTHING into account.
That doesn't mean you have to count every single thing you consume to make progress, but if you are choosing to count your calories and you're not seeing results, it's a great place to start.
It's easy to dismiss your Starbucks coffee and just say you drank a cold brew coffee. But unless you're drinking that coffee black, there are calories, and sometimes those can really add up.
That is when the add-ins really matter.
I didn't want to use an extreme example of a 600+ calorie drink, so let's look at the Irish Cream Cold Brew. Being a flavored cold brew, it's easy to just count that as a regular cold brew. However, that's 200 calories you're not accounting for, which can end up really making a difference if you drink it regularly.
Even if you're just adding cream & sugar to your coffee, as we saw in the guide above, it's important to take it into account.
While the impact may seem very minimal, if you are drinking Starbucks coffee every single day, those extra calories can start to add up on you if unaccounted for!
Do you need to give up coffee to save calories? Don't be silly!
We could all use some delicious coffee in our lives.
Ordering the flavored cold brew is totally fine, and you're free to add-in whatever you'd like to your Starbucks coffee. You can, and should, consume what you want!
But if calories are a concern for you, don't totally discount the add-ins. Even if it's only 30-50 calories at a time, many of us are drinking Starbucks on a regular basis, so those unaccounted for calories can sneak up on you.
How to order healthy drinks at Starbucks
If you're looking to order lower-calorie alternatives at Starbucks, I need to direct your attention to The Macro Barista.
The Macro Barista (Alex) specializes in bringing you lower-calorie and healthier spins on classic Starbucks drinks that you can order, and he has never disappointed with any of his creations.
I've worked closely with Alex on numerous design projects, including his website, so I am very familiar with his unique Starbucks orders!
If you need some inspiration, here are two that I highly recommend: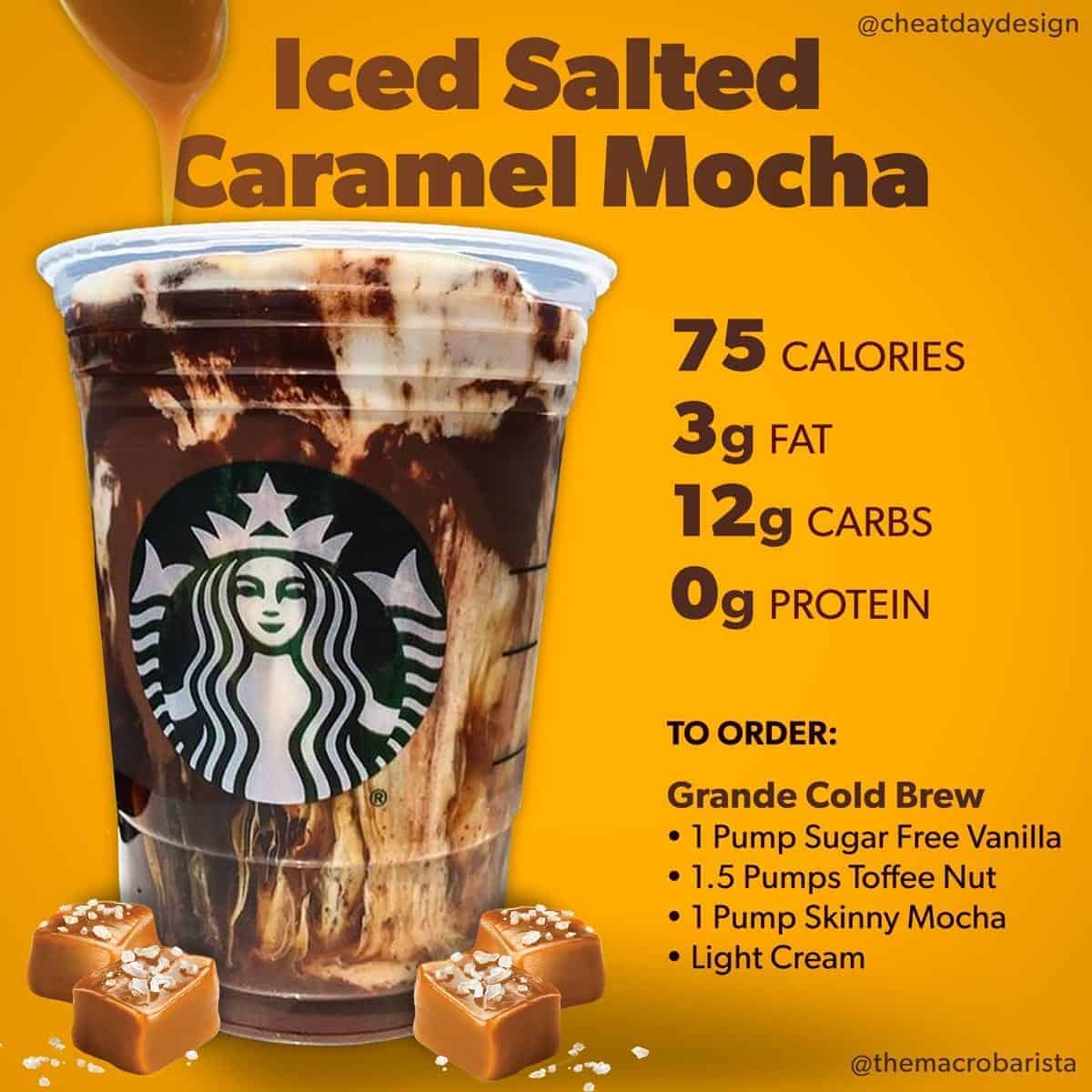 How to order am Iced Salted Caramel Mocha:
Ask for a GRANDE Cold Brew
Ask for ONE (1) pump sugar free vanilla
Ask for ONE AND A HALF (1.5) pumps of toffee nut
Ask for ONE (1) pump skinny mocha
Ask for LIGHT CREAM (half n half) (1-2oz)
How to order a Snickerdoodle Cold Brew:
Ask for a GRANDE Cold Brew
Ask for ONE (1) pump white mocha
Ask for ONE – TWO (1-2) pumps sugar free cinnamon dolce
Ask for LIGHT CREAM (half n half) (1-2oz)
Add 1-2 Stevia if it isn't sweet enough for you
And if you prefer to make your own fancy coffee drinks at home, be sure to check out my Snickers Cold Brew Recipe.