Mac & cheese is my go-to "lazy" meal when I don't feel like planning ahead.
And everybody knows that when it comes to mac & cheese, the more cheese the better.
But many people out there can't do cheese, especially not large quantities of it. Whether it's for ethical reasons or allergies, many people out there need a dairy-free alternative.
This wonderfully creamy vegan mac & cheese will definitely satisfy that need!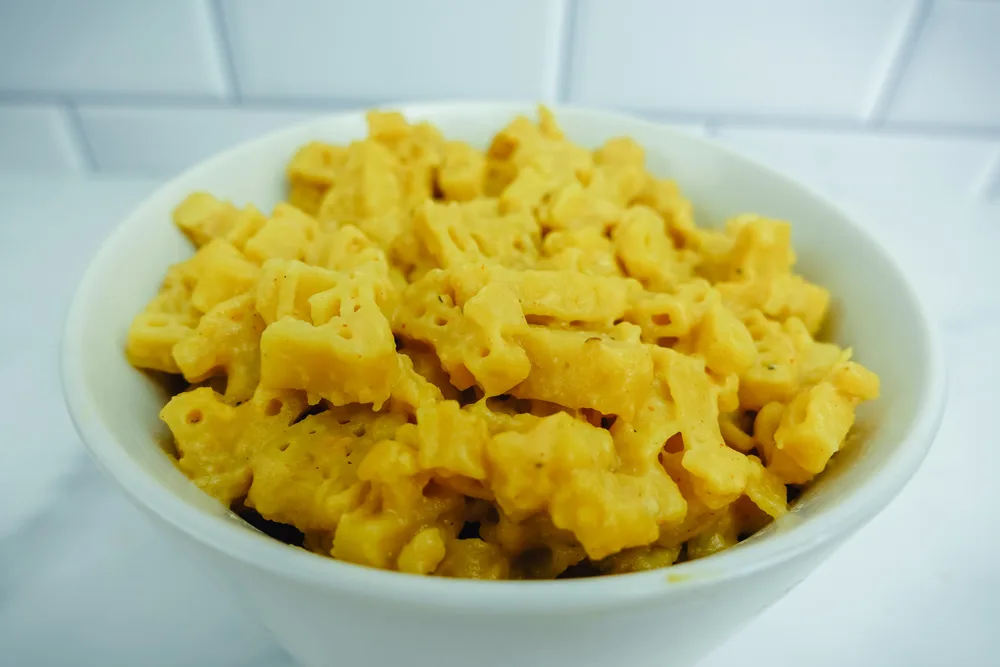 This mac and cheese may look cheesy, but it is 100% dairy free.
Plus, I use gluten-free pasta, so it will work for you if you're gluten-free, too!
I won't go as far as saying I like this recipe more than my bacon mac & cheese recipe, but for a vegan alternative, this is as good as you're going to find.
How to make vegan cheese for mac & cheese
To make this dairy free mac and cheese, we need to make our own vegan cheese sauce.
Here are the ingredients we're going to use to make that happen:
, , , or will all work)-free (

Hummus

, pepper, and
That's it!
The hummus creates a deliciously creamy base for the vegan cheese sauce, but if you want even more creaminess, you can add some vegan butter as well.
The nutritional yeast is where we get the "cheesy" flavor from, so it's an ingredient that you absolutely cannot omit.
I also chose to add some vegan cheese shreds from Trader Joe's because they melt down really nicely, but this vegan mac is still delicious without that. If you wanted to save some calories, you can certainly leave that part out.
Add all of the ingredients to a bowl and whisk together to combine.
Pour the vegan cheese into a pan and cook over medium heat for 5-10 minutes. I simply let the cheese sauce heat while the macaroni cooked, which only took about 6 minutes for mine.
Stir the cheese sauce occasionally to make sure it melts down and becomes smooth.
Once the pasta is cooked, add is to the pan with the vegan cheese sauce and mix it all up.
Now, if you've never had nutritional yeast before, it's a pretty strong flavor. It has cheesy qualities to it, but it's also a little bit "earthy" tasting.
To cut that earthy flavor, I drizzle one tablespoon of hot honey over the top of the mac & cheese and mix that in.
The spice from the hot honey provides a nice kick, and the sweetness of the honey cuts the flavor of nutritional yeast a bit. It's the perfect compliment!
You can mix in some hot sauce as well, which should also work, but you'll be missing that subtle sweetness that the hot honey adds.
What type of ? is best for
When it comes to mac & cheese, the cheese is the star, but the type of macaroni you choose also makes a difference!
Any time I make mac and cheese, I used Banza chickpea pasta. Don't get me wrong: regular pasta is amazing, but I love the extra fiber and protein that chickpea pasta provides.
Plus, chickpea pasta is gluten-free, so it turns this recipe into gluten-free mac and cheese.
And trust me: it tastes identical to regular pasta if you cook it correctly.
I'm all for having fun, so I try to stick with fun macaroni shapes for my vegan mac. In this case, I used alphabet pasta, but I'm no stranger to using wheels or rotini (twists) either.
You can use any cooked pasta you'd like for this classic comfort food and I can promise you that it'll still be the best vegan mac you've ever had!
Vegan Mac & Cheese (Dairy-Free and Gluten-Free)
Creamy mac & cheese that is fully vegan AND gluten-free. Even if you're not dairy free, this is a delicious spin on mac & cheese worth trying.
Ingredients
8oz (1 Box) Banza Chickpea Pasta - Can use any pasta you'd like
2/3 cup Milk of Choice (Unsweetned almond milk or coconut milk works great)
1/4 Cup (20g) Nutritional Yeast
1/2 Cup (56g) Dairy-Free Mozzarella Shreds (these can be left out to save calories, but really helps the final consistency)
1/2 Cup (120g) Flavored Hummus of choice (preferred options in notes below)
1/2 tsp Garlic Powder
1/4 tsp Salt & Pepper
1 Tbsp Hot Honey (or regular honey) for Topping
Instructions
Bring water to boil in a small saucepan and add your chickpea pasta. Cook based on the instructions on the package, as different shapes sometimes require different cook times.
In a bowl, whisk together your hummus, dairy-free shredded cheese, nutritional yeast, milk, and seasoning.
Add the mixture to a saucepan and cook over medium heat, stirring occasionally to prevent burning. Let the "cheese" mixture heat while the pasta cooks, which should only take about 5 minutes.
When your pasta is done, drain out the water, then add the pasta to the pan with your cheese mixture and mix everything together.
Drizzle hot honey over the top and give everything one final mix. The sweetness of the honey really compliments this dish well and helps to cut the strong flavor of the nutritional yeast.
Add to a bowl and enjoy!
Notes
If you'd like to bring the calories down, remove the mozzarella shreds. When you do this, each serving will have 285 calories and still contain 16g of protein.
The hummus you choose for this recipe is important because it's one of the main ingredients for the "cheese sauce." So, make sure you choose hummus that has good flavor! I used spicy hummus from Trader Joe's because I love the extra kick.
I use Silk Protein as my milk here not only for the added protein, but the flavor & thickness. If you want to use another milk, I would stick with cashew or coconut milk. Almond milk may still work, but it's typically not as thick and rich as the other two.
Nutritional yeast has a strong flavor that is almost a little bit "earthy." Adding a small amount of honey at the end goes a long way in cutting that flavor, so I definitely recommend not skipping that!
Nutrition Information
Yield

4
Serving Size

1 Bowl (2oz of pasta)
Amount Per Serving
Calories

325
Total Fat

10g
Carbohydrates

50g
Fiber

7g
Sugar

6g
Protein

16g