Okay guys, you'll have to go easy on me here! I don't have a ton of dinner recipes on my blog at the time of writing this (don't sleep on the BBQ pulled pork tacos), but it's something I'm starting to do more going forward.
I whipped up this meal recently on a whim, and I took notes along the way in case I decided it was worth sharing. When I polled my Instagram audience, it was an overwhelming vote in favor of "please share the recipe," so here it is!
I'm no chef by any means; my lane is definitely high-protein baking. But I love cooking meals as well, so I want to share with you some more of them going forward.
This one came out really good, and I am more than happy to share it with ya.
What is Hot Honey?
I'll be honest: I used to avoid honey because it is straight sugar, and I thought it would add way too many calories to my food. Silly me.
I recently started using it more, and I can proudly say that it is going to be sticking around (pun intended). It is such a versatile ingredient, and a little goes such a long way without adding a ton of calories.
I was gifted some "Hot Honey" and it took my honey game to the next level…
Hot Honey is exactly what it sounds like: honey that's spicy. They take honey and infuse it with chilies, yielding the most amazing spicy & sweet condiment.
This Hot Honey Ground Beef & Broccoli recipe uses it as a main ingredient in the sauce, but don't worry, this dish is not insanely spicy. I love spicy food, but I'm not a fan of sweating while I eat. We use this sparingly. Like I said, a little goes a long way!
They sell this (or similar brands) all over the place, but it's totally okay if you don't have any desire to go out and buy some. In this recipe, you can use regular honey and just mix in some ground cayenne pepper or hot sauce. It might not be quite the same, but it will work just fine! And if you go that route, you can very easily adjust the heat-level as well.
Making Hot Honey Sauce
The main ingredients in our sauce for the Hot Honey Ground Beef & Broccoli are hot honey (obviously) and soy sauce.
We're going to add some seasoning, lemon juice, and garlic to round it out.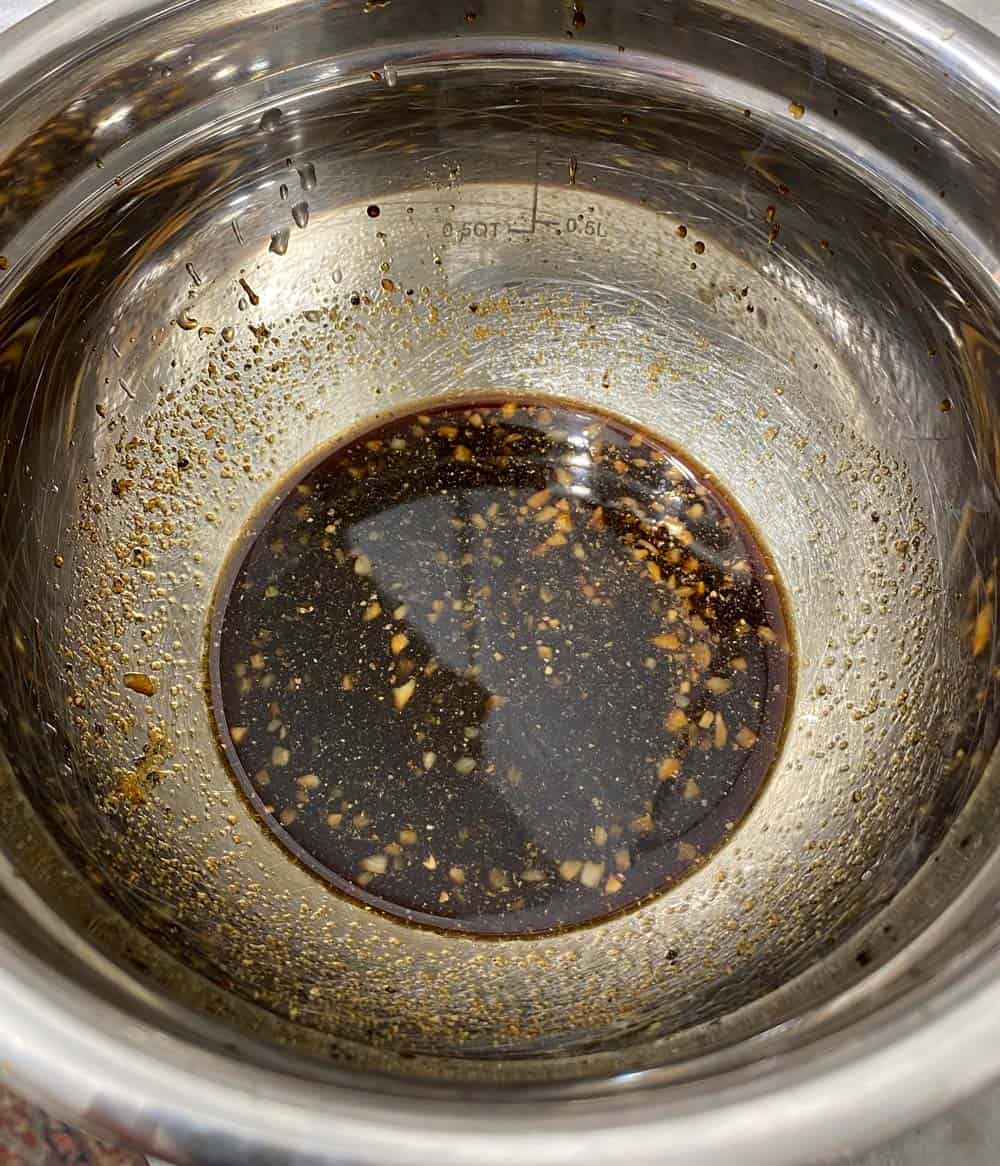 We're not adding any salt. Soy sauce is very salty, so we're good to not add any extra. If you're using a low-sodium soy sauce, a pinch of salt is not a bad idea.
Speaking of salt, the addition of lemon juice will help cut the saltiness of the soy sauce. Nothing will ruin a dish quicker than too much salt, so the lemon juice helps to avoid that massacre.
This sauce calls for minced garlic. I have a jar of minced garlic that I buy from my grocery store, which makes things very easy. You can quickly mince your own fresh garlic for this.
Give the sauce a quick taste before adding to the pan. Don't worry, the flavors mellow out in the pan and it gets significantly better, but this is your chance to test the heat level. If you want it super spicy, mix some cayenne pepper into there!
Cooking the ground beef & broccoli
I'm no stranger to my friend Mason Woodruff's recipes, and I discovered a trick when going through some of his recipes.
This may not be news to you, but it was to me: when you make your ground beef, don't immediately break it up in the pan.
I have always dropped the meat into the pan and immediately broken it up to cook it quickly, but if you leave the entire pound of ground beef intact before breaking it up, you can get a great sear on it.
When it comes to stir fry, a sear on the beef will really elevate the flavors. By waiting to break up the beef, it will really help to develop the flavors of this dish.
Once the beef is seared, we're going to break it up and add our broccoli. I used fresh broccoli, but frozen will work great too, just give it a quick thaw in the microwave.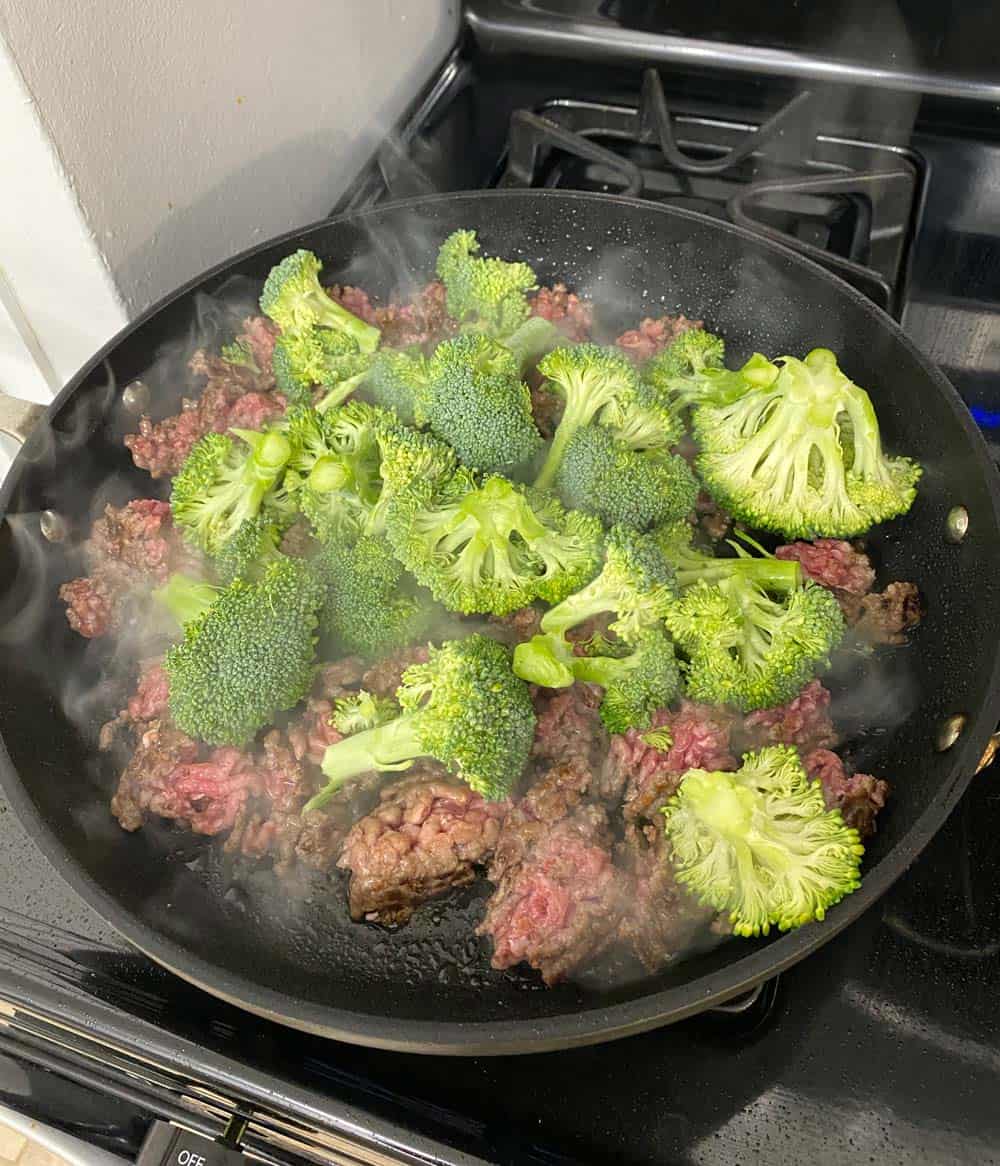 The broccoli is going to take up most the pan, but that's okay! It cooks down suprisingly quickly.
We're going to mix the sauce in, then cover the pan. Covering the pan will help the meat to fully cook, but it will also steam the broccoli, which is super important.
After 5 minutes, look how much the broccoli cooks down:
That's all there is to it!
Making substitutions for this hot honey ground beef & broccoli
This recipe is very versatile, and you can customize it if you need to adjust the calories to fit your goals. While I recommend following the recipe as is, here are a few ideas:
Serve over cauliflower rice to keep this dish nice and low carb
I don't recommend leaving the hot honey out (that's the point of the dish) but if you absolutely had to, you could use brown sugar or maple syrup instead.
I use 90/10 ground beef for this recipe. Generally speaking, lean meat works very well for stif fry, and you could even go a little bit leaner if you need to save a few more calories. If you use something like 80/20 ground beef, I'd recommend draining some of the fat before mixing in the sauce.
I found some stray wontons in my pantry and used them as a topping, but they're not included in the recipe below. Just me trying to be fancy with my presentation.
Interested in more dinner recipes?
I absolutely plan to include more dinner recipes on my blog, but I'll need your help determining which ones you guys like! If you try this recipe and like it, please leave a review within the recipe card below! Recipes really help me determine what you like! In the meantime, here are a few other meals you can try:
Hot Honey Ground Beef & Broccoli
We're using some "hot honey" for this recipe to give this ground beef a delicious sweetness with a bit of a kick. This dinner is easy to throw together and takes only 20 minutes from start to finish.
Ingredients
1lb Lean Ground Beef (I used 90/10 beef)
3-4 Cups Fresh Broccoli (can use frozen as well)
2 Tbsp Hot Honey (see notes below for making your own)
1/4 Cup Soy Sauce
1/4 Tsp Black Pepper
1/4 Tsp Onion Powder
1/4 Tsp Garlic Powder
2 Tbsp Water
2 Tbsp Lemon Juice (about half a lemon)
1/2 Tsp Minced Garlic
1/4 Tsp Crushed Red Pepper
Instructions
Put a large frying pan on the stove and let it heat up on a med-high heat setting.
Lightly oil the pan (sesame oil works very well, but any oil will do). Add your ground beef to the pan and let it cook for 3-5 minutes. Do not break up the ground beef yet! It helps to get a good sear on the ground beef before breaking it up.
Flip the beef over to sear the other side, about another 3-5 minutes.
While the beef cooks, add all the rest of the ingredients to a bowl and whisk together to make your sauce. This sauce will have a kick to it but won't be painfully spicy- feel free to taste and add extra spice if you want it to be hotter.
Break up the ground beef in your pan (it's okay that it's not fully cooked yet). We don't need to drain any fat out of the pan. Add your broccoli to the pan, then pour your sauce over the top. Mix everything up to make sure the sauce is evenly distributed, then cover and let cook for 5 minutes.
After 5 minutes, remove the lid and make sure the beef is no longer red. If it is, you can let the meat continue to cook until needed. Mix everything up once more, then remove from heat.
Serve over the rice of your choice (I always prefer jasmine rice) or enjoy on its own for a low-carb meal. This pan should yield you 4 servings, each with 4oz of meat. Top with some red pepper flakes and enjoy!
Notes
Hot Honey is very easy to make yourself, although I recommend buying it at the store if you can find it, because it's delicious. To make your own, take 2 tbsp of regular honey and mix in some ground cayenne pepper (or hot sauce) until it reaches the hotness level you are after!
I prefer my food to not be drenched in sauce, so this sauce is relatively light. You can add more honey and/or soy sauce if you prefer a heavier sauce.
You can use any ground beef you'd like here. I used 90/10, but you can use leaner beef as well. If you use 80/20 or 85/15 beef you will have some extra fat in the dish and it may require draining some of it.
With a serving of jasmine rice, each serving is roughly 420 calories, 11g of fat, 50g carbs, and 28g of protein. If you want to keep this low carb, cauliflower rice works too!
Nutrition Information
Yield

4
Serving Size

1/4 of Recipe
Amount Per Serving
Calories

265
Total Fat

11g
Carbohydrates

14g
Fiber

2g
Sugar

8g
Protein

25g