I'm not a classically-trained coffee expert, but as someone who has consumed cold brew coffee religiously for years now, I feel compelled to help you out.
I firmly believe that cold brew coffee is the best coffee out there, and once I switched from hot coffee to cold coffee, it changed my life.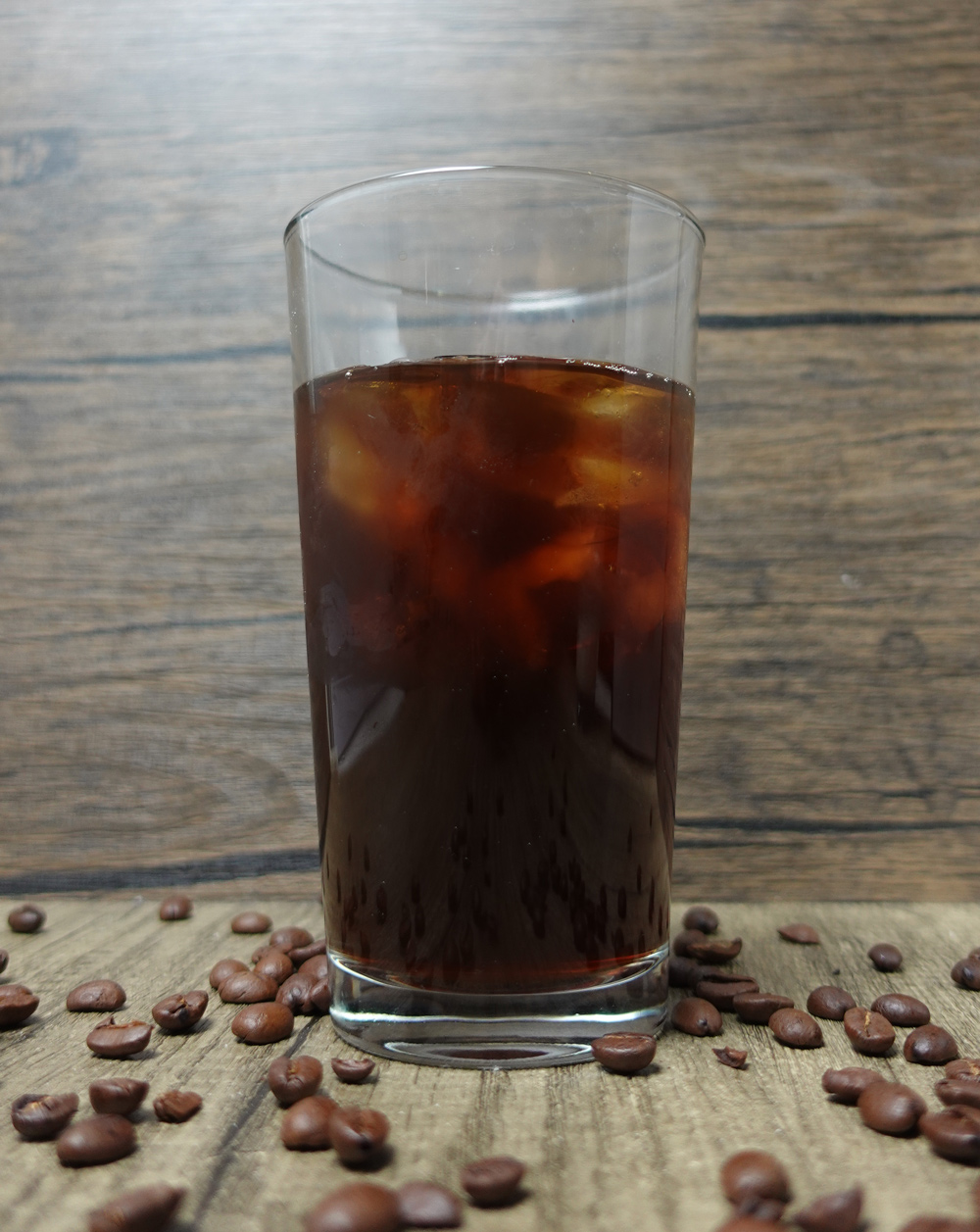 We'll do a deep-dive into why I love cold brew so much, what makes it different from iced coffee, and how you can make your own cold brew at home.
Trust me, it's much easier than you probably think!
I'm going to show you how to make cold brew concentrate in this post. Why make a coffee concentrate?
Making cold brew concentrate not only saves you a ton of fridge space (which is a luxury in our household) but it also gives you full control over just how strong each and every glass is.
After you read through this entire post, you're going to be a cold brew connoisseur.
First things first, we need to address this very important topic.
Cold brew and iced coffee are NOT the same drink.
I have a full blog post that breaks down the differences between cold brew and iced coffee, but I'll point out the main differences here for you.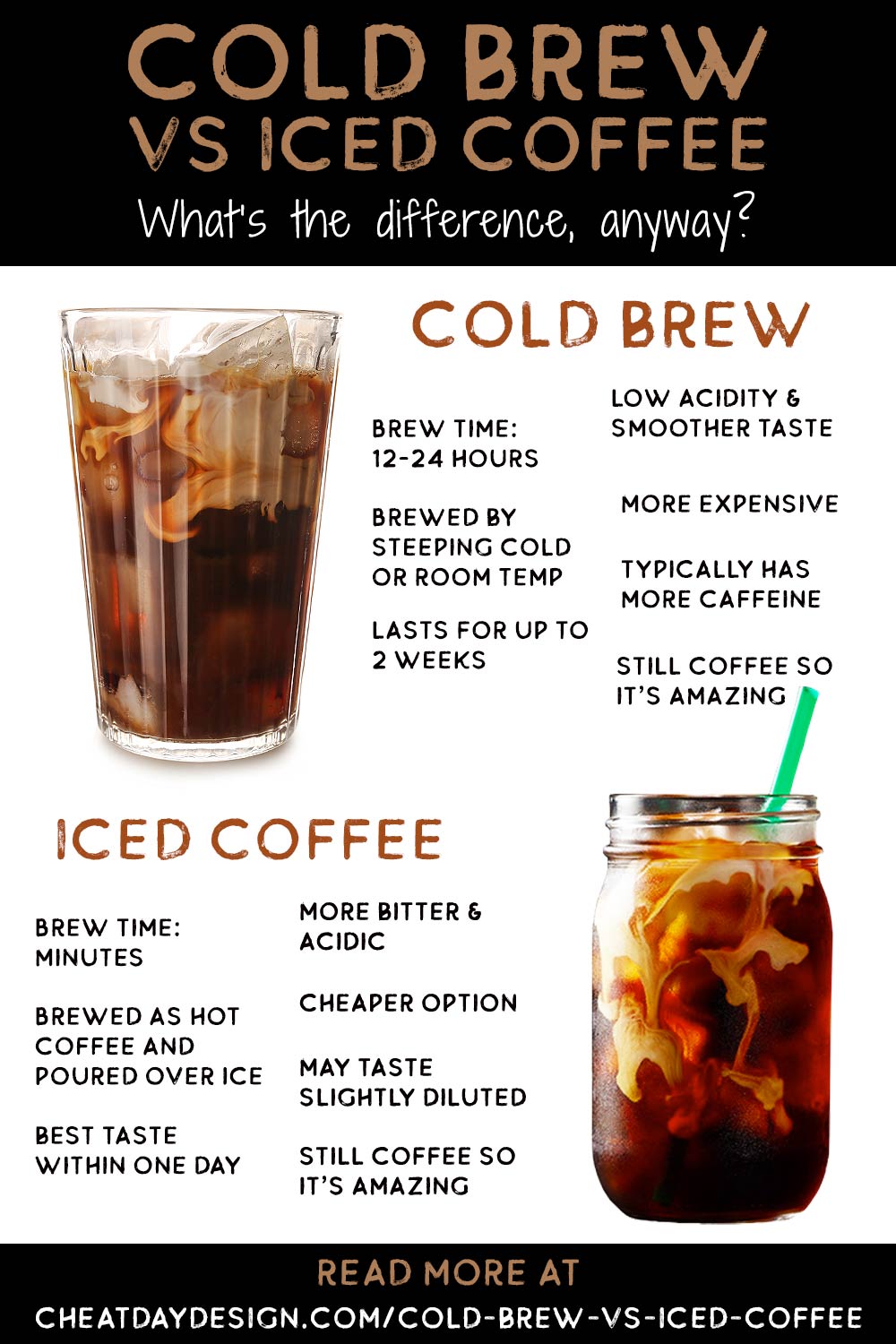 Iced coffee refers to any hot brewed coffee that is served cold over ice.
If you make a pot of hot coffee in a drip coffee machine and then pour it over ice, you have yourself iced coffee. Simple, right?
The name "cold brew" refers to the way the coffee is brewed, so it has a very specific difference.
When you make cold brew, there is zero hot water involved. All other coffee brewing methods require using hot water to brew, but cold brew uses cold (or room temperature) water.
To make cold brew, you let coffee grounds steep in water for 12-24 hours before straining it. It's served over ice, so in that sense, cold brew IS iced coffee, but the two drinks are very different.
If you order iced coffee at a coffee shop, you'll be getting regular coffee served over ice. But if you order cold brew, you're getting coffee that has been specifically brewed to be served cold.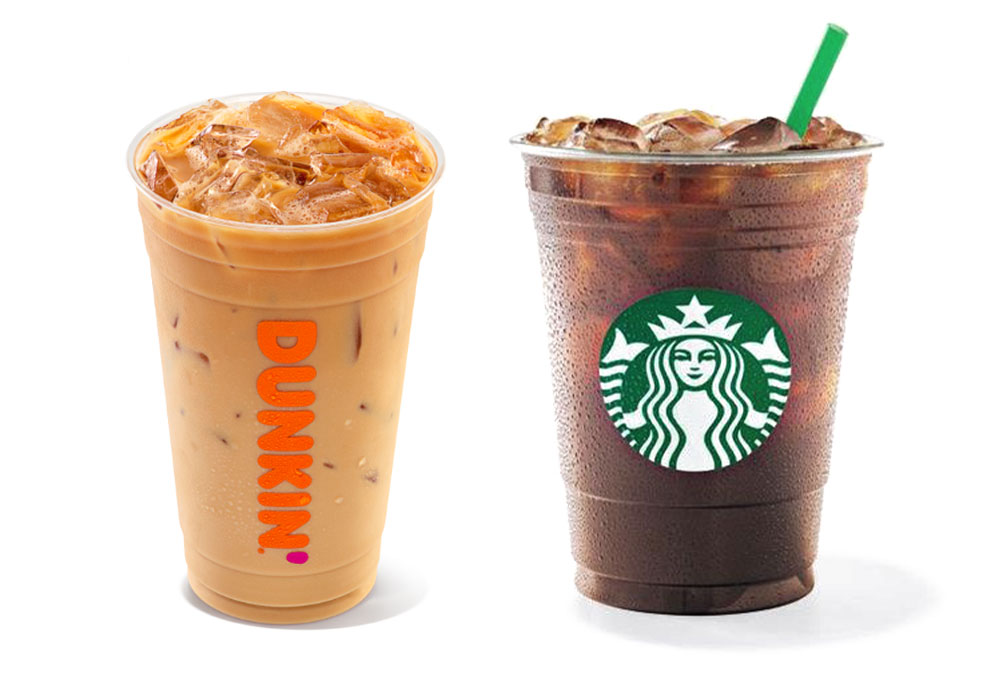 Cold brew and iced coffee will taste completely different
The slow-steeping process of cold brew results in coffee that is bold, smooth, and has virtually no acidity. This is my favorite part of cold brew.
When you brew hot coffee, the hot water extracts the oils from the coffee beans, which is where the acidity comes from. Since cold brew is brewed without any hot water, those oils aren't extracted, and the result is very low in acidity.
No matter how much hot coffee I drink, I always find that it bothers my stomach. But, once I made the switch to cold brew, those issues went away immediately.
Not only is the taste superior to hot coffee (in my opinion), but the added bonus of no acidity makes it more than worth it.
What's the best coffee for cold brew?
Before we go too deep into the topic, note that you can use any type of coffee you prefer for cold brew. Much like brewing a pot of hot coffee, you may have specific preferences.
However, there are certain types of coffee that produce the best results, so let's explore those.
Dark roast produces the best flavor for cold brew
When you cold brew your coffee, it brings out different flavors in the coffee beans, so certain roasts will work better than others.
For hot coffee, I much prefer a light roast- the flavor is much more pronounced when combined with the acidity of hot coffee. When a lighter roast is used for cold brew, those flavors are much more muted.
Now, that's not to say that using a light roast is bad, but it's not the ideal choice.
Instead, it's best to use a good medium or dark roast for your cold brew coffee concentrate.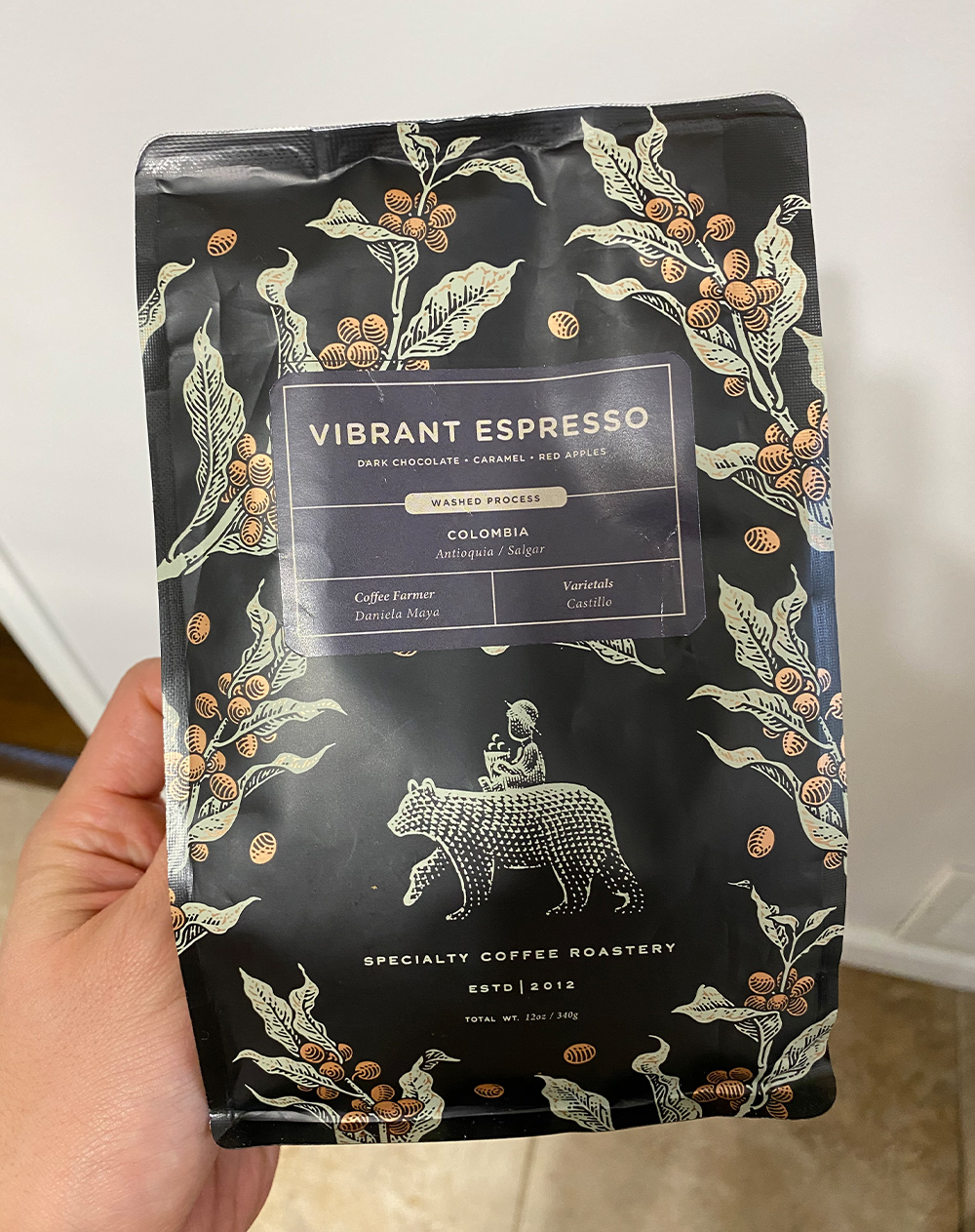 Cold brewing brings out natural sweetness in coffee, as well as a subtle chocolate flavor, which lends itself very nicely to a dark roast.
This espresso roast I used here is a dark roast that is described to have notes of dark chocolate and caramel, which are perfect for cold brew.
Don't confuse yourself here- cold brew isn't necessarily sweet on its own. If you drink cold brew black, it's still just black coffee. It's not going to taste like mocha or a caramel macchiato. But there are notes of these flavors.
If you're brand new to cold brew, these flavors will probably not be noticeable. All you need to know is that cold brew is smoother than hot coffee, and it's in part due to these subtle flavor notes!
Do you have to use coarse ground coffee to make cold brew?
The short answer: yes, you should use coarse ground coffee to produce the best results.
When it comes to grinding coffee beans into coffee grounds, there's a very wide margin from extra fine to extra coarse.
For cold brew, coarse ground coffee is going to work the best.
If you're brewing drip coffee (brewing a pot of coffee in a regular coffee maker, for example) then medium ground coffee will work the best. In fact, if you buy ground coffee at the store, it's almost always going to be medium-ground coffee.
The exception here is the French press, which favors coarse ground coffee.
When it comes to espresso, you're going to want a very fine grind. Since you're producing a very strong drink with minimal liquid, the finely ground coffee will produce the most flavor.
For cold brew, you'll want to use coarse ground coffee, if you can.
Since the coffee is made by slow-steeping the grounds in water, the coarse ground coffee gives us a few advantages:
It makes it easier to strain out the coffee at the end.
You eliminate the bitterness of coffee, as fine or medium coffee grounds can lead to an over-extracted flavor.
The flavor of the cold brew will be the richest with coarse coffee.
If you only have pre-ground coffee from the store, it will still work! You won't produce a bad batch of cold brew due to a lack of coarse-ground coffee, it just won't be quite as good as it could be.
Should you grind your own coffee beans for cold brew?
If you can, I always recommend grinding your own beans to produce the freshest flavor.
But, with that being said, cold brew is very forgiving. If you use pre-ground beans, you'll still be able to produce some incredibly delicious cold brew.
If you need a recommendation for a good coffee grinder, I have this OXO Burr Coffee Grinder and I cannot recommend it enough.
Why do I love this coffee grinder?
You can store beans in the container on top and it seals shut to keep beans fresh (it's also tinted, which keeps them fresh even longer).
There are a TON of different coarseness settings, so you can grind the perfect coffee for your preferences.
It's OXO, and every product I've ever owned from them has lasted me forever.
Before this coffee grinder, I used a very cheap spice grinder, but being able to grind my own coarse coffee is a night-and-day difference!
If you don't have the means to grind your own coffee, you also have the option to purchase pre-ground coffee made specifically for cold brew:
I will often buy this cold brew coffee from Stone Street on Amazon, and it's absolutely incredible. It's a coarse-ground dark roast coffee, and it always produces a flawless batch of cold brew coffee concentrate.
If all else fails, you can use regular ground coffee, too. Like any of my recommendations here, this is just to produce what is optimal, but it doesn't necessarily mean the other options are bad!
How to make cold brew concentrate (two ways)
The process here is very easy, but it's important to understand why we want to make a cold brew concentrate instead of a regular batch of cold brew.
Cold brew coffee concentrate is cold brew that is made with more coffee grounds and less water, resulting in a liquid that is twice as strong (and contains twice as much caffeine).
Making concentrate is ideal because it frees up fridge space (rather than keeping a full pitcher in the fridge) and it allows you to make coffee exactly the way you want it. Simply take your concentrate, dilute it with as much water or milk as you'd like, and you're good to go!
How to make cold brew concentrate with a cold brew maker
I have this OXO cold brew maker and it's what led me to fall in love with making my own cold brew.
You don't need a cold brew maker by any means, but if you're serious about making cold brew fairly often, this makes your life 100x easier.
Trust me, I tried to save money by finding every alternate brewing method I could find. But, once I purchased this cold brew maker, it changed everything.
Add 10 ounces (about 284g) of coarse ground coffee to the brewing container. A typical bag of store-bought coffee is 12oz, so this is going to use up almost one full bag. Yes, it's a lot, but it's worth it!
Add the lid to the container and slowly pour 40 ounces (5 cups) of cold water over the top. The lid contains small holes that help to evenly distribute the water over the coffee grounds. Pour a little bit, let them soak, pour a little bit more, etc.
If the coffee grounds don't seem to all be wet, you can take a spatula and mix up the container to make sure all of the coffee grounds are steeping.
Let steep at room temperature for 12-24, but I recommend 16 hours. Yes I know it's called cold brew, but letting it steep at room temperature actually produces the best flavor in my experience.
When ready, place the carafe underneath and flip the switch to drain the coffee concentrate out. Note: in the photo above, I used a mason jar, but that's only because I had a batch of cold brew already in my carafe. See the carafe in the photo below.
Cover the carafe with the lid then add to the fridge until ready to enjoy!
Unlike iced coffee, cold brew concentrate will stay fresh for up for 2 weeks, so you can take your time enjoying it.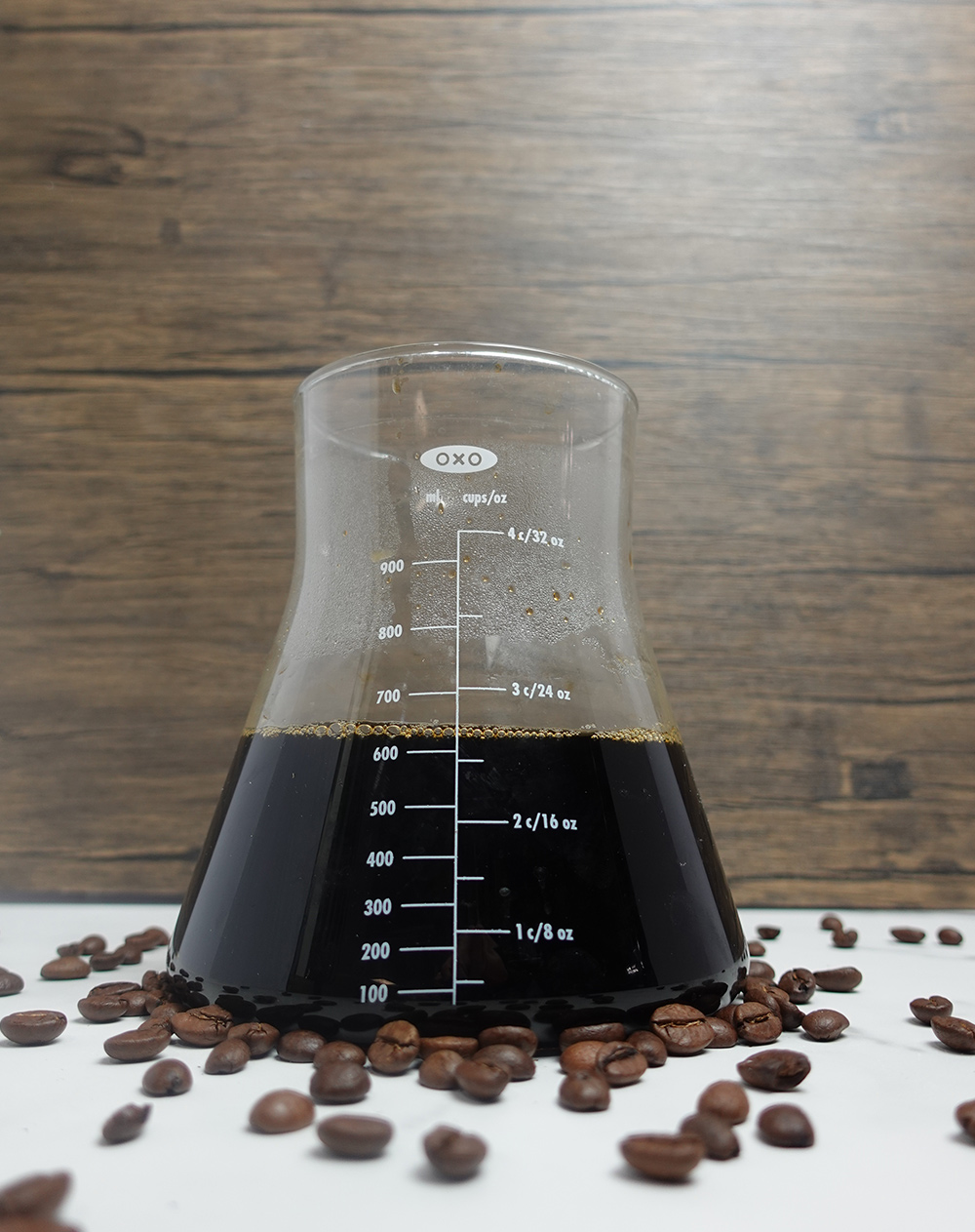 You should get about 3 cups of cold brew concentrate out of this, which will yield 12-14 cold brew drinks!
Another reason I love this OXO cold brew maker is that the lid also doubles as a measuring cup for serving:
When you fill the lid to the line provided, it measures 2 ounces of cold brew concentrate. Pour that into a glass, then dilute with 4-6 ounces of water or milk, and you're good to go!
Personally, I prefer a 1:2 coffee to water ratio. In other words, I'll add 2 ounces of cold brew to a glass, then add 4 ounces of water.
As you prepare more cold brew drinks for yourself, you'll get a feel for how strong you want it. At this point, since I drink cold brew every single day, I can eyeball it based on the color of my cold brew.
When you add the 2 ounces of cold brew concentrate, it's naturally very dark.
Once I add the 4(ish) ounces of water, I can tell it will be the perfect strength for me based on the color.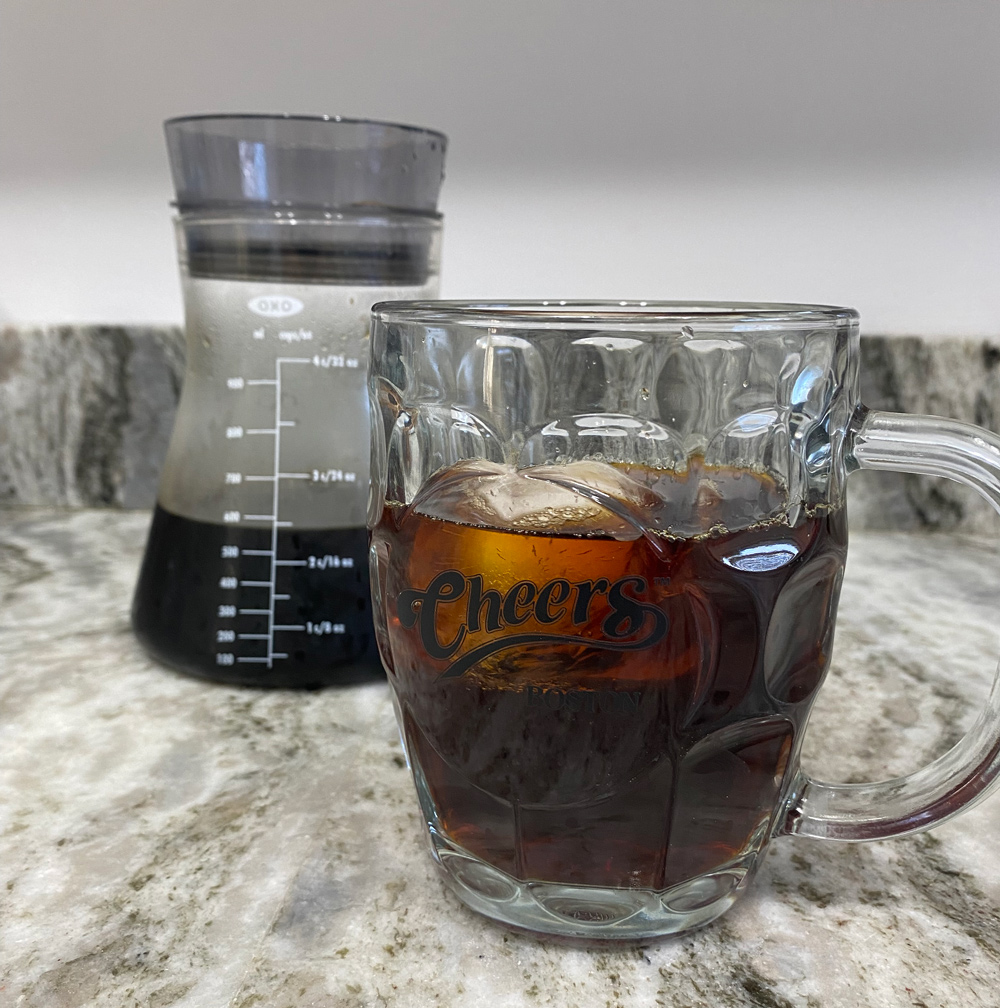 I drink cold brew black, so that is plenty of flavor for me, but you can also add creamer or sweetener at this stage, too.
How to make cold brew concentrate without a cold brew maker
No cold brew maker? No problem! While the process takes slightly more work, we can still make cold brew concentrate with some basic kitchen tools.
Combine 10 ounces (284g) of coarse coffee in a pitcher with 5 cups of water. Stir to make sure all the coffee is combined with the water.
Let the pitcher sit at room temperature for 12-24 hours. For best results, I find 16 hours to be the sweet spot.
Once done, strain the coffee. For this method, I used a fine mesh strainer to strain the coffee concentrate out into a bowl.
As you can see, it left behind a little bit of "sludge" because my strainer was not fine enough. So, in this case, I let the coffee concentrate run through a coffee filter to strain out the excess coffee grounds. If you have cheesecloth, that works best!
Add the coffee concentrate to a sealable container and store in the fridge until ready to serve.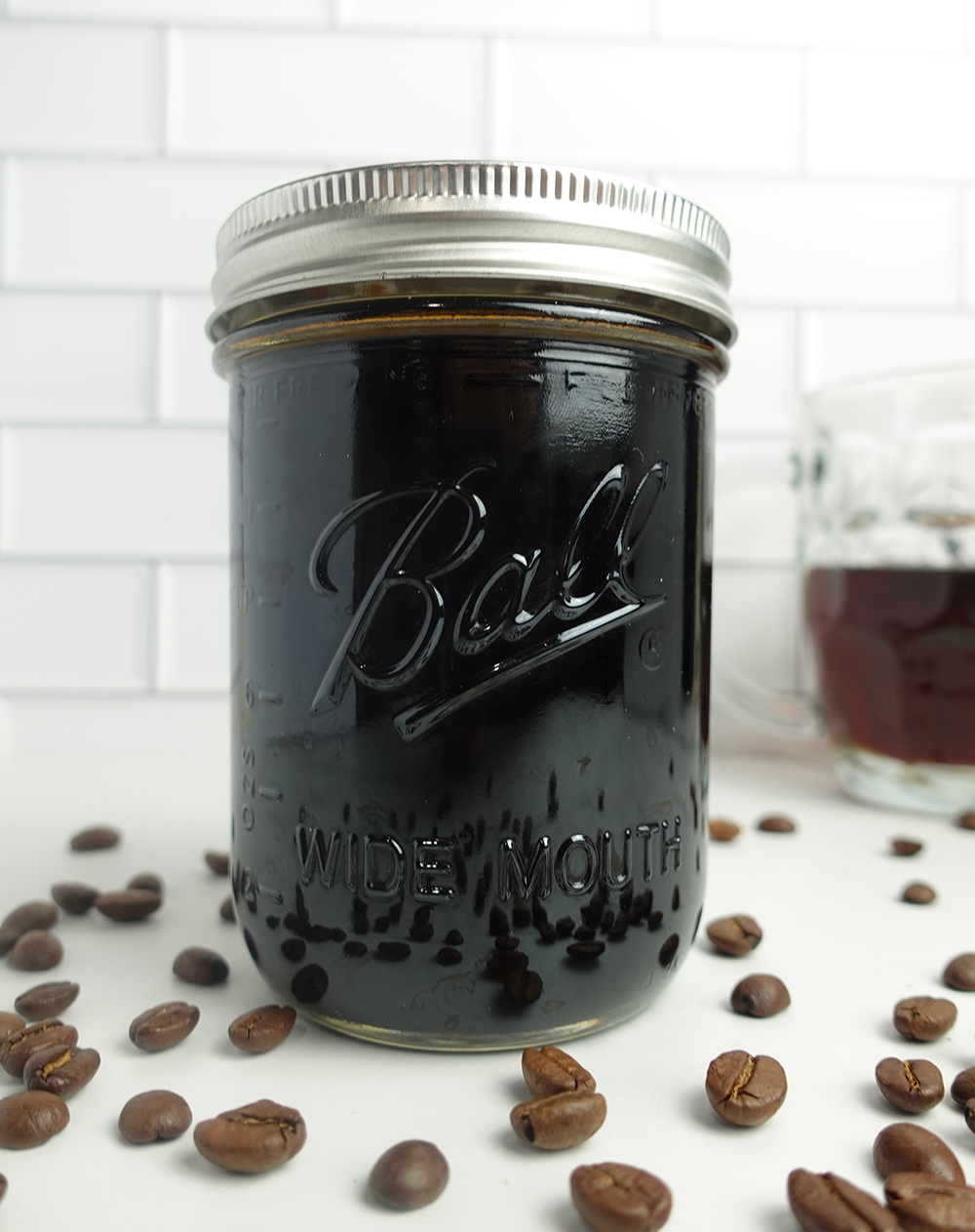 To serve, you'll use a 1:2 or 1:3 ratio of coffee to water/milk, depending on your preferences. Since I prefer a stronger cup, I use a 1:2 coffee ratio.
In other words, I'll add 2 ounces of cold brew to a glass with ice, then add 4 ounces of water to that.
If you want to sweeten it up, add in any sweeteners or creamers you'd like!
Do you have to make cold brew as a concentrate?
Nope! In fact, it's very easy to make cold brew that is drinkable without the need for diluting.
To make cold brew concentrate, we use a 1:4 ratio of coffee to water (10 ounces of coffee and 40 ounces of water).
If you want to make coffee that is drinkable right out of the container, use a 1:8 coffee to water ratio. If you add 5 ounces of coffee to your container, combine that with 40 ounces of water, and let it steep exactly the same way!
Prefer to not have to measure? There are lots of cheap cold brew coffee pitchers that take all the guesswork out of it for you like this pitcher from Amazon.
With these types of pitchers, all you do is fill the center mesh container with coffee grounds, fill the pitcher up with water, then let it steep! After 12-24 hours, your cold brew is ready to go, no measuring is required.
If you're brand new to all of this, that can be a great place to start.
But I promise that making your own cold brew concentrate from start to finish is well worth it! And hopefully, this guide takes all the guesswork out of it for you.
Now go caffeinate yourselves, my friends.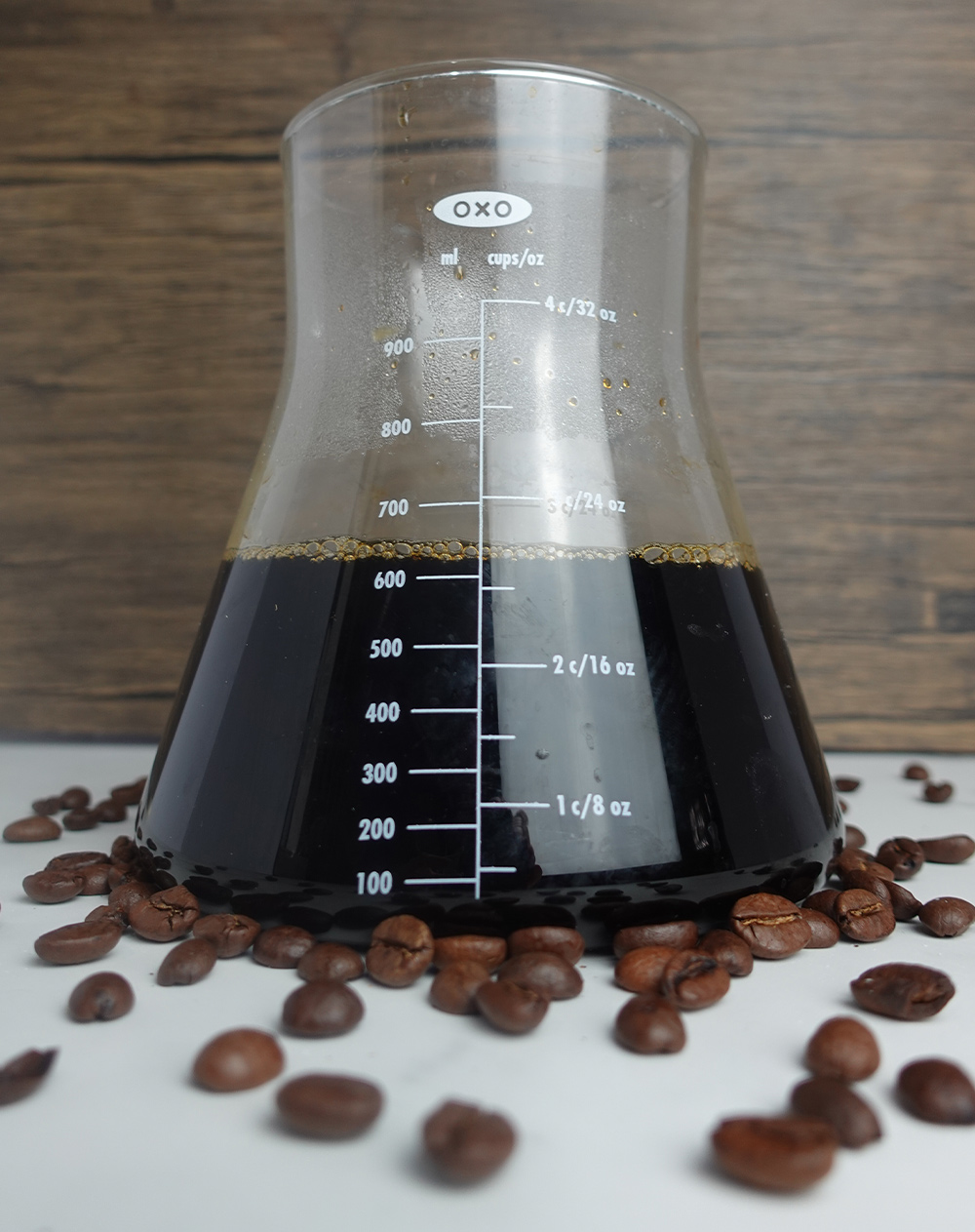 Summary: the key points for brewing the perfect cold brew
We covered a lot here, and you're officially a cold brew expert! Congrats.
I don't expect you to retain everything you read here, so here is a quick cheat sheet of the major points worth remembering…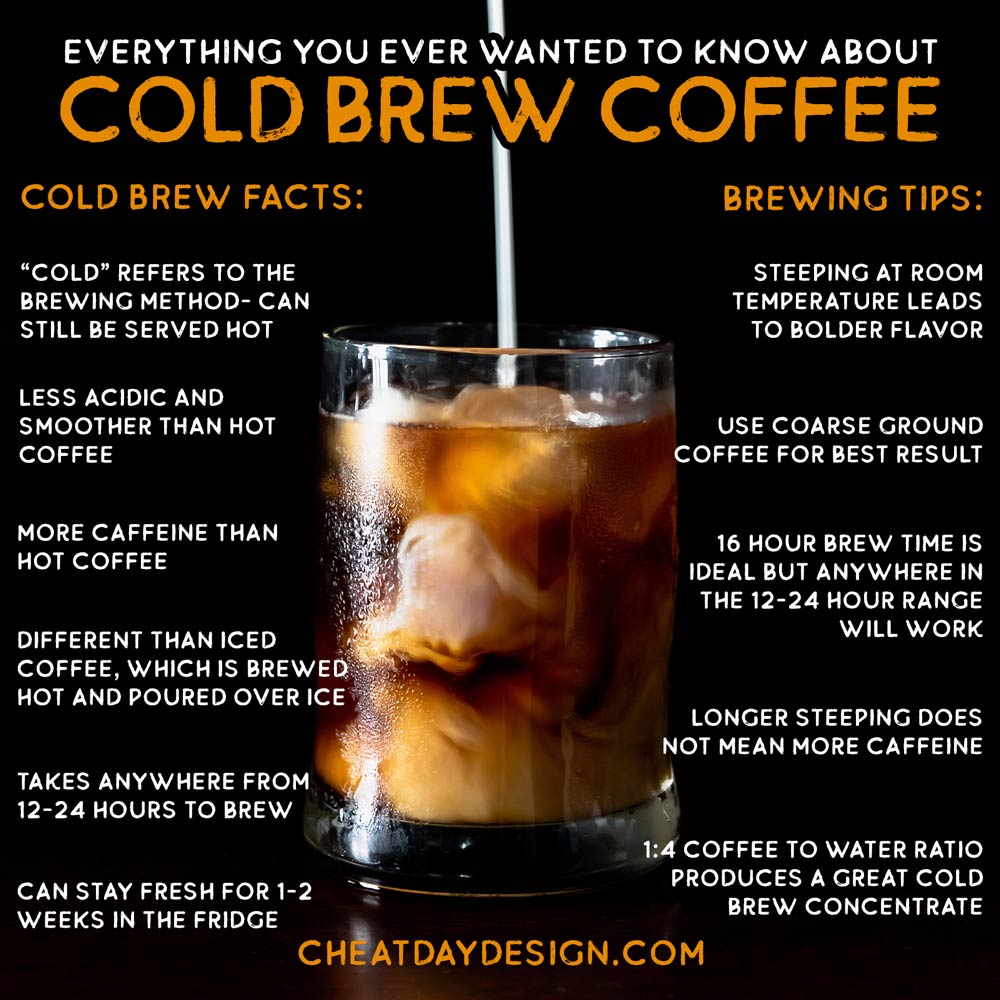 I have one more bonus tip for you that I did not mention earlier in this post:
You can drink cold brew as hot coffee!
I know, it sounds crazy, but it is completely different than brewing hot coffee. Just prepare your cold brew as you normally would, then microwave it for about 1 minute.
Since the cold brewing process removes all of the acidity from the coffee, the resulting hot cup of coffee will be the smoothest cup of coffee you've ever tasted. If you ever find that coffee bothers your stomach or gives you reflux, this will change everything. I much prefer cold coffee, but this trick blew my mind.
Now go out there and make yourself some cold brew!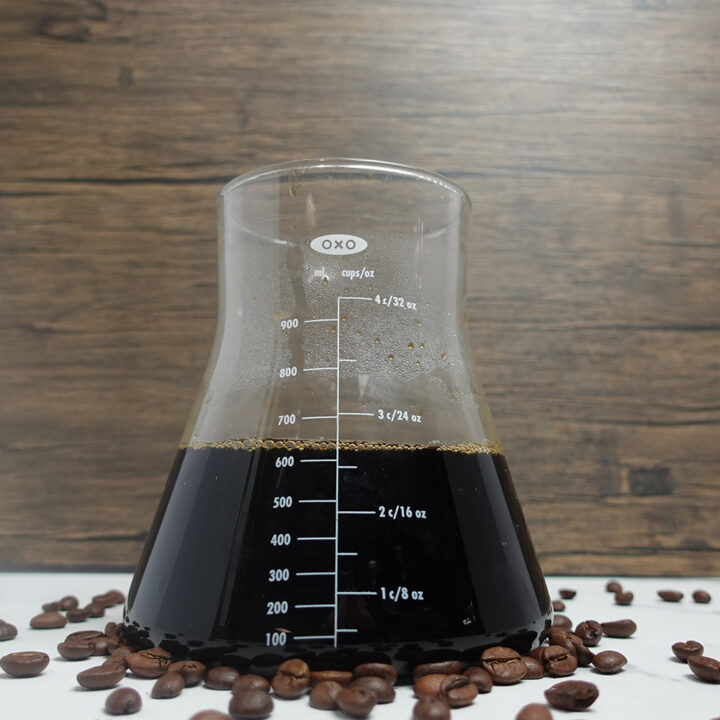 How to Make Cold Brew Concentrate
Yield:
3 Cups of Concentrate (12-14 Cups of Coffee)
Additional Time:
16 hours
Total Time:
16 hours
5 minutes
Making cold brew coffee concentrate at home is much easier than you might think! By making a concentrate, you not only save fridge space, but you have full control over how strong every glass of cold brew is.