The Five Guys menu is very simple, and yet, it can be very confusing to figure out the nutrition of the menu.
I'm here to help!
Is Five Guys healthy?
We all have different definitions of what makes a food healthy, so there is no definitive answer there.
However, if you're looking strictly in terms of calories & fat, Five Guys may not be the "healthiest" fast food option.
If you're looking for a low-calorie option, your best bet is the "Little Hamburger," which still comes in at 540 calories and 26g of protein.
Compare that to a single hamburger at McDonald's, which is only 250 calories and 8g of fat. Or a hamburger at Burger King, which is only 240 calories and 10g of fat.
And, unlike most other fast-food restaurants (like Wendy's), Five Guys offers no salad or "healthier" alternatives to their sandwiches.
The great thing about Five Guys is that you can customize your order to best fit your diet, so let's dive in a little bit deeper to see how we can make the options a little bit healthier.
Calories in Five Guys menu items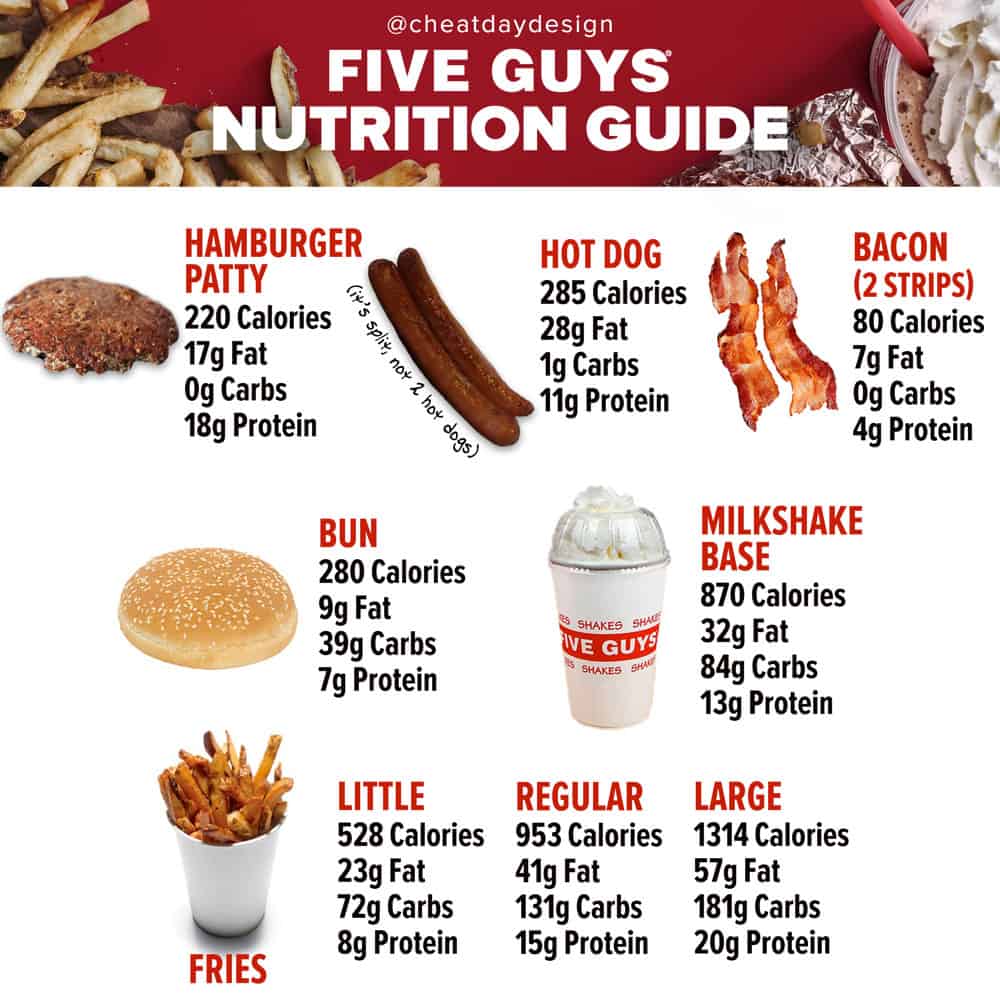 Five Guys has specific menu items, but they can be customized to your liking.
If you're ordering a burger, you have quite a few options:
Hamburger
Cheeseburger
Bacon Burger
Bacon Cheeseburger
Little Cheeseburger
Little Bacon Burger
Little Bacon Cheeseburger
What is a "little" burger?
The standard burgers at Five Guys come with 2 burger patties.
If you order a hamburger was-is, it will already have 840 calories due to it having multiple patties.
If you order a "little" burger, that means you're only getting one patty.
In this case, a Little Hamburger is 540 calories, saving you nearly 300 calories.
Why do Five Guys fries have so many calories?
Five Guys fries are damn good, but their nutrition isn't quite as good.
Why is that? Mostly because their serving sizes are gigantic.
Five Guys' smallest option for fries, the "little fries", weighs in at 227g.
To put that into perspective, large fries from Burger King are 173g.
A large serving of fries from Five Guys is the equivalent of 3.5 orders of large fries from Burger King!
I'm not saying you need to avoid the large fries…but maybe consider splitting them with a few friends.
Otherwise, Five Guys fries are really no different than other fast food options out there- you just need to be mindful of those gigantic serving sizes.
How many calories are in Five Guys milkshakes?
When it comes to the milkshakes, there's really no way to hack them to make them healthier.
All the milkshakes from Five Guys start as a vanilla base, and this base already has 870 calories.
From there, you add your choice of mix-ins, and the calories will vary based on what you add, and how much of each.
Generally speaking,t he mix-ins will each range from 14-58 calories, according to their menu. However, keep in mind that there really isn't a set amount that you're getting in your shake, so it can vary wildly from day to day.
If you're counting calories and planning to estimate the calories in the shake, I would assume that each mix-in will add 50 calories. So, if you get a milkshake with coffee, chocolate, and peanut butter, I would assume that the toppings are adding 150 calories, brining the total calories of the milkshake to over 1,000.
Maybe not the healthiest of options… but everything in moderation, right?
Calories in Five Guys Toppings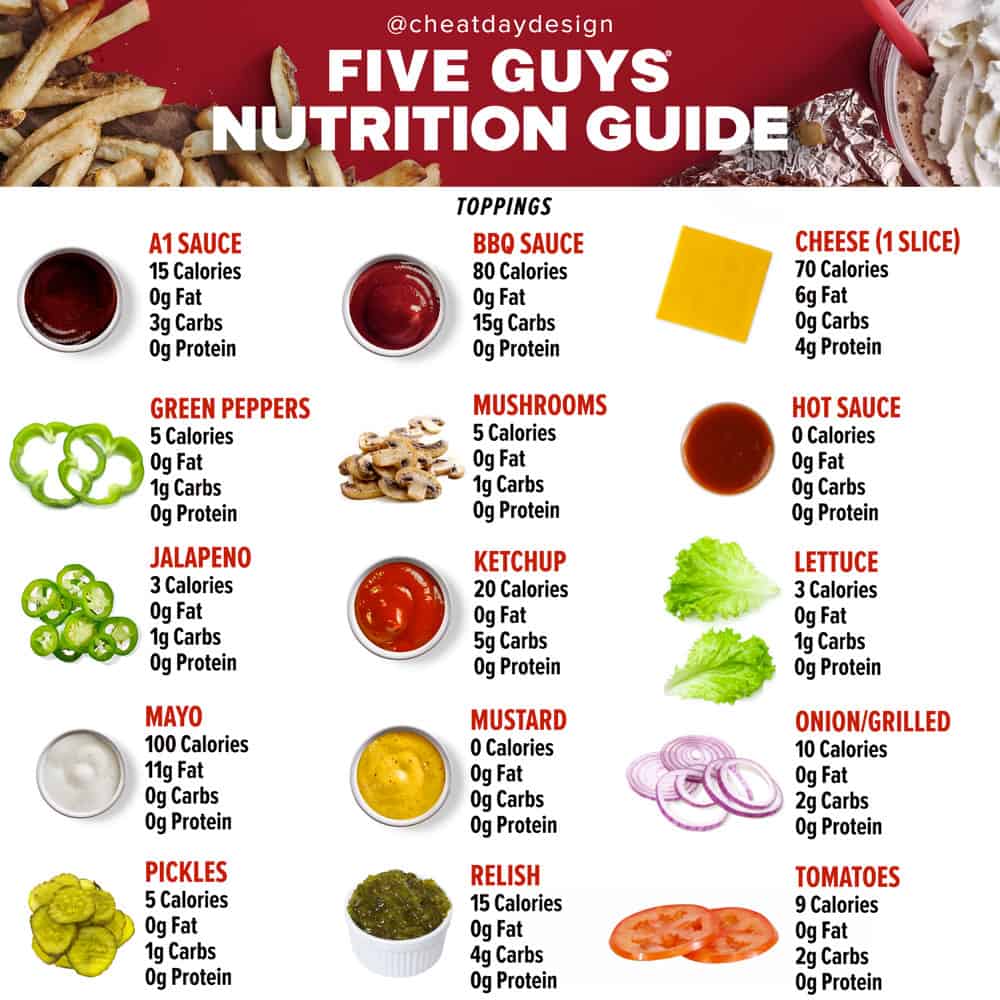 Here's where you can get creative with your menu options and customize your food based on your diet preferences.
While there's only so much you can do to alter the base menu items above, you have a ton of toppings at your disposal to switch things up as you'd like.
While most of these toppings are very low calorie (they are vegetables, after all), there are a couple items that stand out: BBQ sauce and mayo. Depending on how heavy-handed the serving is, these will add 100 calories to your meal, if not closer to 200 calories. While not a huge deal, if calories are a concern, tread lightly.
Summary: Can you eat healthy at Five Guys?
I'll be honest with you: it's tough. Since the Five Guys menu is so limited, you don't have a ton of healthy substitutions, or something like a salad, to turn to.
If your definition of healthy means vegan and/or low calorie, Five Guys does have a Veggie Sandwich on their menu: freshly grilled onions, mushrooms, and green peppers, layered with lettuce and tomatoes, on a soft toasted bun. The veggie sandwich has 280 calories and 15g of fat, making it a pretty decent option!
Outside of the veggie sandwich, the little hamburger or hot dog are your best bets. While not super low calorie compared to other fast food options, they're not nearly as calorie-packed as many of the other Five Guys menu items.