All images used in this post are property of dairyqueen.com
---
There is no arguing that the DQ Blizzard is one of the best desserts out there.
Creamy, thick, indulgent, and just straight delicious. It's simply in a league of its own.
If you're reading this post, that means you are also curious about the calories in a Dairy Queen Blizzard. Let me address two things first:
I am not writing this to scare you away from eating a Blizzard. Yes, some of the calories are very high, but the reason I put together guides like these is simply so you can be informed on what you are eating.
Blizzards are a treat. Even if the calories are high, you are allowed to enjoy a high-calorie dessert if you'd like to!
Now let's address the elephant in the room…
Are DQ Blizzards Healthy?
Look, "healthy" is completely subjective.
Generally speaking, ice cream is not widely thought of as a healthy dessert (unless we make our own healthy version, of course). Ice cream is loaded up with sugar & calories, and DQ Blizzards are no exception.
In fact, Blizzards are also full of various other syrups and candies, which bump up the calories even more.
But that doesn't make a Blizzard unhealthy. Rather, they are less healthy than other options.
When it comes to dieting, the way we view our food matters. Think of it in terms of the "all or nothing" approach…
Blizzards, and ice cream in general, is one of those foods that so many people have an all-or-nothing approach towards.
People won't let themselves eat ice cream regularly, so if they do have it, they're gonna eat a huge amount of it. They feel that eating ice cream is already ruining their diet, so they might as well eat lots of it.
You don't need to over-indulge to enjoy ice cream. It can be part of a regular, healthy diet!
Let's say you're on a family road trip and Dairy Queen is your next stop. Everyone is getting some ice cream, so you want to enjoy it with them! Problem is, you're watching your calories and really don't want to completely blow your progress on ice cream.
Lucky for you, this entire post has a breakdown of all the calories you can expect to find. ?
You can say screw it and accept that you're going to consume a ton of calories, and order that large Oreo Blizzard with over 1,000 calories.
Or you can go for the vanilla cone, which might not be as exciting as an oreo-packed Blizzard, but still satisfy your sweet tooth and make your heart happy. Or, sticking with the Blizzard theme, you can go with the mini Blizzard to get that sweet fix!
By all means, go for the large Blizzard if you're feeling adventurous. But if you're in the mood for ice cream, you don't have to consume 1,000 calories worth.
Nobody is saying that you can't get a large Blizzard if you truly want that. I mean, sometimes you just need to treat yo self! But too many people believe that it's all or nothing with dieting. They believe that if you want to lose weight, you need to be super strict with your diet. That ice cream will completely blow your progress.
Is ice cream the healthiest thing in the world? No, of course not. It's a treat after all. But if you want it, it doesn't need to be all or nothing. There are options out there for you to have your ice cream and eat it too. And if you're anything like me, you want it All. The. Time.
You can very much enjoy ice cream AND stay on track towards your goals. Even if those goals revolve around weight loss!
With all of that being said, let's dive into the calories & nutrition for Dairy Queen Blizzards. Below you will find handy infographics for each different size of Blizzards, then I will break down each flavor individually!
Note: At the time of writing this, these are the flavors that are currently being offered. Dairy Queen rotates their flavors based on the season and with limited releases, so keep in mind that the flavor you are looking for may be missing.
If that's the case, be sure to head over to dairyqueen.com to find the nutrition info you need!
Calories in Mini DQ Blizzards
A mini Blizzard is the smallest you can get, so if you're trying to keep the calories low, this size is your friend. Each of these mini Blizzards is about 6oz, or half the size of a small, so it may not quite satisfy that craving you're having. But if you don't have a huge appetite, or you need an option for a child, the mini may be a great choice!
Lowest Calorie Mini DQ Blizzard
Very Cherry Chip Blizzard: 320 Calories, 11g Fat, 48g Carbs, 7g Protein
Highest Calorie Mini DQ Blizzard
Royal Ultimate Choco Brownie DQ Blizzard: 480 Calories, 21g Fat, 68g Carbs, 9g Protein
Calories in Small DQ Blizzards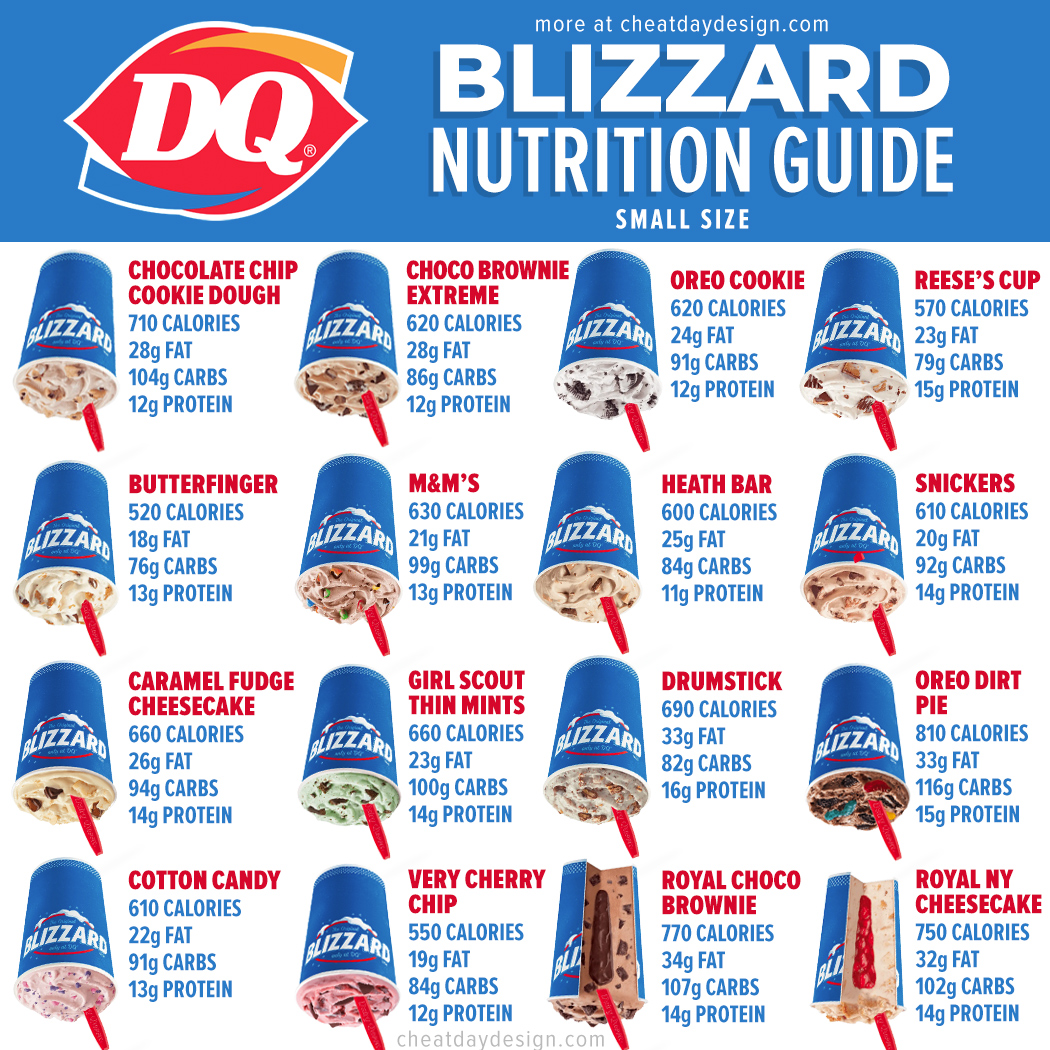 If a mini DQ Blizzard just won't cut it, step it up to a small! At 12oz, it's double the size of the mini Blizzards, but still won't break the calorie bank in a lot of cases (of course, that depends on what you're expecting).
Lowest Calorie Small DQ Blizzard
Butterfinger Blizzard: 520 Calories, 18g Fat, 76g Carbs, 13g Protein
Highest Calorie Small DQ Blizzard
Royal Ultimate Choco Brownie DQ Blizzard: 770 Calories, 34g Fat, 107g Carbs, 14g Protein
Calories in Medium DQ Blizzards
I'd say that the 16oz medium is the most common order, and most of these flavors hover around the 1,000 calorie mark. I'm not here to poo-poo on that decision if you want to order a medium DQ Blizzard, but it can be helpful to know roughly how many calories you're consuming, especially if you have a weight loss goal.
Lowest Calorie Medium DQ Blizzard
Butterfinger Blizzard: 730 Calories, 26g Fat, 107g Carbs, 18g Protein
Highest Calorie Medium DQ Blizzard
Royal NY Cheesecake DQ Blizzard: 1,040 Calories, 46g Fat, 140g Carbs, 19g Protein
Calories in Large DQ Blizzards
A large Blizzard is a buttload of calories… there's simply no way around it. At 21oz, you're getting quite a lot of ice cream, along with more of the mix-ins to boot, so there should be no surprise that the calories are on the higher end.
To put it into perspective, a typical serving of ice cream is 1/2 cup, although I'd say most people will consume closer to 1 cup. A large Blizzard holds over 2 cups of ice cream + all the fixings, so it adds up!
Lowest Calorie Large DQ Blizzard
Nestle Toll House Chocolate Chip Cookie Blizzard: 970 Calories, 34g Fat, 146g Carbs, 23g Protein
Highest Calorie Large DQ Blizzard
Oreo Dirt Pie DQ Blizzard: 1,520 Calories, 63g Fat, 217g Carbs, 26g Protein
Calories & Nutrition of DQ Blizzards, By Flavor
Below you'll find every flavor listed in alphabetical order (to the best of my ability anyway, because words are hard) for easy searching!
I've included previous flavors here, since Dairy Queen is constantly rotating flavors, but I will mark any not currently available as of June 2022.
Brownie Batter Blizzard (currently not available in 2022)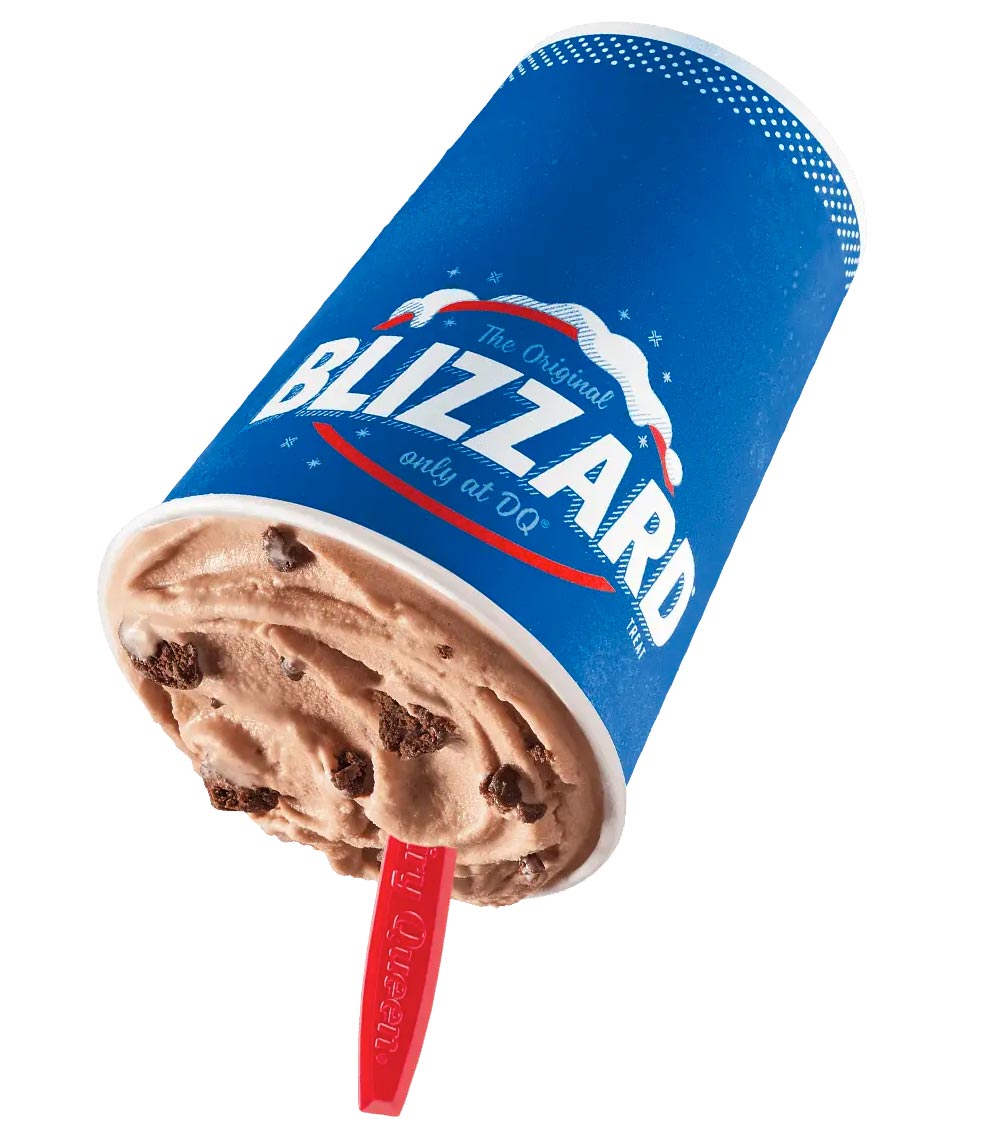 Mini: 420 Calories 18g Fat 57g Carbs 8g Protein
Small: 770 Calories 34g Fat 105g Carbs 15g Protein
Medium: 1,030 Calories 41g Fat 151g Carbs 17g Protein
Large: 1,390 Calories 63g Fat 188g Carbs 26g Protein
Butterfinger Blizzard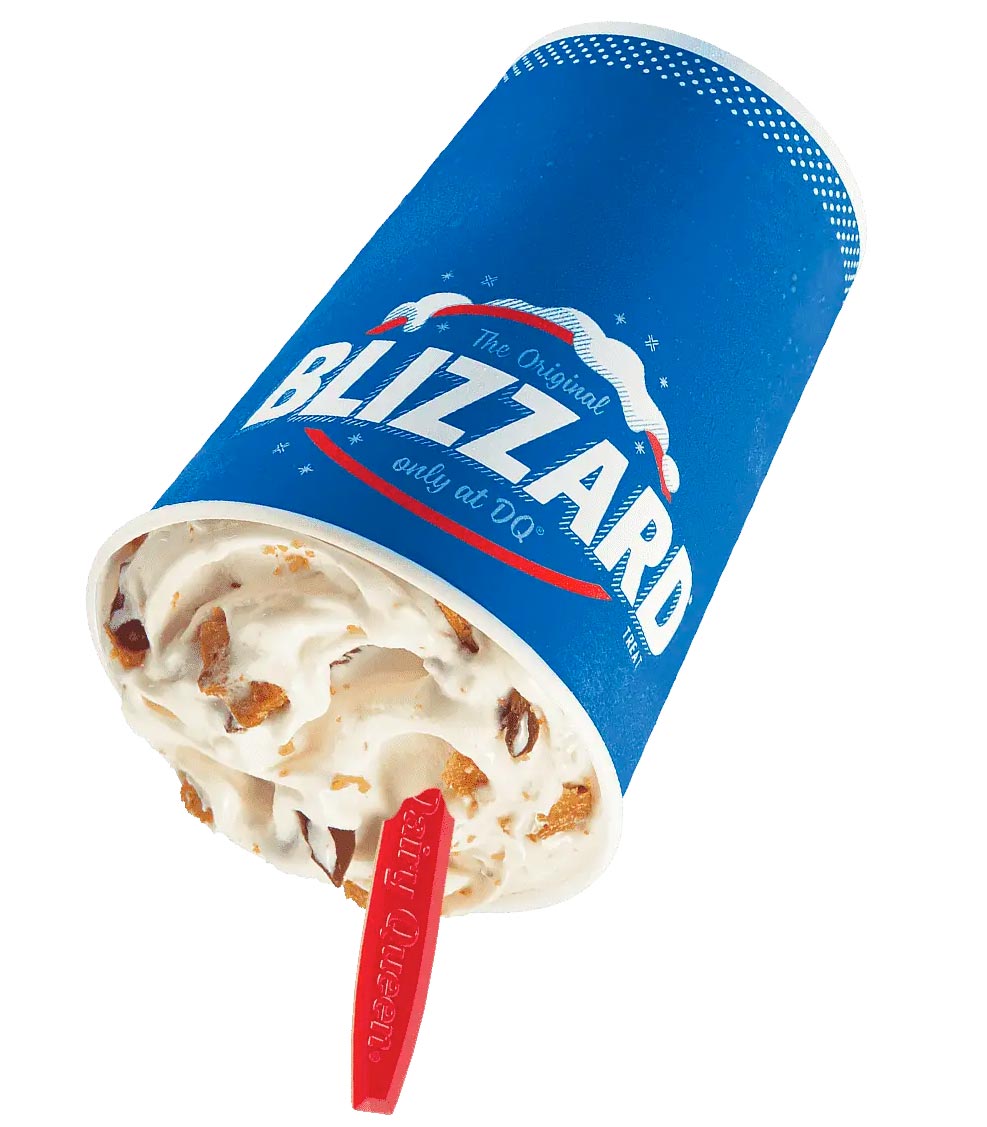 Mini: 350 Calories 12g Fat 52g Carbs 9g Protein
Small: 520 Calories 18g Fat 76g Carbs 13g Protein
Medium: 730 Calories 26g Fat 107g Carbs 18g Protein
Large: 970 Calories 34g Fat 142g Carbs 24g Protein
Caramel Fudge Cheesecake Blizzard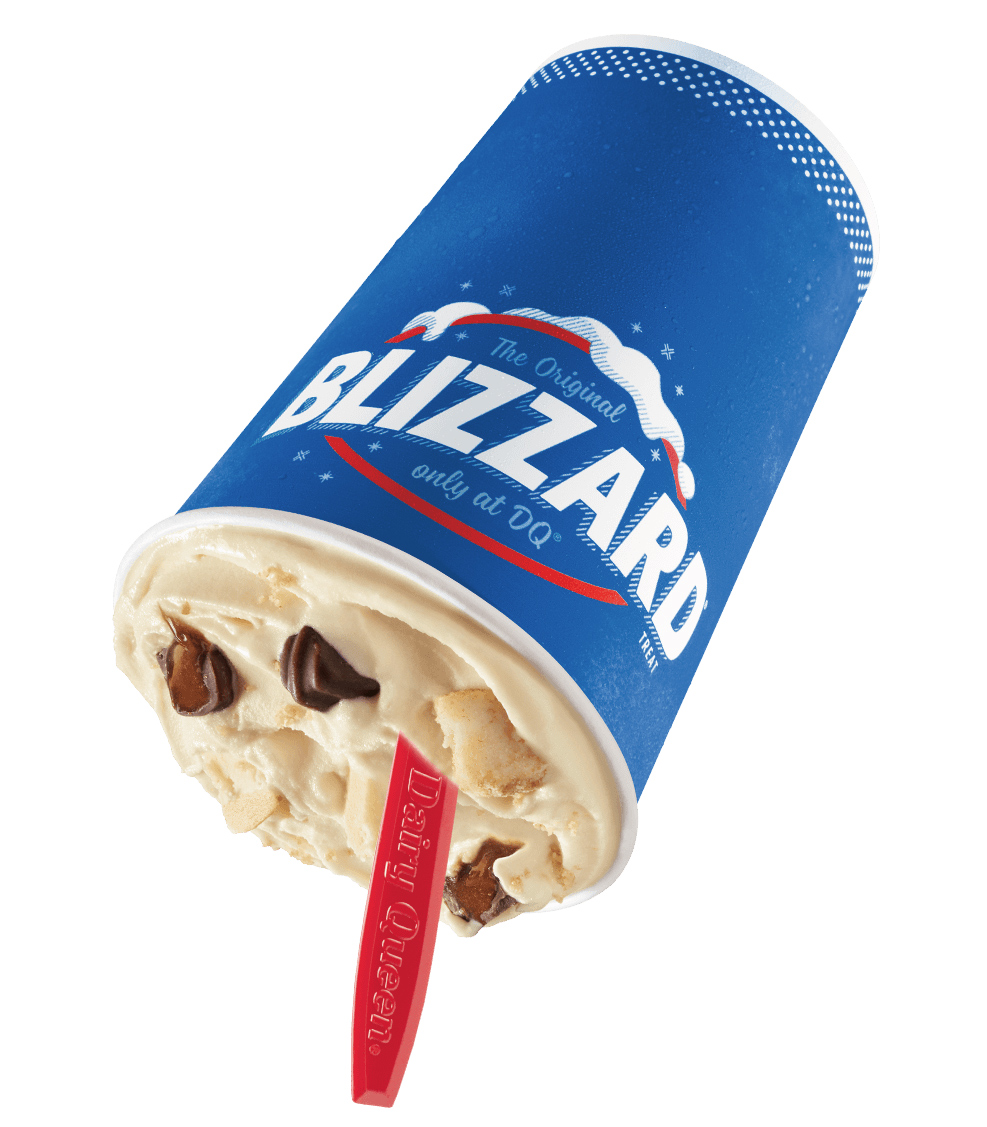 Mini: 370 Calories 14g Fat 54g Carbs 8g Protein
Small: 660 Calories 26g Fat 94g Carbs 14g Protein
Medium: 930 Calories 36g Fat 134g Carbs 18g Protein
Large: 1,240 Calories 47g Fat 180g Carbs 24g Protein
Choco Brownie Extreme Blizzard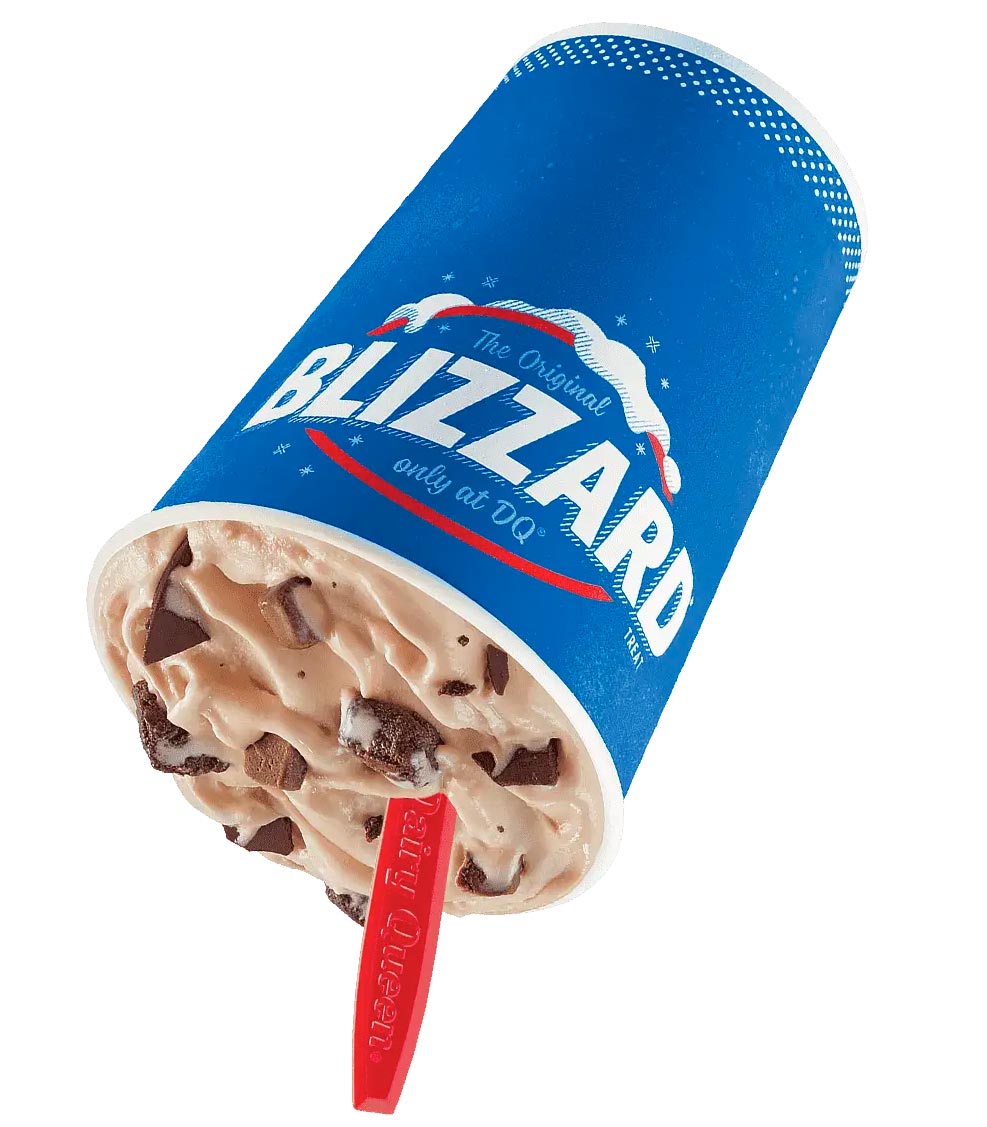 Mini: 400 Calories 17g Fat 56g Carbs 9g Protein
Small: 620 Calories 28g Fat 86g Carbs 12g Protein
Medium: 810 Calories 36g Fat 111g Carbs 16g Protein
Large: 1,120 Calories 52g Fat 154g Carbs 22g Protein
Chocolate Chip Cookie Dough Blizzard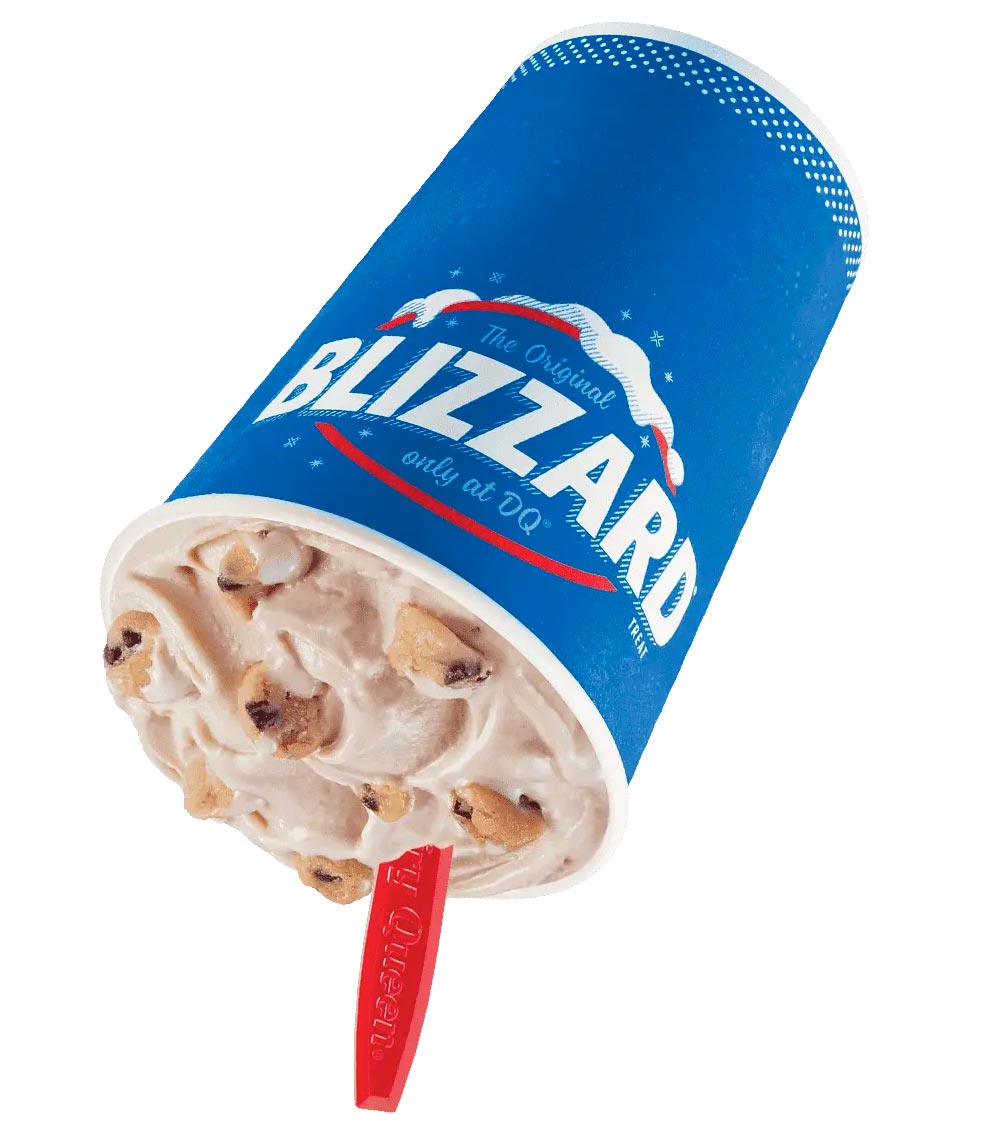 Mini: 420 Calories 16g Fat 61g Carbs 8g Protein
Small: 710 Calories 28g Fat 104g Carbs 12g Protein
Medium: 1,030 Calories 41g Fat 151g Carbs 17g Protein
Large: 1,340 Calories 53g Fat 195g Carbs 22g Protein
Cotton Candy Blizzard
Mini: 390 Calories 16g Fat 55g Carbs 7g Protein
Small: 610 Calories 22g Fat 91g Carbs 13g Protein
Medium: 870 Calories 33g Fat 127g Carbs 16g Protein
Large: 1,150 Calories 45g Fat 166g Carbs 21g Protein
DRUMSTICK with Peanuts Blizzard
Mini: 400 Calories 20g Fat 46g Carbs 9g Protein
Small: 690 Calories 33g Fat 82g Carbs 16g Protein
Medium: 1,030 Calories 53g Fat 116g Carbs 22g Protein
Large: 1,380 Calories 72g Fat 154g Carbs 29g Protein
Frosted Animal Cookie Blizzard (currently not available in 2022)
Mini: 420 Calories 18g Fat 56g Carbs 8g Protein
Small: 720 Calories 32g Fat 96g Carbs 12g Protein
Medium: 1,030 Calories 47g Fat 135g Carbs 17g Protein
Large: 1,310 Calories 61g Fat 172g Carbs 21g Protein
Girl Scout Thin Mints Blizzard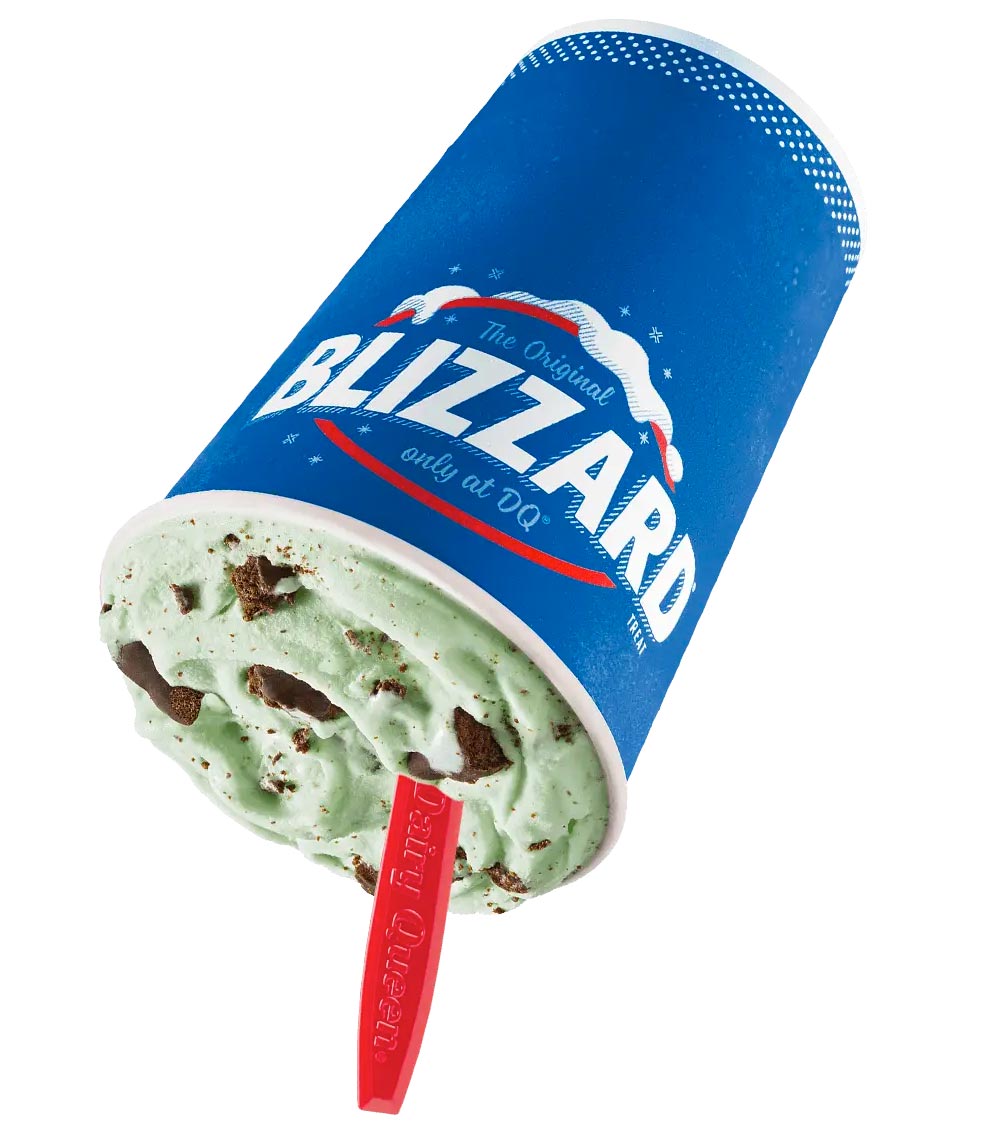 Mini: 370 Calories 13g Fat 56g Carbs 8g Protein
Small: 660 Calories 23g Fat 100g Carbs 14g Protein
Medium: 900 Calories 32g Fat 137g Carbs 18g Protein
Large: 1,170 Calories 41g Fat 177g Carbs 23g Protein
Heath Bar Blizzard
Mini: 370 Calories 15g Fat 53g Carbs 8g Protein
Small: 600 Calories 25g Fat 84g Carbs 11g Protein
Medium: 860 Calories 37g Fat 119g Carbs 16g Protein
Large: 1,150 Calories 50g Fat 159g Carbs 20g Protein
M&M's Blizzard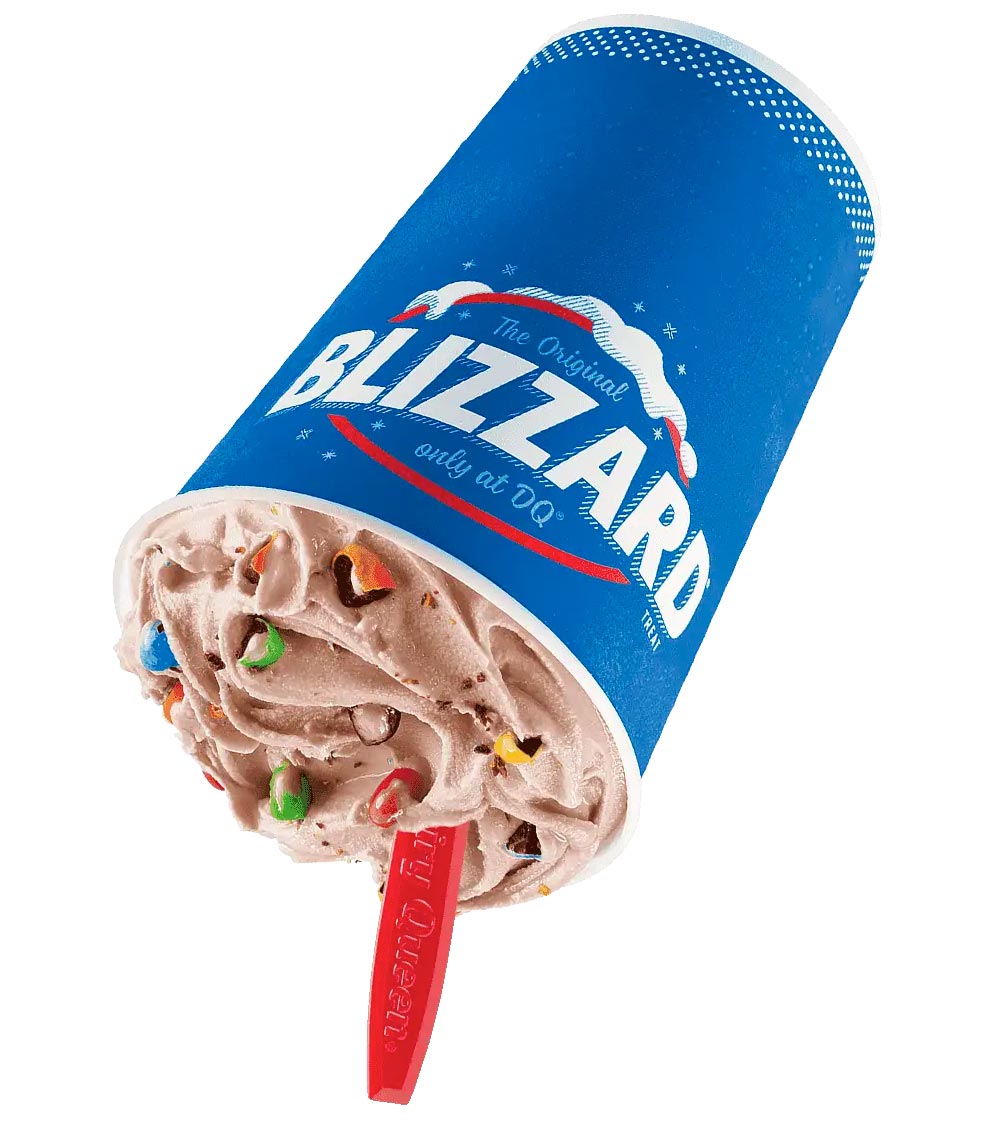 Mini: 370 Calories 12g Fat 58g Carbs 8g Protein
Small: 630 Calories 21g Fat 99g Carbs 13g Protein
Medium: 800 Calories 27g Fat 124g Carbs 16g Protein
Large: 1,100 Calories 36g Fat 173g Carbs 22g Protein
Nestle Toll House Chocolate Chip Cookie Blizzard (currently not available in 2022)
Mini: 320 Calories 11g Fat 48g Carbs 8g Protein
Small: 550 Calories 19g Fat 83g Carbs 13g Protein
Medium: 740 Calories 26g Fat 111g Carbs 17g Protein
Large: 970 Calories 34g Fat 146g Carbs 23g Protein
Oreo Cookie Blizzard
Mini: 380 Calories 14g Fat 56g Carbs 8g Protein
Small: 620 Calories 24g Fat 91g Carbs 12g Protein
Medium: 790 Calories 31g Fat 117g Carbs 14g Protein
Large: 1,140 Calories 44g Fat 169g Carbs 21g Protein
Oreo Dirt Pie Blizzard
Mini: 460 Calories 19g Fat 566 Carbs 9g Protein
Small: 810 Calories 33g Fat 116g Carbs 15g Protein
Medium: 1,030 Calories 41g Fat 151g Carbs 17g Protein
Large: 1,520 Calories 63g Fat 217g Carbs 26g Protein
Raspberry Fudge Bliss Blizzard (currently not available in June 2022)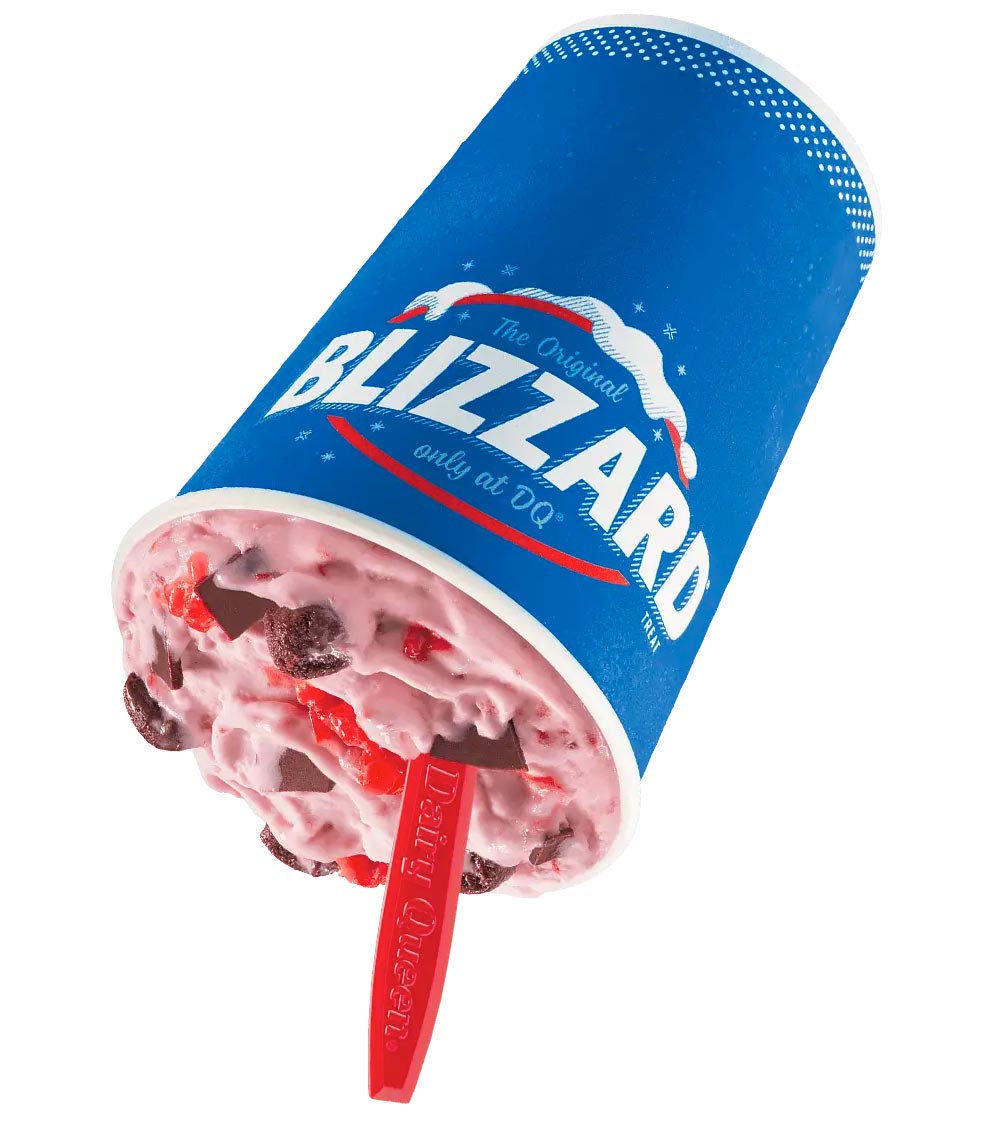 Mini: 340 Calories 13g Fat 51g Carbs 8g Protein
Small: 600 Calories 24g Fat 88g Carbs 13g Protein
Medium: 800 Calories 32g Fat 117g Carbs 16g Protein
Large: 1,100 Calories 44g Fat 161g Carbs 23g Protein
Reese's Peanut Butter Cup Blizzard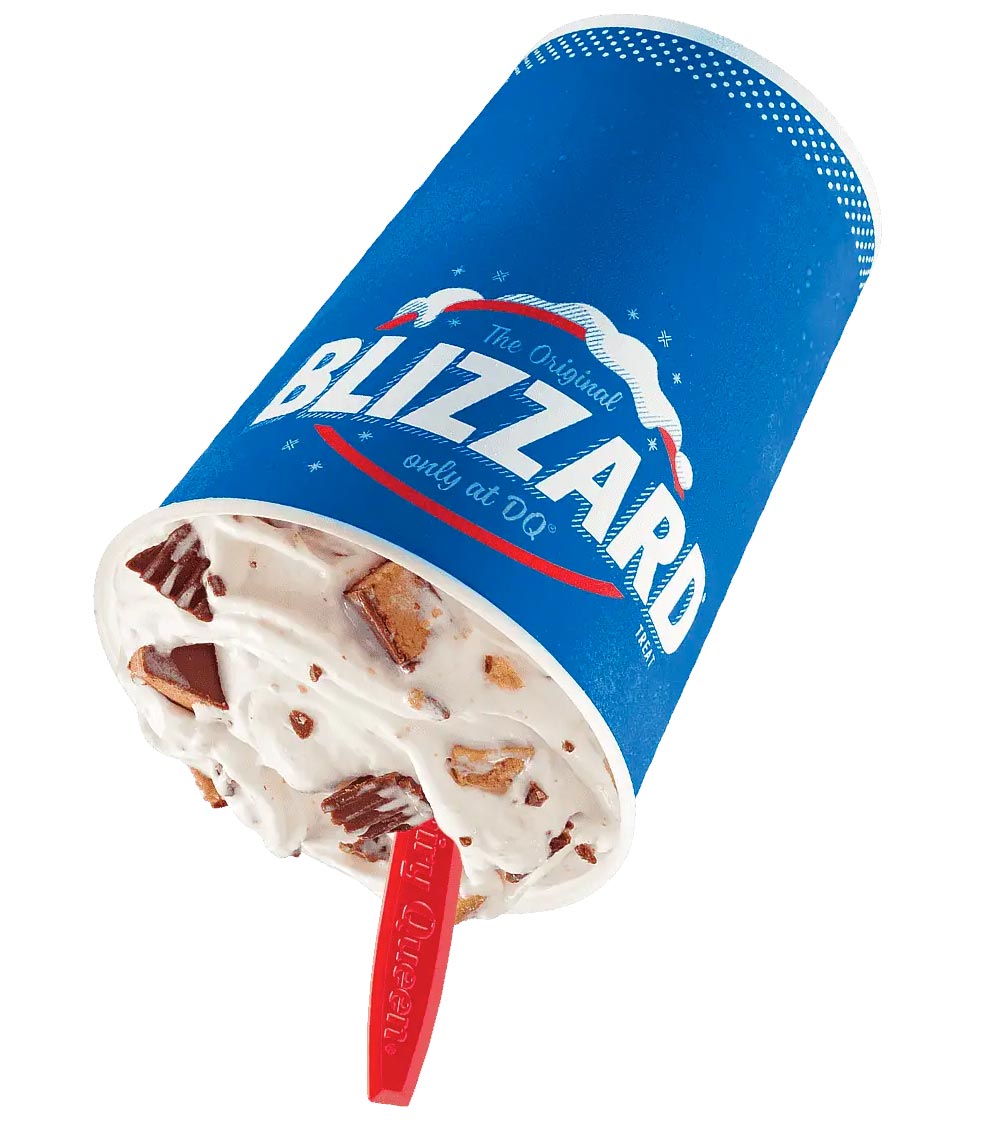 Mini: 360 Calories 14g Fat 50g Carbs 9g Protein
Small: 570 Calories 23g Fat 79g Carbs 15g Protein
Medium: 750 Calories 31g Fat 102g Carbs 19g Protein
Large: 1,000 Calories 42g Fat 136g Carbs 25g Protein
Snickers Blizzard
Mini: 350 Calories 12g Fat 53g Carbs 8g Protein
Small: 610 Calories 20g Fat 92g Carbs 14g Protein
Medium: 800 Calories 28g Fat 120g Carbs 19g Protein
Large: 1,060 Calories 36g Fat 162g Carbs 24g Protein
Royal New York Cheesecake Blizzard
Mini: 450 Calories 18g Fat 65g Carbs 8g Protein
Small: 750 Calories 32g Fat 102g Carbs 14g Protein
Medium: 1,040 Calories 46g Fat 140g Carbs 19g Protein
Large: 1,350 Calories 61g Fat 177g Carbs 25g Protein
Royal Choco Brownie DQ Blizzard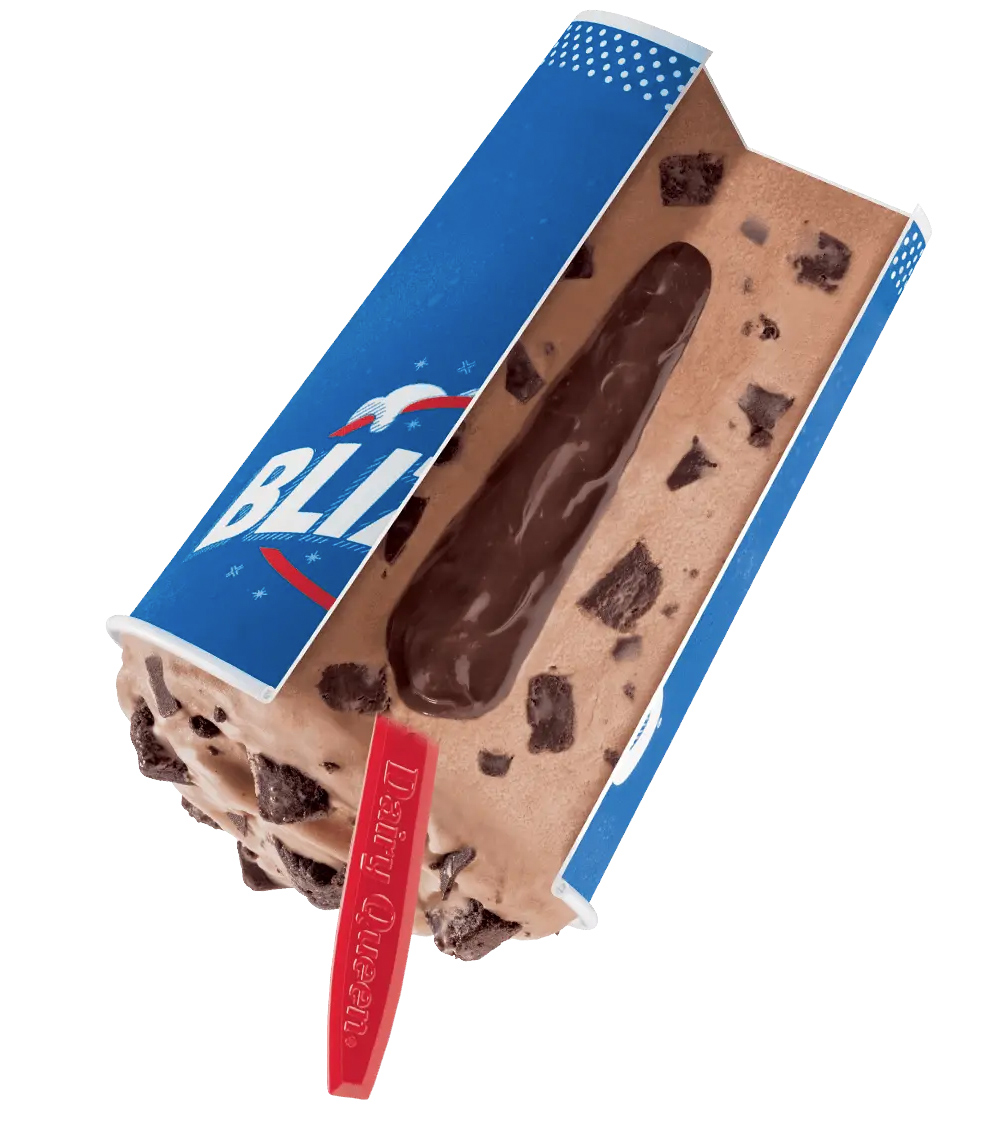 Mini: 480 Calories 21g Fat 68g Carbs 9g Protein
Small: 770 Calories 34g Fat 107g Carbs 14g Protein
Medium: 1,040 Calories 45g Fat 146g Carbs 19g Protein
Large: 1,340 Calories 60g Fat 186g Carbs 25g Protein
Very Cherry Chip Blizzard
Mini: 320 Calories 11g Fat 48g Carbs 7g Protein
Small: 550 Calories 19g Fat 84g Carbs 12g Protein
Medium: 730 Calories 25g Fat 113g Carbs 16g Protein
Large: 920 Calories 32g Fat 143g Carbs 20g Protein