Fall is officially here, which means it's pumpkin season!
I'll be honest with you- I don't love pumpkin spice. I find that most pumpkin spice-flavored foods takes it way over the top, and they have absolutely nothing to do with pumpkin.
But when it's done correctly, and it actually tastes like pumpkin pie, it can be a real winner.
These pumpkin pie donut holes are indeed a winner.
You would never know that these pumpkin pie donut holes have only 35 calories each! They're soft & light and packed with REAL pumpkin to take these to the next level.
Each donut hole has 35 calories, 1g fat, 4g carbs, and 2.5g of protein.
If you were to eat 4 donut holes, it's only 140 calories and 10g of protein! Not bad for a delicious dessert, huh?
And don't worry if pumpkin isn't your thing, because I also have a recipe for Original Donut Holes or Chocolate Donut Holes (both low-calorie and protein-packed as well).
The secret ingredient for pumpkin pie donut holes
First and foremost, we're using some real pumpkin in this recipe to really capture that pumpkin pie flavor.
But the other "secret" ingredient I used here is Pumpkin Pie protein powder from PEScience.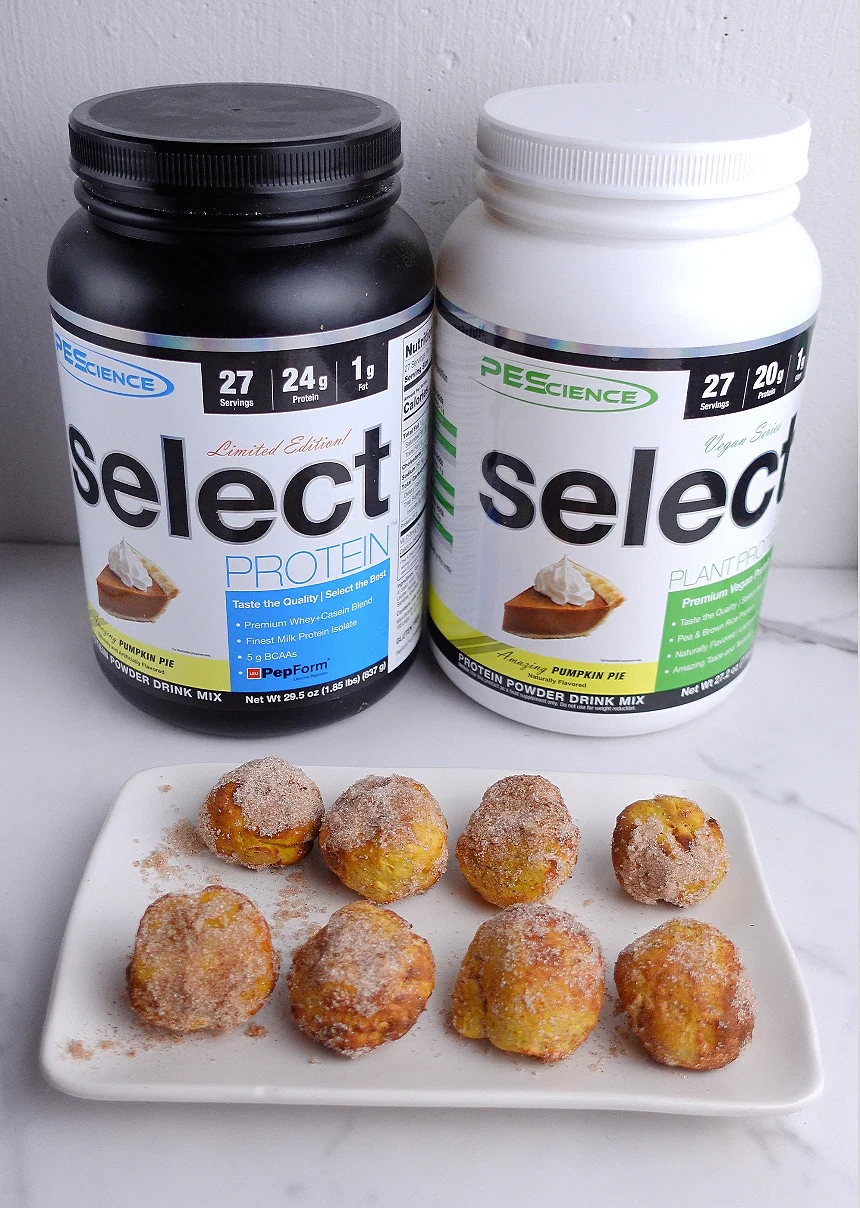 If you've made any of my recipes here, you'll know that I almost exclusively use PEScience protein. Not only do I love the taste, but it is a blend of whey & casein protein that works significantly better in baking recipes than whey protein alone.
I used PEScience for years with no affiliation and recently was able to get a discount code for you guys to try out the protein if you'd like to.
The code "Matt" will save you 10% on any PEScience order.
Now, this protein is limited edition (and seasonal, of course) so I totally understand if you don't have it or can't get it. Don't worry!
You can very easily use a standard vanilla protein powder in this recipe, and then add a teaspoon of pumpkin spice. Since this Pumpkin Pie protein powder is flavored, I didn't need to add any additional seasoning, but adding some pumpkin spice to vanilla should work just as well for ya.
This protein powder is amazing to me because it tastes like actual pumpkin pie rather than just pumpkin spice. Check it out here and find the vegan version (that's surprisingly delicious) here.
If you happened to make my Air Fryer Donut Holes when I first posted those, this recipe is going to look very similar.
To start, we need to mix together the applesauce, pumpkin, butter, and vanilla extract. It doesn't need to be perfectly smooth, but mix until everything is combined.
Then we mix in all of our dry ingredients, but the order in which we add our dry ingredients is important.
Add the flour and sugar substitute first, then mix that up until it becomes a very sticky dough. Add the protein powder LAST to bring it all together.
Whether you're making the dairy version or vegan version of this recipe, mixing the protein powder as the very last ingredient is extremely important. If you don't follow that simple instruction, your dough is going to end up very sticky and tough to work with.
You may find that the dough is still a little bit sticky, but that's perfectly OK.
I like to wet my hands with cold water before forming the donut holes to help prevent the dough from sticking to my hands. Then, simply break a piece of dough off and roll it in your palms to smooth it out.
Place in your preheated air fryer basket, leaving space in between each pumpkin pie donut hole.
You do not want to overcrowd the air fryer or they will not bake evenly, so plan to make 2 batches (the recipe should yield about 25 donut holes).
Air fry at 370 degrees F for 4 minutes, carefully flipping each one after 2 minutes.
After 4 minutes, carefully remove the donut holes from the air fryer and spray with cooking spray, then toss in cinnamon sugar.
Let cool for a couple of minutes, then you're ready to dig in!
Depending on how large you make these pumpkin spice donut holes, you should end up with about 25 or so (I ended up with 26, to be exact).
These pumpkin pie donut holes are best served fresh but will keep very well in an airtight container throughout the week.
Since they're low fat and high protein, these donut holes will firm up a bit as they sit and become dense. All it takes is about 5 seconds in the microwave to soften them up and make them good as new.
How to make these pumpkin pie donut holes without an air fryer
I much prefer making these in the air fryer, but they can easily be baked in the oven as well.
Follow the recipe as-is, but place all of the donut holes on a baking sheet.
Bake the donut holes at 350 degrees F for about 8 minutes, flipping them after 4 minutes. Keep an eye on them, as oven temperatures can vary, but 8 minutes should work. Generally speaking, you want to plan for a little more time in the oven than in the air fryer.
How to make pumpkin pie donuts
After I made this recipe, I decided to go back and try to make these as full-sized donuts, and I must say, I may even enjoy those more than the donut holes.
Follow the recipe exactly the same, but instead of breaking off pieces to form donut holes, break the dough into 5 roughly equal-sized pieces ( I decided to make 5, but you can make more or less depending on how large you'd like them to be).
Roll into a ball, then poke a hole through the center with your finger and form each ball into a doughnut shape.
Since these donuts are larger than the donut holes, they'll require some extra cooking time, but not by much.
Air fry in a preheated air fryer at 370 degrees F for 6 minutes, carefully flipping after 3 minutes. I mixed together some powdered sugar substitute, cinnamon, and milk to create a very simple glaze to dip these donuts into, and they came out amazing!
The photo doesn't do these donuts justice: they are incredibly moist and not at all dry.
Each donut comes to 175 calories and 12.5g of protein, which is not bad at all! In fact, it's very similar to my Classic Air Fryer Donut recipe.
What to do with your leftover pumpkin
One of the problems with using canned pumpkin is that once you open the can, it goes bad pretty quickly.
You're in luck: I happen to use pumpkin in a lot of my recipes, so you can use up the entire thing rather easily. I specifically put together a Low-Calorie Cookie recipe that uses canned pumpkin as the main ingredient to help you get through the entire can!
But here are some other amazing recipes that utilize canned pumpkin:
Air Fryer Pumpkin Pie Donut Holes (With Vegan Option)
Pumpkin lovers rejoice- these pumpkin pie donut holes are the perfect fall treat! So soft and full of pumpkin spice flavor that you'd never know they are only 35 calories each.
Ingredients
Original Version
Vegan Version
120g Self-Rising Flour
42g Buttery Spread - I use "Country Crock Original"
60g Unsweetened Applesauce
80g Canned Pumpkin
1 tsp Vanilla Extract
Coating
Instructions
In a large bowl, mix together the applesauce, pumpkin, butter, vanilla, and sugar substitute. It doesn't need to be perfectly smooth, but mix until everything is combined.
Add the self-rising flour and sugar substitute, then mix it up until you're left with a very sticky dough.
Add the protein powder last and mix it up until it becomes a workable dough. Adding the protein powder last is very important to get the proper consistency.
Preheat your air fryer to 370 F for 2-3 minutes.
Wet your hands with a little cold water (this makes it significantly easier to work with sticky dough) and break off small pieces of the dough, rolling them into circles with your palms. Spray the air fryer basket with nonstick spray and add the donut holes.

Don't overcrowd the air fryer basket- plan to make these in 2 batches so they bake evenly.
Air fry at 370 degrees for 4 minutes, carefully flipping them over after 2 minutes.
While they are baking, combine the sugar substitute (or regular sugar) and cinnamon in a bowl to make your coating. Once the donut holes are done, spray them lightly with butter spray to help the coating stick and toss them in the cinnamon sugar.
These are best served fresh, but you can save leftovers in an air-tight container throughout the week and then microwaved for 5 seconds to soften them up before enjoying.
Notes
I used the limited edition Pumpkin Spice protein powder from PEScience (my code "Matt" will save you 10%), but these will work great with vanilla protein powder and some added pumpkin spice or cinnamon.
The protein I use is a blend of whey & casein protein, which works best here. If you use 100% whey protein, expect the dough to be stickier, but it should still work. To see how different types of protein powder affect donut recipes, check out my Ultimate Protein Powder Substitution Guide.
Be sure to check out my Original Donut Holes or Chocolate Donut Holes for more!
Note that I do not count the sugar substitute as part of my carb totals.
Recommended Products
As an Amazon Associate and member of other affiliate programs, I earn from qualifying purchases.
Nutrition Information
Yield

25
Serving Size

1 Donut Holes
Amount Per Serving
Calories

35
Total Fat

1g
Carbohydrates

4g
Protein

2.5g